If you could add it all together, how much time would you have wasted over the years searching your workshop for "just the right tool" for a particular project? For many folks, the answer would likely be a matter of days, rather than hours. If constantly scouring the workbench for the correct size socket or screwdriver drives you up the (cluttered) wall, then it's probably time to give your shop an organizational overhaul. To work productively and efficiently, all the necessary tools should be where you need them, when you need them. From easy visibility to convenient accessibility, there's a lot to consider when organizing the workspace.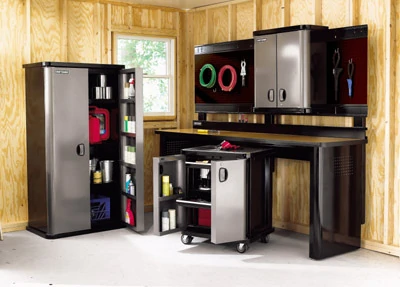 If you're giving your shop a complete remodel, a good place to start might be the walls. Painting the walls of the workshop white or another bright color helps reflect interior light, enhancing the visibility of the room.
A good choice for workshop lighting is fluorescent tube lighting, which minimizes glare. Halogen lamps are also available with tripods for easy placement. And smaller 50-watt clamping lamps will help for more detail-oriented bench work.
Also, optimize your workbench for maximum comfort and convenience. The workbench is usually the hub of all shop operations. A common height for work benches is just a couple of inches below the user's waistline. The surface should be clear and flat, and its size can be built to fit your needs. A bench 5 to 7 feet long and 18 to 36 inches wide will suit most work. But before you build or purchase a bench, be sure it makes sense for the size of your table saw.
Many people add an extension panel to their workbench that can fold up level with the work table for work with large pieces, and then unlock and fold out of the way when not needed. Lockable wheels will also allow you to easily move the bench around and then secure it in a stationary position for additional versatility. And don't forget to outfit the area with a comfortable stool, which you'll greatly appreciate when sitting for long periods at the bench planning and designing projects.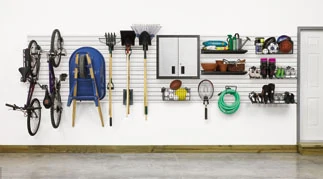 Storage
How to handle storage is the big question when it comes to workshop organization. I've been guilty in the past of keeping a pretty chaotic work area. My old workshop had nails hanging sporadically all over the walls, overstuffed cabinet shelves and two dozen jumbled drawers, which might as well have all been labeled "miscellaneous."
While wall space is a great way to store tools for easy access and visibility, inject a little method into the madness. Keep you're carpenter's squares in one section, your hammers in another, your metal shears in another, and so forth. It sounds obvious, but use labels!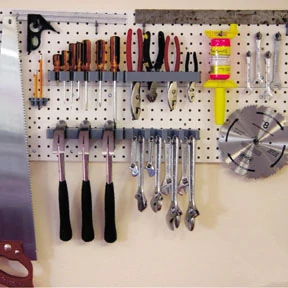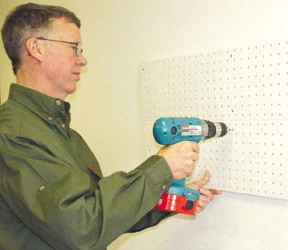 A friend of mine has a hanging pegboard where he actually traced the outline of many of his tools in white permanent marker. When he needs to find where to hang the hammer, he looks for the outline drawn on the board, and the hammer is back in place in an instant. Any kind of quick identification system makes keeping track of your tools a no-brainer, and lends itself greatly to keeping a tidy workspace.
Open shelving is great for storing heavy tools and shop hardware. The open faces let you see the contents without digging through all the clutter, and labeling the shelves based on the types of tool or hardware will make this even more convenient. Large shelves can even be subdivided with small plastic tubs, allowing more "categories" for your shelf space. Drawers are a good place for smaller tools and especially sharp ones. Again, label these. There's no reason for the workbench to remain constantly cluttered.
Coffee cans and plastic containers with easy-to-remove caps are a good and economical way to store screws, nails, washers and drill bits. To speed up your selection process when looking for the next screw, slap a label on the cans that denotes the size range of the contents.
The same labeling system works well for cabinets with drawers. Install storage cabinets with plastic see-through drawers at eye-level. With the front of the drawers labeled, you know where to look without pulling out all the drawers. Drawers are particularly useful for sharp tools that would be unwise to store in high places.
For storing plywood, wallboard or other materials, consider building a storage wall about 2 feet away from one of the original workshop walls. Behind this wall you can store panels or add shelves to store long boards.
Is there a staircase in the workshop? Unused space beneath the stairs is also a good place to build shelves. Because of the slope of the stairs, shallow shelves can be built at the top for shorter pieces of wood, while longer boards can be stored in the deeper, lower area.
Safety Steps
Don't overlook safety in your workshop design. Make sure your shop is set up to ventilate dust and fumes. Two open windows can create a draft of fresh air, especially with the help of a fan. Otherwise, an exhaust fan should be installed.
For sawdust collection, companies such as Craftsman offer specialized systems to keep the work area reasonably tidy. Otherwise, use plastic trash bags beneath the table saw. A wet/dry vac can help clean up the excess dust. The U.S. Department of Health and Human Services has listed wood dust as a human carcinogen, so keep the place clean and don't casually toss that dust mask aside when running your table saw.
And to err is human, so don't forget to include a first-aid kit. This includes a variety of bandages and gauze, antiseptic ointment, cotton balls, eyewash, tweezers, medical tape and a first-aid handbook. Keep this covered and stocked with supplies, but easily accessible in case of emergency.
These are a few basic ideas, but the design of your workshop is completely determined by your tastes, project needs and pocketbook. You can design the entire shop from scratch, or you can put to use a number of new products to help organize your tools and supplies.
A Little Help around the Shop
For the workshop, the garage or those countless living spaces that serve as both, the Gladiator GarageWorks system from Whirlpool helps organize tools, yard equipment, toys or sports equipment. Gladiator GarageWorks is a modular system that adapts to the ever-changing storage needs in the garage. The product line can be purchased piece by piece or as an entire system.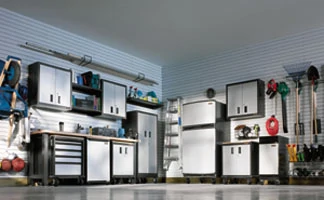 Highlights of the GarageWorks line include GearWall panels, which cover the wall from floor to ceiling. The panels feature grooved channels designed to hold additional accessories such as the Wall GearBox, a variety of hooks, shelving units and storage baskets designed to hold common garage items such as wheelbarrows, bicycles and gardening tools.
For garage/workshop flooring, Gladiator Roll Flooring simply rolls out for easy installation, available in 8-by-24-foot sheets. Or, Gladiator Tile Flooring consists of 1-foot square tile with locking tabs for easy installation, a drain tile to relieve standing water, and trim for a clean finish.
Other Gladiator products include a modular workbench, modular refrigerator, gearbox and more. The GarageWorks system is easy to install, the components rest on steel casters so they can be easily moved, and they feature top-quality materials, including heavy-gauge steel and solid maple wood.
New for 2004, Craftsman's Garage Storage Solutions can fill a 5-, 8-, 12- or a 16-foot wall with a dedicated workstation, freestanding cabinets with or without shelves, wall and mobile cabinets to store all kinds of garage gear and more. Homeowners can start with an entire system or build upon it, one piece at a time. These storage combinations begin with a workbench that can be attached to a metal pegboard frame for storing frequently used tools. The frame also is designed to hold up to two, double-door wall cabinets.
Two mobile roll-away cabinets fit beneath the Craftsman workbench or can serve as mobile satellite workstations. Vertical cabinet lockers, available with or without interior shelving, provide storage for bulky items and store everything from trowels, pruners and garden gloves to disposable items in their interior doors.
Another wall-organizing system comes from the Stringliner Company. Stringliner's plastic pegboard mounts onto a wall or directly onto studs either vertically or horizontally and can be stacked without losing a hole. No wood strips are used to mount the pegboard. The system comes with a variety of ToolWiz tool holders and Wizclip hooks that lock securely onto the pegboard and can be rearranged to allow easy expansion. Each pegboard system includes enough hooks and holders to potentially hang 81 tools.
And when it comes to storing tools and supplies, don't forget to look up. Overhead storage systems, from companies such as HyLoft, feature a variety of ceiling-mounted shelves to utilize otherwise wasted space. The HyLoft systems mount with ceiling angles that fasten to durable steel downrods. The downrods suspend storage grids from the ceiling, which can carry storage bins, seasonal items or other bulky materials. HyLoft also offers wall-mounted shelves.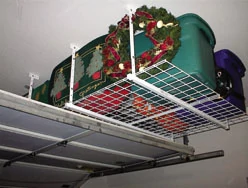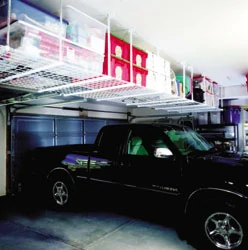 Another smart idea for workshop storage might be to use portable tool carts. Tool Kaddies from Wizard Industries are thick double-walled polyethylene carts. One version features two shelves, three bins and one tray and offers a 150-pound capacity. Another version features four 2-inch drawers, two 4-inch drawers and offers a 75-pound capacity. The carts are water-resistant and available in three or four colors, depending on model.