If there is one room in the home that benefits the most from organization, it's the kitchen. That's where the most work is done in my house. My dad ran a custom cabinet shop for 20 years and he was always building in customized kitchen organizers. Pop-up mixer shelves, hand-made shelves that rolled out on heavy-duty drawer slides and lazy susans were just a few, not to mention the more unusual.  
The Rev-A-Shelf company makes it much easier for the homeowner to become organized, with a number of manufactured kitchen storage products. These upscale, quality products require nothing more than a cordless drill/driver, screwdriver and tape measurer for assembly and installation.  
One of the most common and useful items is the lazy Susan rotating racks that are used to fill corner cabinets. A wide range of rotating shelves is available from the company to accommodate any cabinet shape and size. The lazy Susan may be made of wood, polymer or stainless steel shelves to suit a wide range of décor. They include a variety of shapes as well: full circle, kidney, d-shape, pie-cut and half-moon designs. The better products have independently operating shelves. The easiest ones to install feature a Twist-N-Lock support rod system. Full circle units fill the entire cabinet and can be reached from the door on either side of the corner cabinet. D-shape units are made to fit corner cabinets with a single center door. Pie-cuts are used on cabinet corners without upright stiles, and the corner doors are fastened in place to the edges of the shelves, with the doors rotating back into the cabinet as the shelf turns. Even tough-to-fit blind corner cabinets can utilize the half-moon style Rev-A-Shelf units. These units fasten to one corner door and open out into the room as the door is opened. Although most think of these corner units for base cabinets, smaller units are also available for upper cabinet corners.  
One of the more unusual units is the Rev-A-Shelf Chrome Blind Corner Optimizer. These take corner organization to a whole new level. The Optimizer front baskets pull out, and then slide over to allow the rear baskets to be pulled out for total access to the items stored within.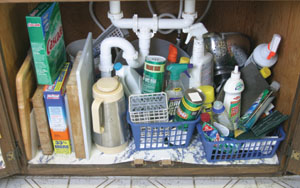 Rev-Shelf has a wide range of kitchen organizers that can make your kitchen more efficient and easier to use. Shown is a pull-out, under-the-sink shelf designed to fit around the sink plumbing.
A number of other manufactured kitchen organizers are available from Rev-A-Shelf. Today in-cabinet storage units are not just the old utilitarian design. Many are available in a wide range of designs in wood, in white metal, stainless steel, chrome and a number of brushed-metal finishes. Some of the most popular are pull-out trays, shelves and baskets. Other cabinet accessories include: door-mounted cutting boards, bottom-mount waste containers, spice racks, and a wide variety of drawer organization systems. Drawer organizers are also a very important factor in cabinet organization, and again a wide range of products are available.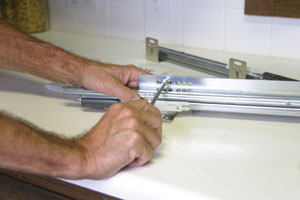 The Rev-A-Shelf products are extremely easy to assemble. In most instances all you'll need is a  screwdriver.
Cabinet pull-outs have also become some of the most popular cabinet organizers. These slide back in the cabinet for storage, pull out easily and provide lots of organized storage that's extremely easy to access. The Rev-A-Shelf base cabinet pull outs, for example, feature adjustable shelves with chrome rails to help keep everything in place. Made of birch or maple with a UV clear-coat finish, they'll match any kitchen décor. The units glide on patented "tri-slides" minimizing any side-to-side motion and provide complete stability when pulled out of the cabinet. Door mounting is easy with the patented door-mount brackets, providing up to five inches of flexibility and micro door adjustments.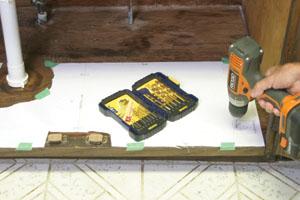 Once assembled, installation is also easy with most Rev-A- Shelf products. In this case a pattern is fastened in place for the under-sink installation, and starter holes drilled for the holding screws.
For more information on the Rev-s-Shelf line of cabinet organizers, contact www.rev-a-shelf.com