New windows offer some big advantages for homeowners. Replacement units offer smooth operation, tasteful decorative options, more energy efficiency and less routine maintenance. The problem is that new windows are expensive, and contractors charge nearly as much to install them as the units cost to purchase. Although a DIY'er can save money by doing the work, depending on the size and location of the window, even a single replacement can be a challenging job for a novice.
Repair and maintenance options for old windows may be more feasible for homeowners on a tight budget. Old windows can usually be restored if you're willing to invest the time and energy (and can locate the right hardware).
However, sometimes repairing the windows may not be worth the effort, and replacement makes more sense. In some cases, hard-to-find parts that have been discontinued are only available from online suppliers, if at all. Replacing rotted wood can be a difficult job, and extensive damage may leave wood windows irreparable. Fogged double glass panes cannot be repaired and must be replaced—sometimes requiring an entirely new sash.
Another consideration is energy efficiency. Single-pane windows provide poor thermal insulation and result in cold spots in a room. New windows constructed with double-paned Low-E glass filled with harmless Argon or Krypton gas can reduce the home's power bill in the years to come. The gasses are denser than air and serve as an excellent thermal barrier, reducing the transfer of heat and cold through a window.
Poor performance can be another hassle. If the window sticks or fails to open easily, replacement parts may fix the problem, but not always. Condensation that regularly collects on the glass can impede the view, and the new gas-filled glass packages help to combat this annoying problem.
Finally, the routine maintenance of older windows is one of the biggest complaints of homeowners, particularly of those with wood-framed windows. Painted windows require regular TLC—scraping, painting, glazing—to seal out the weather and protect the wood from rot. New windows made with aluminum or vinyl can eliminate this hassle.
Routine window maintenance and the need to repair rot is one of the main reasons homeowners across America are opting for "non-wood" window replacements.
When it comes to window materials, vinyl is an excellent choice. Unlike wood, vinyl windows and doors will never rot or require endless repainting. And unlike aluminum, vinyl windows and doors will never pit or flake. Today's windows are made from the highest quality vinyl and require almost no maintenance. In fact, an occasional washing will keep them looking like new for years. Plus, they offer increased comfort and lower utility bills, provide headache-free operation and add value to your home. New windows may be a big investment, but one that may pay off handsomely if you plan to live in the home for years to come.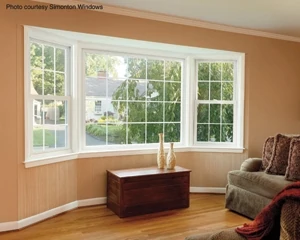 Side Note
DIY Window Check
The experts at Simonton Windows offer these do-it-yourself tips to gain an initial impression of how well your current windows and patio doors are functioning:
Tip #1 – Examine the inside of your windows and patio doors for hot and cold "drafty" spots. This indicates air infiltration that can lead to wasted energy.
Tip #2 – Check every window and door to make sure there is adequate weather-stripping and caulking around the units. This helps eliminate air infiltration and ensure a weather-tight seal.
Tip #3 – Look for "burnt out" or faded areas on your furnishings and carpeting. This could indicate harmful, damaging UV rays are entering your home through your windows or doors. You may want to consider replacement with more energy-efficient units containing Low-E coatings on the glass.
Tip #4 – If your windows no longer open or close easily—or if they need to be propped open—it could mean key components within the units are damaged or need adjustment. It could also mean the unit needs to be replaced entirely.
Tip #5 – Check the "fit" of your current windows or patio doors by having someone stand outside the units at night. With a small flashlight, stand inside and "travel" around the edge of the units. If the person outside sees light coming through the edges, this indicates a poor installation and is resulting in energy loss.
If your evaluation turns up one or more problem areas, it may be time to consider replacing your windows or doors. Visit www.simonton.com for more details on vinyl windows with energy-efficient glass options.
Other Window Related Articles