Although snow may blanket the outside of your home, there's no reason why you can't spruce up the inside with some simple renovations.
The two rooms in every home that are the most popular targets for makeovers are the kitchen and bathroom. These are also the rooms in which copper and copper alloys, like brass and bronze, can make a big difference in both the décor and cleanliness.  Copper, brass and bronze can not only add a warm aesthetic to a room, but they are also antimicrobial and have been found to effectively kill bacteria*.
Alfredo Cortes, president of Fine Crafts & Imports, says that in the eight years the company has been in business, he has noticed an increase in both the demand for copper products and in the number of companies that supply copper products to customers.
"Copper is a very beautiful metal," Cortes said. "It adds a lot of style to kitchens, especially those in Spanish-mission style houses."
Cortes' company specializes in weathered-finish copper sinks, which are imported from Mexico. Weathered copper is ideal if you're going for a traditional or matte look, rather than a shiny finish.  "Copper is very easy to work with, and it takes hammered finishes better than other metals."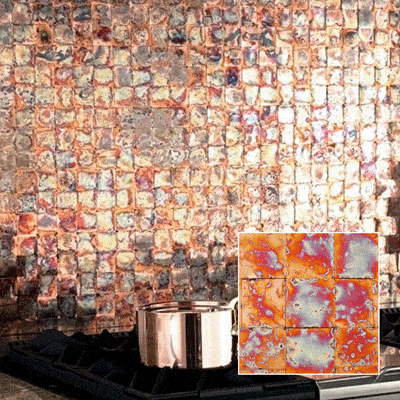 Some popular uses for copper around the home, in addition to sinks, include faucets, window & door hardware, vanities, high-end appliances, copper fixtures and accents (especially in showers), and custom-made countertops.
"While copper is most often used for exterior architectural details, the variety of colors and finishes available, as well as its natural beauty, make it very desirable for design elements within the home," said Copper Development Association (CDA) vice president, Andy Kireta Jr. "The possibilities are endless when deciding where copper can fit in home renovations. In addition to the attractive appearance, for many behind-the-walls applications, like electrical wiring and plumbing tube, the durability and reliability of copper make it the best choice for consumers. It provides trouble-free performance when you're home and worry-free performance when you're away."
The experts at Frigo Design have a lot of experience working with copper elements. They specialize in designing and manufacturing custom made metal products for the home and can make virtually any surfaces you need using copper. Alan Isaacs, Frigo's vice president of sales and marketing, says that, while, the main selling point of copper is its traditional look, he feels that its most important and beneficial characteristic is still being overlooked by the consumer – its antimicrobial property. "I just don't think consumers are aware of the antimicrobial benefit of copper yet, but once they are, the demand for copper will jump."
According to Isaacs, the most popular renovation uses for copper involve backsplashes and shower enclosures. For the backsplashes, instead of using conventional tile, Frigo Design actually weaves copper together before heating it to give it a look and design that is truly unique and one-of-a-kind.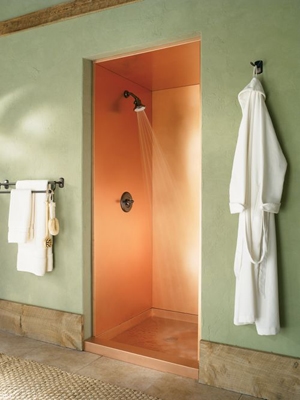 Jack Healy, president and owner of CopperSinksOnline.com, explained how "copper sinks just have a personality about them that you can't find anywhere else."
"Compared to a sink that's just stamped out in a machine, copper is special," Healy said. "A kitchen sink can take eight hours to craft. That's a full day's work just for a sink. You can't get that rustic lived-in look with other metals."
So, when a kitchen or bathroom makeover looks as though it's missing something – it's probably missing copper.
*Testing demonstrates efficacy against Staphylococcus aureus, methicillin-resistant Staphylococcus aureus (MRSA), E. coliO157:H7, Enterobacter aerogenes and Pseudomonas aeruginosa.)