Building an outdoor sun deck is one of the most popular DIY projects, providing a breezy outdoor retreat that adds to the overall value and décor of the home. The materials that cover these decks, whether real wood or composite, are ever evolving due to a growing demand for durability, low maintenance, and a desire to lower the environmental impact. Easy installation is another key factor, for the time-conscious contractor as well as the weekend warrior. Here's a look at some of the latest materials and how they can impact your next project.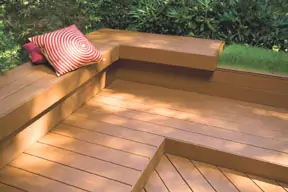 New Recipes for Deck Boards
Composite decking is no longer the new kid on the block. Well established as a low-maintenance alternative to wood, composite decking resists rot, insect infestation, warping and splintering. However, not all composites are created equal. Usually made from a combination of plastic and wood or other cellulose material, the ingredients of the deck boards play a major role in performance. For example, olefin is an oil-based plastic product usually derived from recycled goods. Although it benefits the environment to recycle these materials, a higher quality plastic for composite decking is vinyl or PVC, which is a harder material for a longer lifespan before requiring maintenance.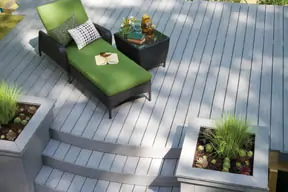 TimberTech's new XLM boards are made of cellular PVC for exceptional stain and scratch resistance and minimal maintenance requirements.
One new trend in composite decking is to eliminate wood from the equation. For example, Timbertech has a new line of deck boards dubbed XLM. Timbertech XLM is manufactured as a durable-expanded cellular PVC material that features a blend of mineral enhancements to reinforce its structural integrity. Billed as an "extremely low-maintenance alternative decking solution," the manufacturer touts the product as providing unparalleled scratch and stain resistance. Can it be scratched? Sure—take a knife to it and you can scratch anything. But the samples our staff tested proved very durable and scratch-resistant under normal wear-and-tear conditions—much more so than lumber or typical composites. Foot traffic, dog claws or lawn furniture isn't likely to damage the surface. And because these new cellular PVC decking products contain no wood fibers, there's no source of food to attract mold or mildew, eliminating one of the most common problems associated with wood decks.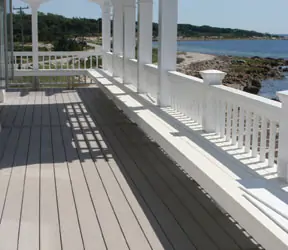 Cellular PVC boards, such as the Azek Deck boards shown, are significantly lighter than wood-plastic composites, and they require no predrilling during installation. You can even countersink the screws without risk of distorting the board surface.
A similar concept is available in the new Azek Deck, which is also made completely of cellular PVC. The Azek Deck boards come in five fade-resistant colors, and like the XLM boards, they offer excellent resistance to scratches and staining.
The benefits don't end there. Not only do these PVC deck products offer a handsome wood grain texture, but the boards are 30- to 40-percent lighter than the typical wood-plastic composite planks. That's a significant difference if you're installing the boards yourself. Further easing the installation headaches, these products require no pre-drilling for the deck fasteners, unlike typical wood-composites. You can even countersink screws without risk of splitting or distorting the deck surface, saving lots of time and effort.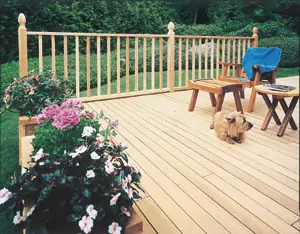 The latest advances in cedar decking is the trend toward prefinished boards, which ensures the decking is uniformly coated with stain and preservative. Photo courtesy CedarOne by Weyerhauser.
Advances in Cedar
The many benefits of Western Red Cedar as a decking material are what make it so popular for outdoor structures. Cedar is easy to work with, and the natural preservatives in the wood fiber help it withstand insects and harsh weather conditions. When properly installed under normal conditions, cedar deck boards lie flat and straight and resist splintering. Cedar also stays cooler than many other materials. And in the era of "green" building, Western Red Cedar is a carbon neutral material, while non-wood materials produce considerable amounts of carbon during their extraction and production.
Probably the most important trend in cedar decking has been toward factory finishing. Factory finishing coats all sides, edges and the cut ends of every board. As Kevin Leary, president of WFP Cedar explains, using a machine to apply the finish works it into the surface under controlled conditions, which ensures the boards are uniformly coated. This consistent coating process increases the boards' longevity and overall resistance to moisture. This way, you simply choose the preferred finish color and install. Plus, the cost of pre-stained cedar boards is about half the cost of hiring a contractor to paint or stain them on the job.
However, pre-finished cedar decking is a fairly new product, so it may be difficult to find in your area. Leary notes, "Since decks are often small structures, the amount of material required often doesn't justify the freight charge if it has to be shipped. But if you can find a local dealer, then building a deck with pre-stained cedar can save time, effort and money. It's really an excellent product."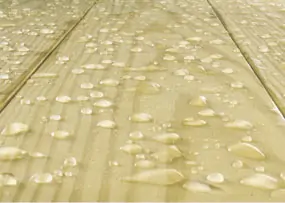 New technology in wood preservatives eliminates metal from the treatment process, and special wood stabilizers help protect against weathering. Photo courtesy of Viance.
Breakthrough Technology in Wood Preservative
Treated wood is the most widely used material for decks throughout North America, and new developments in the treatment process are making some products more durable than ever. 
Previous types of treated wood, such as lumber products marked with ACQ or C-A, indicating the chemicals used in treatment, depended on copper or other metals as the preservative. The high copper content of these products leads to fast corrosion of standard fasteners. Builders must use approved hot-dipped galvanized, stainless or coated fasteners with these products to avoid rusting. But there are other problems, too, such as when the copper reacts with metal hangers and lag bolts. In fact, with an ACQ or C-A product, metal hangers should actually be insulated from the wood with a peel-and-stick product to minimize direct wood-to-metal contact. To mount lag bolts through copper-treated wood, some professionals drill the lag hole about 1/8-inch larger than the bolt so the cavity can be filled with epoxy to coat and protect the bolt from the copper in the wood. These extra steps can add up to a lot of work.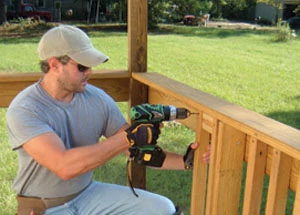 The presence of copper in traditional treated wood causes corrosion in standard fasteners. However, the new decking materials from Arch Wood Protections and Viance use no copper in the treatment process.
In response, Arch Wood Protection recently introduced the first residential pressure-treated wood to be protected with a non-metallic preservative. For use on decks, fence boards, railings, trim, molding and other out-of-ground applications, Wolmanized L3 Outdoor Wood has a treatment formulation developed for low impact on metal hardware, coatings, woodworking equipment and the environment. The L3 Outdoor Wood is protected by an EPA-registered carbon-based preservative called PTI—that's propaconazole tebuconazole imidacloprid, in case you're taking notes. Because it has no copper, there is a no galvanic reaction with other metals, which means it's no more corrosive to metal than untreated wood and can be used in contact with aluminum. The result is also less wear on saw blades and other equipment, and it's ready to be painted. Plus, the Southern pine wood has a built-in Stabilyzer™ additive to minimize moisture damage.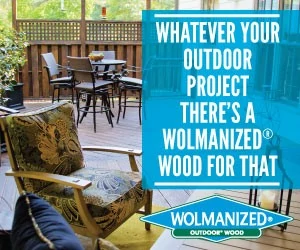 A similar concept in wood treatment comes from Viance, which offers the Ecolife brand of stabilized weather-resistant wood. Ideal for decks and other above-ground outdoor projects, Ecolife is comprised of a non-metallic, carbon-based preservative plus wood-stabilizing polymer system that offers the natural beauty of real wood combined with advanced weather protection and fastener performance. The Ecolife treatment also provides protection against decay and termites. And according to the manufacturer, results from accelerated weathering tests simulating two years of Florida weathering show that the stabilizer in Ecolife reduces cracking and splitting by approximately 90 percent compared to traditional treated wood.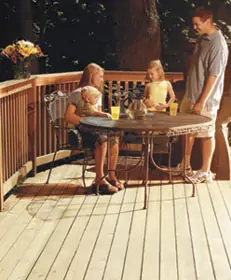 According to the manufacturer, the stabilizer in Ecolife Wood reduces cracking and splitting by 90 percent when compared to traditional treated wood.
"Ecolife Wood with new EcoVance Preservative is an industry breakthrough that provides superior performance and environmental benefits compared to other types of treated wood," says Steve Ainscough, president of Viance. "This technology truly is the next generation of wood preservation." Ecolife will soon be available in a variety of species including southern yellow pine, radiata pine, ponderosa pine, red pine, western hemlock and Douglas fir.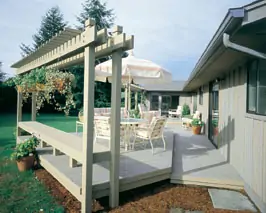 The new copper-free treatment options from Arch Wood Protection and Viance result in less wear on saw blades and other equipment. Photo courtesy Southern Pine Council. 
Both the Wolmanized L3 Outdoor Wood and the Ecolife products are backed by a lifetime limited warranty in most residential and agricultural uses, and each can be used in environmentally sensitive settings.
Wood Decking Through Steam and Heat Treatment
One material that's new to the U.S. market is called PureWood. This is real wood decking that is treated with a mixture of heat and steam to change the structure of the wood so it no longer serves as a food source for mold or rot. Bay Tree Technologies USA, which brings PureWood to the States, offers a 25-year warranty against rot and decay. And according to the manufacturer, the treating process, developed in Finland and called Thermally Modified Wood (TMW), results in a much more dimensionally stable product than standard pressure-treating processes.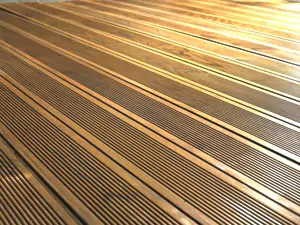 PureWood is produced through a special kiln-heating process. This results in a rich teak color that permeates throughout the entire deck board.
"We're talking about 80 percent less shrinking and swelling with this product," says Bill Schwam, vice president of sales for Bay Tree Technologies. "And the environmentalists love it, because we use such a readily renewable material to produce our decking." PureWood is created by kiln-heating Southern yellow pine to about 500 degrees in a special process that displaces the oxygen in the air with steam and heat. This special conditioning burns the wood sugars into a substance that can't be digested by mold spores or other pests, like termites. And because of the reduced moisture rates, the wood is much more durable.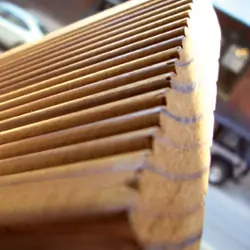 "It's been known for thousands of years, the benefits heat can bring to wood," says Schwam. "The Chinese and Japanese used to heat wooden bowls so they would better retain water. American Indians used to heat their arrows over a flame to harden the wood. We're focusing the process on decking. We have thermally modified boards that have been exposed to weather for ten years, and when you cut them there are no signs of splitting or checking." However, the boards should be predrilled before installing fasteners.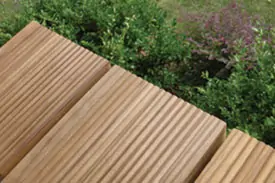 PureWood is available in Euro-style Linea (above). 
Another side-effect of the heating process is that the wood develops a rich, handsome teak color that penetrates throughout the board. Scheduled to first be distributed in North America in the spring of 2008, PureWood will be introduced in two distinct styles: Sahara and Linea. Sahara is a traditional-style deck board with eased edges in a natural wood-grain. Linea is a Euro-style decking with a different linear design on each side. Each style is suitable for above and in-ground contact use and features PureWood's signature kiln-dried low moisture content. No chemicals or metals are used in the kiln process, and the result is a deck product that is 100-percent wood—and nothing else.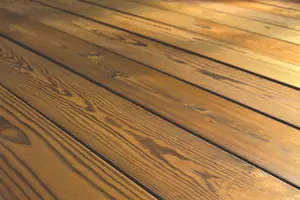 PureWood offers a traditional wood grain texture called Sahara (above).
The decking will be available in a 1-1/4-by-5-inch board, and will be marketed as a premium product to compete with ipe, tigerwood and low-maintenance composites. PureWood will be distributed nationally, and you can expect pricing to compete around the mid-range of composite decking products.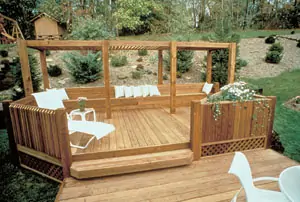 Wrapping Up
As you can see, there are some new things under the sun when it comes to decking materials. And with such stiff competition in the market, we can expect further advances to come down the pike. The next time we revisit this topic for a future edition of Extreme How-To, you can expect to see a brand new slate of decking options, stronger and more environmentally friendly than ever before.