Smaller, lighter and easier to use lawn tools.
Mowing the lawn can be a divisive chore among homeowners. Some find it to be a relaxing opportunity for some peaceful "alone time," while others consider it sheer drudgery, like Sisyphus rolling his mythical boulder up the mountain, over and over again. The dividing line often falls somewhere between whether or not the homeowner is riding a mower like a chariot or pushing it, like that rock.
Walk-behind mowers definitely have their advantages. Whether they require the user to push them, or feature a self-propelled design that reduces user fatigue, they all require a bit of exercise, and that's a not a bad thing whether or not you want to admit it. Beyond that, walk-behind mowers are invariably less expensive and require much less space for storage. Compared to ride-on mowers, the streamlined design of a walk-behind also requires less maintenance and has fewer parts to malfunction.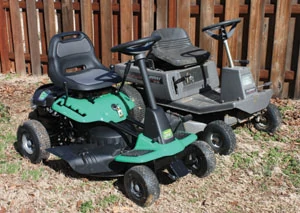 WeedEater One
The EHT staff recently tested a new ride-on mower that offers many of the key benefits of a walk-behind—simplicity, affordability, reliability—but in an extremely compact design. The WeedEater One is a compact ride-on mower with a rear-mounted engine that provides a simple solution for cutting small to mid-size yards.
Upon first glance at the Husqvarna's WeedEater One, everyone on the EHT staff thought of the old Murray-brand mowers of yesteryear. Thousands of those type rear-engine mowers dotted the American landscape a decade ago, but most manufacturers have since favored the hooded design of front-mounted engines. Going against the grain, Husqvarna returned to the rear-mount style, tucking the engine right behind the mowing deck for a smaller overall footprint.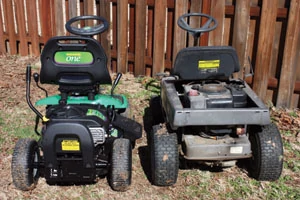 The WeedEater One's small size makes the mower extremely maneuverable and the steering very responsive. For a size comparison, I tracked down an old 1990's model Murray rear- engine mower. While this article should not be mistaken for a side-by-side comparison between the two units (which would be completely unfair to Murray), I thought that photographing the new unit next to old Murray might provide a sense of scale to people familiar with the old style. You'll notice in the photo that the heavy fenders and sheet-metal housing have been replaced with a few strategically placed plastic shields and a very efficient twin-tube steel frame to support the entire vehicle. And, although the WeedEater One is smaller in stature, its operator's station is more spacious and comfortable than old rear-mount models, including a padded steering wheel, lower footrests for increased leg room, as well as an adjustable high-backed supportive seat.
Simple operation is another key design element of the WeedEater One. It features a single blade, with one pedal to engage it and another to adjust its cutting height. The mower also features a single brake/clutch pedal and an easy-to-reach gearbox that offers three forward speeds and reverse. The engine starts with a key-start ignition (with recoil as backup).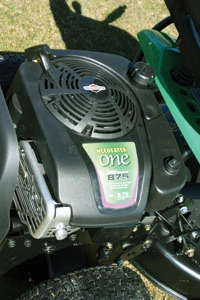 It should be noted that with its compact design comes certain sacrifices. You should not expect to use the WeedEater One as a utility tractor. You'll get no towing capacity from this thing, and it struggles when climbing inclines greater than 20 degrees.
The WeedEater One is a purpose-built machine—for mowing grass only—and with that in focus, Husqvarna did not skimp on the cutting performance. The unit is powered by a relatively clean and quiet 875 Series Briggs & Stratton engine with a ReadyStart system that eliminates the need to choke or prime. The 26-inch LawnScaper deck system features a single mulching blade with 3-inch blade height adjustment, and the entire mower is carried by 13-inch (rear) and 10-inch pneumatic tires, and backed by a 2-year warranty.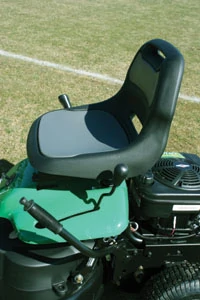 The WeedEater One has a MSRP of $699, which makes it more expensive than most high-end, walk-behind mowers but less expensive than the most modestly priced ride-ons, filling a much-needed niche for homeowners who want a compromise between the two.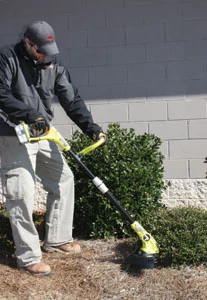 Ryobi One+ 18V Lawn Tools
Ryobi has simplified a cordless line of lawn and garden tools with interchangable 18-volt lithium-ion batteries (www.ryobitools.com). Rather than priming, choking or pulling cords, or mixing, pouring and storing fuel, just pop in a battery and power up a string trimmer, hedge trimmer, sweeper or even a chainsaw.
Without the messy gas and oil, maintenance issues take a backseat to convenience. Simply keep a battery charged up, and these tools are conveniently ready-to-use when you need them. The nature of lithium-ion batteries means they hold a charge longer without fading than the older nickel-cadmium batteries, and they recharge faster (one hour). Plus, Ryobi's new One+ lithium-ion batteries are also interchangeable with other tools in the company's One+ system, so they can be used for One+ tools that you may already own.
Weighing only 7-1/2 pounds, the new Ryobi lithium-ion string trimmer is easy to handle and features telescopic height adjustment and a 12-inch cutting swath. It features a hands-free, bump-feed head to extend the string—a single .065 trimmer line. The trimmer also features a flip-out guard at the pivoting head and a rotating handle, so it can also be used for edging applications.

Usually called a "blower" down here in the Deep South, Ryobi's scaled-down 18-volt Sweeper does pretty much the same thing at featherweight 4 pounds while generating a 120-mph air current to blow away leaves and debris. The One+ unit features an over-molded grip and is specifically designed for use on patios and other hard surfaces.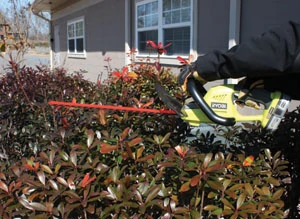 The One+ cordless hedge trimmer is simple but sweet for shaping shrubs and small trees, with 18-inch dual action blades, 2,400 strokes per minute and a 3/8-inch cut capacity. Rounding out the workshop is the One+ cordless chainsaw, which comes with 10-inch bar and chain, and push-button oiler. Each tool in the lineup is designed especially for homeowner convenience and ease of use, and backed by a 2-year warranty.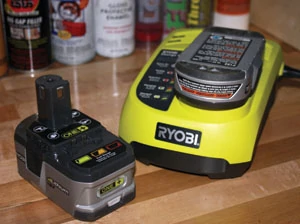 Keep in mind that battery-powered lawn tools will have a limited run time, so consider that when choosing a tool for your home. Depending on the tool in question, you may only get 12 to 15 minutes per battery charge even with the lithium-ion technology.
However, consider the time you spend blowing leaves off a driveway; for many homeowners such a task takes less than ten minutes to complete. If, however, you have a lot of land or a long list of time-consuming chores to conquer, then some gas-powered lawn equipment will be a more practical choice.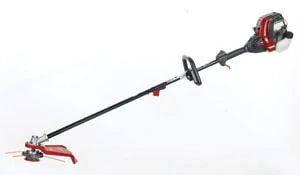 Craftsman Speed Start Technology
Ever injured your elbow when jerking on a stubborn cord to start a trimmer? Ever fruitlessly tugged on the rope of a mower until you collapse in exhaustion under the sizzling sun of a punishing summer? Join the club.
The engineers for Craftsman feel your pain, as seen with the company's new Speed Start Technology for 2-cycle and 4-cycle string trimmers (www.craftsman.com). With Speed Start, users have a few different options to start the engine with ease.
The first feature is Incredi-Pull technology, which has actually been around a few years. This is standard on all Craftsman 2-cycle and 4-cycle line trimmer models and makes use of optimized recoil technology for easier pull-starts. A slow and steady pull of the starter rope releases energy from a pre-wound spring that turns over the engine for ignition. When the starting cord is released, the spring is recharged for the next restart. This feature makes for easier starting every time.
Newly available as part of the Speed Start family is Craftsman's Power Bit Starter (#85952) and Plug-In Power Start (#85951). Both of these features completely eliminate the need to pull-start the engine. With the Power Bit Start, homeowners can use a cordless drill to quickly start their trimmer. Simply insert the bit into any 1,000 RPM or higher drill chuck and push the special one-way bit starter into the engine socket. Once engaged, trigger the drill to power-up the engine.
Alternatively, the Plug-In Power Start tool is a self-contained electric starter motor with the starting bit already installed. Just plug it into a standard wall socket and insert the one-way drive bit into the engine socket. Press the trigger, and the engine starts immediately. The Power Bit Start is standard on select trimmer models, and both the Power Bit Start and Plug-In Power Start are available as add-ons for all new gas-powered Craftsman trimmers.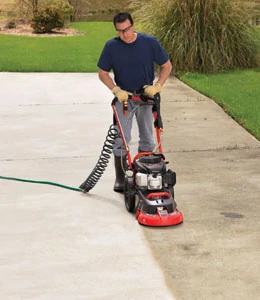 Homelite EZ Clean
The new Homelite EZ Clean is a sensible solution for deck and patio cleaning. The EZ Clean is designed to distribute the force of the pressure washer over a broader cleaning swath for greater efficiency when cleaning large surface areas. Cleaning a driveway or sidewalk with a spray wand will work, but it will also take a lot of time and generally leave uneven streaking over the surface where the water stream struck different areas with varying force. Washing large surfaces with a pressure washer nozzle is similar to mowing a lawn with a string trimmer. You may eventually get the job done, but expect a long slog and inconsistent results.
This EZ Clean system uses a surface-cleaning deck, similar to a mower deck, that hovers over large surface areas while two nozzles spin at 1,500 RPM. This spinning action provides even, streak-free cleaning in much less time than it takes to clean using a standard pressure-washer wand.
The EZ Clean system offers three products to suit the needs of homeowners. First, the attachment version is a 15-inch deck that attaches right to your spray wand if you already own a pressure washer. Second, the electric EZ Clean pressure washer comes equipped with the deck, provides simple setup and also functions as a standard pressure washer. Finally, the gas unit is ideal for heavy-duty cleaning jobs, featuring three modes of operation—surface cleaner; standard spray; and detached-surface cleaner for elevated surfaces.