It's that time again … Time to nurse the yard and garden back to a healthy shade of green, eliminate pesky weeds and revive your home's outdoor curb appeal. Some homeowners find gardening and lawn care to be a rewarding hobby, and others consider it a necessary evil. Either way, we can all agree that working smarter, rather than harder, is the right approach to take any time of the year. To that end we have rounded up a few cutting-edge lawn and garden tools that should help make this year's green season as efficient and enjoyable as possible.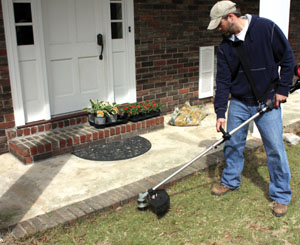 Check out innovative tool technologies, from riding mowers with power steering to propane-powered string trimmers.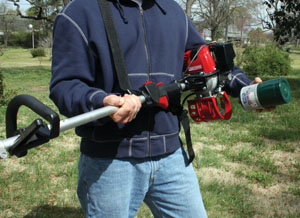 Craftsman Propane String Trimmer
For the "green" minded gardener, the new propane-powered string trimmers from Craftsman run quietly and powerfully, with Twist 'n Go fueling for an average run time of two hours on a standard 16.4-ounce propane canister. Just pop in the canister, spin it in place and you're ready to weed. Utilizing environmentally friendly engine technology from LEHR, Inc., there's no need to mix fuel or store smelly gasoline. Although battery-powered string trimmers offer freedom from a cord without a gas model's fumes and tune-ups, most battery models lack the power and runtime for anything more than light-duty trimming. Craftsman's new propane trimmers offer the best of both world's—plenty of weed-whacking muscle in a low-maintenance, cordless, environmentally friendly package.
Available in a curved-shaft and straight-shaft style, the EHT staff tested the straight-shaft and found that the 25cc, 4-cycle engine has all the power and bite of a gas model. And, because propane burns 50 times cleaner than gasoline, it won't gum up carburetors for extended engine life. The new propane model is also easy to start because it requires no choking or priming.
Additionally, the new propane trimmers feature the exclusive Craftsman hassle-free fixed line head for quick and easy line changes, which eliminates hassling with string spools that fail to feed or come "unspooled." Plus, each propane trimmer is equipped with a convertible shaft that can be fitted with several attachments, including a lawn edger, brush cutter, mini chainsaw, blower and more. Find more Craftsman tools at www.craftsman.com.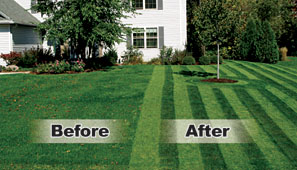 Lawn Stryper
Ever wonder how they create those patterns in the grass at major league ballparks and golf courses? The Lawn Stryper Lawn Striping System creates the same type of patterns for the homeowner. The Lawn Stryper is designed to easily attach to residential walk-behind, self-propelled and push-type lawnmowers so lawn enthusiasts can pattern their lawn like the professionals. The Lawn Stryper attachment properly bends grass after it has been cut. This "bend" results in light reflecting differently off the blades of grass, which produces the patterning effect. Use it to create straight patterns, wave patterns, circle patterns even checkerboard patterns. In fact, each Lawn Stryper comes with a full-color patterning guide, which offers grass tips, patterns and more.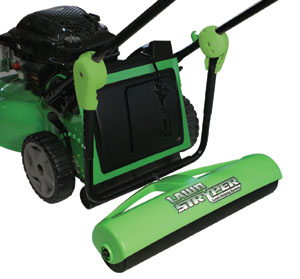 Available in three different colors to match the colors of most lawnmowers, the Lawn Stryper is easy to attach, easy to use, easy to maintain, and it works with existing bagging systems. Made, assembled and packaged in the USA, the Lawn Stryper Lawn Striping System is a great way to achieve that perfect, patterned lawn. For more detailed information on lawn patterning techniques, or for more information on the product, you can download the Lawn Stryper's user manual as a PDF at www.patternyourlawn.com, where you'll find a "How-to Guide on Patterning."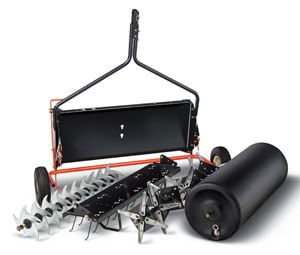 Agri-Fab SmartLINK Lawn System
Lawn care done right is a multiphase process that involves not just mowing, but dethatching, aerating and even rolling. Agri-Fab now offers an all-in-one grooming system that combines the best of today's most widely used lawn care attachments. The new SmartLINK system features a patent-pending design that allows homeowners to switch from one lawn care attachment to another in just seconds without any tools. The system includes two aerators, a dethatcher and a lawn roller.
Rolling the lawn may be necessary after a harsh winter if you see subtle bumps and grooves in your lawn. Rolling at the start of the season is important for proper fertilizer and grass seed application, as well as precise mowing. Aerating should also be done at the beginning of the season to improve oxygen circulation, reduce weeds and help absorb fertilizer. Dethatching does a gentle job of bringing disease-inviting layers of matted thatch to the surface for easy removal and a healthier lawn. All three applications can be easily carried out with a single SmartLINK system towed behind your riding mower or tractor. For more details, visit www.agri-fab.com.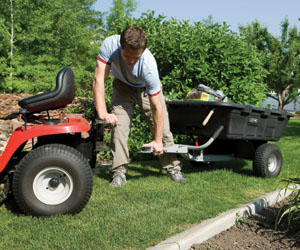 Yard Cart
Lifetime Products manufactures the innovative Yard Cart, which can be used as both a wheelbarrow and a towable cart; the wheelbarrow tongue rotates and locks in position, making a secure trailer hitch. The Yard Cart is built to last with a powder-coated steel frame and a 5-year warranty to back it up. It rides on heavy-duty 15-inch treaded tires on 6-inch wheels with ball-bearing hubs. The heavy-duty tub holds 10 cubic feet and can handle up to 650 pounds of material.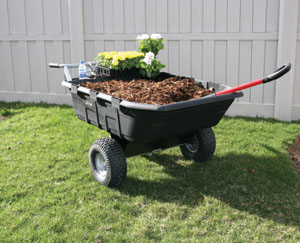 Beyond its solid construction and towability, the Yard Cart also offers features you're not likely to find on just any ol' wheelbarrow, such as built-in side pockets to carry hand tools and your beverage of choice. It also features a dumping mechanism, where the tub lifts off the frame and tilts forward to easily empty the cart. Plus, there's a silver lining for the ecologically minded gardener—the tub is made from 100-percent post-consumer material. With an excellent combination of sturdy construction, ample workload capacity and many user-friendly amenities, the Yard Cart puts conventional wheelbarrows to shame.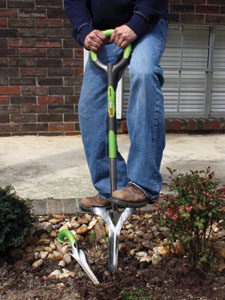 The NRG Pro Weeder features a round handle for better leverage.
Radius Garden NRG Tools
The new hand tools developed by Radius Garden are designed specifically with comfort and usability in mind. With O-shaped handles, the company's NRG Pro line of garden tools features four times the gripping surface as standard straight handles, which provides enough room to grip the end of the tool with both hands for better leverage. Each tool is constructed with a long, steel shaft that is resin-encased with non-slip grips. The NRG Pro line includes eight tools, from garden spade to bulb auger. The EHT staff tested the NRG Pro Weeder, and found that the ergonomic handles translate into less effort during yard chores, so you can work longer and more comfortably. The seamless stainless steel blade is built with a wide, raised forward step offset from the shaft for extra leverage. And, although the tool may be described as a "weeder," the superior leverage and narrow blade make it ideal for digging and trenching applications as well. For smaller applications such as work in container gardens and window planters, the NRG Weeder is a smaller hand-sized version of the tool with serrated aluminum-magnesium blades to easily slide through compacted dirt and roots and pop out stubborn weeds by the root.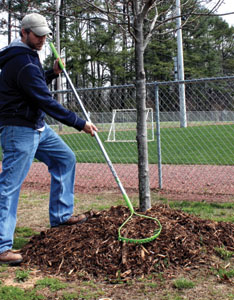 The Radius Garden Shark has a circular head and and curved tines for better material collection.
Radius Garden also offers a line of paddle-grip tools with extra-long handles for better leverage and less back strain. The durable fiberglass shafts are lightweight and stronger than wood, and the blades are made from hardened carbon steel. Tools in the paddle-grip NRG STX line includes shovels, digging forks, a transplanter and two rakes, including the Garden Shark. Radius Garden hails the Garden Shark as the "best mulching rake ever," and with its circular head and curved tines, it does an excellent job of collecting material while working very close to existing plants and shrubs. Check out more NRG garden tools at www.radiusgarden.com.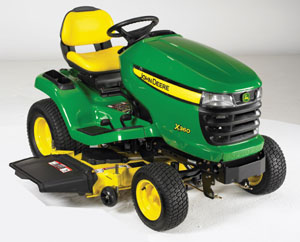 John Deere X360 Lawnmower
The EHT staff recently had the opportunity to test-drive several new John Deere units, from tractors to utility vehicles, at an Alabama-based dealership. As far as lawn tools, the new Deere X360 riding mower was our pick of the product line. It's powered by a 22-horsepower V-twin John Deere iTorque power system. The X360 cuts with a 48-inch Edge Xtra Deck, which is formed from a single sheet of steel with a rolled lip for extra strength. The hydrostatic Twin-Touch transmission operates using two-pedal foot control for easy speed adjustment—plus, there's a cruise control setting.
Additionally, a hydraulic power lift is standard on the X360 and delivers easy and precise fingertip control of the mower deck, front blade or snow attachments. A heavy-duty electric PTO clutch is operated by a dash-mounted control. And, Deere's heavy-duty Cargo Mount System (a combination of fender, deck and hitch mounting points) provides easy installation of rear attachments, from grass baggers and seed spreaders to aerators and lawn rollers. 
Among the many user-friendly features of the Deere X360 is its superb handling, thanks to hydraulic power steering and a steering wheel that comfortably adjusts to five positions. It's extremely easy to maneuver with a tight, 22-inch turning radius. For a comfortable ride, the high-backed adjustable seat features 7 inches of travel, a ventilated open-back design and springs that adjust for operator weight. With all the creature comforts and highly responsive power steering system, the X360 drives more like a car than a conventional riding lawnmower and it comes with a 4-year/300-hour limited warranty. For more information, visit www.deere.com.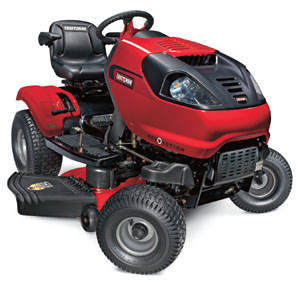 Craftsman Revolution Lawnmower
Craftsman is also making great strides in lawnmower maneuverability with its new zero-turn lawn tractor, the Craftsman Revolution (model 28933). Although the EHT staff hasn't yet had the opportunity to drive the new mower over hill and valley, the Revolution reportedly combines the maneuverability of a zero-turn rider with a traditional easy-to-use steering wheel to make the tightest, 360-degree turns around trees, flower beds and other obstacles.
On conventional zero-turn riders, the rear wheels are controlled by pushing and pulling two hand levers mounted on each side of the operator. The Revolution mower uses the new Synchro Technology where a steering wheel turns the front wheels and controls power sent to the rear wheels at the same time, making 360-degree turns without damaging the lawn. True zero-turn is achieved when the wheel is turned far enough that the inside rear wheel spins in reverse, making it the first mower to provide zero-turn maneuverability with the easy use of a steering wheel.
The Revolution is powered with a powerful 22-horsepower Platinum V-Twin engine by Briggs & Stratton. It cuts with a 42-inch mowing deck, and more attachments are available, including a bagger, a lawn cart and a dozer blade. Also included is a Systems Monitor that provides a digital hour meter, oil-change service reminder, oil pressure indicator, battery voltage monitor, parking brake and PTO start sequence LED's. The Revolution comes with a 2-year limited warranty and is available at a local Sears or www.craftsman.com.