(Guest post by Vicki Clary)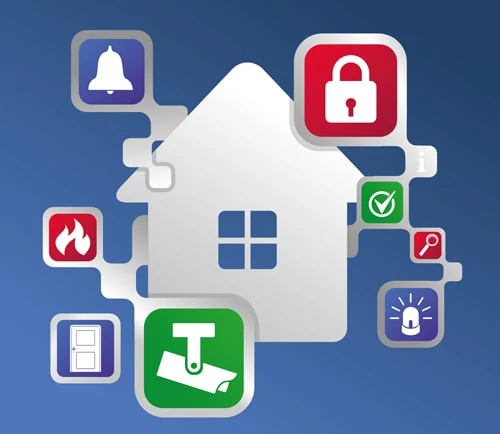 For most Americans, the place where you live is your biggest and most expensive investment — and that's why protecting that investment is so important. The right security measures can make all the difference in how safe your home is, not to mention how comfortable you feel living in it. Yet just as home decorating trends evolve and change over time, so too do security measures — so giving your home the best protection has to involve keeping up with the newest and latest advancements. Today, mobile and wireless technologies have improved the way home security works and the functions it includes. Below, let's take a look at some of the latest trends in home security and how they could benefit your home.
Security Monitoring Apps: Have you ever wished there was way to keep track of activity in and around your house while you're at work, on vacation or otherwise away from home? Thanks to new smartphone apps that can monitor for you, there is. Suddenly, tracking what's happening at your property couldn't be easier, as the data streams instantly and easily right to your handheld phone. The free Presence app for iOS provides free smart home automation and video security, not to mention home energy control. With the $5 iCam app, you can watch multiple live video and audio feeds from your smartphone. There's also the iZon camera and app that, after you've installed the camera, connected it to Wi-Fi and set up the app on your phone, allows you to stream video from your home directly to your mobile device.
 
Broadband Video Monitoring: Sync your security system with your smartphone to get instant notifications when something seems off at your home. Whether you're around the corner or miles away, learning about potential problems as soon as they occur helps you take action to stop them.
 
Wireless Door Locks: If the idea of wirelessly unlocking your doors sounds too good to be true, you'll want to check out electronic door locks and apps like Lockitron. With this wireless technology, you can use your smartphone to lock or unlock doors wherever you are. Quickly take action when your teenager tells you he got locked out of the house. Have an easy way to let your houseguests in when you're running late to meet them at your home. With electronic door locks, you gain extra control over accessing your property — and with maximum convenience.
 
Convenient, Accurate Sensors: Gone are the days of complicated, hard-to-install security sensors that have extensive wiring and complex components. Today's sensors are wireless, making them easy and quick to install, as well as less costly. What's more, thanks to improvements in security technology, modern sensors are more accurate, customizable and reliable.
 
Geo-Fencing: Whether it's your young child or aging parent, people who need regular supervision can benefit from your installation of geo-fencing. Basically what geo-fencing does is establish a GPS-based boundary around your home that will notify you anytime a linked device goes outside that boundary. You simply have individuals wear those devices and then you gain immediate alerts anytime they wander where they shouldn't.
 
Home Health Care Monitoring: Believe it or not, it's more than your property that today's home security technology can protect — it's also your health. Wireless medical devices are growing in popularity as they give medical professionals a way to wirelessly monitor patients' vitals, sleep, routines, medication, etc. In fact, some security companies are already integrating health care monitoring into their services — and with an aging population and growing interest in mobile health care, this is likely only to grow.
Considering the trends outlined above, it might be time to consider how new technologies could improve the way you protect your home and family members. If you aren't already taking advantage of the technologies outlined above, look into adding them to your security system, and reap the benefits of the latest security measures.
Author Bio: Vicki Clary is the Marketing Director at Curtis Homes, a semi-custom homebuilder of Southern Maryland Communities. Vicki works with her customers to create the home of their dream that both looks great and feels safe.