By Monte Burch
Tools, materials and techniques for this traditional flooring material.

Anyway you put it, laying ceramic floor tile is work—physically, mentally, and in closets and cut-up areas, challenging. New materials and tools, however, can take out some of the hassle.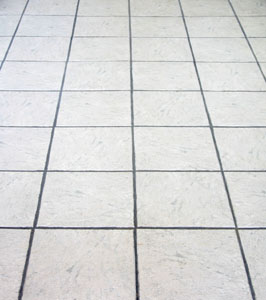 This kitchen project involved a house well over a hundred years old, with a double layer of vinyl flooring and several problems. The original floor was solid, with a solid-oak underlayment. Over that was a yellow pine finished floor. The pine flooring was well worn. The owners began remodeling about 40 years ago and laid down a 1/4-inch plywood "subfloor" over the pine, then installed vinyl flooring. Years later the old vinyl floor needed replacing. The old floor, however, was solidly stuck in place and impossible to easily remove. So, they simply nailed down another 1/4-inch plywood subfloor and installed another layer of vinyl flooring. To complicate matters, kitchen cabinets were installed over the flooring.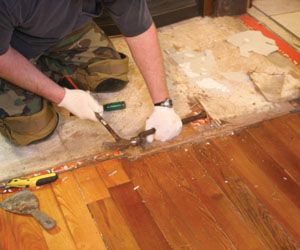 The first step was to remove the molding and quarter round around the cabinet bottom edges. Then a multifunction vibrating tool, such as the Rockwell SoniCrafter or Craftsman Nextec, was used to cut down through the top vinyl and plywood layer, along the cabinet bottom edges. The tool was also used to cut away a small area to be pried up with a pry bar as a starting place. Then, a roof tear-off tool was used to rip up the top vinyl/plywood layer. Sure enough, the old vinyl was still tightly adhered, leaving a good sub-base.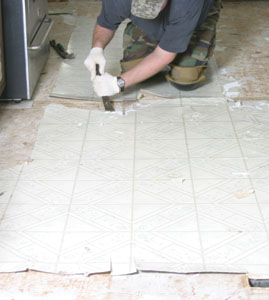 Good Foundation
Tile is traditionally installed over an uncoupling layer or forgiving shear interface, a supportive underlayment. An uncoupling layer allows the tiled surface to move independently of, or be 'uncoupled' from, the subfloor to prevent cracks in the tiles and grout.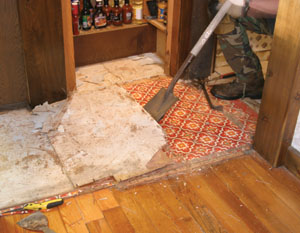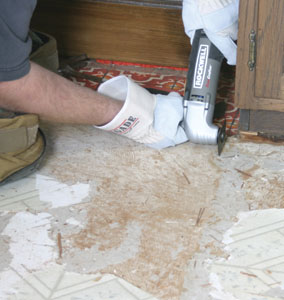 For an uncoupling layer on this project, we used Schluter-DITRA, an innovative underlayment performing multiple functions. Schluter-DITRA is a polyethylene membrane with a grid structure of square cavities, each cut back in a dovetail configuration, and an anchoring fleece laminated to the underside. The product is bonded to the substrate using thinset mortar. The anchoring fleece on the underside of Schluter-DITRA fully engages in the mortar to provide a mechanical bond to the substrate. Tile is installed over the underlayment using a thin-bed method in such a way that the mortar becomes mechanically anchored in the square cutback cavities of the DITRA matting. Designed specifically for ceramic tile and dimensional stone installations, DITRA serves not only as an uncoupling layer but also as a waterproofing membrane and vapor-management layer.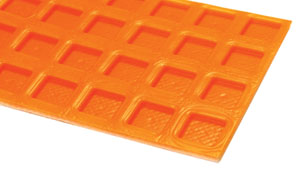 The Schluter-DITRA product performs all these functions while still providing adequate support and load distribution for the tile covering. When placed on a solid foundation, columns or pillars can support tremendous loads. The same physical principle applies to DITRA installations. Column-like mortar structures are formed in the cutback cavities of the matting. Loads are transferred from the tile covering through these column-like mortar structures to the substrate. Since DITRA is virtually incompressible within the tile assembly, the advantages of uncoupling are achieved without sacrificing load-distribution capabilities.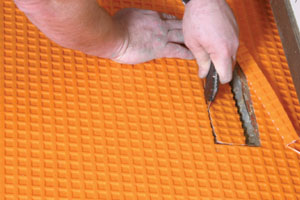 Schluter-DITRA comes in a roll, which is much easier to work with than solid systems. The material is easy to cut with scissors or a sharp knife. Since it's flexible, it's easier to get the material into smaller spaces, such as closets and hallways. Cut the material to fit, including cuts for heating ducts and any irregularities, and lay it dry to test the fit.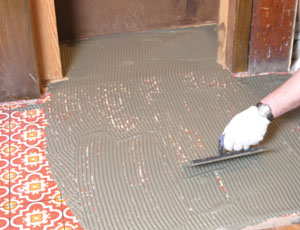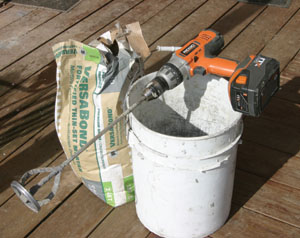 The underlayment can be installed over a number of flooring systems, but it's important to carefully read and follow directions for the various materials, including the types of thinset mortar to be used. Installation, however, is quite easy. Using the proper thinset mortar suitable for the particular substrate, apply the mortar using a 1/4-by-3/16-inch, or a 5/16-by-5/16-inch V-notched trowel, or the Schluter-DITRA trowel, which features a 11/64-by-11/64-inch square notch design. Note the thinset mortar should be mixed to a fairly fluid consistency (a bit thinner than normal), but still be able to hold a notch.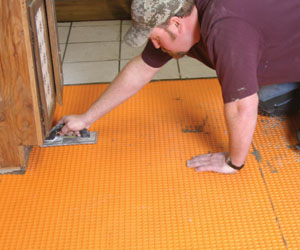 Next, apply the DITRA to the floor, fleece side down. Solidly embed the matting into the bonding mortar using a float or screed trowel and good, even pressure. For joining sections of the product, simply butt sections of adjoining sheets. Raise a corner of the matting to check coverage. Proper installation results in full contact between the fleece webbing and the thinset mortar.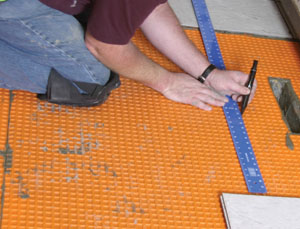 Tile can be installed over the underlayment immediately; no need to wait for the mortar to cure. Fill the cut-back cavities with unmodified thinset mortar and comb additional mortar over the mat using a trowel that is appropriate for the size of tile. Solidly embed the tiles in the setting material. Periodically remove and check a tile to ensure full mortar coverage is being obtained.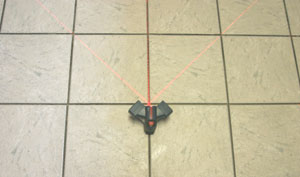 Tile Tools that Make a Difference
We also found other tiling tools invaluable. The new Bosch Wall/Floor Covering Laser projects three lines—a center line and two 90-degree lines—and can also be used for 45-degree tile layout. The tool projects laser lines positioned in front of a laser base for easy centering over a point for precise adjustment. The bright, highly-visible laser lines are raised from the surface to project over uneven areas or obstructions.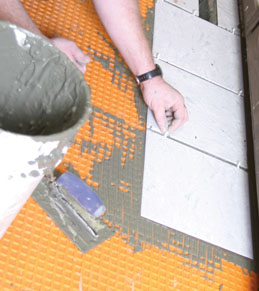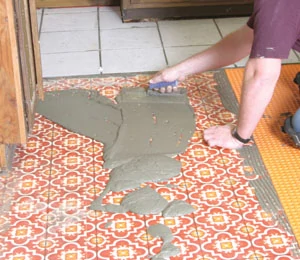 One of the biggest problems in laying any type of flooring material is determining if the room is square, or how far out of square it is. This can be a major factor in determining the pattern of laying the flooring material, and is especially important with ceramic or stone tile. For instance, you might start laying tile against a long wall, only to find the row going off at the adjoining wall. Simply place the Bosch laser in one corner of the measuring surface. Switch on the tool and align it so the zero-degree laser line runs along the long side and the 90-degree laser line runs along the short side of the measuring surface. You can quickly determine the squareness of the room. The single center line can be used to lay out the first tile line. Incidentally, the unit comes with a detachable magnetic base that can be fastened to vertical surfaces for wall tile.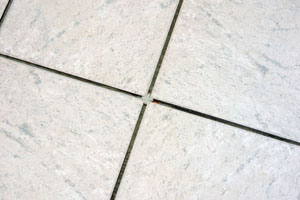 When I first started laying tile a number of years ago, they were cut with an old scoring tool. The tile is laid in place, scored with the cutter, and then snapped over the edge of a sturdy support. Not only was the technique time consuming, but many tiles were wasted when they didn't snap properly. Then came the "push-through" tile saw and things were easier, but it still took some effort to precisely cut large floor tile.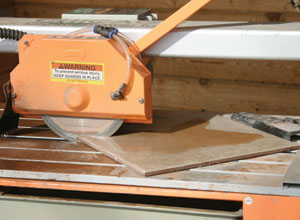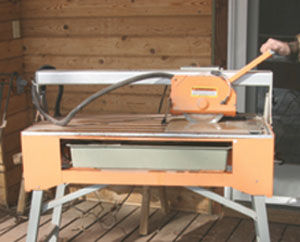 With this project I used a Chicago Electric Power Tools, 1-1/2 horsepower Bridge Tile Saw with stand from Harbor Freight Tools. Cutting tile, even large floor tile, suddenly became an easy, and more important, precise task. With a push-through saw, the tile is pushed into the saw blade, much in the same manner as a woodworking table saw. With a bridge saw such as this, the tile is positioned, and the saw blade is drawn across the securely held tile, in the manner of a radial arm or sliding miter saw. I find this to be the most precise tile-cutting method.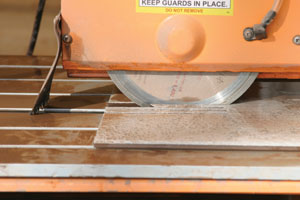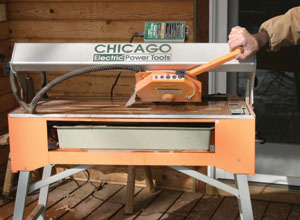 The saw comes with a folding stand that also holds a water tray. It cuts floor and wall tiles up to 24-by-24 inches, marble and brick up to 25-inches long. It will bevel-cut from zero to 45 degrees (left) with a maximum depth of cut of 1-inch at 90 and 45 degrees. The rip fence has a scale of zero to 8-1/4-inches in 1/8-inch increments, as well as zero to 210 millimeters in 2-millimeter increments. A 7-inch Continuous Rim Diamond Wet Blade, sold separately, makes cutting quick and easy.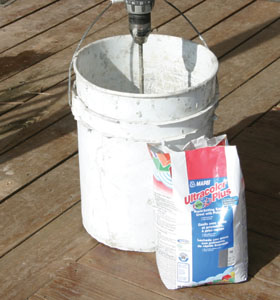 The Right Grout
With the tile laid, the next step is grouting. I've used MAPEI products for a number of years with excellent results. For this project I chose MAPEI UltraColor Plus Flexible Grout. This is often used for grouting floors in supermarkets, restaurants, airports and is ideal for grouting bathrooms and kitchens. This fast-setting and drying, high-performance, anti-efflorescence grout is polymer-modified for joints from 1/8 to 1 inch. The grout is water-repellent with DropEffect technology, which reduces surface absorption to help repel water, dirt and grime from penetrating grout joints. UltraColor Plus also has BioBlock technology to block various types of mold from forming and proliferating on the surface of the grout in humid conditions.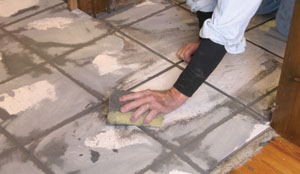 Application is easy, and it dries quickly. Waiting time before finishing is 15 to 30 minutes. The grout is set to foot traffic in approximately three hours. Make sure the surface is clean of all dirt and grit. It's important to mix the grout properly using a mechanical means, such as a mortar paddle chucked in a drill. Mix with the appropriate amount of water for three minutes. Allow to set for two to three minutes, remix for 30 seconds, and then spread immediately. The grout should be allowed to firm up in the joints sufficiently, usually 15 to 30 minutes, and then wash away with a wet sponge, followed by soft, dry cloths.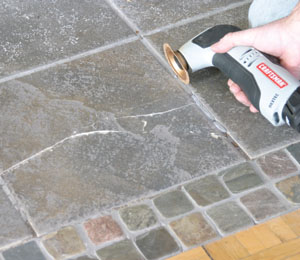 New products and tools make one of the tougher do-it-yourself remodeling jobs, laying floor tile, much easier, more precise and longer lasting.
Custom Threshold
With the tile and Schluter materials added to the existing plywood subfloor and old vinyl, the finished tile floor came to about 3/4-inch above a beautifully refinished old wooden floor in an adjoining room. A wide threshold was used to transition between the two floors, made from a tapered piece of matching wood. A 1/2-inch wood strip was first glued to the back of the threshold piece with white glue and newspaper between. The threshold piece was then run through a planer to cut an even and precise taper. The wooden strip on the back was then removed with a wide chisel, and the tapered threshold was fastened in place.