I think we can all agree that drill/drivers are indispensable tools. Almost anyone perusing the articles of EHT is likely well versed in what they can do and how to use them, so this article will bypass the basics and focus on what's new on store shelves. And most of these late-model advances share a common theme: more performance in a smaller, lighter package thanks largely to advances in battery technology.
Featherweights
There's no sense in dragging out the big guns for minor repairs and assembly around the house. A small, lightweight cordless drill/driver comes in handy all the time, and over the past couple of years I've relied on two: Metabo's pro-grade PowerGrip and more recently, Skil's EVO drill/driver (pictured at top).
I've owned the  PowerGrip for a few years, and it's very compact and comfortable to use, shaped like a fat, curved screwdriver. At only 7-1/2 inches, it fits easily into tight spaces, and although it only generates 4.8 volts of power, it's surprising how much performance you can squeeze from this variable-speed tool. It also included a backup battery, always a big plus.
While the PowerGrip uses NiCad batteries, the Skil EVO relies on lithium-ion. This new battery technology is much more efficient than NiCad and allows the Skil to offer more power in a compact design. Both drivers weigh less than 2 pounds, but the EVO boasts 10.8 volts of power, as well as a work light, quick-change chuck and speed dial.
The Skil model doesn't have the same beefy housing as the PowerGrip, but my main gripe about the EVO is its balance—the entire driver juices up in its recharging base, eliminating the need for a separate battery. But the catch: With no battery in the lightweight handle, the driver feels a little too top-heavy and awkward. I wanted a marriage of both the PowerGrip and the EVO: lightweight, comfortable, durable and compact, but with plenty of power and runtime. And that's where the market is headed.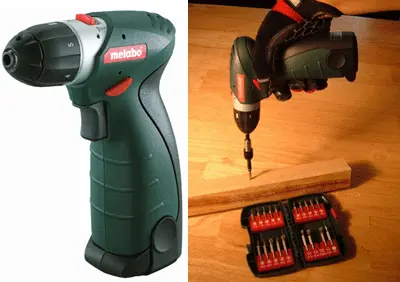 Metabo recently introduced its PowerGrip II, which delivers a jump in power to 7.2 volts due to switching to lithium-ion batteries—and it's still ultra-light at only 1.6 pounds. The PowerGrip II offers maximum torque of 141 inch-pounds, 20 clutch settings, a drill setting and its small size (height of 5-3/4 inches) is ideal for assembly work, carpentry, electrical work or any application that requires getting into confined areas. The driver comes in a heavy-duty case with an offset-angle drive attachment, a 1/4-inch keyless chuck and a 20-piece screwdriver bit kit, as well as two batteries and a charger. Plus, this version of the PowerGrip has a pistol-style handle, and by housing the battery in the handle, the driver has the balance I was missing in the EVO.
With that said, there's a lot to be said for the difference in price points. Metabo manufactures tools for professional usage, and they're priced accordingly. The PowerGrip II is a great tool but has a cringe-worthy MSRP of $409. So, although the Skil EVO is not as nice, it's a fraction of the price—$141.99 MSRP, a good buy for a DIY tool. Note: Despite the MSRP's, I found both tools for sell on e-Bay for significantly less—a new Powergrip II was going for $153.99, and a new EVO was selling for $49.99.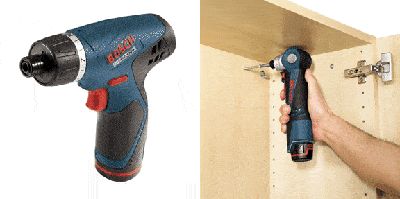 Bosch also makes two solid compacts for professionals—the 10.8-volt Pocket Driver and I-Driver. The Pocket Driver features a pistol grip and fits easily into a tool belt. It's nearly half the size of stick drivers—only 6 by 6-1/2-inches, and weighs less than 2 pounds with the battery. It may be small, but it packs a punch: The Pocket Driver can drive 100 3-inch screws per charge and drill holes up to 1/2-inch in diameter. It has variable speed from zero to 400 rpm and delivers more than 80-inch/pounds of torque. The similarly designed I-Driver is narrow and oblong with a short, pivoting head that articulates a full 90 degrees.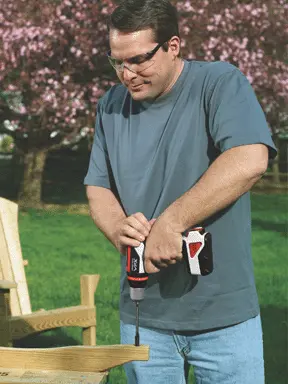 For the DIY consumer, Black and Decker is entering the compact tool market. Also taking advantage of the latest battery tech, the company's new VPX system utilizes an interchangeable Li-Ion battery platform, which includes a compact 14-volt drill/driver, a smaller 7-volt drill/driver and a 7-volt screwdriver. The VPX system provides the convenience of a common rechargeable battery for multiple products. At the center of the VPX system is a 7-volt high-energy battery. VPX tools are powered by either a single 7-volt battery or two 7-volt batteries for higher-power tools. Also included in the VPX platform is small recip saw, an air inflator, hand vac and a flashlight.
More Muscle
Stepping up in cordless power are midsize drill/drivers ranging from 12- to 14.4-volts. Although the smaller models work great for driving fasteners into soft material and the occasional light-duty drilling, more torque is required for tougher boring applications.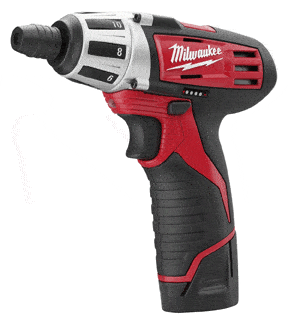 Milwaukee Electric Tool has a powerful new professional-grade 12-volt Sub-Compact Driver, ideal for a variety of applications including electrical work, installation, finish carpentry and other drill/driving tasks. Delivering 100-inch-pounds of torque in a compact, lightweight package of only 2 pounds, the 2401-22 driver is powerful enough to drive 130 3-inch screws in a single battery charge with speeds up to 500 RPM to finish jobs faster. Leveraging Milwaukee's pioneering fade-free lithium-ion technology, the 12-volt Sub-Compact Driver utilizes a 1.4-Ahr battery, and fits easily in a pocket or tool belt.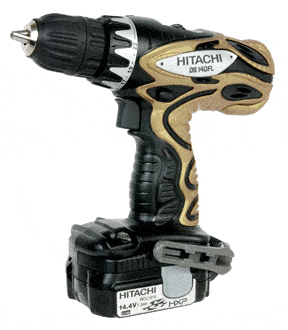 Hitachi Power Tools offers the new DFL line of cordless drills that use 1.5-Ahr lithium-ion batteries. According to Hitachi, this allows the user to charge and recharge the same battery 1,500 times before it needs to be replaced. The battery also makes the overall weight of the drill significantly lighter and can power Hitachi's other cordless drills (DMR, DVF3, DL—14.4 and 18V, respectively) that traditionally use NiCad batteries. The DFL series includes a 14.4- and 18-volt drill that is uniquely gold in color and sold exclusively at Lowe's. And here's a bonus: Both Hitachi drills come with an MP3 player packaged inside, so you can rock out while you're drilling, I suppose.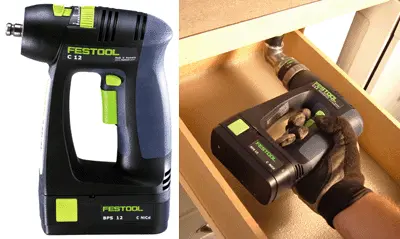 Festool manufactures high-quality power tools for the professional woodworker, and the company's C12 Series drill/driver has a very versatile design. With an innovative, interchangeable chuck system and cutting-edge motor technology, Festool's C12 is ideal for all sorts of professional jobs. The Festool chuck system includes quick-change, depth-stop Centrotec chucks in three models: right-angle, eccentric and straight. The right-angle chuck allows work around corners. The eccentric chuck is for offset fastening right against walls—all with the same drill. The ground-breaking, brushless motor of the C12 means less down time and an extended, if not unlimited, service life. The C12 drills also have exceptional power in lightweight and ergonomic designs for comfort during prolonged use. However, Festool drills are also priced high for the pros—listed at $460 for the drill, two 1.3-Ahr NiCad batteries and charger, case and all the chuck accessories.
Strong and Cordless
Topping the list in cordless power are drills in the 18-volt range and upward, generally used by professionals and serious DIY'ers. The 18-volt models are a bit heavier, and the 24-volt models even more so—some weighing as much as 3 or more pounds—but those generally drive 1/2-inch drill bits for masonry work. Most drills use a 3/8-inch chuck.
For major home projects, I prefer an 18-volt drill/driver. I've used 18's from Hitachi and Milwaukee extensively, and love them both. Both are pro-grade tools and accept NiCad or Lithium-ion batteries, but the lithiums are nice and lightweight when using the drills for long hours.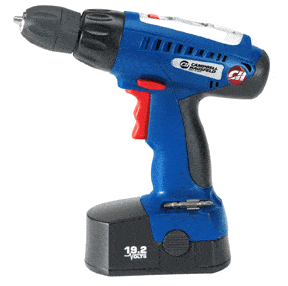 As far as new models go, Campbell Hausfeld, longtime maker of pneumatic equipment, has recently ventured into cordless electric tools. The company's REVolution line of cordless tools includes a 19.2-volt drill/driver that provides 50-percent more torque than many comparable models and a 3-year limited warranty. The drill delivers 260 maximum inch/pounds of torque, a two-speed gearbox for speeds of 0-350 and 0-1,100. It also has an electronic "dashboard" with a magnetic tray to secure fasteners and a barrel level for drilling accuracy. It comes with a case, an extra battery, 13-piece accessory kit, charger and AC adapter. And it's tough to beat the price—just $49.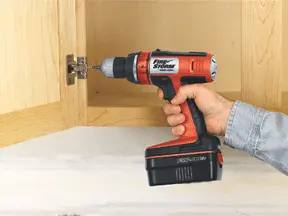 Black and Decker's Firestorm line of 18-volts are reasonably priced but sturdy drills targeted to the serious DIY'er. They also come with some pretty nifty features. For example, the FS18PSK features SmartSelect Technology; simply select the application and the drill automatically adjusts to optimal power and speed. The two-speed gearbox with variable speed trigger is designed for both for high-torque screwdriving and high-speed drilling applications.
The Right Drill for Your
This article is by no means comprehensive—just a look at some of the latest models to choose from. Most power tool manufacturers offer a line of drills, with new models hitting the store shelves every year. Prices, engineering and amenities vary greatly, especially when choosing between pro-grade and consumer-grade tools. But remember that pro-grade tools were designed to be used all day, every day, and are built to stand up to that treatment—thus the high cost. Professional tools are great for anyone, but some DIY'ers may not use the tool enough to justify the cost. When shopping, pay attention to the warranties of the various models, which can be a good indicator of what to expect. Also check online for customer reviews at places like Amazon.com, which often present a fair, unbiased opinion from the actual end-users.
Also, look at the various odds and ends included with the tool. These days practically all cordless drills feature variable speed and reverse. Some feature two or three variable speed ranges, with the lower range used for driving and the upper for drilling. Most also feature a torque clutch that can be adjusted to allow the bit to slip at various torque settings, eliminating over-driving fasteners. You'll also find various details such as work lights, adjustable handles, on-tool bit storage and more that make life a little easier when it's time for your next project.
TOOL SOURCES
Black and Decker/Firestorm
Bosch Power Tools
Campbell Hausfeld
Festool
Hitachi Power Tools
Metabo
Milwaukee Electric Tool
Skil