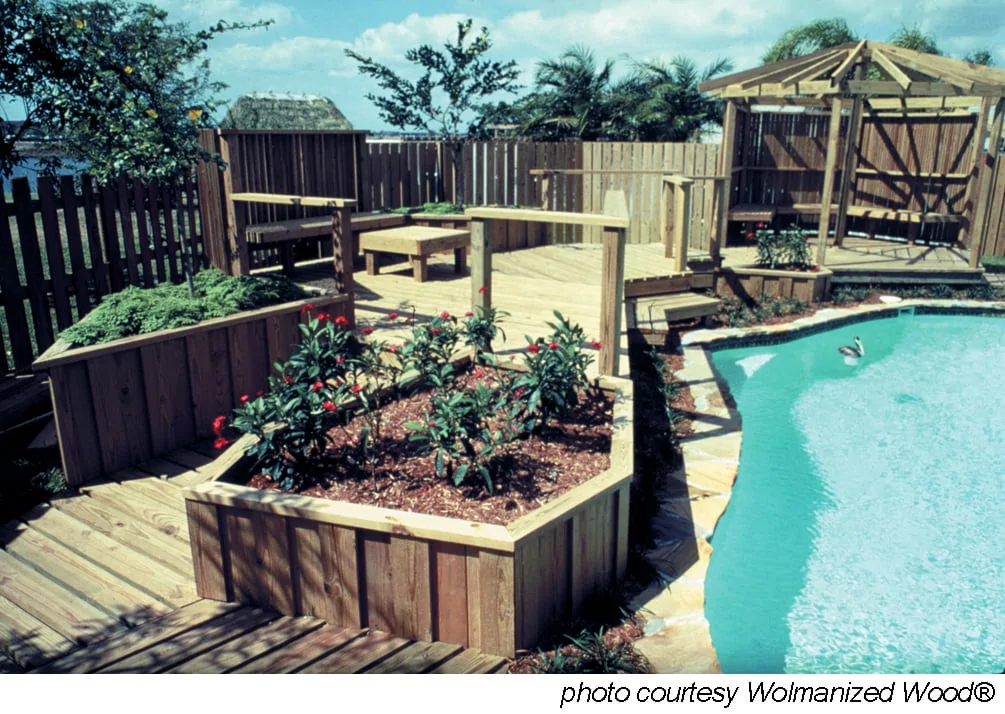 If you're planning to build a deck near a pool or spa, then you should be aware of some new building code changes from the International Code Council. The 2012 International Swimming Pool and Spa Code stipulates new rules for deck surfaces adjacent to "adequate vessels", which the code defines as any vessel that holds more than 12 inches of water and is used for recreation. According to section 306 of the new code, decks around water must be designed to reduce the hazard of slip-and-fall accidents due to standing water on the walking surface. Here's a quick look at the details.
Slip resistance. According to section 306 of the code, the walking surface of decks built adjacent to water vessels must be slip-resistant. Unfortunately, the code fails to provide a test standard, which makes this a confusing requirement for the installer. The deck surface must be "treated or constructed to significantly reduce slipping," which sounds as if unaltered wood would no longer be accepted. Some manufactured texturing product may be required, such as a coating or as an integral feature of the decking material.
Deck slope. Section 306.4 requires a deck pitch that drains water. The code states that standing water on the deck cannot exceed 1/8 inch in depth 20 minutes after rain ceases to fall. To meet the standard, the code now requires that deck surfaces around pools and spas be sloped at least 1/8 inch—but no more than 1/4 inch—for every 1 foot.
Gaps between deck boards. In section 306.5 you'll find new spacing requirements for decks installed around pools and spas. "Gaps shall be provided between deck boards in wood decks." This requirement allows drainage between the boards and may eliminate the use of tongue-and-groove decking products for such applications. Tripping hazards must also be avoided: "The difference in vertical elevation between the pool deck and the adjoining sidewalk shall be not greater than 1/4 inch."
Blunt edges. On top of these new slip-prevention measures, the ICC also requires constructing the edges of the structure so they're as safe as possible if someone were still to lose their footing on the deck. Section 306.7 requires: "The edges of all decks shall be radiused, tapered, or otherwise designed to eliminate sharp corners."
These are brand-new code changes, and most local authorities have not yet adopted the new requirements. However, the ICC is a model for most building ordinances, so expect your local inspector to eventually follow suit. In the meantime, always consult with local authorities to determine what is currently required in your area.
— M. Weber