The Inevitable Garage Clutter Syndrome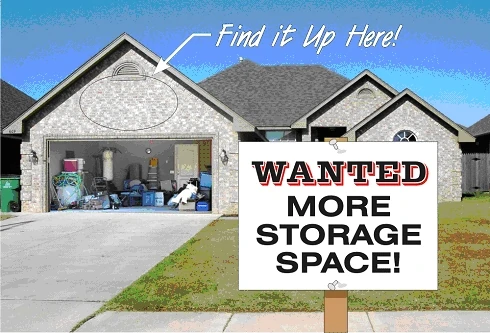 Drive through any neighborhood on a Saturday when homeowners have their garages doors up and you'll see that garage clutter is a common problem.  The reason is simple:  Homes are not built with enough utility storage space! Generally, interior storage space is well thought out and provisions are made for storage, for example, closets for clothing, pantries for food, cabinets for dishes, linen, etc.  However, when it comes to utility storage for your home you get a one-, two-, or three-car garage: It's an empty box and, unfortunately, you're on your own to find a way to organize all of the stuff you need to put in there and still end up with space to park your cars.
You can add some cabinets in your garage and they are definitely helpful for storing and organizing small items. However, there are just too many bulky things that won't fit into cabinets such as: ice chests, canister shop-vacs, luggage, camping gear, fishing tackle, auto ramps, jacks, fertilizer spreader, pump sprayer, shovels, buckets, hose reels, pressure washer, carpet shampooer, gardening tools, boxes of Halloween, Thanksgiving, and Christmas decorations… the list goes on!
You can resort to shelves, hooks and wire ceiling racks that let you stack it, rack it, or hang it from the ceiling, but your garage will still look and feel cluttered! Because let's face it, you still have to look at it all, even if it's hanging on the walls or from the ceiling. We can agree utility items don't qualify as decorative wall hangings. Furthermore, standing on a ladder each time you need to retrieve something you stored in a ceiling rack is nobody's idea of convenience, not to mention the fact it's very dangerous and can lead to serious injury! *


The Ultimate Storage Solution
The ultimate solution to garage clutter: just make it disappear like magic when you're not using it and get it back in seconds when you need it!
How? You can develop your home's hidden asset (the attic storage space) by installing a Versa Lift push-button storage system from versalifthome.com
Most homes have usable attic storage space, but it is typically either undeveloped, or at least, under-developed. Your attic may be poorly lighted, might not have decking (flooring) over the ceiling joists and, typically, the only way to put things up there is to carry them up the narrow ladder… not only difficult, but also very dangerous.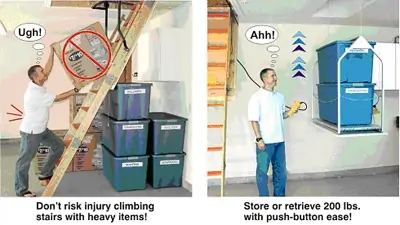 But don't despair! Now you can convert your attic into the ultimate storage solution.  Just add some lights, plywood decking, and a Versa Lift and your attic can become a huge hidden storage area with push-button access to store and retrieve garage clutter items in seconds!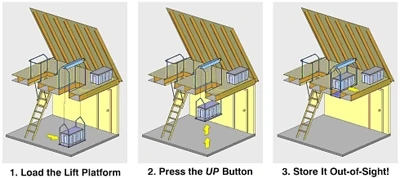 Versa Lift. It's Like Storage Magic:  Now you see it… now you don't!
Versa Lift is a powerful electric lift that eliminates the need to risk serious injury* trying to get storage items up a narrow, shaky ladder.  The push-button remote control sends down the lifting platform hidden inside the attic. The lifting platform stops instantly when it reaches the floor below. You simply load the platform with up to 200 lbs. of storage items and press the up button on the hand-held remote control. In just seconds the load is transported out-of-sight into the attic! Upstairs the lifting platform automatically stops flush with the attic floor so you can simply slide storage boxes off the platform without lifting, a unique Versa Lift feature.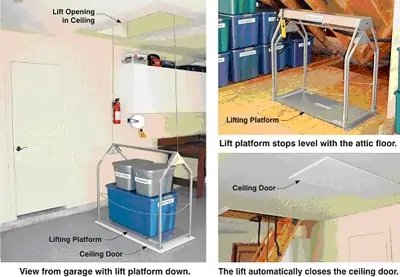 Another unique feature is the self-closing ceiling door attached to the lifting platform.  When the platform is raised, the ceiling door is held tightly against the ceiling. The ceiling door can be insulated and sealed for use in a climate-controlled area.  When not in use, the lifting platform is hidden within the attic. All you see is the neat ceiling door overhead!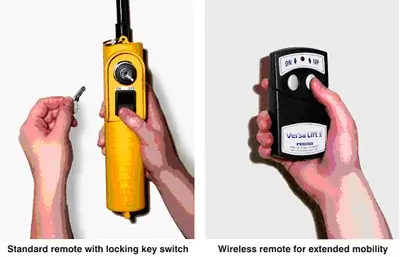 The lift operation is controlled by either a corded remote control or a wireless remote, similar to a garage door opener.  Corded models feature a 15-foot cord and a key-locking main switch to prevent unauthorized use.  Wireless models feature a radio remote for maximum mobility that can be stored securely out-of-reach wherever you choose.
Automation Creates a New Frontier in Organization!
With a Versa Lift you will re-think the way you organize.  Once reserved for long-term storage, your attic space will now be instantly accessible at your command.  This means virtually anything you're not using daily can be stored out of sight and out of your way until it is needed.  When you need it, the Versa Lift will make it appear in seconds!  Why step over these items 95% of the time or hang them on your walls and ceiling?  Your garage can only look and feel truly organized when the clutter is hidden in the attic and out of sight.
Bulky occasional use items such as ice chests, luggage, pressure washer, shop vacuum, camping gear, sports equipment, jack stands, ramps, air tanks, creepers, dollies, and tires, to name a few, can be sent up out of sight and retrieved in seconds when needed.
In the fall, your gardening tools, hoses, sprayers, planter pots, fertilizer spreaders, patio cushions and more can store away until next spring.
Seasonal clothing, records, books, yard art, hobby and craft supplies, holiday decorations, Christmas lights, ornaments, yard art, and endless other items can now be stored and retrieved with ease.  The Versa Lift adds both safety and convenience to annual task of bringing down the seasonal decorations, and putting them away after the holidays.  You won't be tempted to put off these tasks when they can be done without straining to lift or lower boxes down a ladder.  Just put them on the lift platform and push the button on the remote control!
In addition to storage boxes and plastic bins, here are a few of the items you can make disappear like magic and get back just as fast:

Here's How To Install the Versa Lift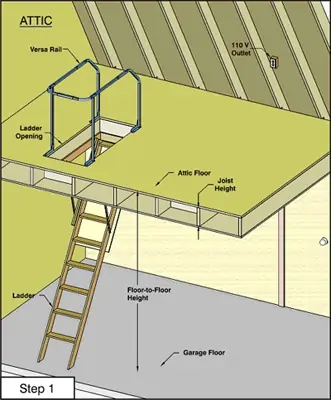 Step1: Take Measurements
The first step to installing a Versa Lift is to measure your distance from floor-to-floor (not floor-to-ceiling) and to check your joist height.  The Versa Lift standard models height range is 8-11 feet floor-to-floor. The "H" models range 11-14 feet and the "HX" models range 14-20 feet. To get the right model you will need to know your floor-to-floor height.  Also, all models accommodate a maximum joist height of 16".  If your joists are 16" or less you are ready to order a lift (if your joists are taller contact BPG before ordering).
You will need an outlet for 110 VAC in your attic and a light, too.  Also, notice the Versa-Rail shown above. This safety railing is made by BPG to make getting in and out of the attic safer and easier. We recommend this small extra investment to protect against serious injury* that can result from ladder opening accidents.  Finally, you may also want to add some plywood decking to increase your usable attic storage area.
(Versa Lift and Versa-Rail can be ordered direct at versalifthome.com ).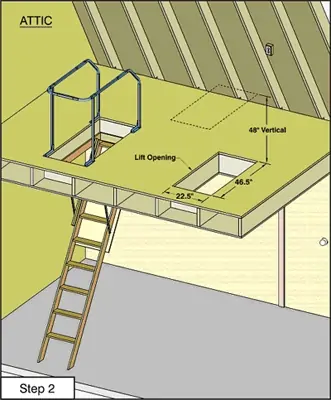 Step 2: Install the Lift Opening
The second step is installing the lift opening.  You need a location with at least 48" vertical space for the lifting head.  The lift opening needs to be framed 24" x 48" on centers with 2-by lumber. The final inside dimension must be 22.5" x 46.5" as shown above.  The most important requirement is: the inside of the opening must be smooth and square, with no nail heads or brackets within the opening.  Because the platform moves up and down within the opening walls, any kind of projection can cause it to hang up as it is lowered.
Set all nail heads within the opening flush or below the surface. Trim decking and sheetrock flush with the sidewalls opening so that it does not project inward.
If you have framing skills you can install the opening yourself. The Versa Lift Installation Guide is a free download at versalifthome.com and provides detailed information and illustrations of framing methods.  However, you may choose to have a framing contractor install the lift opening and afterwards install the lift yourself.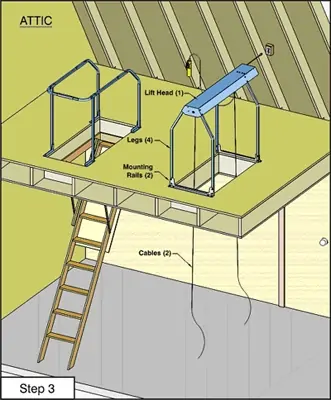 Step 3: Install the Lift Head
The third step is the installation of the Lift Head on to the Lift Opening. The Lift Head is pre-assembled from the factory. Transport the lift head  to the attic (requires 2 persons) and place it upside down on the attic floor. Locate the four housing legs and bolt them onto the lift head with the hardware supplied. Locate the two mounting rails and bolt them to the ends of the legs.
Next, turn the whole assembly right side up and slide it over the lift opening (again requires 2 persons). Lag bolts are provided to screw the mounting rails to the floor. Uncoil the cables and drop them down through the lift opening.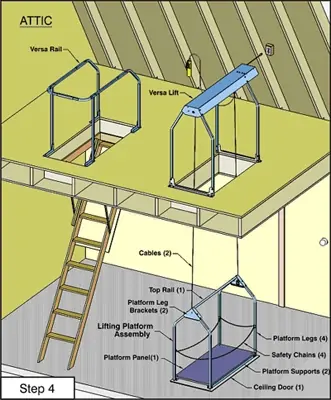 Step 4: Install the Lifting Platform
The final step is assembling the lifting platform and connecting it to the cables. The platform is assembled with bolts and locknuts supplied.
First, connect the platform legs and platform supports to the platform panel with one bolt and locknut at each corner. Next bolt the platform leg brackets to the tops of the four legs and connect the top rail between the platform leg brackets.
Set the platform assembly on top of the ceiling door and connect the ceiling door to spring brackets at the four corners of the platform assembly.  Install the safety chains by simply hooking them on the eyelets provided inside each leg.
Now position the completed platform assembly directly below the lift opening. Pass the cables through slots in the platform leg brackets and wind the cable around the clamping studs inside. Finish the job by tightening clamping plates over the cable using the locknuts provided.
That completes the Versa Lift installation!  You are now ready to start using the ultimate storage system!
Comments from Versa Lift Owners:
Garage Innovations installed my attic lift last week.  I am very pleased with their work and staff.  The Versa Lift has given me the ability to utilize the attic space.  Not only is it like having a new storage room, but this allows for more free space in the garage.  I love my new toy!  I appreciate your help. 
– Susan Cashon
Richard:  Just as an FYI we had Paul install the Versa Lift and Versa Rail.  We love the product and feel that it's one of the best investments we've made.  I have shared the information with several friends here at work as well as my brother-in-law and nephew who are homebuilders.  And I believe that one of my friends has already made arrangements to have the Versa Lift installed in his new home.  Just wanted you to know that I think you have a great product.
– Dee Jerome
I have just finished the installation of a Model 24 Versa Lift. I had no problems and I wanted to comment on the packing and shipping of your product. I was totally impressed with the care and protection of all of the parts and pieces during the preparation for shipping. Even though there were "dings" on the package, the unit was re-packaged inside and did not have a mark or scratch. It was so well secured in the package that I was not able to retain the box for warranty purposes as the directions stated. Speaking of directions, they were clear and easy to read and follow.  It is an extremely well engineered and well-built product that you should be proud of each time one leaves your plant. I was impressed!
– Laurice (Larry) Bennett
Attached is a picture of the Versa Lift we installed in our Parade Home in Lubbock, Texas.  We had lots of positive comments on the convenience of the lift.  The buyers commented that the lift is one of the things that attracted them to the home due to the ease of access to the attic storage space. Thanks,
–  Elaine Salyer
Byers Products Group offers a range of Versa Lift models and accessories to meet different installation requirements. In addition to attic installations, the Versa Lift is an ideal solution for split-levels, elevated coastal homes, basements, covered decks and access to storage lofts in workshop buildings and warehouses.  For more information, technical documents, brochures, and to view Versa Lift video demonstrations, go to www.bpghome.com or call 1-405-943-1468.
*The U.S. Consumer Products Safety Commission reports:  "Each year there are over 164,000 emergency room-treated injuries in the U.S. relating to ladders."  Undoubtedly, there are many injuries that do not require emergency treatment, and therefore go unreported.