Industry insights, product trends and new technologies—you'll find it all May 8-10, 2018 at the National Hardware Show held in the Las Vegas Convention Center. The NHS is an enormous trade show where tool and equipment companies unveil the new products that will soon stock the aisles of your local hardware store. The EHT staff attends every year to check out more than 250,000 hardware, tool and lawn/garden products collected in one place. Here's a preview of what will be exhibited at the convention.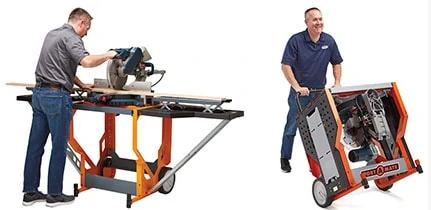 Portacube STR Miter Saw Work Station
The PM-8000 Portacube STR Miter Saw Work Station from Bora Tool features a rotating table top, allowing you to store your miter saw when not in use. Designed to work with most miter saws, it can be configured in a stored position, or you can raise the retractable wings to create up to 7 feet of working surface. Its compact size of 31×29 inches makes a fit in almost any work shop, and by utilizing the adjustable tool mounts, it fits any miter saw up to 26-1/2-in. wide. Adjustable tool tables raise to the height of your miter saw, useful for cutting longer boards, and 10-in. wheels easily roll the Portacube STR around your workshop. Visit Boratool or booth 8260.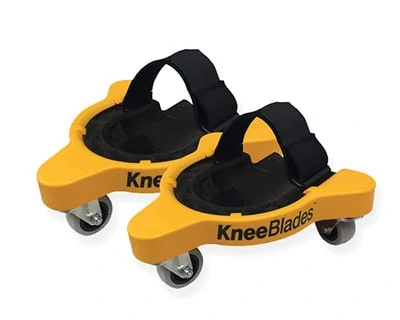 Knee Blades
The high-quality KneeBlades from Milescraft allow for more balance, flexibility and mobility. The three-wheeled mobile base allows for full 360° turning capability, without lifting from the floor. The close-to-the-ground design minimizes back stress, and with the push of a button, you can go from KneeBlade to kneepad. There's no more getting up and down, when you can glide. Visit Milescraft.com or booth 7261.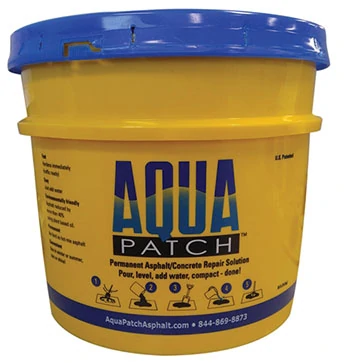 Aqua Patch
Aqua Patch is a cold-mix, water-activated product that is a durable and permanent solution to repair potholes in all types of weather. It is easy to use, versatile, environmentally friendly and saves money. Aqua Patch works in three easy steps: (1) Add the solution to the pothole. (2) Add water. (3) Tamp the solution down, and that's it! Aqua Patch is an environmentally friendly, durable and permanent solution. Visit Aquapatchasphalt.com or booth 3948.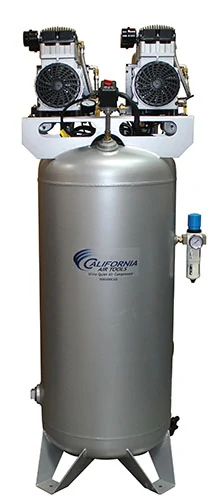 Ultra Quiet, Oil-Free 4.0 Hp Air Compressor from California Air Tools
The largest manufacture of ultra quiet, oil-free air compressors, California Air Tools' powerful new 60040CAD 4.0-hp 60-Gallon Air Compressor is designed for shops, garages or warehouses where noise is a major issue. It produces less noise (75 decibels), requires less maintenance, has a fast recovery and offers more air capacity. The compressor operates with two 2.0-hp, dual piston oil-free pump/motors that deliver 12.80 CFM @ 40 PSI and 10.60 CFM @ 90 PSI for use with high-demand air tools. The system has no oil in the air and allows for use in cold temperatures. The Automatic Drain Valve Feature drains the air and removes moisture from the air line, so there's no need to manually drain the tank. This model runs on 220 volts 60 hertz and includes a power cord and 5-micron air filter regulator. Visit Californiaairtools.com or booth 7639.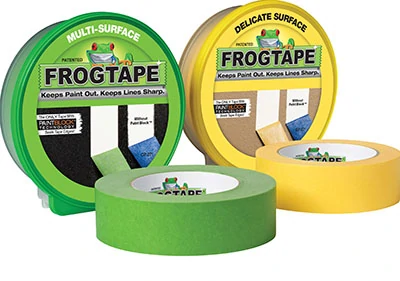 FrogTape Brand Painter's Tape
FrogTape is the only painter's tape treated with patented PaintBlock Technology. PaintBlock is a super-absorbent polymer which reacts with the water in latex paint and instantly gels to form a micro-barrier that seals the edges of the tape, preventing paint bleed and producing the sharpest paint lines possible. No matter your painting project needs, FrogTape provides an easy taping solution. Visit FrogTape.com or booth 5615.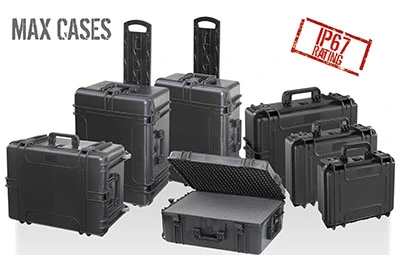 Max Cases
Max Cases from Plastica Panaro are IP67 certified tough, durable and reliable. They may be used in a variety of applications including photography, scuba diving, hunting, fishing, tactical and manufacturing. These cases offer superior protection from elements, water, dust and impacts. Choose from a wide range of sizes and configurations. See the full lineup of cases at www.plasticapanaro.com or visit booth 8158.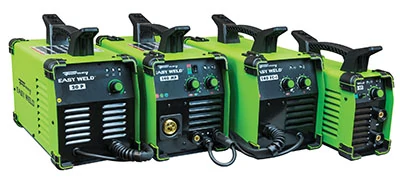 Forney Easy Weld Machines
Forney Industries adds new machines to their Forney Easy Weld lineup. The new Forney Easy Weld 140 MP is capable of MIG, Stick and TIG welding processes. The company also has a new Forney Easy Weld 140 FC-I that is a flux core inverter machine, and they've redesigned the Forney Easy Weld 100 ST. Lastly, the new Forney Easy Weld 20 P plasma cutter can cut up to 1/4 inch and is compatible with a pancake air compressor. All these machines can easily run off your standard garage outlet of 120 volts. For the novice welder who has always wanted to give welding a try but may have been intimidated, these machines are designed for you. You can easily turn inspiration and ideas into masterpieces. Visit www.forneyind.com or booth 7425.

Door-Stud
Hanging doors was a time-consuming, tedious and a potentially costly process-until the Door-Stud.   Home Innovation Holdings' newest innovation, the Door-Stud, cuts typical installation labor time in half.  The Door-Stud touts a steel constructed design with a single action clamp and soft-grip handles. This durable tool simplifies the install of 1-3/8-in. and 1-3/4- in. pre-hung or slab doors. With the Door-Stud, the installer handles a door once. The Door-Stud is vertically adjustable; holding the door upright and leveling the door in three directions for preparation of installation. The Door-Stud enables the installer to conduct a single person, hands-free installation by mobilizing the door and preventing it from resting against the interior walls of the home; thus preventing damage to the wall or door itself. Once the door installation is complete, the Door-Stud is removed from the bottom edge of the door, ready to be used on the next job. Visit https://thedoorstud.com or booth IS445.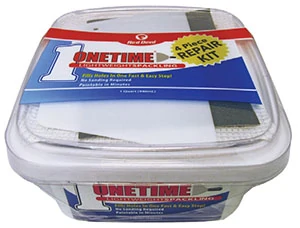 Onetime Lightweight Spackling Kit
Founded as Smith & Hemenway Company Inc. in 1872, Red Devil has been serving the DIY, paint and contractor community with 146 years of quality and innovation in caulks, sealants, adhesives and painter's tools. Red Devil has long-time recognized brands such as Lifetime Caulk and Onetime Lightweight Spackling. For repairing holes or cracks in walls, lightweight products like Onetime Spackling include ingredients that allow it to be paintable in minutes, have no shrinking or cracking and a smoother finish. Mesh or aluminum wall patches, like the Onetime fiber mesh crack patch or aluminum wall repair patch, are available to give you the same finished look with much less work. And now Red Devil offers the Onetime Lightweight Spackling Kit, which contains everything you need in one package. The unique square tub contains premium spackling formulated to receive paint and dry to a perfect match while the lid contains the tools you need to apply it. The lid is equipped with an aluminum patch, a putty knife, and sand-paper for those more detailed finishes. Visit www.reddevil.com or booth 5606.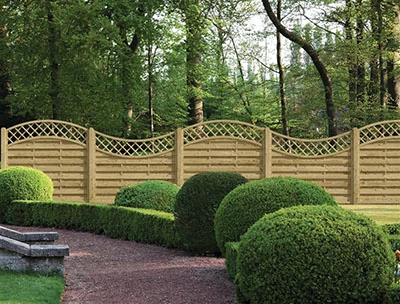 Wave Fencing
The Wave fence is truly an eye-catcher with its unique style of panel, with a domed top and sturdy, planed horizontal slats that are secured into a strong rebated frame. This panel shows off a contrast between the horizontal slats and a rounded section with a diamond trellis which forms a wave pattern. European Garden Living LLC offers this wooden architecture collection for gardens and outdoor living areas. Visit europeangardenliving.com or booth 12821.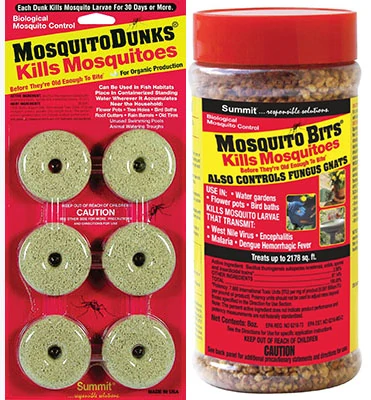 Mosquito Dunks and Mosquito Bits
The key to preventing mosquito-borne diseases such as West Nile virus, Zika virus and Chikungunya is controlling mosquito breeding grounds. Mosquito Dunks are the top selling biological mosquito control because they kill mosquitoes before they're old enough to bite. The active ingredient is BTI, a natural bacterium that kills mosquito larvae but is harmless to people, pets, fish, plants and wildlife. When a donut-shaped Mosquito Dunk is placed in standing water, the BTI will kill mosquito larvae for up to 30 days. Just float biodegradable Mosquito Dunks in ponds, birdbaths, rain barrels, fountains, and any standing water. In places where small amounts of water collect, such as potted plant saucers and tree holes, use a granular form of BTI called Mosquito Bits, which can kill mosquito larvae in swampy areas where water cannot be drained. Mosquito Bits are also approved for fungus gnat control in potted plants. Visit booth 11110 or www.summitchemical.com.

T-Rex "Ferociously Strong" Products
T-Rex brand products are designed for projects and challenges that require intense strength, durability and holding power, no matter the application. Previously, the line included T-Rex Tape, Clear Repair Tape, Packaging Tape, and Mounting Tape. In 2018, the brand adds several new "ferociously strong" products to the line, including T-Rex Extreme Tread Tape, an extreme, industrial-grade, non-slip tread tape that improves surface traction to help prevent slips and accidents. Made with a multi-layer grit embedding process, the tape offers long-lasting grit and is weather resistant (-40°F to +220°F), and it exceeds OSHA and ADA Federal recommendations. Another "ferociously strong" addition, T-Rex Waterproof Tape is the ideal high-performance tape for stopping active leaks, holding to wet surfaces and even applying underwater. Utilizing innovative R-FLEX Technology, the tape features a rubberized backing that allows it to stretch around tough bends and corners or be pushed into cracks and seams – ultimately creating extreme adhesion and a superior seal. Visit T-RexTape.com or booth 5615.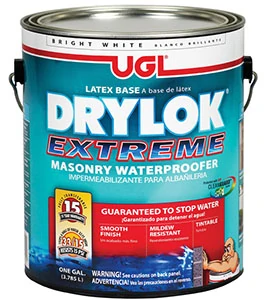 UGL Waterproofing and Repair Products
UGL's popular waterproofing products include Drylok, America's number one selling masonry paint that's guaranteed to stop water, whether you are waterproofing a leaky basement or decorating a concrete floor. The company's ZAR Exterior Stains and Deck Care products beautify wood surfaces while protecting them from Mother Nature's harshest elements. The award-winning ZAR Wood Finishing line for interior projects is so easy to use, do-it-yourselfers can enjoy professional results the very first time. Busy homeowners also use UGL Cleaning and Maintenance products to caulk tubs and sinks, grout tile, waterproof roofing seams, seal windows, repair driveway cracks, patch walls, fill nail holes, fix crumbling plaster and much more. Visit www.ugl.com or booth 5921.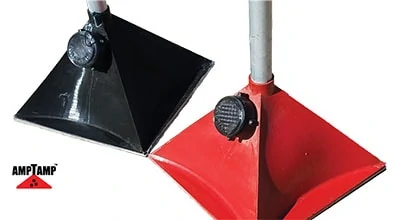 AmpTamp
Why didn't we think of this before? This patented hand-operated tamper design uses a dead-blow effect to reduce rebound fatigue, adjust weight, and amplify tamping energy. Get rid of old cast metal tampers that bounce, break, and cause arm fatigue/injury. Get top-shelf performance and greater durability with AmpTamp. Visit amptamp.com or booth IS420.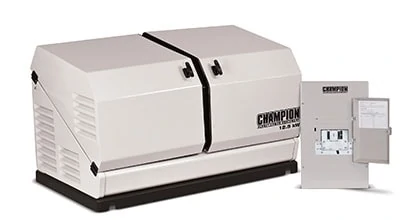 Champion Home Standby Generator
Champion Power Equipment home standby generators are the simple solution to a power outage. Enjoy peace of mind while ensuring security and convenience for your family during an emergency. The generator starts automatically when the power goes out and returns to standby when power is restored. The starting system operates in temperatures ranging from -22° F to 104° F with no warming kit necessary. The onboard battery charger maintains the charge at all times, and since the generator is connected to the home's propane or natural gas system, it never needs refueling. The unit also performs weekly self-diagnostic tests. An all-weather, composite mounting pad is included for easy installation, plus the steel enclosure protects the generator from the elements. The automatic transfer switch is the smart controller that connects the generator to the electrical panel in the home and ensures the generator turns on when needed, and it turns off automatically when grid power is restored. The system can be set up to power emergency essentials during a power outage, or the whole house. The gull-wing design provides easy access to the engine and control panel and allows a full view of the onboard control system. A sound-dampening lining and low-tone muffler reduce noise through a unique baffle system and make these units the quietest in their class. Visit www.championpowerequipment.com.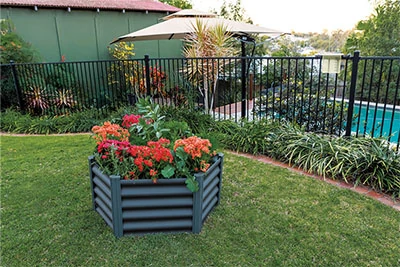 Raised Garden Beds from The Organic Garden Co.
The Organic Garden Co. raised garden beds are designed to be a perfect addition to any backyard. The hexagonal shape is ideal for gardens and can be made to fit into most outdoor areas. Features include rolled safety edges, high-quality steel construction, and the SNAPTiTE assembly system that requires no tools or screws. The SNAPTiTE assembly system dramatically reduces the time and effort required for assembly. Visit Organicgardenco.com.au or booth 10368.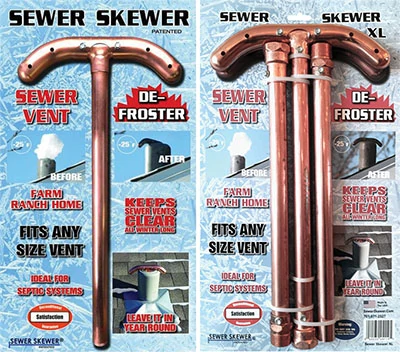 Sewer Skewer
The Sewer Skewer from Villella Products LLC is a frozen sewer vent defroster that fits in any size vent and uses heat from the sun to keep vents free of ice buildup at below-zero temperatures. The patented Sewer Skewer vent defroster prevents rooftop sewer vents from freezing during even the coldest temperatures—100 percent guaranteed. No installation is required; simply drop the copper pipe into the top of the sewer vent and say goodbye to ice buildup. It fits any size vent and can be left in year-round. Visit sewerskewer.com or booth IS311.