It's often said, you shouldn't judge a book by its cover. Of course, while true, people still do judge by the cover, so you'll want to put a great deal of thought into what covers your home. A building's exterior walls are its most evident and defining features, and you'll want them to make a great first impression.
When selecting a siding for your house, there are a number of things to consider, such as the material's durability, aesthetic appeal and affordability. What material would best fit the style of your house, and what are the other prevailing styles in your neighborhood? If installing the siding yourself, consider what all will be involved with the material's installation method. Self-installing the siding can save up to 50 percent of the total cost, but the project can also be quite a challenge. Fortunately, there is a wide variety of options and installation methods to achieve a striking appearance for your home's exterior.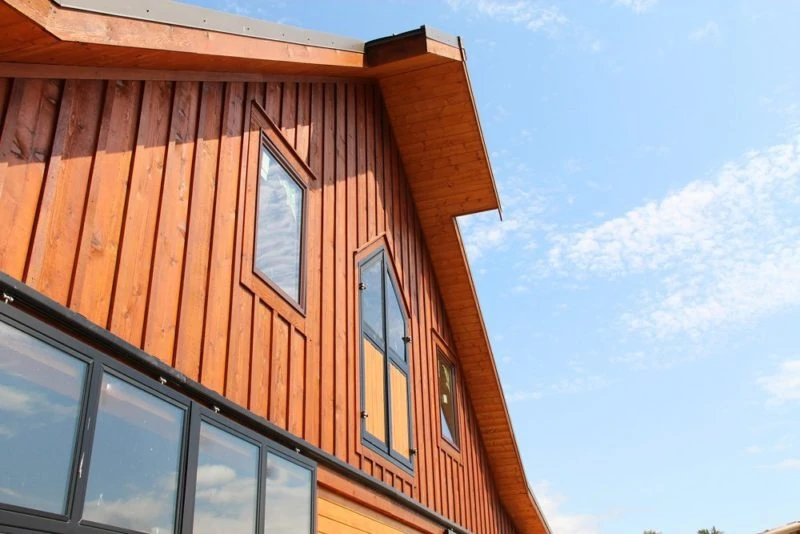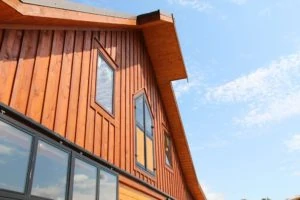 Wood
Traditionally, the most popular siding material in North America has been solid wood siding. Wood siding is available in large, modular panels, boards (both horizontal and vertical) or shingles. Shingles offer a rustic look but are typically higher in price. Many of these products are made from mature cedar, redwood and other species that are resistant to water and insects.
Composite wood products are available as plywood, hardboard or oriented strand board (OSB), which are composed of heat-treated wood pulp pressed into panels and sawn into lap-siding dimensions. Plywood siding is available in both rough and smooth finishes. This option is mainly seen only in the panel form, but provides exceptional durability. T1-11 is a popular rough-finish pattern for plywood siding. Hardboard siding typically offers a wider range of styles, from stucco to wood-grain embossed.
Whereas wood siding does offer a classically traditional appearance to your home, because of its porous, organic nature, wood has a tendency to absorb and expel water, which may cause deterioration over time. While initially attractive, this siding material requires frequent maintenance. Keep in mind, however, that all siding requires yearly maintenance, and the amount of maintenance depends on the installation methods used.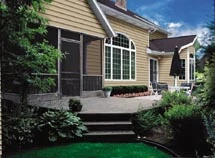 Vinyl
Vinyl siding is wood siding's chief competitor, offering a long-lasting option with fewer maintenance demands. Upkeep primarily consists of spraying down the siding once or twice a year to remove accumulated dirt.
Vinyl is an extremely durable siding, and its flexibility makes it easier to work with than rigid boards. Benefits include its resistance to denting, and scratches are of little consequence because the material is colored throughout the piece. The color will not flake or rub off, and a wide variety of colors and grain patterns are available to simulate painted wood.
However, some homeowners dislike what they consider to be the "plastic look" of vinyl siding. Vinyl's tendency to fade from the sun's ultra-violet light rays is another drawback. Some colors in the blue range fade worse than others.
In addition, vinyl expands and contracts more than other materials, which should be taken into consideration when installing. Observe care when installing and closely follow the manufacturer's instructions. Make sure the prepunched weep holes along the bottom edge of the siding are not
covered. The weep holes allow moisture to escape.They should be at least 1/8-inch wide and occur every 24 inches (some of the more modestly priced varieties omit the quantity needed). Vinyl will also crack from a hard impact when the weather is cold, but replacing vinyl siding is also relatively easy.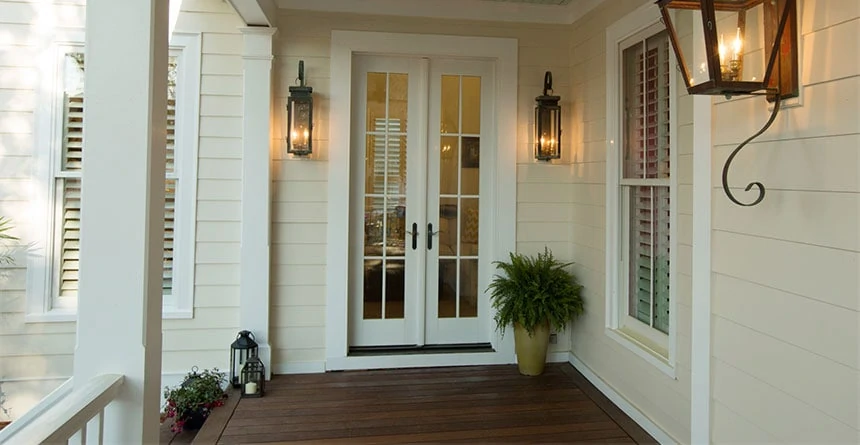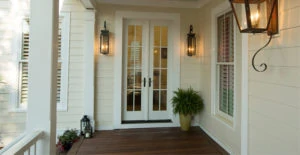 Fiber-Cement
Another siding option on the rise is fiber-cement, which is easy-to-install but toxic to breath while cutting. Fiber-cement affordably compares to other sidings. It is a blend of Portland cement, ground sand and cellulose fiber mixed with water and formed into siding products. Fiber-cement siding is pest-resistant and noncombustible, and many of these products are offered with 50-year warranties.
A wide array of wood-grain appearances is available, ranging from deep cedar grain to a traditional smooth finish. Fiber-cement siding systems are available in panels, planks or shingles, and many builders are turning to these products because of their comparatively low cost and projected longevity.
According to Michael J. Watson, an inspector for Oregon-based Siding Solutions, the downfall of cement products is that they're not water-resistant unless properly primed on all sides and every cut, nail or fastener is sealed. He says otherwise fiber-cement products, although somewhat resistant to deterioration due to water absorption, will absorb more water than any other product and faster. This moisture is then passed into and through the back of the siding to the inner wall cavity of your home's exterior walls.
Masonry Products
Masonry products bring a touch of dignity and class to a home, boasting the look of brick or stone. Some companies offer traditional brick veneer with a realistic full-sized brick appearance. New innovations also include panelized bricking systems that hold the brick in place while the adhesive sets, retaining the brick in a straight formation to ensure an attractive, ordered pattern. This allows the use of weathered brick collected from salvage yards or demolished buildings to add unique color and texture characteristics to the finished surface.
Imitation stone is an increasingly popular material choice, thanks to its realistic appearance coupled with a lightweight and easy-to-handle design. Some of these products are produced from flexible molds created from natural stones of various sizes and textures. The molds are poured with a mixture of Portland cement, lightweight aggregates and iron oxide pigments. This process generates the illusion of random textures, sizes and shapes for an authentic effect.
Stucco
Stucco is an extremely durable siding made of Portland cement plaster. Traditionally, it is applied in three coats, and the desired color pigment is mixed into the finished coat, so no painting is necessary. The biggest selling points of stucco as an exterior finishing material are versatility of design, aesthetic appeal and durability. Portland cement plaster can be applied to most flat or curved surfaces, inside or outside. Any project can be personalized. Stucco finish possibilities are countless, from smooth to coarse hand-trowel patterns and textures, with your application technique determining the surface appearance. With a nearly unlimited palette of color and texture possibilities, stucco can be used to create structural highlights, depth and continuity. Plus, re-stucco of existing buildings easily allows change to the appearance of color and texture, giving new character to old buildings.
The durability of stucco withstands a variety of climates, enduring wet/dry and freeze/thaw cycles and even extreme desert heat. It is impact- and its fire-resistant properties make it a safe covering for your home. Watson explains today's stucco application techniques typically incorporate a secondary water-management system that is the true weather barrier for your home. This is constructed of carefully installed tar-impregnated felt paper between the sheathing and the cement plaster. Any moisture goes through the stucco and stops at the felt paper, short of the wood-framed wall. Stucco is porous, and the moisture is expected to evaporate back out.
The drawbacks of stucco include its difficulty of installation. If not applied correctly, unattractive cracks may occur on the surface. When small cracks from stresses and settlement occur, any crack smaller than a dime's edge can be covered easily with a fog coat to match. Expense is an issue as well, as cost can range from $6 to 9$ per square foot.
EIFS
Exterior Insulation and Finish Systems (EIFS) are multilayered, exterior wall systems that were first developed in Europe in the 1950s. EIFS typically consist of an insulation board, which is secured to an exterior wall surface with a specially formulated adhesive and/or mechanical attachment; a base coat applied on top of the insulation and reinforced with fiberglass mesh; and a durable finish coat, typically using acrylic co-polymer technology, which is colorfast and crack-resistant.
Chief among the benefits of EIFS are superior energy efficiency and design flexibility. By insulating outside the structure, these systems literally wrap the exterior in an energy-efficient thermal blanket. EIFS reduces air infiltration, stabilizes the interior environment and reduces energy consumption.
The rich appearance of EIFS resembles stucco or stone, offering a wide variety of colors and textures. With EIFS, skilled professionals can create exterior architectural detailing that would often be cost-prohibitive using conventional construction, (i.e., cornices, keystones, arches, accents, etc.) Most of this detailing is computer-generated. The designs are precision-cut out of insulation board, attached to a substrate or wall, then covered with the EIFS layers.
The drawbacks of EIFS have been well publicized in recent years, as they relate to water accumulation in shear walls and issues of water intrusion in the home's structure. Systems constructed as a "face barrier" system are failing all over the country, notes Watson. Some states still allow the installation of a barrier system, although most insurance carriers for contractors will not cover these. Even systems with built-in positive or passive moisture-drainage systems can fail. Poor installation methods can result in expensive water-related structural damage and possibly lead to the presence of mold, which is suspected of posing environmental and personal health problems.
EIFS relies upon a nominal 1/8-inch thickness of synthetic stucco material, caulking, flashing and proper terminations to prevent water intrusion for the life cycle of the building. Without proper design, installation and some level of maintenance, long-term performance could be compromised. If you're not a pro at EIFS installation, it's advisable to shell out the expense to have it professionally installed, by a licensed, bonded and insured contractor.
Watson suggests checking your contracts carefully. Most EIFS installers exclude sealant and flashing details. A subcontractor must be hired for the proper flashing and gutter work prior to the EIFS company coming in. The builder should arrange a meeting with his subs prior to beginning the project to coordinate the time requirements of each. If a defect goes to court, ultimately the builder or general contractor is liable for the planning and timing issues.
The exterior walls of your home should make a strong first impression. They are the most visible — and vulnerable — facets of your house. Your choice of siding should be attractive, while considering the maintenance required. There are plenty of things to consider, but be creative: Roofing and siding products need to work together toward an overall aesthetic appeal. Consider mixing and matching your material choices to achieve a look all of your own. When choosing a siding material, be smart but have fun.