By Mark Clement
Make your Front Porch friendly again by using the newest synthetic moldings and shingles as well as tried-and-true techniques.
I'm lucky to live in a town built in the Mayberry-esque architectural style of the friendly front porch. Of course, that means the town, and its porches, are about a century old and in desperate need of reviving. And by "reviving" I mean remodeling from the ground up.
The first step in a successful porch remodel is being aware before you start that there are probably hidden problems. Expect the unexpected—from structure to flashing to that gaggle of cable wire stitched to the sidewall—all of which can slow things down. If the railing is cast iron, the first thing I do is peel up the escutcheon and see if the steel is in tact.
Working on old houses is often an exercise in fits and starts: The leg bone connected to the … shoulder bone? This is why I try to control what I can, so I can be ready for all the stuff I can't.
I make sure my tools are in order before I start, which includes setting up everything from the main tools like a miter saw and figuring out the ladder situation to making sure I have consumables on hand for the oddball stuff. For example, I know on a job like this I'm going to use my angle grinder for everything from stripping paint (need a wire wheel) to cutting in flashing (masonry wheel) to sanding wood (wood sanding discs).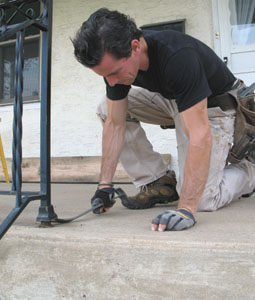 Getting There
Removing and replacing soffit, fascia, crown and gutters are usually the baseline requirements for sprucing up anything a century old. And this requires getting to them.
Unlike most jobs, however, porch heights manage to be between a 6-foot step ladder and an extension ladder. And, since you can't trap the work behind ladder rails, the ladders can't touch the actual work. Pipe staging or pump jacks would be ideal but they're expensive.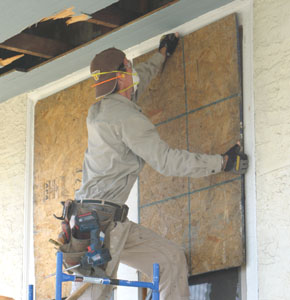 For this job I used Werner LeveLok ladders and plank brackets. To reach the porch ceiling I used step-ladders and a rolling Werner rolling scaffold.
Demolition
The first power tool I reach for—and one of the last I put away—is a reciprocating saw. In old houses, there's a constant supply of blocks, nails and rotten wood. Because the saw is always out, I want it to consume as little space as possible. Ridgid's compact Fuego is becoming my mainframe demolition recip saw for this reason—and for its rockin' power.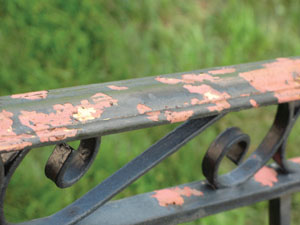 I demolished this porch before the new lead-paint regulations became available. If I had to drape this project with plastic I'd still be working on it—and it wouldn't have done anything except raise operating costs. Check with your local building official. You need a permit for this, anyway.
Using a halo of drop-cloths on the ground works to capture only so many flakes. And, I have to shake out that cloth on-site anyway. The Worx TriVac leaf vacuum was great sucking up and bagging chips that got into the grass.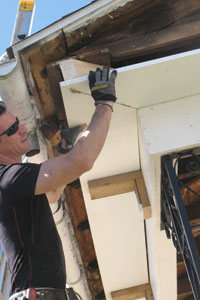 I glue and nail the PVC molding. The nails hold it securely. The adhesive fuses the pieces.A demolition bar also helps. The duck-billed head on Stanley's FUBAR III plunges mercilessly behind claddings, and is ideal for stripping bead-board, or practically anything else.
Materials List
Despite making measured drawings of the molding assembly to be replaced, the measurements on this porch were very close to nominal sizes. I know from experience that lots of dimensions don't translate between existing and new. There's a reveal you miss or wish you could deliver, but the beam sagged (and the fascia sagged with it), and the new boards are too straight to cover. Maybe the spring angle on the old crown doesn't match the new one by a few degrees, or all of the above. Up-sizing means ripping, yes, but it's easier to trim than to add. I specify the moldings as close to the existing dimensions and profiles as I can.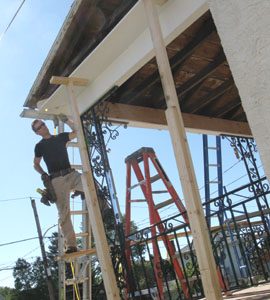 As for what the molding is made from, well modern material is a long way from what they had 10 decades ago. This old porch died because no one painted the wood.
To avoid that slow death again—and because I know homeowners increasingly expect their homes to require no maintenance—I specify Fypon PVC 1-by for the fascia, soffit, casing and beadboard. I use Fypon urethane for the crown. Both materials deliver excellent performance, workability and durability.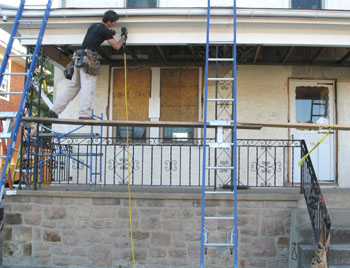 Per Fypon's recommendations, I glued all joints with urethane-based OSI polyurethane adhesive, effectively fusing the lengths of material into a single unit after I nailed them with a finish nailer, as you do for typical moldings.
Urethane and PVC materials also cut well and take paint wonderfully. Routed edges on the PVC also look "real."
Note: The material ships shrink-wrapped in cardboard boxes. Pros should add a small line item for processing it.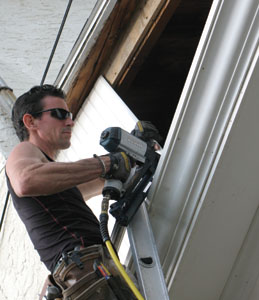 The roofing shingles were also a synthetic product. I spec'ed DaVinci RoofScapes polymer slate tiles (European color blend) for this project. I expected it to look good from the street (it does) but it looks incredible from inside the home (the roof is visible out the second floor windows). This is an enormous design element I honestly didn't see coming, and it absolutely makes the project. Furthermore, these tiles stand alone on a porch or small structure as a highlight, even if the rest of the structure has different shingles, so in my mind you don't have to re-roof the whole house for them to work (though the roof on this house is next).
Work-Flow—Tools and Tables
Because a successful porch remodel for me hinges so much on not only having the right tools, but also the ability to access them, I optimize my tool setup. The goal is to minimize time-wasting, either when making cuts or looking for tools or materials.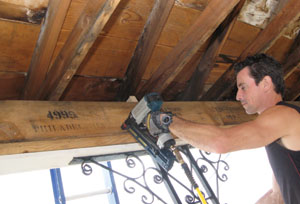 For cutting operations, infeed and outfeed supports helps with quality work. On a job with this much ripping and crown molding, I need about 30 lineal feet dedicated to cutting and tool storage. But the table saw and miter saw should be within about 6 feet of one another, so I can tarp them at night.
The center of operations is a cut table, one side dedicated to the miter saw, the other for the table saw. A trash bucket needs to be close by and an indestructible multi-plug, like the steel Belkin 10-outlet surge protector, should be positioned on a sawhorse leg so I'm not netted up in individual cords.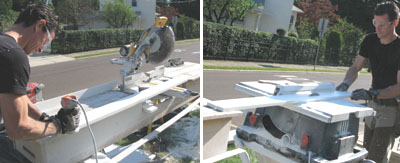 As for tool and fastener storage—you need all kinds of everything—I store stuff in boxes or bags in a line. Stanley's new Lock and Stock is winning me over as a great storage solution. The "heap-style" used by many other carpenters will work, but poorly.
Custom Details with Stock Material
Where I build, most homes are stucco-clad. So, in addition to nary a straight line due to age, there are no straight lines on the façade to terminate trim. Or—and this is a big one—there's no molding profile available that matches the existing. Or, (there's always another "or" in the old house shuffle), what is available looks horrible.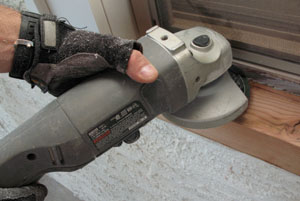 I find that this problem is easiest solved by fabricating my own casings. I usually do it by building up 1-by. I use my trim router to add beads, coves and chamfers to ease edges and create shadow lines and transitions. For making my corners around doors and windows, butt joints—where possible—are easier to get tight than miter joints. This is a good trick for working with out-of-square openings.
An eye for proportion is key to making form meet function here. The molding's function is to hide gnarly framing. But its form is to add stately style.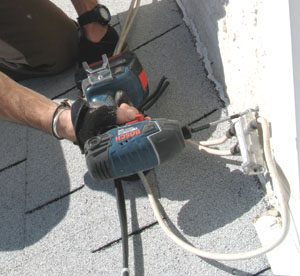 Storm Door
Upgrading the storm-screen door required a new one in a custom size. I spec'ed a Larson Screen-Away model. I could get the right size, and I didn't need to re-build the jamb or mortise hinges all over the place to install it. The color and hardware options matched the paint and existing Simonton windows' driftwood color. Larson also has the new oil-rubbed bronze finish for the hardware, which matches the style in the rest of the home. Oh, and the door creates an excellent seal against weather.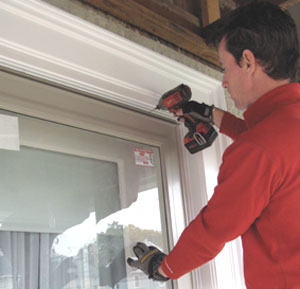 Note the layers and shadow lines in the molding above the door. I fabbed-up everything on site for this custom look, using PVC 1-by, a router with a cove bit, and a table and miter saw. Going custom solved many problems that could never be covered up wiht profiles from the lumberyard.
Roof, Gutters, Downspouts
At first blush, re-roofing a porch should be on the easier end of things. However, if the porch is old, you may find several things gumming up the works:
• Peel up the shingles to see if the roof deck is skinned with plywood. Then, check to see if the plywood traps the gutter hardware.
• If you want new half-round gutters, then source them at a roofing supply house. Check if the existing gutters are steel or aluminum. Ditto on the new ones. They're both shades of gray—but different shades.
• Metal needs to be bent for new flashing. Sub this to a roofer or remodeler. Or, rent a sheet metal brake. Either way, I trap my last course of shingles under aluminum flashing let into the house's cladding to prevent leaks. DAP eslatomeric caulk seals the metal to the cladding.
As far as the DaVinci RoofScape shingles go, installation was the easiest part of the process. The polymer slates went on smoothly. There was nearly zero waste, too. Plus, they have a 50-year warranty.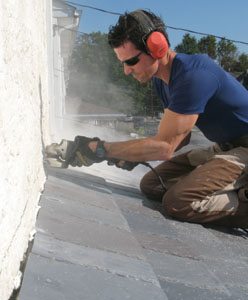 Paint and Clean-Up
I wanted high-gloss paint to really make the molding pop. My Benjamin Moore supplier recommended semi-gloss, because it applies better over larger areas and in rugged environments like direct sunlight. He was right.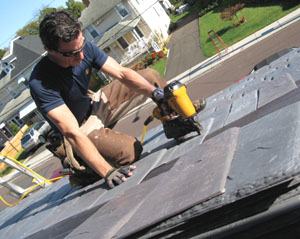 When it comes to cleanup, I detest drop-cloths (tripping hazards, miscellaneous headaches, etc.). For those gobs of caulk or urethane or paint that got away from me, the Rockwell SoniCrafter saved the day with its scraper blade. And it cut hours from sanding the Bondo-type filler used on the Fypon nail holes.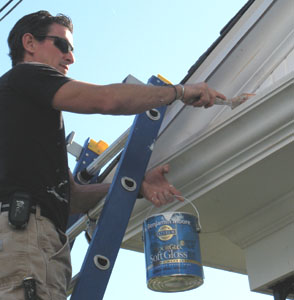 It's hours like these that help me concentrate on the important stuff: Building a porch that'll welcome friends for another century.
Editor's Note: Mark Clement is co-host of MyFixitUpLife, a licensed contractor, and author of The Carpenter's Notebook.