Your template can be made of various materials. Professionals may use plywood, or products that are designed for templates, however for the homeowner, cardboard, or strips of Luan wood or thin plywood scraps can be used. I prefer Luan. It is cheap and easy to work with. (Note: If you chose to use cardboard, do not fold it once it has been glued up. Cardboard has a tendency to stretch when folded and your measurements will be thrown off.)
Cut your first strip to the length and rest against the wall. My wall was straight so the next step didn't apply, but if your wall is not square or your backsplash will not cover the gaps, you will need to have your template reflect this. Here you will need a scribe to get an accurate cut if your wall has variations. Find the largest gap between your wall and the strip and open your scribe to the gap width. Now with the scribe set to the gap width, scribe the strip along the entire length of the wall. You can use a plane or jig saw to cut along the scribe line. After cutting check the strip for fit and correct if necessary.

Lay out your remaining strips making sure to reinforce your template to keep it from shifting or breaking. I used a hot glue gun to fasten the cross members to the longer pieces. To mark seams, use a cross member and mark it clearly.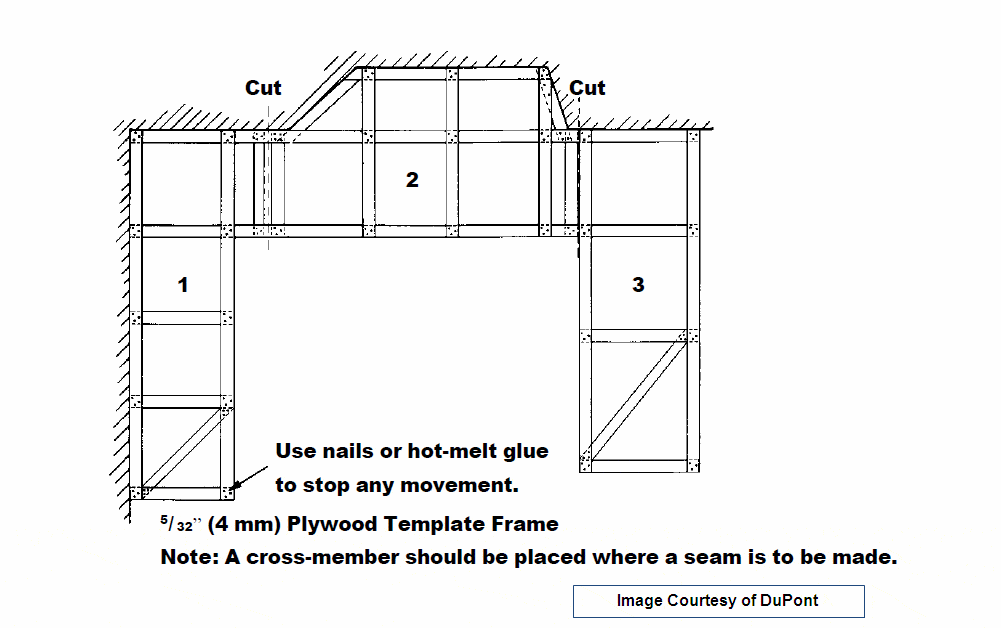 After creating your template you will need to double check to make sure it is accurate in all aspects. The last step is cutting the template. When cutting the template think about keeping the size manageable. On Luan I can use a utility knife to score through and get a clean break. I score both sides to ensure a clean edge.
Professional Tips:
Use corner straps, diagonal strips to avoid frame being knocked out of square.
Double check to make sure that the template matches identically the shape of the room, in terms of both squares and contours in walls and corners. Cut your template into dimensions that will easily pass through doors and hallways.
Editor's Note: This is the second installment on working with solid surface materials like Corian.