A DIY Storm Door Project
By Rob Robillard
A storm door is very much part of a home's curb appeal. We were recently asked to replace an existing French-style combination screen and storm door on a client's house. The existing door was constructed of pine and had metal clips that held the screen or storm panels in place. Both screen/storm panels would overlap the opening and protrude from the door's edge. Needless to say, this was not an attractive solution. We knew there was a better way.
Choosing Materials
An attractive and durable storm door needs the ability to withstand the toughest conditions: heat, cold, wind, rain, snow and sun, not to mention humidity. As a result, when considering which material to use, we were concerned with two factors:
To ensure you're building a strong door, make sure to use mortise-and-tenon joinery and weatherproof, water-resistant glue. Also make sure you're using a rot-resistant material. First, we looked to use rot-resistant wood, such as red or white cedar, teak, mahogany or white oak. With any species, look for rift- or quarter-sawn boards, indicated by straight grain running end-to-end. Rift-quartered boards are most stable.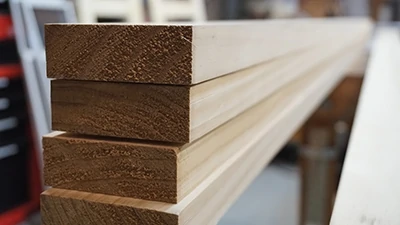 For this project, we ultimately chose Accoya® wood, based on a recommendation from a friend at our local mill shop. Accoya wood is the result of decades of research and development that has brought together a proven wood modification technique and leading-edge patented technology—acetylation—to create a high-performance wood, ideal for outdoor use and challenging applications.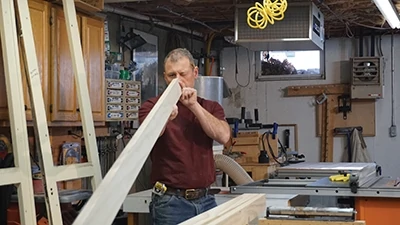 Sizing the boards
The existing doors measured 1-1/8-in. thick. To make new doors that matched this thickness, we needed to purchase 6/4 Accoya boards, which measure 1-1/4-in. thick. To get the exact same 1-1/8-in. thickness, we milled these boards down in our thickness planer.
A thickness planer makes your boards uniform with two parallel faces, and will ensure the door boards will line up flat, with equal thickness from end-to-end. Having stock that is exactly the same thickness will avoid having one board un-evenly mating to the other, which looks terrible.
Sourcing the Screen/Storm Panels
Storm and screen panels can be purchased cheaply enough that it's not worth your time to make them yourself. Plan to pay about $45 for the screen panel. The storm panel costs more, because building codes require that it be made from tempered or safety glass.
Once our doors are built they're routed to create a rabbet that accepts a recessed screen/storm panel. We used custom-built screens and dead-light panels with aluminum frames purchased from a company called Harvey Industries. These panels will insert into the rabbet and fit flush to the doors' faces.
The screens are available with fiberglass insect window screen, aluminum insect screen, solar insect screen, or 20×30 mesh no-see-um window screen for protection from tiny insects, as well as pet-resistant screen material.
The aluminum frame size options include 5/16-, 3/8- or 7/16-in. thick by 3/4-in. wide. Frame color choices are white, bronze, silver, tan and champagne. A variety of attachment hardware is available to meet most applications.
We prefer using the 7/16×1-in. HD window screen and a storm panel frame made of heavy .025 mill thick, roll-formed aluminum.
It is cambered (slightly bowed) to retain screen tension when installed.
To secure the frames in the door rabbet, we use turn clips or Marvin Window turn buttons and stainless steel screws for attachment.
Materials Used
5 – 8-foot 6/4 x 5" Accoya boards
1 – 6-foot 6/5 x 8" Accoya boards
4 screen and storm panels
8-12 stainless steel clips
Festool Dominos
Waterproof glue
Tools Required
Table saw
Thickness planer
Miter saw
Festool Domino Cutter
Router and rabbet bit
Corner chisel
4-ft.pipe clamps
Waterproof glue
Joining the Stiles and Rails
The vertical members of the frame are called stiles while the horizontal members are known as rails. This is a common method of constructing doors, and we used Festool Dominos to make these connections.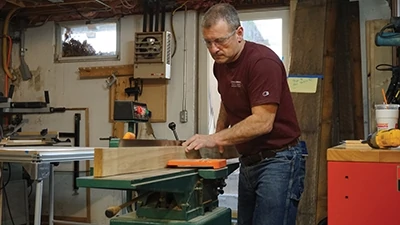 Using the Festool Domino Joiner
For the door joinery, I used the Festool Domino XL DF 700. The Domino XL offers an innovative solution to larger scale joinery like this door. The Domino performance is unmatched with its precision performance. The Festool Domino XL cuts an oval mortise, allowing a solid hardwood tenon to be installed for joining parts together. Similar to a biscuit joiner, the Domino installs a floating tenon joint.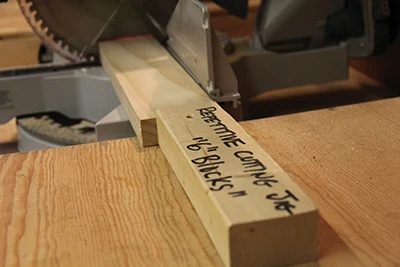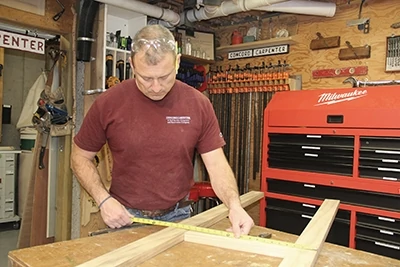 The end result is a solid and durable joint, fabricated in a fraction of the time it takes with traditional methods or stationary equipment. The Festool Domino Joiner is simple to use, as well as fast and accurate. It allows you to install an expanded range of thicker, longer tenons for wood slabs, doors and gates, or furniture.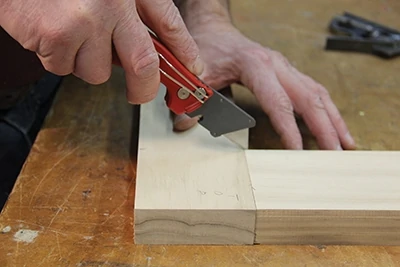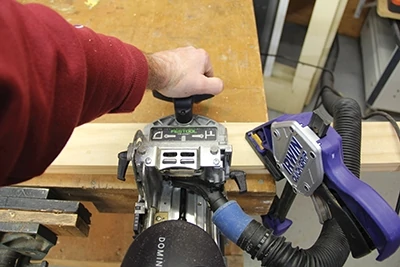 The Domino XL also lets you bring the tool to the work, greatly reducing setup time while simply and effectively producing full-sized mortise and tenon joints.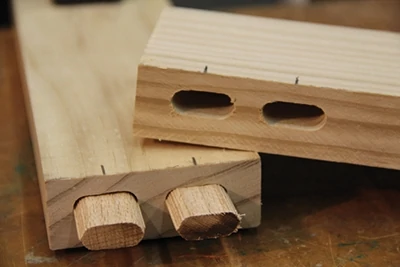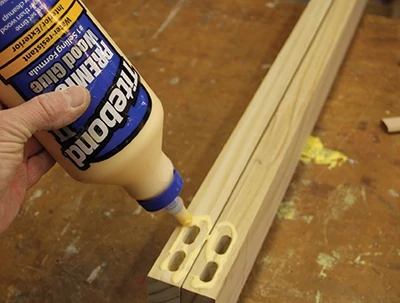 I simply lined up the two parts designated to receive a tenon, made two corresponding, matching pencil marks, and cut the Domino holes.
Adding an Astragal
Most French doors have a vertical strip, called an astragal, that attaches to the leading edge of the active door. This molding is on the exterior and attaches to one of the doors and overlaps the other, covering the vertical seam. Often, the non-astragal door will have threshold and/or top slide bolts to lock and secure it in place. Locking these slide bolts allows you to go in and out of the other door while the first stays in place.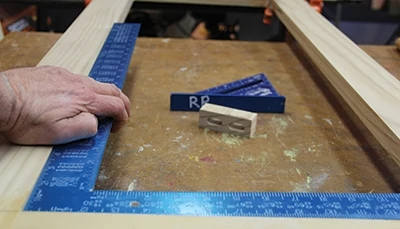 I sourced a Mahogany Astragal from a local mill shop and glued it to the leading edge of my working door. Although French doors typically open inward, requiring the astragal to be installed on the outer edge of the inactive door, on this project the French doors opened out onto a patio.
We thus installed the astragal onto the active door.
Gluing and Clamping
You'll need three 4-ft. clamps for gluing: for the top, middle and lower joints.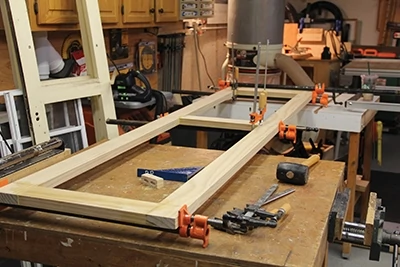 It's always smart to dry-fit your parts first and correct any mistakes before spreading glue on everything—trust me, I've learned this lesson the hard way! Once you're satisfied with the fit, remove the Dominos, apply glue to all parts, and assemble. Prior to tightening the clamps and walking away, take some time to check for square.
I use two methods:
A framing square
Diagonal measurements: Measuring for equal diagonals is an old, time-honored method for squaring up frames and other projects.
When satisfied that the assembly is square, and the adjoining parts are reasonably flat to each other, tighten the clamps. Remove the squeezed-out glue with a damp rag before it hardens. I use a throw-away brush to apply glue to the Dominos as well as inside the Domino holes.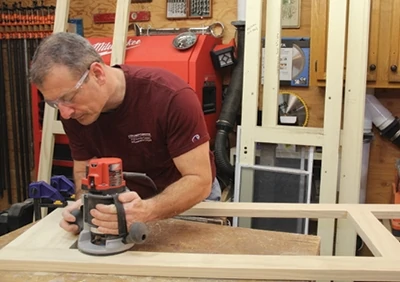 Routing the Panel Rabbet
We decided it would be easier to rout our panel rabbet after the door was assembled. Because the router cannot achieve sharp corners, we used a Porter-Cable 42234 Corner Chisel to achieve sharp inside corners.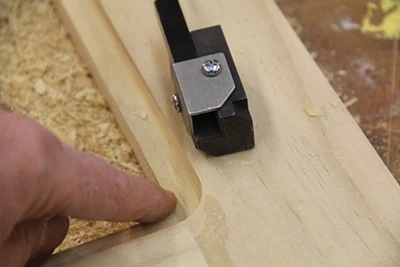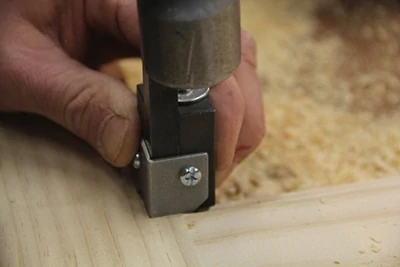 The corner chisel is a spring-loaded chisel that is more efficient than a hand chisel, and ensures perfectly square corners.
It has a 3/8-inch cutter edge, and creates a 90-degree square corner when simply placed on any corner and tapped with a hammer. The Corner Chisel self-aligns, and is typically used to square the corners of hinge and door-lock recesses. It was perfect in this situation. This innovative tool saves a ton of time on a project like this.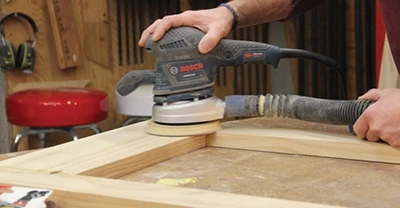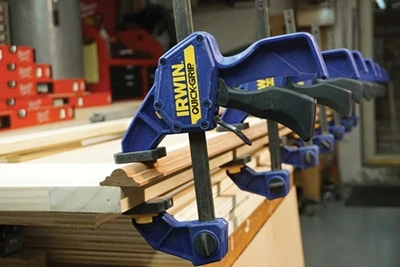 Hardware
The client did not want closers on these doors, for aesthetic reasons, and also wanted us to use brass hardware. After a little research, I came across a website called Van Dykes Restorers where we spied solid brass self-closing, storm-door hinges that operated with a 3/4-in. spring.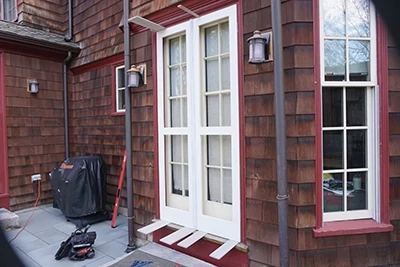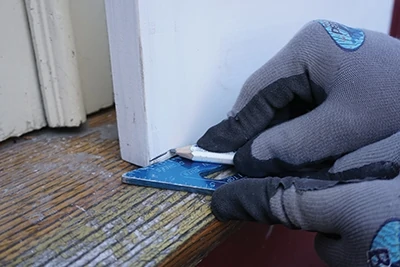 I was excited at the option of being able to have these doors self-close, but as often happens in retrofitting projects we quickly figured out that these hinges wouldn't fit: he door thickness projected past the door trim. In order for the hinges to work, the door and trim must be flush.
So, Plan B meant using the solid brass butt hinges and re-using the old jamb mortises.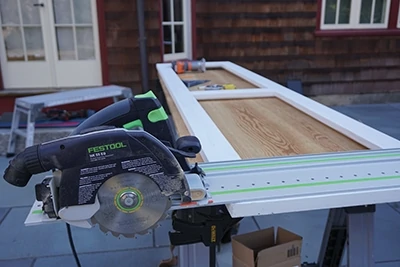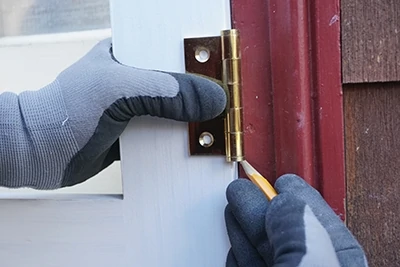 For the door knobset we went "old-school," purchasing and installing a solid brass knob-to-lever screen door mortise latch set. This required us to use a Forstner drill bit and chisels to create an old-school mortise for the mortise lock and latch mechanism to fit into.
We also acquired solid brass slide bolts to install on the top and bottom of the stationary door to keep it locked in place.
Hanging the Door
When fitting the door, I usually allow 3/16 inch clearance on the vertical widths and 1/4 inch at in the top and bottom. Consider cutting the door bottom at a 12-degree angle to match the threshold. We accomplished this with the Festool track saw and rail guide. The saw and guide ensure a straight, cleanly cut line. (If you don't have access to a track saw, a circular saw with a rip-guide clamped to the door will also work.)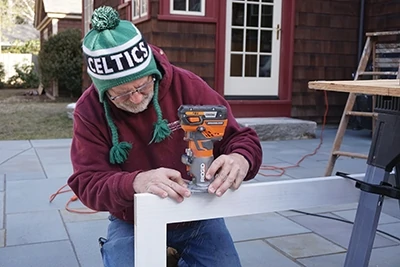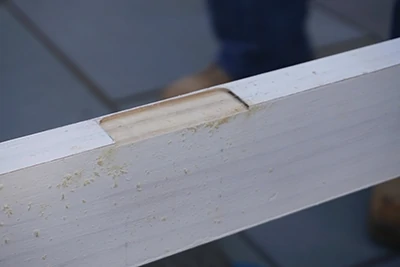 I built the doors to fit the opening, so once we were ready to install them, I knew we would need to trim them to fit. With the doors held in the door opening with shims we marked the reveals and existing hinge mortises and transferred those measurements onto the door slabs.
When fitting the hinges, with the bottom shims in place and holding proper reveals, slide the doors to the jamb that will receive the hinges. Mark three hinge locations on both pieces on the door and jamb.
Using a hinge as a guide, we held and marked the hinge profile on the door edge and scored this outline with a utility knife. Scoring the door prevents tear-out from the router bit. A trim router is then set to the exact depth of the hinge and is used to cut out the hinge mortises. I like the router as it provides me with a consistent hinge depth setting and is fast and efficient.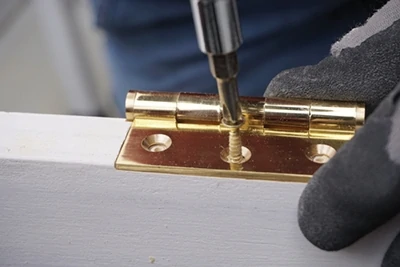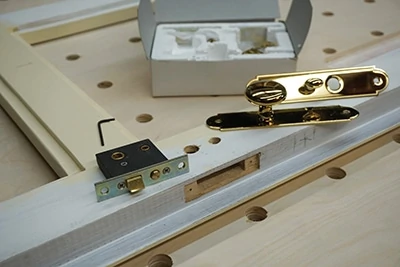 Note: Sometimes after hanging a door on the new hinges, the doors need adjusting to fit. When this is the case, I use a power planer or block plane.
We again used the hinges as a template and predrilled all the hinge holes, and then installed the screws. I do not recommend using a drill or impact driver to install brass screws; they'll snap at the screw head. Use a screwdriver and install them by hand.
The last step is to install the latch, striker plate and door-slide bolts. Unfortunately, the old slide-bolt latch place left a large hole (scar) in the oak threshold, which had to be patched prior to installing the new latch strike plate.
Watch out when you are purchasing and installing handles for your French doors so they don't interfere with the closing of the interior door. Some doorknobs stick out too far and will prevent the screen from closing properly.
Once we had a good fit, we removed the doors and brought them into the shop to re-prime the cut ends and install the final coats of paint.
Finishing the Door
Ninety percent of a great paint job is prep. The more time spent preparing this door for paint, the better. I sand the door to 80 grit in the shop, but a painter should bring that to 120 or 220 grit.
I recommend a coat of quality primer, followed by two coats paint. Be sure to paint all sides and edges of the door to protect against moisture and movement.
I also recommend sanding in between coats for a better paint finish.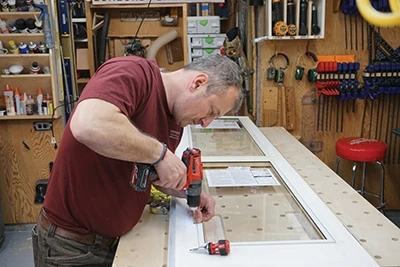 Cost
Plan on spending $300-400 in materials, plus $40-50 per screen (4) and $100 per storm panel (4). In the end, building this combination French screen door will cost approximately $900.
Conclusion
Building your own custom door is not only rewarding, it allows you to create the style door you want, using the best materials and saving you money on a carpenter's labor. If you plan on tackling this project yourself, plan on at least four days for labor to do the entire project.