Protect your basement and more with liquid waterproofers.
DIY'ers are usually well informed about the need to seal exterior wood, but concrete and other building materials need love, too.
Exterior concrete should be sealed in any region that is subject to freeze-thaw cycles, including warmer Southern states like Alabama and Georgia, even areas of California and Florida. Concrete is a porous material that absorbs liquids. This porous material can drink up water which then freezes in cold weather. The expansion of frozen liquids inside the pores can destroy the surface of unsealed concrete. Brick mortar behaves in the same way.
Beyond the temperature problems, concrete should also be sealed to maintain an attractive appearance and resist stains. Oil, salt, fertilizer and other common household chemicals can discolor and damage unsealed concrete.
Sealer Appearance
Most chemically reactive sealers penetrate into the concrete for a nearly invisible surface appearance. Solvent-based acrylic resin sealers and epoxies will enhance the color and give concrete a high-gloss wet look. Water-based acrylic resin sealers provide a satin appearance. Urethanes (usually applied over epoxy) are available in matte and gloss finishes. Some sealers can also be tinted.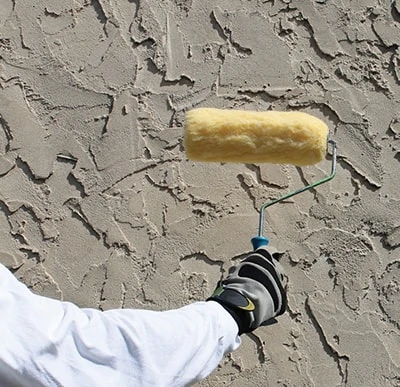 Most sealers available on the consumer market can be applied by a homeowner using standard painting tools such as a brush, paint roller or pump-up sprayer.
Masonry Waterproofers are latex- or oil-based waterproof paints, which are opaque in appearance and conceal the surface of block walls. They're usually sold in a white tint, but also beige and gray. Some products are tintable. Depending on the product, they can withstand 10 to 15 lbs. of hydrostatic pressure—greater than a wall of water 22 feet high.
Surface Prep
Clean the surface thoroughly with a wire brush or pressure washer to remove any loose or broken mortar and dirt from the surface. Also remove any white, powdery deposits (efflorescence) on the masonry surface by washing with a solution of muriatic acid according to the manufacturer's directions. Rinse away dust and allow to dry. Fill any cracks and holes with a masonry or concrete patching compound.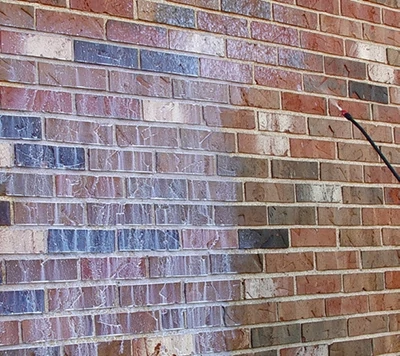 If the wall was previously painted, the sealer will adhere to paint rather than the concrete or masonry surface, meaning the bond will be only as good as the paint's bond.
Clear Sealer Application
Water-based acrylic sealers are intended primarily for vertical surfaces. Although designed for concrete, some sealers are considered "all-purpose" waterproofers that work on block, tile, wood—even metal, depending on the product.
Refer to your manufacturer's instructions for specific application methods. Some products should be brushed on while others can be rolled and sprayed. Most acrylic-resin sealers and certain reactive penetrating sealers can be applied as soon as new concrete has cured (but better late than never).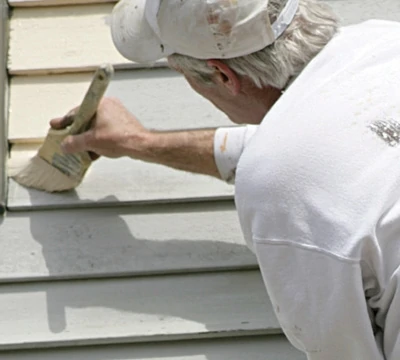 The Original SealKrete is an all-purpose penetrating clear satin waterproofer that has a wide range of uses. Use it for concrete, brick, stucco, aluminum and vinyl siding. It can rejuvenate old plaster, bind to chalky surfaces, and even be used as a paint additive to extend life and coverage to a paint job.
SealKrete is ready to use. Apply it with a brush, roller or sprayer (garden or airless). Backroll spray applications to ensure penetration. Apply at least two coats, allowing two hours dry time between each. Remove any overspray immediately with water. The sealer goes on milky white but dries clear. When the sealer dries, it can be top-coated with latex- or oil-based paint.
Masonry Waterproofer Application
Typically used on basement walls, masonry waterproofers such as Drylok work by capillary action, penetrating the tiny pores in the masonry and bonding together as an integral barrier to stop water seepage. Ordinary paint only adheres to the surface, and oncoming water pressure can force it off. The high solids content in the masonry waterproofer, however, actually plugs those tiny pathways with a heavy coating.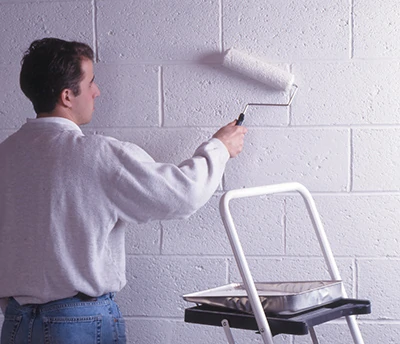 Before application, cracks and holes in the walls can be patched using a fast-setting hydraulic cement. UGL makes a product called Drylok Fast Plug that works well for repairing block walls. Don't forget to patch the area where the floor and wall meet. Often, when concrete floors cure, they shrink and pull away from the wall, allowing a space for water to enter, so be sure to fill the gap.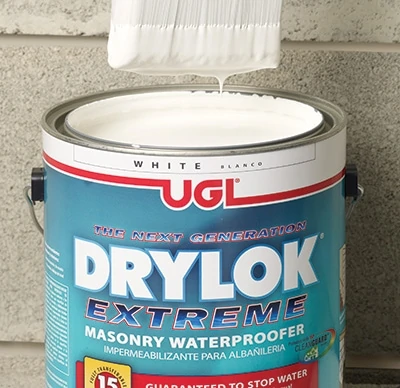 Stir the waterproofer thoroughly to distribute the solids. Apply it with a 3/4-in. nap roller or stiff bristle brush. If rolled on, back-brush the first coat to fill any pinholes in the masonry. Proper coverage is important for waterproofing, and one gallon covers an 8-by-10-ft. area. At least two coats are required.
Side Note 1
Mason's Select
Mason's Select from Duckback Products is a transparent concrete stain and sealer for both exterior and interior applications. With 100-percent acrylic formula, it transforms ordinary concrete into a natural stone appearance. It seals and protects against UV, oil, grease, transmission fluid and is resistant to hot-tire pickup. Use it on driveways, walkways, garage floors, concrete, block walls, pavers and interior floors. Mason's Select can also be tinted. To create a slip-resistant surface, just add Duckback Anti-Skid Additive. Visit Superdeck.com.
Side Note 2
Don't Forget Outdoor Water Management!
Being the lowest level of the house and often located below grade, basements have a tendency to be damp. Waterproofing products certainly help keep the home's interior dry, but if hydrostatic pressure is forcing water into your home's foundation, you should take additional steps to divert it. The outside pressure can eventually damage the structure of the foundation as well as lead to mold and mildew.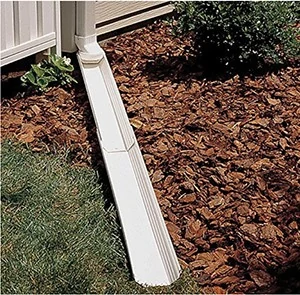 Roof runoff is often a major contributing factor to the massive amount of water collecting at a home's foundation walls. Whenever you discover wetness on interior masonry walls, look outside for what is causing the seepage problem. Check for leaky gutters and downspouts or blocked drainage pipes. Ruts in the landscape or improper grading can also direct water towards your foundation. As the soil around your foundation becomes saturated, hydrostatic pressure forces water through the porous masonry, which create the dark stains on unsealed interior walls. Today's building codes generally recommend that water should be diverted 10 feet away from the house foundation. This can be accomplished with proper grading, along with downspout extensions, splash blocks or downspout drains. The grading should be sloped away from the house, dropping 6 inches for every 6 feet.
For the best waterproofing results, correct all of these exterior problems before applying a masonry water-proofer to the interior block.
Side Note 3
Acrylic Basement Water-Proofer #4800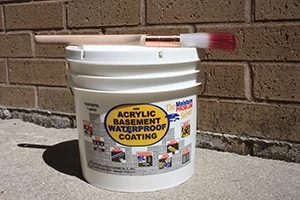 Leaky Basement? Specification Chemicals Inc. offers a one-part system that can easily fix your moisture problem. All you need is a brush, paint roller and a little time.
Specification Chemicals #4800 Acrylic Basement Waterproof Coating is a latex-based emulsion formulated for concrete which dries to a durable, flexible surface that will not become brittle. It's easy to use and cleans up with water. First, remove any loose dirt or paint. The system can then be applied over clean poured concrete, concrete block, clay tile or wood, either interior or exterior.
Specification Chemicals, Inc. has been manufacturing coatings since 1975, and the company's roofing and wall-restoration materials are time tested, user friendly and "green" in many ways.  For more information call 1-800-247-3932 or visit spec-chem.com.