By Matt Weber
Advances in design make today's levels easier to use than ever before.
When it comes to writing a tool column on levels, it's nice to have something new to talk about. Any experienced DIY'er is well versed in the basics of leveling tools, and how crucial they are for everything from rough house framing to hanging a family portrait. Today's levels do everything the traditional tools do, and more, thanks to innovative advances in design and technology.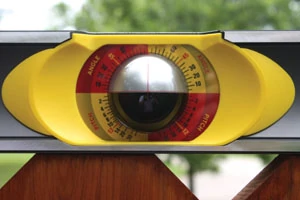 Precision Ball Level
One of the more unique leveling tools to hit store shelves in recent years is the new Precision Ball Level from C.H. Hanson. Based on aviation technology, the level's inventor was inspired by a video flight simulator that used a ball-compass to illustrate wing position. Much easier to read than a standard bubble vial, the large two-toned, 2-inch aviation ball at the center of the tool rotates 360 degrees and indicates level at first glance.
Plus, the high visibility of the Precision Ball Level provides additional advantages, such as providing precise markings on the tool to take accurate measurements of angle or pitch. Additionally, the casing of the ball features a cross-hair sightline at a perfect 90 degrees. With the cross-hair feature, you can turn the level on its back and check for level in two directions at once. By aligning the small air bubble in the top of the ball at dead center of the crosshairs, this single tool can check level in multiple planes, which comes in handy for jobs such as shimming a pool table perfectly level. The Precision Ball Level is built with rigid aircraft aluminum and protected at each end with shock-resistant end caps. Learn more at www.chhanson.com.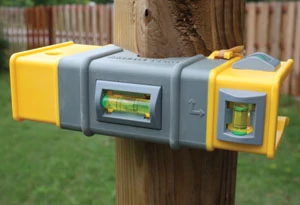 Wood Magnet
Until someone invents some sort of Extra Hand, we'll have to rely on the two we've got, so it's nice when a new tool comes along that frees up one of those crucial appendages to more easily complete a project. The Wood Magnet from Swanson Tools is a lightweight plastic tool that compress-fits over the edge of a piece of 2-by construction lumber, allowing the user to level it or use the lumber itself as a level by spanning two points. By clamping onto the actual board, there's no need for you or a helper to hold or tape the level in place to prevent it from falling off the lumber.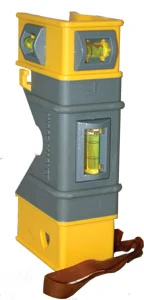 This is an excellent time saver for deck building, floor framing, wall construction, or it can be clamped to a screed board to strike off concrete. Plus, the Wood Magnet features a built-in rubber band, multidirectional vials and a V-shaped inset, so it also works vertically as a post level. With simple, durable construction and a price point of only about eleven bucks, this makes a nice addition to any toolbox. Learn more at www.swansontoolco.com.
Level Best2
The Level Best2 combines a simple design with multipurpose functionality for all sorts of home-improvement projects. The tool is basically a durable square that incorporates level vials to read level and plumb at the same time along each leg of the right angle. It also features a ruler and pencil slot to read and mark measurements easily. Selling for only $19.95, the Level Best2 is an ideal tool from small jobs like hanging a picture to large jobs such as building a deck. Use it to install door and window frames, to lay block foundations, or to install shelving and cabinets. Plus, with standard rise markings and standard tread markings, it is specifically designed for laying out staircase stringers. A great choice for the contractor or DIY'er, the Level Best2 is sold in two sizes, 12-by-12- and 6-by-6-inch, and is available in three colors, as well as a metric version. Learn more at www.levelbest2.com.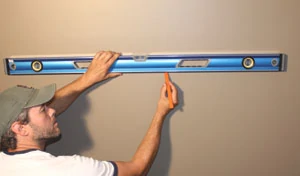 Empire 48" Levels 
From our experience, Empire makes some of the finest levels available, with solid construction, lightweight and ergonomic design, along with unsurpassed accuracy of the level vial—guaranteed to 0.00050 per inch in all working positions. The new e70 Series 48-inch level is a superb contractor-grade level for applications ranging from floor framing to roof building, and it comes with a lifetime warranty. It features Empire's trademarked True Blue level vial, which utilizes a blue tinting to highlight the bubble for faster and easier reading than the standard yellow.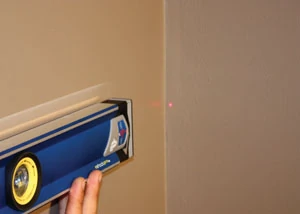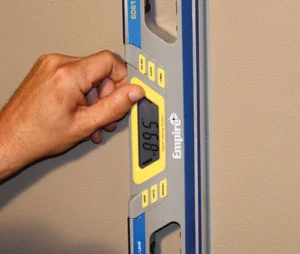 Empire's new e100 version is a 48-inch level that offers additional features, including a digital readout and a laser centerline that projects from the end of the level. The digital component reads slope, pitch and inch/foot in virtually any light, even when upside-down. It also holds its digital memory for later reference, and includes an audio button to hear a beep within one degree of level or plumb. Both the 48-inch Empire levels are constructed of aircraft aluminum and feature shock-absorbing end caps. On Amazon.com, the e70 was selling for just under $50 while a new e100 was going for less than $120. Learn more at www.empirelevel.com.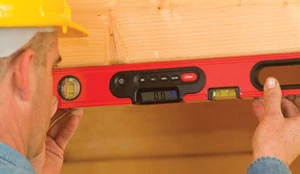 Kapro 985D Digiman
Kapro's new 985D Digiman strikes a balance between a traditional level and a full-featured digital level. It features a tough frame and shockproof end caps to protect it from the rigors of the jobsite. It also includes Kapro's patented Plumb Site Dual-View vial, which makes leveling easier because you can read the level not only from the side of the tool as usual, but also from the front or "edge" of the tool. This means it's easier to read certain measurements without straining your neck for an accurate reading. The digital module of the 985D includes a backlit LCD that automatically inverts the readout when using the level upside-down. The "mode" function displays the digital readout in degrees, percentages or pitch. An audible buzzer notifies when you're at level or plumb. Additional features include rare-earth magnets, and a memory feature that recalls up to nine measurements. Kapro's 985D is available in 10-, 24- and 48-inch levels. Learn more at www.kapro.com.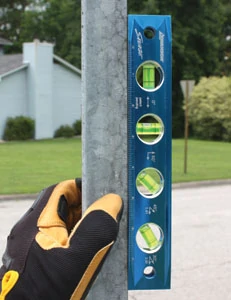 Swanson Savage Levels
Perfect for contractors and electrical and plumbing professionals, Swanson's new line of precision-machined, solid-billet aluminum torpedo levels, the 9-inch Savage and 6-inch Lil' Savage, are equipped with several timesaving features in one pocket-sized, lightweight tool. The four-vial design features Swanson's exclusive Brightview milled vial ports that capture and reflect light for increased readability and accurate measurement of level, 30, 45 and 90 degrees. Each Savage level includes top-read viewing windows for an easy, straightforward view of the 0- and 30-degree vials. Laser-engraved SAE and metric rules are prominently indicated on both levels. Additionally, rare-earth, neodymium magnets have also been integrated into the levels' design for maximum holding power. The Savage and Lil' Savage levels retail at under $30.00 and offer an exclusive, extra-wide V-grooved edge that accepts a 10-inch diameter pipe. The Lil' Savage includes the exclusive TRI-LOC "Anti-Dog" attachment, which offers three points of contact that lock the level onto the pipe, eliminating any level movement and accommodating offset bends in the piping. Learn more at www.swansontoolco.com.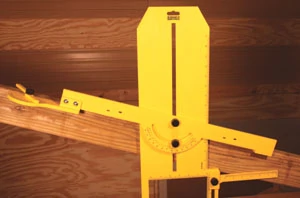 The Roofing Protractor
The Roofing Protractor is primarily a layout tool more than a dedicated level. It has a bubble vial to find level, but this crazy-looking contraption is specifically intended for roof layout work. Using a pitch/angle finder combined with locking knobs and a sliding square, the Roofing Protractor is a multipurpose tool designed to find roof pitch and help mark rafter cuts, including plumb cut, angles for jack rafters, and even the bird's mouth. The tool features an additional small protractor to mark seats for hip and valley rafters.
Roof building can take a lot of measuring and calculation, and with a little practice, the Roofing Protractor can certainly help make sense out of this complex task. However, the tool is very large, will not lay flat and is made almost completely of plastic. As such, it makes it difficult to store, and I fear the plastic parts wouldn't withstand the bangs and bruises of a typical jobsite. To that end, I think the Roofing Protractor would simplify a roofing job for a determined DIY'er tackling such a project, but professionals might want to wait for a sturdier metal version, which Australian inventor Derek Pater currently has in development.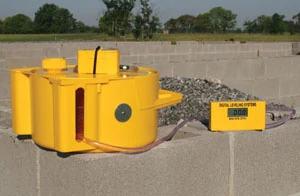 Electronic Water Level
For big jobs it helps to have a big level. The Electronic Water Level from Digital Leveling Systems is designed for home inspections, foundation repair, and general construction such as building masonry foundations. With 100 feet of tubing, the Electronic Water Level reads in inches and tenths of an inch, and will typically level to within 0.2 inch. A retractable reel is included for easy storage. During heavy construction, the Electronic Water Level provides a way to keep large building components level, such as beams being loaded by a crane.