By Matt Weber
Power tool accessories make trusted tools more versatile than ever.
If you're reading this magazine, the chances are good that you're a big fan of power tools. You probably have a favorite or two—the drill you've had for years, or the saw that never lets you down. Reliable tools are crucial for the professional craftsman or the serious DIY'er, but what if you could optimize those tools for more versatility, making a good tool even better? With a wide variety of available accessories for saws, drills and multi-function tools, you can do exactly that: configure your tool for easier work in a broader range of applications. The following are a few highlights the EHT staff thought you might find interesting.
Beyond Just a Drill
Drilling in confined spaces can be a tricky feat. Often the problem with reaching a certain location is that the drill you're using is too large for the work space. This is why many professionals invest in a right-angle drill, providing a means of offset drilling from the side of the tool. Dedicated right-angle drills are excellent tools, but a pricey investment for those of us who only occasionally have need for one.
In response, Milescraft offers the Drill90 accessory for power drills. Milescraft (www.milescraft.com) is a company that specializes in universal tool attachments and accessories, and the Drill90 attachment chucks right into any 3/8-inch or larger drill with a solid steel drive. The Drill90 instantly converts the tool into a right-angle drill for boring holes inside cabinets, fastening inside drawers, or drilling between closely positioned framing members. The attachment is ready to use, including a chuck and key, and it's reversible for right- or left-hand use. Although the Drill90 doesn't have quite the muscle to power hole-saw cutters or auger-style bits, it does provide an economical alternative for lighter duty right-angle drilling and driving.
While 90-degree drilling is a nice feature, there are many other angles of attack that can optimize a drill's performance. To that end, Milescraft also offers the Orbiter attachment that enables the user to drill and drive at virtually any angle. Like the Drill90, it chucks into any 3/8-inch drill, but the attachment is built with a "split-body" construction so that each half rotates independently a full 360 degrees. The Orbiter allows an infinite number of drilling angles. Once you've dialed in your angle of preference, simply lock it in position by twisting the handle. The Orbiter features a 3/8-inch keyless chuck that fits all drill bits up to a 3/8-inch shank.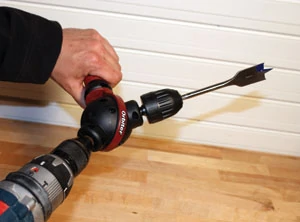 Rotary Tool Accessories
Rotary tools fall into two categories; smaller detail-oriented tools, such as the Dremel, and construction-grade spiral saws, popularized by Rotozip. Whereas they are similar in design and function, they are intended for very different applications. The smaller Dremel-style tool gives the user precise control of cutting and drilling in light-duty applications, but they don't have the torque or cutting power for heavy-duty tasks. Spiral saws, on the other hand, are too large and aggressive for precision work such as detail sanding, carving or hobby work, but they have plenty of power for cutting everything from plywood to large ceramic tile.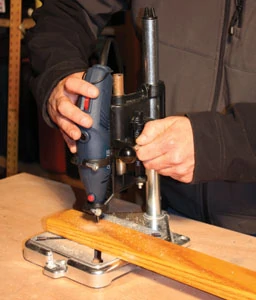 For Dremel-style rotary tools, Milescraft manufactures a handy ToolStand that configures the tool as a drill press for precision boring applications or "production-line" repetitive drilling. Clamp the tool into the ToolStand and lower the bit into the work piece using the spring-loaded rack and pinion gearing. The ToolStand includes a scale and a depth stop that enables the user to set the exact depth control for repetitive tasks. The ToolStand is built with a 6-by-6-inch metal base that mounts or clamps to a bench for steadfast stability and a level work surface. It fits most (but not all) Dremel-style rotary tools, including Dremel #300 and #400.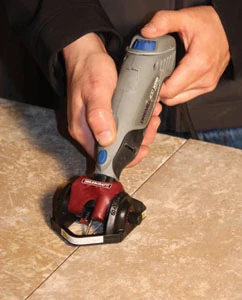 Another neat accessory for a rotary tool is Milescraft's Grout Removal Combo Kit. It's a two-part kit, the first of which is the AnglePlunge, which mounts onto the end of the tool just like a standard guide collar, but the AnglePlunge is adjustable for drilling at any angle. This can be used for materials such as drywall or plywood, but is also necessary to guide an abrasive grout-removal bit. With a grout-removal bit secured in the Angle Plunge, the tool can cut out grout from very fine grout lines without damaging the tile in the process. The second part of the kit is the CornerGrout Remover, which does just what it sounds like, designed with an angled face and extended nose to fit into hard-to-access corners.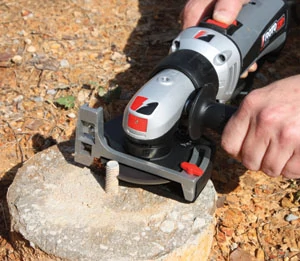 A broad range of accessories are also available for the larger construction-grade spiral saws, from flexible drill shafts to straight-edge guides. Personally, I find a cutoff attachment the most useful spiral saw accessory. It transforms your spiral saw into a heavy-duty cutoff saw for cutting nails, pipe, tile and more. Look for a cutoff attachment that can be configured as a flush-cut saw for tasks such as trimming door jambs in place when installing a new floor. Rotozip offers a cutoff attachment for construction applications, and when powered by the newly designed model RZ2000 spiral saw, which is capable of reaching 30,000 RPM, its aggressive cutting action can make quick work of cutting wood, chopping pipe or trimming J-bolts from concrete pier footings (as shown in the photo).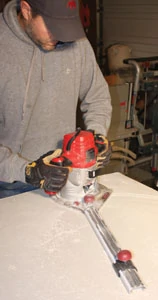 Routing Surefire Circles
Routers can cut decorative profiles, produce a variety of wood joints or even be used to cut through material for shaping and sizing. For cutting circular patterns, the circle-cutting router jig from Milescraft operates much like a large compass. It pivots from a center point anchored to the work piece with a finish nail, guiding the router in a perfect arc for cutting circles from 10 to 51 inches. The jig is made from a sturdy 20-inch aluminum beam and attaches to the router via a 7-inch universal base plate. The jig is available in Milescraft's Router Guide Kit, which includes an offset base and a straight-edge guide that easily adjusts for cutting dado slots up to 31 inches from the edge of the work piece.

Oscillating Tools: Built for Accessories
Among the most versatile types of power tools are the multi-function oscillating tools made popular by the Fein Multimaster. Unlike most tools built for a primary specialized purpose, these tools are specifically designed to take advantage of a system of different accessories to tackle many different jobs. These days, a variety of manufacturers, including Bosch, Ridgid, Rockwell and Craftsman, are running with the concept of these multipurpose devices, which do everything from scrape and grind to flush-cut and sand, depending on the attachment fitted to the head of the tool. In many cases, these new tools can take the place of several other tools.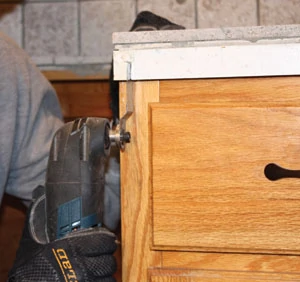 Many oscillating tools are sold with a variety of attachments, or you can purchase a more streamlined, economical kit and add to your arsenal of accessories as you need them. Scraper accessories are available for removing floor covering and adhesive residue. Flush-cut blades are great for flooring and plumbing applications, and plunge-cut blades are excellent for making precise notches in trim carpentry and cabinetry. Most oscillating tools are also available with hook-and-loop sanding plates for both rough and smooth sanding tasks.
Table Saw Accessories
Accessories for a table saw can make this workshop-favorite an easier tool to use. A feather board helps hold stock tightly against a rip fence, using the flexible "feathers" to prevent chatter while cutting and protecting against kickback. Milescraft offers a D/T Featherboard; the D/T stands for Dual/Tandem. This is comprised of two feather boards sandwiching a sturdy full-size spacer for supporting thick or vertically oriented stock for cutting. Or, separate the D/T Featherboard into two feather boards for dual application, clamping the stock to the saw from both the side and from above. The D/T Featherboard comes with all the hardware necessary for dual or tandem use on most table saws, router tables, band saws and fences.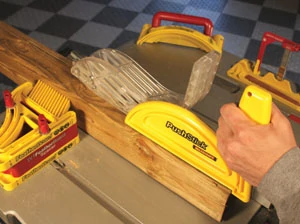 Milescraft also manufactures the PushStick to keep the user's fingers safely away from the table saw blade, while simultaneously exerting downward pressure on the work piece for stable, accurate rip cuts. The PushStick includes a depth gauge with a magnetic docking station.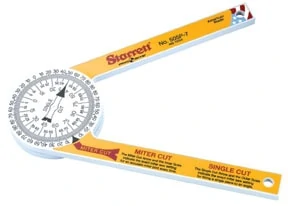 Also available is the BladeChanger from Milescraft that holds the blade in place and has an open design so the user can view the blade while changing. Use the handle to keep a firm grip on the blade without damaging it—or your fingers—when replacing it with a different one.
Miter Saw Protractor
The EHT staff would never overlook the miter saw, and the latest miter-saw accessory we've come across is the ProSite 505P-7 Miter Saw Protractor from the L.S. Starrett Construction Division (www.starrett.com). This is a durable plastic version of the company's 505 Series, and offered at a lower price point. The new Miter Saw Protractor is a low-cost solution to eliminate the mathematical calculations, guesswork and material waste associated with measuring and transferring angles. For mitering or making single butt-joint cuts, the user simply adjusts the tool legs to the work surfaces, reads the angle on the dial face, and sets the miter saw to the reading for a quick and accurate cut. The 505P-7 is built to withstand tough jobsite environments, with tensioned 7-inch legs that feature a Teflon "O" ring for smooth precise operation.