It's been a long, cold winter, and the Extreme How-to staff is glad to see it go. As you thaw out and plan this spring's outdoor projects, take a look at these new lawn and landscape tools for a little inspiration.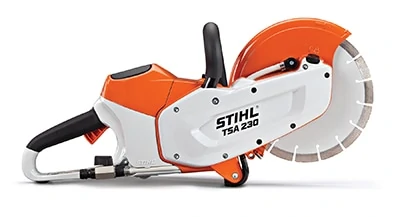 World's First Cordless Electric Cut-off Machine, the Stihl TSA 230
There's something new under the springtime sun. Powered by a 36-volt lithium-ion battery, the TSA 230 Stihl Cutquik is a game-changer for heavy-duty hardscape and concrete projects.  This slick new portable cut-off machine offers easy electric starting and powerful cutting performance in a lightweight, compact package that can be used indoors because it produces no emissions. It features a semi-automatic belt tensioner, and a reversible cutting arm lets you cut in the inboard or outboard position. The quick-connect, onboard water-control suppresses masonry dust, and a tool-free locking device prevents wheel rotation when removing the wheel-attachment bolt. The TSA 230 also requires less maintenance and is priced below its gasoline-powered counterpart. (Battery and charger are sold separately.)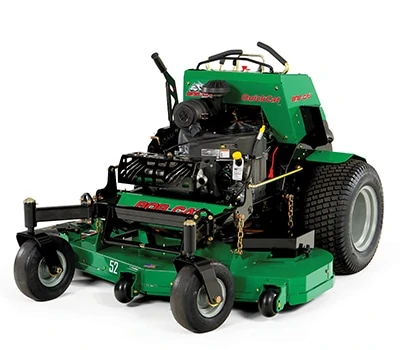 BOB-CAT QuickCat Stand-On Mower
BOB-CAT announces the introduction of its first stand-on mower, the QuickCat. With a nimble design that places the platform close to the drive axles, the QuickCat features ergonomic handling that reduces vibration and rider fatigue, which is ideal to provide pros or large-acreage homeowners with all-day comfort and stability. The new QuickCat was designed to deliver exceptional performance as a primary mower or to complement a fleet of zero-turn radius (ZTR) mowers. Features include 8-mph mowing speed and 10.5-mph transport speed, extra-large drive tires for a smoother ride and better traction, and low placement of the 6.5-gallon fuel tank for improved balance on uneven ground. The extra-strong DuraDeck mower deck is backed by a limited lifetime warranty. Learn more at www.bobcatturf.com.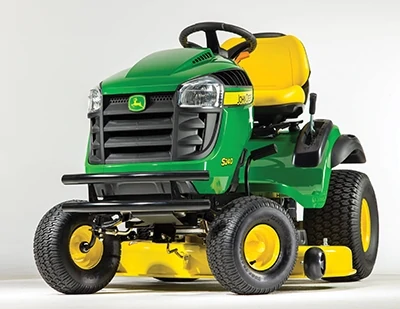 John Deere S240 Sport Lawn Tractor
Knock out your backyard to-do list with the new John Deere S240 Sport Lawn Tractor. The S240 Sport offers premium John Deere features at a competitive price. The tractor includes an 18.5-hp V-twin engine with electronic ignition, electric power takeoff (PTO), and comfortable 15-in. open-back seats. The Hydro/automatic drive gives an infinite choice of ground speeds. The full-length, welded-steel frame and cast-iron front axle ensure long-term reliability. The tractor is operated with two-pedal forward/reverse foot controls, and the dual-blade, 42-in. Edge Cutting System has a deep mower-deck design that lifts grass for a clean, even cut. Learn more at www.deere.com.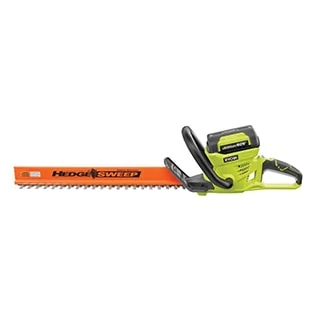 Ryobi 40V 24″ Cordless Hedge Trimmer
Powered by a 40V lithium-ion battery, the Ryobi 24-in. Cordless Hedge Trimmer (RY40610A) provides the power of a gas-fueled tool, boasting 3,200 strokes per minute while offering a longer run time than a gas hedge trimmer. With 24-in. dual action blades, the new trimmer provides an aggressive 3/4-in. cutting capacity with reduced vibration. Additional features include a HedgeSweep that clears debris as you trim and a soft-grip handle for comfortable use. It starts quickly and easily, and the 40V battery is compatible with any other Ryobi 40V tool. Visit www.ryobitools.com.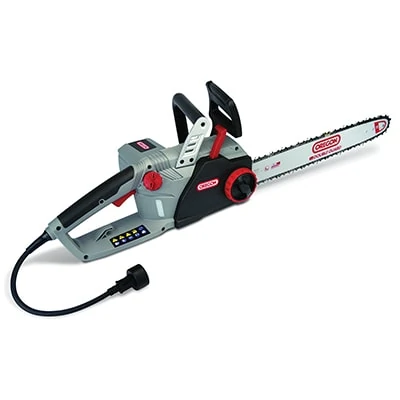 Oregon CS1500 Self-sharpening Chainsaw
The new Oregon CS1500 is a self-sharpening corded electric chainsaw equipped with an 18-in. reduced kickback bar. The CS1500 offers all the convenience of electric tools—instant start, lower noise and minimal maintenance—with the added benefit of on-tool PowerSharp technology. You'll never have to cut with a dull chain again, because just one pull of the PowerSharp lever sharpens a dull chain in three to five seconds. Weighing less than 13 lbs., the 15-amp chainsaw includes an over-mold comfort handle, automatic oiler with see-through window, and a tool-less chain-tensioning system. Visit www.oregonproducts.com.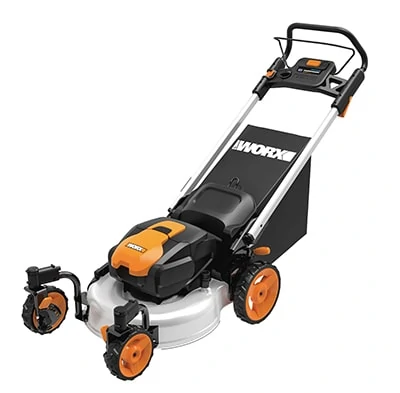 Worx WG771 56V MaxLithium Cordless Lawnmower
The new Worx 56V lawnmower features a 19-in. steel deck with premium mulching capabilities. With gas-like performance, it mows 9,400 sq. ft. on a single battery charge. In perspective, a full-size regulation tennis court is 7,200 sq. ft. The 3-in-1 56V MaxLithium push mowers give homeowners the option to mulch, bag or side discharge grass clippings. The all new NutriCut system features dual-edge mulching blades to help provide natural lawn fertilization. Also, the Worx Power Share mowers are equipped with Intellicut, which is a torque-on-demand system that monitors the mower's need for torque. No more bogging down when mowing tall or thick grass. Homeowners simply set the dial to POWER when conditions call for more torque or switch to ECO mode for everyday use. The durable steel mower decks features 10-in. high rear wheels and 7-in. front wheels. The WG771 features front caster wheels that rotate 360 degrees for exceptional maneuverability. The mower also has a quick-connect washout port that makes it easy to keep the underside of the mower nice and clean. Visit www.worx.com.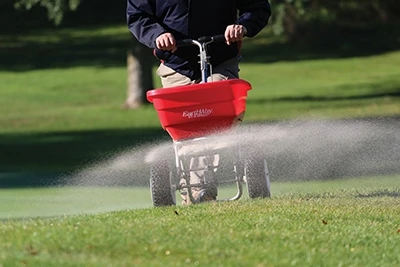 New EarthWay Flex-Select Adaptable Spreaders 
The new Flex-Select Series from EarthWay is like the Swiss Army Knife of spreaders. The new series adds two new hopper sizes (80 and 130 lbs.) and three different broadcast application configurations to the line-up of Commercial & Professional spreaders. The Flex-Select models feature easily interchangeable shut-off trays (the complete bottom of the hopper including the shut-off) that can easily convert the spreader from the EarthWay EV-N-SPRED capable of spreading all fertilizers and free-flowing granular products, to the EarthWay High-Output rock salt/pelletized high SGN material spreader, or to a new Low-Output low application rate fine chemical/fine grass seed spreader.
Each application will spread evenly, accurately, and up to a 50-percent wider spread than other push spreaders. Two chassis types, two hopper sizes, and three unique application trays are available (patents pending). Visit www.earthway.com.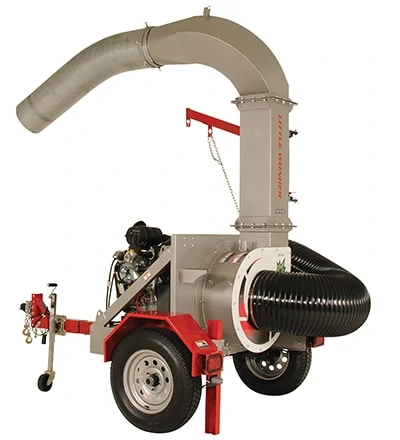 Little Wonder Monster TruckLoader
Little Wonder's new Monster TruckLoaders are a line of leaf and debris truck loaders that produce a debris shredding ratio of 15 to 1. These monstrous machines feature a four-blade, all-steel impeller with shredding teeth at all three debris-touch points of the blade. This allows professional users to fit more in the truck and clear more properties between offloads. Engines range from 18 to 36 horsepower, and the road-ready, tow-behind trailers feature Torflex axles, built-in tool rack, pre-wired and recessed tail lights, as well as an adjustable drawbar, swivel jack and stabilizer leg. Visit littlewonder.com.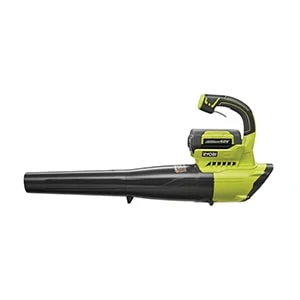 Ryobi Cordless Jet Fan Blower
The unique jet fan design of the new RY40411 Cordless Blower optimizes airflow to produce 155 mph and 300 cfm. The 40V blower blasts through wet and dry leaves and debris, and is ideal for lawns and hard surfaces. Other product features include a variable speed trigger for air-speed control and an overall sleek design with a soft grip handle for user comfort.
It starts quickly and easily, with-out the hassle of gas and oil, and operates on the same inter-changeable battery platform as other 40V Ryobi tools. Visit www.ryobitools.com.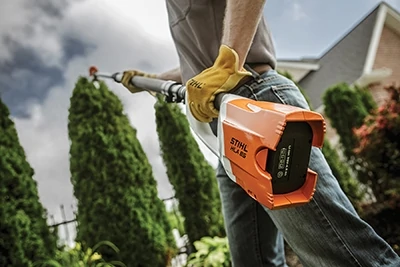 Stihl Cordless 12' Telescopic Pole Pruner
A 12-foot reach, quiet operation and zero emissions—that's what homeowners and tree care professionals can expect from the Stihl HTA 85 telescopic pole pruner. Powered by a 36-volt lithium-ion battery, this new cordless pruner offers lightweight, balanced cutting thanks to a brushless, commercial-grade, high-torque electric motor. Part of the Stihl Battery KombiSystem, the HTA 85 runs on the same interchangeable batteries as other Stihl lithium-ion tools, promising long run times on a single charge—up to three hours depending on battery size—with no gradual drop in performance. The HTA 85 requires little maintenance since it has no engine or filter, there's no gasoline cost and it has no power cords to snag and tangle in the yard. Additional features include the Ematic Guide Bar with a polymer ramp reservoir that holds bar oil until it can be picked up by passing chain. This can cut oil usage in half. The HTA 85 includes an automatic bar and chain oiler, as well as a clip for a strap or harness. Learn more at www.stihlusa.com.