The basic design of a ladder has remained the same for more than 10,000 years, so making tweaks to that design has meant big business and stiff competition for the world's ladder manufacturers. Here's a look at a few new spins on the old classic for 2018. 
LITTLE GIANT LADDER LEVELER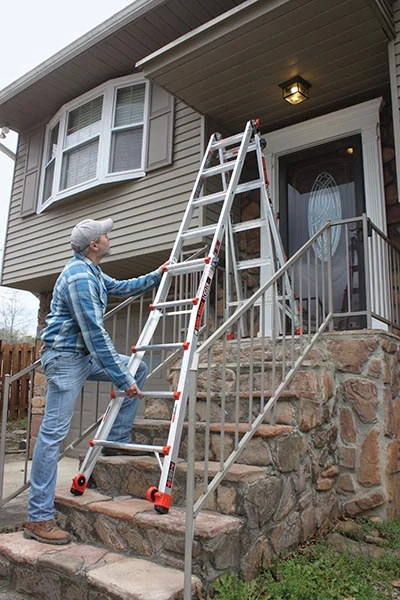 Little Giant Ladder Co. brought the multi-ladder to the U.S. based on a prototype the company founder saw in Germany, and it has since become a favorite choice for professionals and DIY'ers alike. With an articulating hinge and locking rails, these multipurpose ladders can serve as an A-frame step-ladder, an extension  ladder, a 90-degree ladder (for getting close to walls), or as two supports for a length of scaffolding. By adjusting the length of each side of the ladder independently when in the A-frame mode, a multipurpose ladder can also provide access over uneven ground such as a staircase.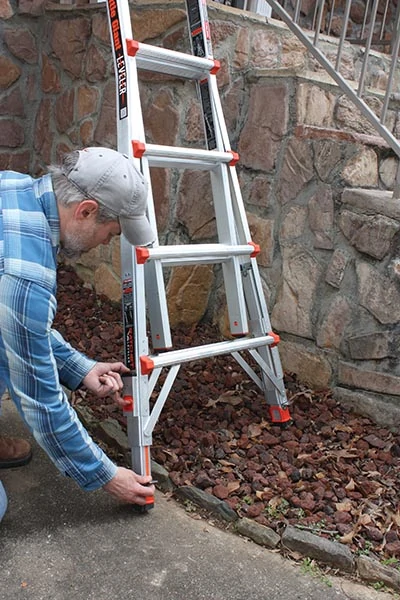 A new feature of Little Giant's latest multi-ladder, dubbed the Leveler, is the addition of extendable bottom rails. A ladder must always be positioned securely with the rungs level to prevent side tips, and uneven ground can often make it difficult to set one up correctly. Whereas a traditional workaround has been to dig a trench beneath the rail on the high side, the Leveler eliminates the need for that extra step by allowing the user to extend either the left or right rail. Similar in concept to the extendable outriggers on the company's Sumo Stance extension ladders, the new Leveler feature is the first of its kind for multi-ladders. Visit www.littlegiantladders.com.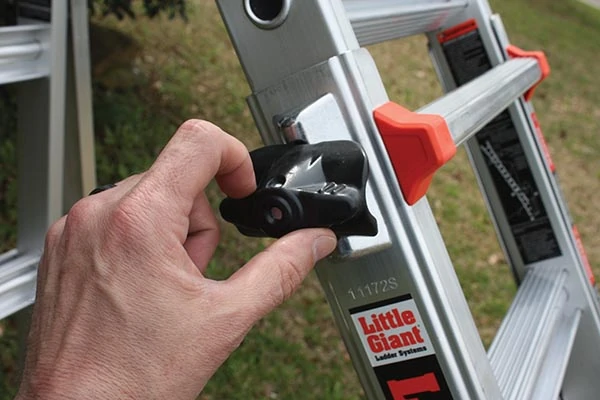 LOUISVILLE LADDER CROSS STEP
Ranging in load capacity from 250 to 375 lbs., Louisville Ladder's new two-in-one Cross Step combines a step-ladder and leaning shelf ladder in one. The V-shaped ProTops with slip-resistant grips, allow the Cross Step to lean on buildings, in corners, on corners, and fit on poles when in the shelf position. To keep the job moving and your tools close, Cross Step ladders have a magnetic strip and slots for tools. The locking latch sits on both sides of the rear section and locks the ladder into place, preventing the rear from moving.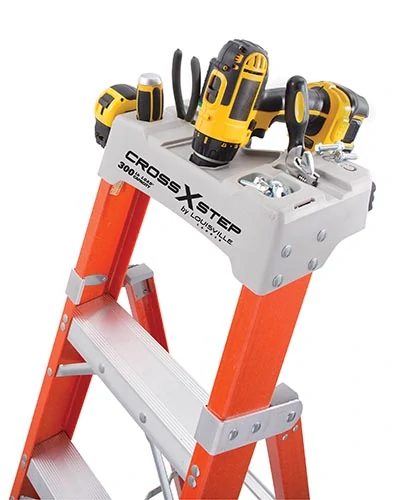 When set up in step-ladder position, the unique design of the Cross Step allows you to get 6 inches closer to your work area to reduce overreaching and straining. Each model is equipped with the SHOX impact-absorption system and Raptor Boot that delivers longer ladder life and slip-resistant footing. Visit louisvilleladder.com.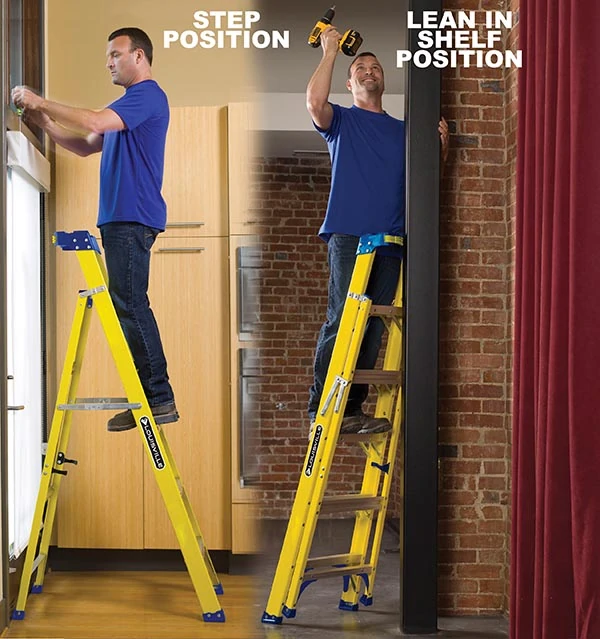 XTEND+CLIMB TELESCOPING LADDER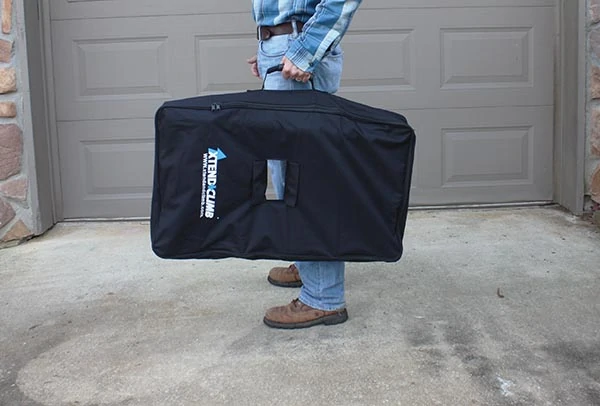 A telescoping ladder provides a convenient way to store and transport an extension ladder. The EHT staff tested the Xtend+Climb model PSE125, which extends up to 12-1/2 feet to provide 16-1/2-ft. reach. Then, it collapses back down to a compact 32-1/2 inches. Featuring extra wide steps for comfortable climbing, the Xtend+Climb is easy to use and built tough for contractor duty, made of strong and lightweight aerospace-grade aluminum alloy.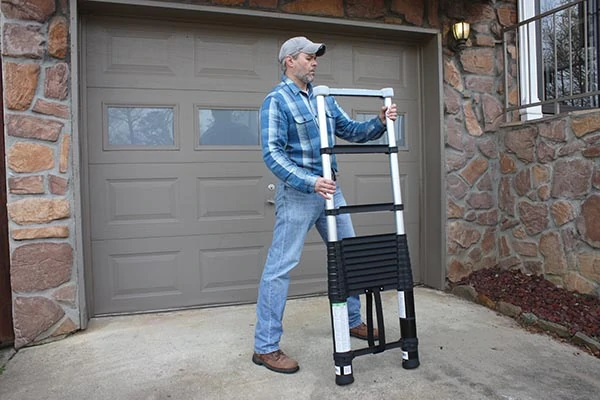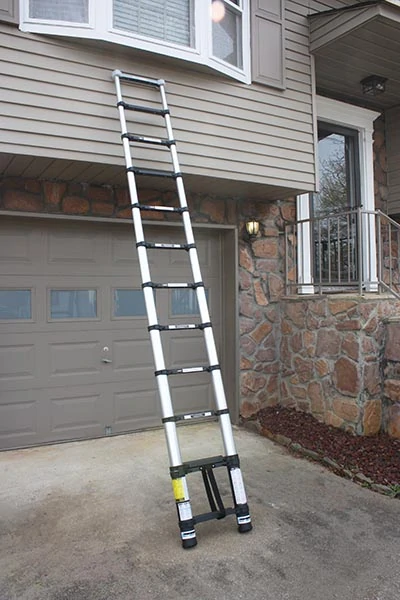 As a safety feature, each rung features thumb tabs with colored indicators that show the telescoping rails are locked into place. If the thumb tab shows a green indicator, you know it's safely locked and ready to climb.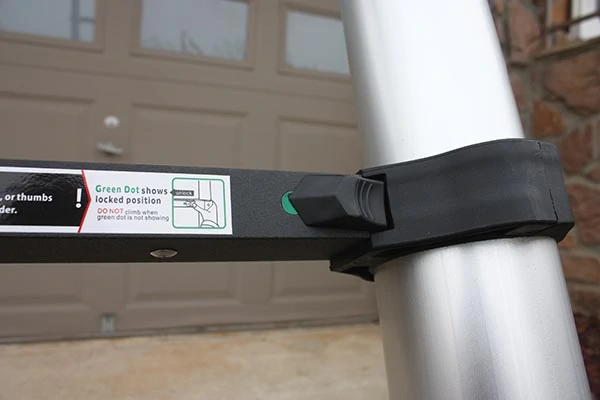 In addition to ladders of telescoping various sizes and capacities, Xtend+Climb also offers optional accessories. A silicone rubber top rung protects walls and eaves from damage. And a zip-up carrying bag can store the ladder when not in use.
WERNER FIRE ESCAPE LADDER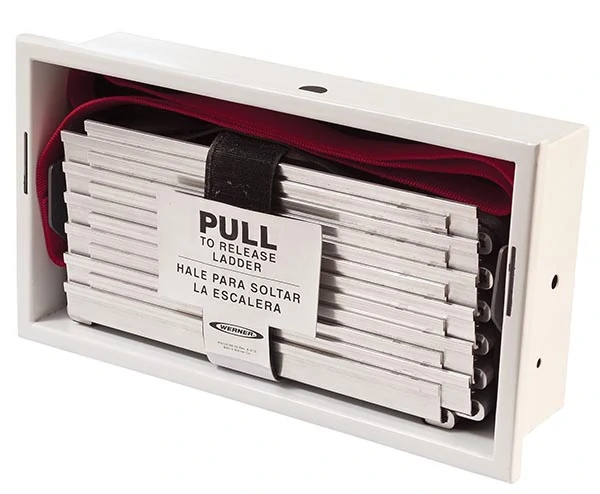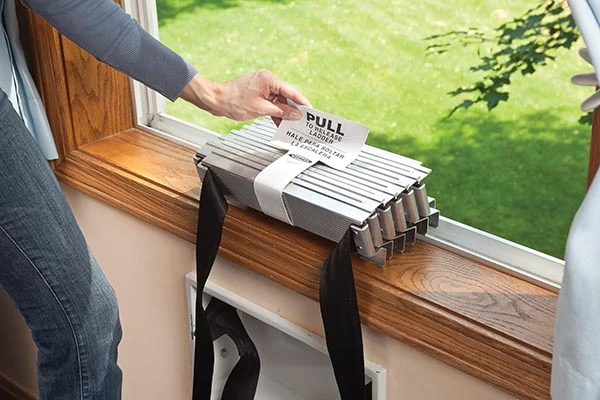 Werner Ladder Co. now offers homeowners the kind of emergency ladder that probably won't get much use until you need it, but once you need it, boy will you be glad you have it. With two models available for two- or three story homes, the new Fire Escape Ladder (ESC 220 and ECS33) installs permanently under a window, making it always there in case of emergency. As a flexible rope ladder, it easily deploys in seconds for a quick escape, supports up to 1,200 lbs. and is easy to use. The rungs are anti-slip and have standoffs for ease in descending, and the climbing assist strap aids in exiting the window. The pan size is 8-1/2-by- 15-1/4 inch and 3-1/2 in. deep. The ladder also includes a door to help blend with the room décor. Visit www.wernerco.com.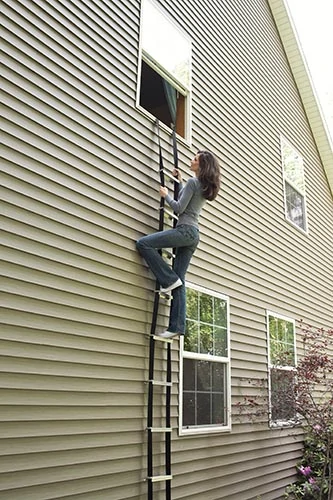 WERNER ALUMINUM COMPACT STEPLADDER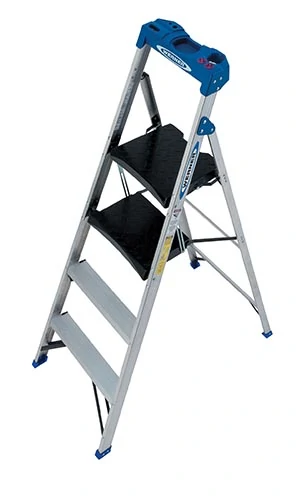 For interior cleaning when the in-laws are coming to town, no one wants to haul a 50-lb. ladder out of the basement for tasks like opening heating vents, dusting fan blades and cleaning windows. The Werner Aluminum Compact Stepladder (model ACS386) can fit in a broom closet and weighs less than 16 lbs. Easy to move and maneuver, it's rated to carry 250 lbs., so it can stand up to the toughest fall cleaning jobs.
This fiberglass compact stepladder is built with double standing platforms, and its slim profile is perfect for those tight spaces. The lightweight fiberglass construction makes it easy to carry and store. It is a 5-1/2-ft. tall ladder allowing the user to reach 9 to 10 feet from the ground. Visit www.wernerco.com.
Side Note One
Be Safe Up There
Missing the last step and overreaching were the two most cited issues as the cause for ladder accidents, according to a study completed by the American Ladder Institute (ALI) in 2016. Close behind were failure to use three points of contact and using the wrong ladder for the job. Side-tips from ladders cause some of the most catastrophic injuries, and working on uneven ground can lead to these accidents.
In fact, the U.S. leads the world in ladder deaths with close to one ladder fatality per day. Everyday use of heavy, bulky ladders leads to some of the most common injuries, strains and sprains, so never take safety for granted.
These common causes of ladder accidents can be easily avoided by taking precautionary actions prior to using a ladder. Always select the right type and size of ladder. Set up the ladder correctly. Inspect the ladder for damage and wear. Climb the ladder correctly, maintaining three points of contact (i.e., two feet and one hand; two hands and one foot). Keep in mind that the ladder's rated load capacity refers not only to your personal weight but also the accumulated weight of whatever equipment you are carrying. The safest angle for a ladder is 75.5 degrees; if it is too shallow, the bottom of the ladder is at risk of sliding, and if it is too steep, the ladder may fall backwards. And always be cautious around electrical supply lines.
Side Note Two
The Little Tool Mule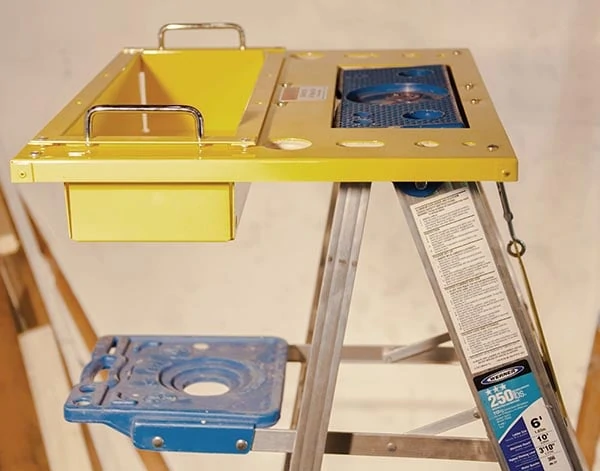 The Little Mule is an accessory that mounts to ladder tops, designed to keep everything you need at hand and safe from dropping. Its placement on the top of the ladder also helps reduce the risk of workers using the top step in violation of OSHA rules. With the removable pan system, you can swap out supplies to work faster and easier. The Little Tool Mule features numerous tool slots for drills, screwdrivers, paint brushes and more. Featuring strong metal constructions, Tool Mule offers two ladder products that between them fit most three-legged or four-legged ladders from all major aluminum or fiberglass brands. By measuring the top of your ladder, you'll know which Little Tool Mule is right for you.