Considering adding value to your home before putting it on the market? Perhaps you're looking to update your house so it can become a more livable, functional space? Being the heart of the home, the kitchen is the best place to start.
Read on for insight into kitchen improvements that are worth your money.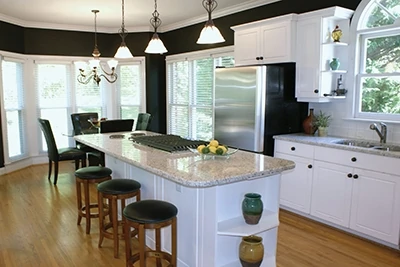 Repaint your cabinets
Repainting is a cheaper alternative to replacing your cabinetry. It is most definitely one of the most cost-effective ways to transform your kitchen. Paint them yourself to save on labor costs and give you a summer project, or call in the professionals.
A light, neutral color will open the space up, whereas a pop of color will introduce character into your home.
If your cabinets are looking dated, consider replacing the doors to incorporate a more modern look. This will increase the resale value of your kitchen without having to pull apart the entire kitchen.
Update lighting
Updating your light fixtures can completely transform the atmosphere of your kitchen. Trending designs include pendant lights, Edison light bulbs and modern chandeliers.
Cove lighting could be a great investment. Although not used as the primary light source, it is more commonly installed under cabinets and ledges. Surprisingly, the installation is quite simple and isn't too costly.
Avoid the stress of a full renovation by upgrading some components of your kitchen. There are many small touches that will make a world of difference. Consider these upgrades to improve both the aesthetics and function of your kitchen. 
Change fixtures
It's surprising how much a little change can create such a dramatic difference. Kitchen taps and door handles may be the finishing touch your kitchen needs.
Choose a modern design, a classic style or go for the increasingly-popular minimalist look. Taps are best installed professionally. Consider the now popular detachable taps for their practicality.
For door and drawer handles, this can be a DIY job, saving on labor costs.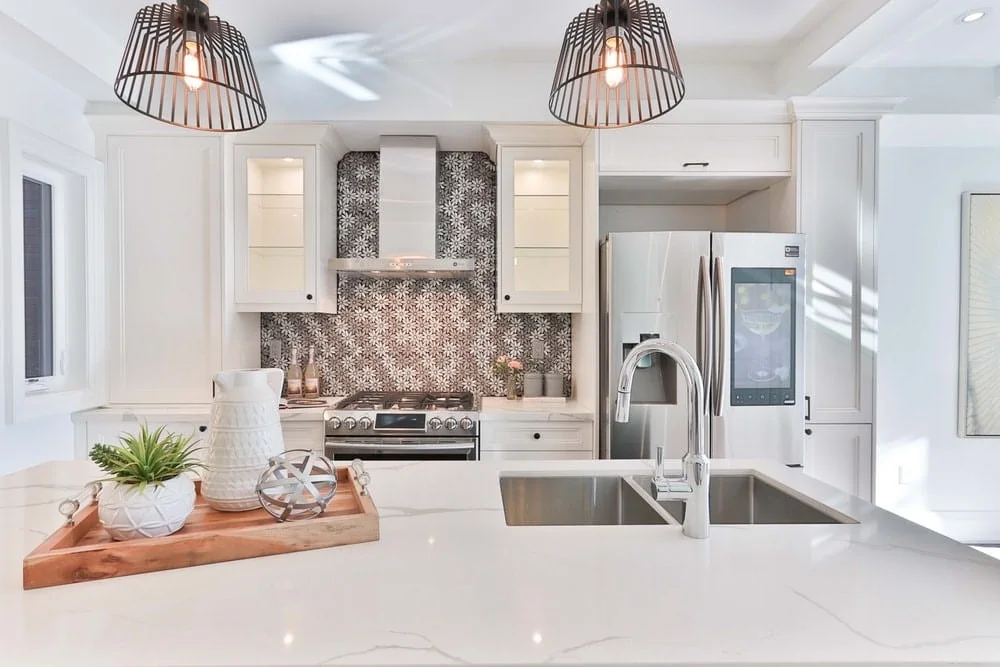 Add a backsplash
A backsplash was originally used for protection from cooking splatters. They have now evolved to become a feature wall of the kitchen.
Ceramic tile is the most popular choice for a backsplash. Not only are they easy to maintain, but ceramic tiles are also versatile, and suit price ranges from budget to luxury. Backsplash designs tend to date easily, so opting for subway tiling is a timeless choice.
Stainless steel is a great choice for an industrial look, marble for ultimate luxury and wood to accent a farmhouse style.
A creative idea includes a chalkboard backsplash. Complete this simple DIY project using chalkboard paint. Place a chalkboard in areas without direct contact with grease.
Install an island
Islands are multifunctional. Add in some extra bench space, additional storage and a breakfast bar. Create a blend between a practical space and a space for entertaining.
Modular kitchen islands are the most popular option. Otherwise, opt for a multi-tiered island. This trend usually includes a raised area for a breakfast bar or a lowered area for a small dining nook.
A more cost-effective alternative to a kitchen island includes a kitchen cart. Being smaller than a conventional kitchen island, these are great for small spaces with the added portability for storage.
Upgrade your countertop
At first glance, eyes are usually drawn to the countertop of the kitchen. This makes it a good place to upgrade.
Quartz leaves a sleek, impeccable finish, but may not be in the price range for most customers. Granite and marble make great alternatives with a much more reasonable price tag.
Concrete countertops have become an upcoming trend. They're also a great budget-friendly option. For a cozy, farmhouse feel, butcher's block or bamboo are great options.
Be sure to make sure you're covered with contract works insurance. Keep your home protected during the renovations – prepare yourself for anything that comes your way.
Author bio:
Sofia Lockett is a freelance writer and design enthusiast who resides in Auckland, New Zealand. Learn more about Sofia and her written works on her personal blog.