The 2017 Kitchen & Bath Industry Show (KBIS) happens January 10-12 at the Orange County Convention Center in Orlando, Florida. Held in conjunction with the National Kitchen and Bath Association (NKBA), the convention is an interactive platform that showcases the latest industry products, trends and technologies. The voice of the kitchen and bath industry for 50 years, KBIS hosts hundreds of leading brands and thousands of new products. Here's a preview of some of the big names that will be exhibiting.
Wellborn Cabinet's Harmony and Prairie Selections
Wellborn Cabinet's Harmony and Prairie selections bring even more design options to the company's Premier Series, which offers high fashion with dependable quality. The series offers 30,000 door styles, species and finish combinations, as well an extensive selection of stains and paints with glaze and finish technique options. Door overlay profiles come with Traditional, Transitional and Contemporary styling, with semi-custom offerings for more design flexibility. The wood species offered in the Prairie door style will be Cherry, Maple, Oak and Hickory. The Harmony door style wood species will offer Cherry and Maple. Visit www.wellborn.com or booth W1271.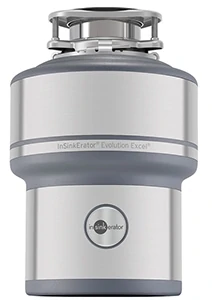 Evolution Excel Garbage Disposal
Nothing grinds more with less noise than the Evolution Excel garbage disposal from Insinkerator. It offers SoundSeal Technology that delivers ultra-quiet performance allowing you to hold a conversation with normal voices in the same room. MultiGrind Technology delivers three stages of grind so you can stop worrying about what food you can put in your disposer.
The 1-horsepower Dura-Drive induction motor is engineered to specifications used for appliance motors, providing quiet operation and long life. The Jam-Sensor Circuit automatically increases torque to break through tough jams, and the Auto-Reverse grind system technology automatically reverses grind direction. Visit www.insinkerator.com or booth 1401.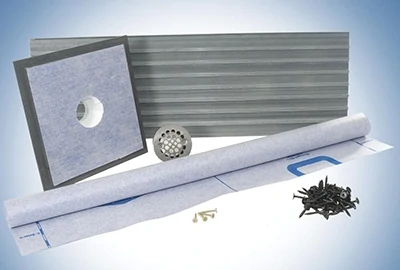 ClearPath Curbless Shower Pan System
Fin Pan, Inc. has the ClearPath Curbless Shower Pan System, which provides an innovative way to construct a barrier-free shower entry that requires no structural modifications to the existing floor joists. It's designed to maintain independence in life while offering today's most fashionable designs, and it works for both remodeling and new construction. The drain plate comes with an integrated drain assembly, and the waterproofing mat is pre-pitched for proper sloping. TI-ProBoard is a composite structural underlayment that offers the ability to install ClearPath directly on top of the floor joists. Visit www.finpan.com or booth S5835.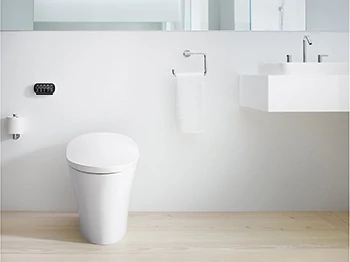 Kohler Veil Intelligent Toilet
Kohler's new Veil Intelligent toilet boasts sophisticated style, an easy-to-clean design and bidet technology in a sleek, contemporary fashion. Featuring clean, refined lines and a concealed tank, the Veil features an automatic opening/closing lid and flushing to minimize touch points, easing user concerns about spreading germs. The new Veil Intelligent toilet uses cutting-edge technology to integrate bidet functionality in a seamless manner. A stainless steel bidet wand offers warm water cleaning with adjustable spray shape, position, water pressure, temperature, pulsate, and oscillate functions for anterior and posterior positions. A soothing warm-air drying system with adjustable temperature settings provides additional comfort. The self-cleaning function uses UV light and electrolyzed water systems to sanitize the bidet wand surfaces. Visit www.kohler.com or booth W2000.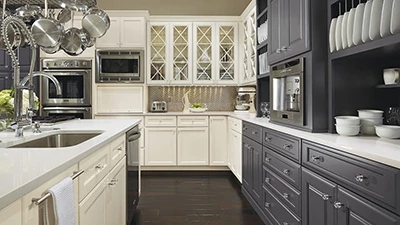 Pinnacle Custom Cabinets
Whether creating a door, sourcing a type of wood or fine-tuning a finish, the Pinnacle Series from Omega Cabinetry offers artisan craftsmanship built to exacting specifications. Pinnacle features over 128 modifications plus custom quoting for your perfect project. Change details on door profiles, center panels or even combine specifics from one door to another. Enjoy the luxurious beauty of natural-finish specie-matched drawers and roll-out trays. When it comes to paint color selection, send the Pinnacle team a swatch, they'll match it and then send you a sample for approval. Visit www.omegacabinetry.com or booth W2171.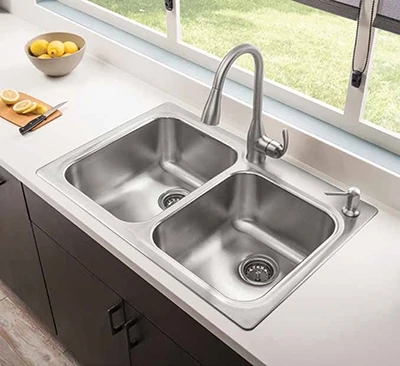 Moen Kelsa Faucet/Sink Combo with QuickMount
The Kelsa pulldown faucet features a three-function spray wand that enables users to switch the water flow with just the push of a button. Constructed from sturdy 18-gauge stainless steel, the dual-mount sink can be installed as a top-mount or under-mount, depending on user preference and kitchen design. Its large size—33 by 22 inches—provides plenty of space for washing dishes. The 9-in. bowl depth easily accommodates tall pitchers or deep pots. Plus, Moen's new QuickMount installation hardware is an installer's dream come true. The innovative spiral shape keeps the hardware out of the way when the sink is placed into the countertop. Then, it rotates itself into the correct position during tightening. No additional tools are required to complete installation. The hardware tightens quickly and easily under the sink with the included Moen installation tool. The new mounting stud accommodates a wide variety of countertop depths and materials. Visit www.moen.com or booth W2155.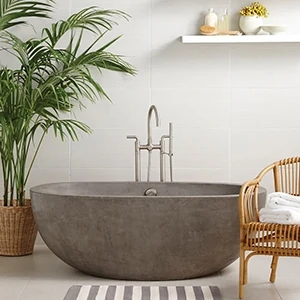 Avalon Soaking Tub
With its perfectly curved form and deep interior, the Avalon NativeStone concrete bathtub provides beauty and optimum comfort. The Avalon's thick walls provide insulation to ensure a hot, deep, relaxing soak that will last. It is handcrafted of a breakthrough combination of natural jute fiber and cement known as NativeStone, making the tub much lighter than expected. Artisans hand-form, polish, finish and seal each individual tub using contemporary craft techniques. The Avalon is available in 62- and 72-in. sizes and in three finishes: Ash, Slate and Pearl. Visit www.nativetrails.net or booth S5677.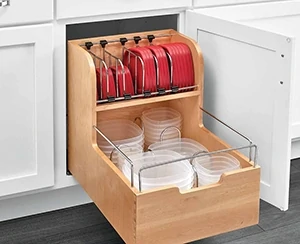 Rev-a-Shelf Food Storage Container Organizer
These new organizers feature sturdy dovetail construction, stylish chrome accents and Blumotion Soft-Close Slides. The adjustable dividers and pegboard allow limitless customization to fit your container needs. Available for 18- and 24-in. base cabinets, the new Food Storage Container Organizers let you reclaim your cabinet space. Visit rev-a-shelf.com or booth W1071.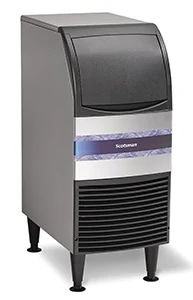 Scotsman Essential Ice Makers
Scotsman Ice Systems' Essential line of ice machines are 15- or 20-in. wide, 38-in. tall and 24-in. deep. With 6-in. adjustable legs they have the ability to fit under 34-in. countertops with an optional floor-mount kit. The Essential line is easy to use with its built-in sliding back door to conserve space and allow easy access to the ice bin. The machines have an ample access area complete with a large dishwasher-safe scoop to make it easy to reach the ice. Additionally, an intuitive control panel features a prominent on/off/clean switch and easy-to-see buttons to adjust ice thickness and harvest time. Visit www.scotsman-ice.com or booth S5617.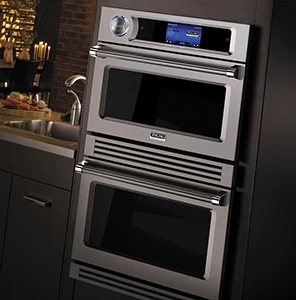 Viking Professional TurboChef Oven
The Viking Professional TurboChef 30-in. wide Double Oven is the fastest residential oven in the world. Using patented Airspeed Technology, the oven prepares meals up to 15 times faster than conventional methods. The bottom oven features nine cook modes: Bake, Roast, Broil, Convection Bake and Roast, High and Low Broil, Warm and Proof, plus a probe. The top oven features seven "speed cook" modes: Bake, Roast, Broil, Air-Crisp, Toast, Dehydrate, and Favorites for fast a versatile performance. The oven has an easy-to-use display, a self-cleaning mode, and features more than 500 predetermined cooking modes pre-programmed to automatically determine cook time and temperature in the top oven, taking the guess work out of cooking. Visit www.vikingrange.com or booth W805.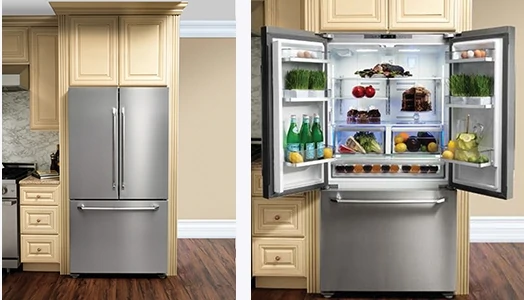 Dacor Distinctive Counter-Depth Refrigerator
The Dacor Distinctive 36-in. Counter-Depth Refrigerator was designed with features specific to the needs of the homeowner who enjoys hosting guests. This Energy Star-certified refrigerator can produce 11 pounds of ice per day—the largest ice capacity for any refrigerator in its class. It offers 22 cubic feet of storage space in an elegant French door configuration. The refrigerator's crisper drawers come complete with humidity control that extends the life of fruits and vegetables, along with blue-light technology that promotes photosynthesis to keep food fresher longer.
This refrigerator incorporates Dacor's IonFresh technology which eliminates airborne bacteria and odor forming molecules by producing natural negative ions. Other notable features include an internal water dispenser, column LED lighting and an anti-fingerprint finish to keep the exterior bright and smudge-free. Visit www.dacor.com or booth W1581.
Side Note
One-Piece Toilets
Sleek designs, easy-to-clean exteriors and small-space-friendly features are three reasons why today's homeowners are becoming more interested in one-piece toilets.
"For homeowners with a small bathroom a one-piece toilet can be an advantage," says Adriana Miller, product manager for Mansfield Plumbing. "And, you don't sacrifice style with a one-piece toilet. Because the tank and toilet bowl are molded as one piece, there's almost a sleek, modern aspect to the style of many one-piece toilets."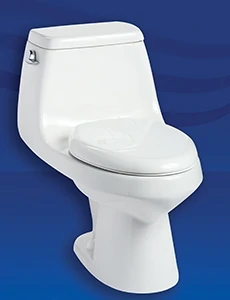 The seamless transition between the base and the tank has another advantage: easy cleaning. "There are no nooks or joint areas where dirt can hide," says Miller. "This makes exterior cleaning quicker and easier for homeowners. Another advantage is that installation generally goes faster for a one-piece toilet, since a plumber does not have to maneuver and secure the toilet bowl and then do the same for the toilet tank."
Mansfield Plumbing offers one-piece toilets in the Aegean style featuring an elongated front toilet bowl, a color-match SmartClose toilet seat, and low water consumption. They include high-performance MagnaFlush flushing technology, and a side-mount, chrome-plated metal trip lever handle complements the sleek design.
Visit www.mansfieldplumbing.com or call 877-850-3060.