Wolverine Griffin Work Boot
The Wolverine Griffin work boot combines time-tested comfort technology with the best new components and materials. Featuring Wolverine DuraShocks, individual compression pads in the heel absorb shock and return energy in each step. The Griffin's new DuraShocks SR outsole pattern made of polyurethane with rubber compression pads offers highly rated slip resistance, durability and flexibility. A waterproof full-grain leather upper and D-ring eyelets give the boot a classic style. A wave mesh lining wicks away moisture, and a 3D OrthoLite footbed provides cushion. The Griffin is available in 6-, 8-in. and Wellington styles with an optional steel toe cap, and backed by Wolverine's 30-day comfort guarantee. Visit www.wolverine.com.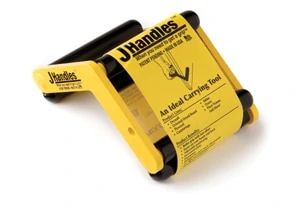 JHandles
Hauling sheet goods can be a challenging chore. They're big, heavy, and if the wind is blowing they can catch it like a sail. For as long as there has been drywall and plywood people have struggled to move it. JHandles are designed to carry sheet goods by creating a handle on these objects that are not made with one. The design of JHandles allows it to lock onto an object and hold it securely and evenly balanced while you carry it. A two-man team can easily maneuver the material and maintain balance while each carrying with only one hand. Workers are also able to easily move around obstacles and have a clear view of the area around them.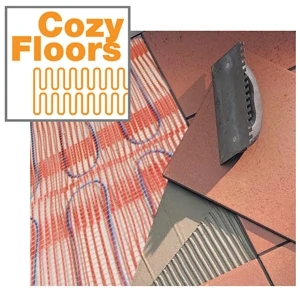 CozyFloors 
For radiant heat flooring, CozyFloors warming mats, thermostats, cables and accessories are designed for ease of installation and long-lasting quality. CozyFloors are UL-approved to create a simple home-heating solution with an all-inclusive 120V system. The CozyFloor systems save energy and money since all of the heat produced by the system is utilized, and none is lost in the ductwork or ceiling, making it a "Green Energy" solution. This all-in-one system simplifies the project for DIY'ers and professional installers and is backed by an extended warranty. The systems can be purchased securely online, with items being shipped the same or next business day. Visit www.cozyfloor.com.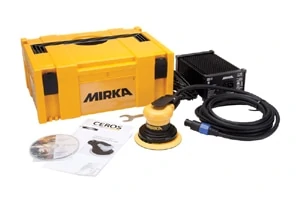 Mirka Ceros Sander
Taking the world of finishing by storm, the Mirka Ceros electric orbital sander features an excellent power-to-weight ratio and a low profile design for enhanced control.  The 7 variable speeds range from 4,000 to 10,000 rpm. Quiet and powerful, this sander uses much less energy than an air-powered sander.  You can purchase the optional industrial vacuum cleaner or attach your central vacuum or shop vac.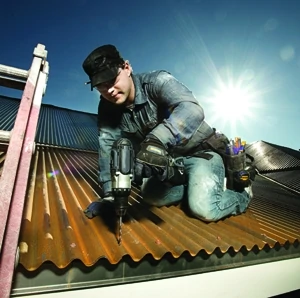 Irwin's Multi-Material Drill Bits
Toting around different types of bits for different drilling tasks can be cumbersome, so every professional tradesman needs a single bit that's capable of drilling through multiple types of materials. Irwin Tools's new full line of multi-material drill bits will drill through just about any type of material, including brick, block, tile, metal, wood, laminate, plastic and marble — they'll even drill through multiple materials at the same time. They have a unique diamond-ground, four-facet carbide tip with super-sharp cutting edges that guarantee centered starts with no walking, fast drilling and excellent hole quality. The versatile bits have a double-milled flute that removes dust and debris quickly and efficiently, which not only increases drilling speed (with no clogging), but results in longer bit life as well. These bits are built tough for hammer drilling, but recommended for use in rotary mode. Visit www.irwintools.com.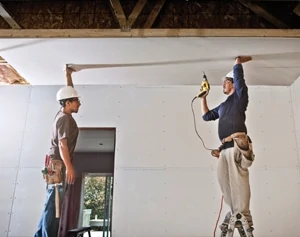 SheetRock UltraLight Panels
SheetRock Brand UltraLight Panels are the only lightweight wallboard on the market today that is International Code Council Evaluation Services compliant for installation on ceilings with the long edges parallel to the framing. The panels remain up to 30 percent lighter, making them easier to carry and install, without sacrificing the high quality of the SheetRock. In addition to lighter weight, superior sag-resistance and greater strength, the UltraLight Panels score and snap more cleanly, and they're made with up to 95 percent recycled content.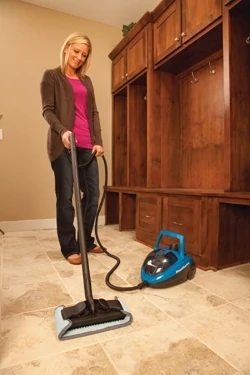 The SteamMachine
The SteamMachine from HomeRight is a multipurpose power steamer for the DIY homeowner. Looking for a quick and easy way to remove wallpaper? The SteamMachine is a fast and easy way to release the wallpaper adhesive, plus it's chemical-free. Simply use the steam plate to apply steam and peel the paper away. Get the most out of this multi-purpose steamer by using the handle attachments to sanitize and clean floors, stovetops, ovens, bathrooms and grills. The SteamMachine leaves behind no chemical residue and kills 99 percent of all germs and bacteria. Use the steam mop to sanitize your hard floor surfaces such as tile, vinyl and linoleum. The high-pressure steam blasts the surface clean, and the cleaning pad wipes the surface clean. Have dirty grout joints? The EHT staff was particularly impressed with the SteamMachine's ability to scrub grimy grout lines clean using the small scrub-nozzle attachment. The canister comes equipped with two wheels to move with the attached floor steam mop as you clean. Visit www.homeright.com.