Using Urethane Column Wraps to Wrap it up.
By Kathy Ziprik
Contractor Steve Roth has installed more than three dozen column wraps and column wrap kits during the past decade. No matter how ugly, warped or twisted a structural column is. Roth finds he can create the perfect column appearance with easy-to-install urethane column wraps.
"Urethane and PVC column wraps are one of the fastest ways I know of to transform a project," says Roth. "They install in less than an hour, and the kits have all the needed pieces. With the variety of styles available from Fypon, I've been able to use column wraps on a wide assortment of new construction and remodeling projects over the years."
For one of his most recent projects, Roth decided to update the look of the porch on a Civil War-era home in Michigan. He replaced rotted old wooden posts with standard 4×4 treated lumber posts. Then, to enhance the look of the home, Roth installed urethane post wrap pieces from Fypon's Stone and Timber collection around the structural posts.
Step-by-Step
Step 1 – Roth ordered four sets of the Post Wrap Kit from the Fypon Stone and Timber collection. He also ordered four Post Wrap Caps and four Post Wrap Bases from the same collection to complete each column wrap.
Step 2 –Roth chose to paint the column wrap pieces prior to installation with a flat latex exterior paint. This makes the entire project easier, since you can paint the pieces flat on the ground and then need only to touch-up areas after installation where nails or screws were installed.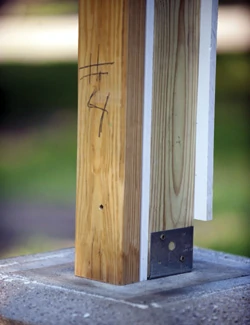 Step 3 – Because there was no secure way to attach the top and bottom of the wrap directly to the lumber posts for this project, Roth added inside blocking. After this was in place, he had an easy way to secure the wrap.
Step 4 –Measure the length of the column and cut the wrap to length with a hand saw.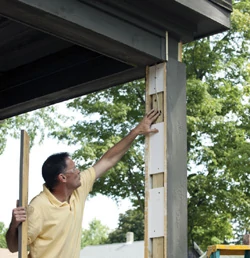 Step 5 –Place the U-shaped assembly in position around the structural post to ensure a secure fit. Dry-fit the U-shaped piece with the flat backer piece to make sure the pieces fit together.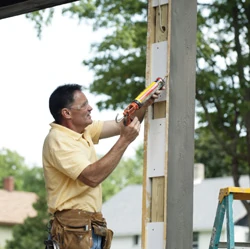 Step 6 –Making sure the panels are aligned, square and the miter seam is tight, use premium construction adhesive on the joints. Then secure the backer piece to the U-shaped assembly with non-corrosive finish nails or stainless steel deck screws every 6 to 8 inches through the outside of the shaft to the nailing blocks.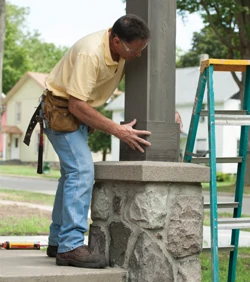 Step 7 –Roth chose to add a column cap and base to the column wrap to enhance the overall look of the column wrap. These he secured with premium millwork adhesive and stainless steel deck screws.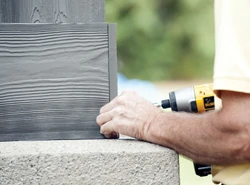 Step 8 – In areas where deck screws were installed, Roth added lightweight spackling, smoothed it out and then finished with touch-up paint.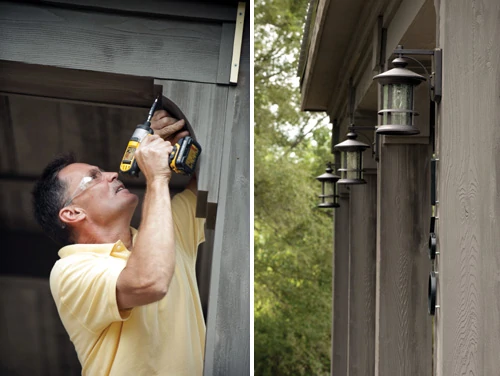 SIDE NOTE
Tips from the Pro
According to Roth, this easy one-person project took about an hour per column from start to finish. He used a hand saw, cordless screw gun, caulk gun, paint brush, premium construction adhesive and a ladder to complete each column wrap.
Roth offers these tips for contractors tackling a similar project:
Tip #1- For column wrap projects, first inspect the structural support post being covered. Make sure it's made of steel or pressure-treated lumber and in good condition before adding the column wrap.
Tip #2- Prefinish your materials before application. The Fypon products come factory-primed, and it's much easier to paint the products before they're installed and then to go back and do light touch-up afterwards.
Tip #3- Use non-corrosive fasteners (such as deck screws) so your fastener heads do not rust from exposure to moisture.