Decorate your home with the rugged style of Stone.
Manufactured stone veneer delivers the grace, charm and rugged beauty of stone with incredibly natural texture. With veneer systems such as StoneCraft from The Tapco Group, home exteriors are more inviting, fireplaces are cozier and outdoor living areas become extraordinary settings for relaxing and entertaining guests. Additionally, installation is easy, even for the do-it-yourselfer. From outdoor hardscapes to interior fireplaces, the ten stone profiles and a broad array of authentic colors from StoneCraft provide the remarkably genuine texture of stone without the weight and expense of the genuine article.
Shown below are the basic installation steps for a stone veneer fireplace, detailing the process of how you can enhance your own home with similar style.
Step by Step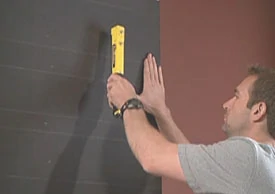 1. Prepare sheathing surfaces such as plywood or drywall to receive stone veneer by applying two layers of weather-resistive barrier. StoneCraft stone veneer can be directly applied onto masonry surfaces.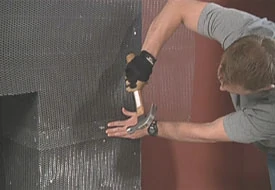 2. Install galvanized 2-1/2-pound or heavier metal lath over the barriers. Eighteen-gauge woven wire mesh may also be used. Be sure to attach the metal lath with the small cups pointing upward. Double-wrap the metal lath a minimum of 16 inches around all inside and outside corners.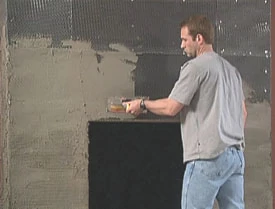 3. Apply a 1/2-inch scratch coat of mortar over the metal lath and allow to dry completely, 24 to 48 hours.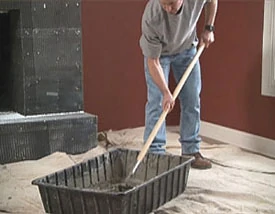 4. For standard installations featuring grouted joints, such as this fireplace, Type N mortar is suggested with the following mix: Two parts Type N masonry cement, three to five parts masonry sand and water. Type S mortar can also be used as an alternative with three parts Type S masonry cement, five to seven parts masonry sand and water. Pre-mix mortar can be used as long as it's specified for use with stone veneer. A Portland cement mix is suggested for jointless/dry-stacked stone veneer applications.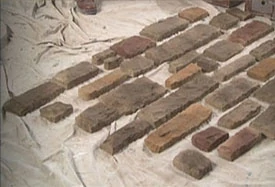 5. Lay out at least 25 square feet of stone to give yourself a selection to choose from. Try to achieve a balanced pattern of shapes, sizes and colors by selecting pieces from different boxes throughout the installation.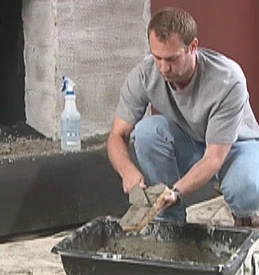 6. To apply stones, gently wet the scratch coat first. With a mason's trowel, apply a 1/2-inch thick even layer of mortar to the back of the stone.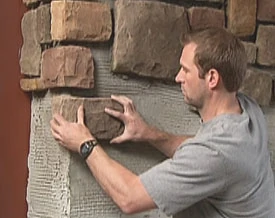 7. Corners are installed before flats for easiest fitting, working from top down. (Installation is bottom-up for dry-stack installations.) Press the stone firmly into place on the prepared surface, squeezing the mortar out around all edges.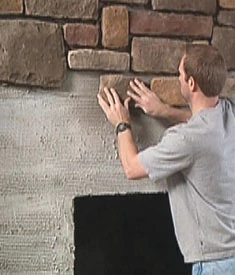 8. Gently wiggle the stone while pressing to ensure a good bond.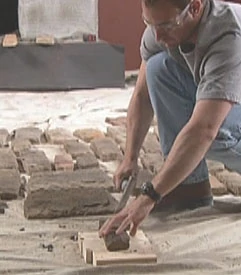 9. Stones can be cut or shaped using a hatchet, wide-mouth nippers or mason's trowel edge. Straight cuts can be made with a diamond or carbide saw blade. Any cut edges should be turned so they're not visible—down when below eye level and up when above eye level.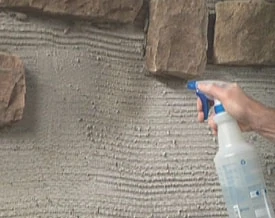 10. If the stone is being installed in a hot/dry climate or onto a very dry surface, the stone and surface should be wet to prevent excess absorption of moisture from the mortar. Spray or brush water onto the back of the stone and the wall surface, or dip the stone into a container of water. Let any excess surface water dry off for a couple minutes prior to placing the stone. For dry-stack applications, stones will need wetting regardless of weather conditions.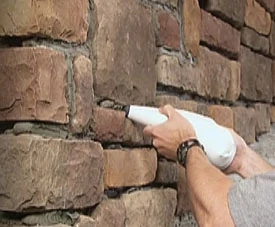 11. After the stone has been applied, use a grout bag to fill the joint with mortar, forcing grout into any voids. Be careful not to smear any grout onto the stone face.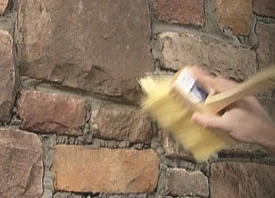 12. Any mortar accidentally getting onto the stone should be allowed to set and then be brushed off once dry with a whisk broom.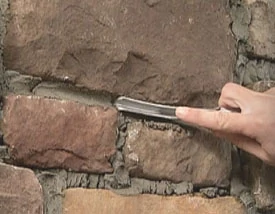 13. When mortar joints are firm, after about 30 to 60 minutes, use a metal or wooden striking tool to rake out the excess mortar to the desired depth. At the same time, force the mortar into the joints to thoroughly seal the stone edges.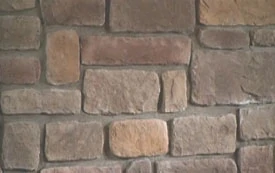 14. Loose mortar and mortar spots which have set for only a few hours are easily removed—never let them set overnight. Avoid using wet brushes or sponges to wipe the joints or clean mortar off the stone face as it will smear and stain. Also, never use wire brushes or acid on the stone surface.
For more information on StoneCraft products, visit www.stonecraft.com.