By Matt Weber
Stone veneer that installs without the mess of mortar is rapidly growing in popularity among DIY'ers. Rather than mixing batch after batch of mortar and troweling it over a mesh-covered wall, mortarless veneer is simply installed with screws and a power screwdriver.
My wife and I wanted to spruce up our finished basement and decided a stone accent wall would add a sense of rustic warmth to the living space. We selected a mortarless artificial stone system called ClipStone from Environmental Stoneworks. Here's how we used used the veneer to dramatically upgrade the décor of the basement.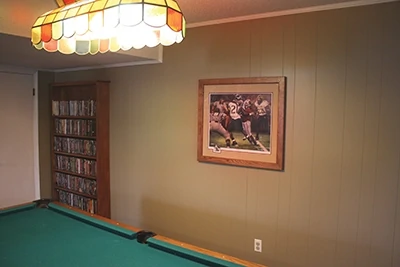 Project Prep
A number of mortarless veneer systems are available from a variety of manufacturers, and installation methods vary. The ClipStone product utilizes wire hooks molded into the back of the stone, and the hooks are attached to the wall with pan-head screws—two per stone.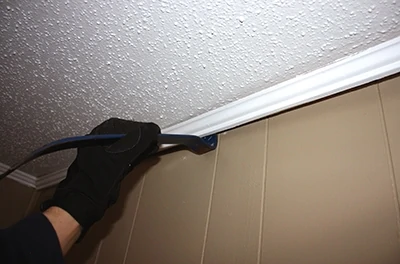 First step in the project is to determine your house wall is adequately constructed to support the new stone, which is notably heavy. ClipStone is designed for installation over 7/16-in. or greater OSB or plywood sheathing attached to wood or metal studs.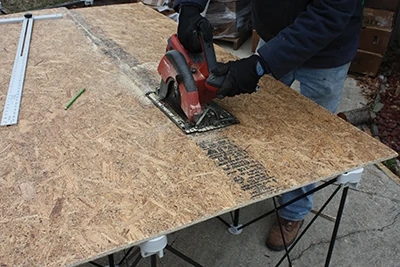 Our basement walls were covered in thin wall paneling, which was an inadequate substrate. Therefore, to prepare for the stone I, removed all the trim-work and installed 7/16-in. OSB panels over the wall using screws and construction adhesive.
Whether or not you need to add wall panels, you'll still need to remove the wall trim for installation. If you're using a smooth-faced stone, such as brick, it might be wise to keep the trim intact for reinstallation after the veneer is installed. In our case, however, we were using ClipStone's Ledgestone product, which has a variegated cleft face, which gives it a very naturalistic appearance but also results in an uneven wall surface that doesn't easily match crown or base molding. We decided to leave the trim off this project.
Follow your manufacturer's guidelines for estimating the amount of product you should order. It's usually a good idea to order 5 to 10 percent extra material for waste due to cutting or breakage.
Our particular project was about as simple as it gets—a straight interior wall with no corners to deal with. Accessory pieces are available, however, for outside corners, outlet boxes and light fixtures, plus the company offers a decorative sill for windows or a wainscoting cap.
Note: For exterior installations, you'll need to cover the OSB or plywood with two layers of breathable moisture barrier fastened with staples. Make sure all edges are properly flashed.
Step by Step Installation
Starter strips are available from the manufacturer, but I felt they were unnecessary for this simple interior job.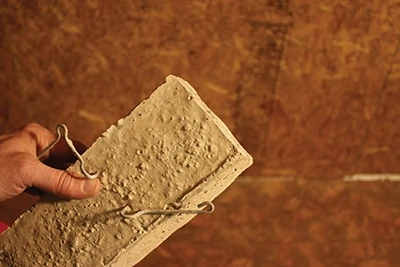 I began installation of the veneer at the lower left-hand corner. I used a pair of pliers to bend the lower clips even with the bottom of the stone, placed onto the floor and checked it with a torpedo level. To attach the stone, simply push the stone back and downward and drive screws into the exposed eyelets. The stone should be snug when gently pulling on it.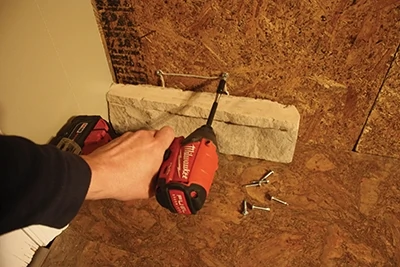 Fasteners should be 1 to 1-1/2-in. long with washer-type heads that pinch the wire to the wall. I used 1-1/4-in. wood lath screws for this project.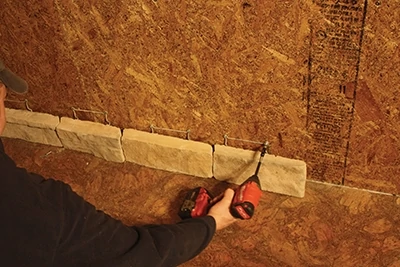 Repeat the procedure to complete the first row, cutting the final stone to fit. Cuts can be made to the stone with a chop saw or a grinder with a diamond-grit blade.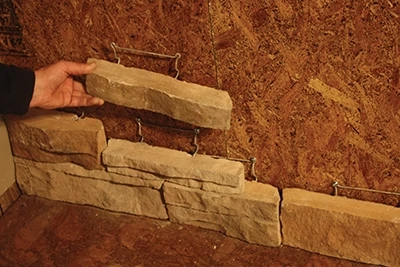 Each stone should have two points of attachment. If necessary, cut from the left and right of the clips to make this happen. If this isn't possible with the cut stone, then use a quality construction adhesive to glue the stone surfaces together. (Use a polyurethane-based construction adhesive for exterior projects).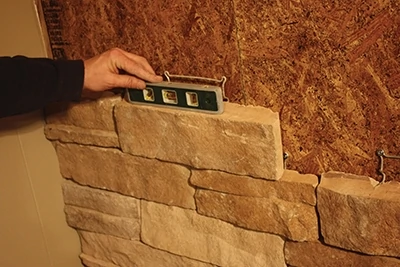 The following rows install in much the same way, but instead and bending the lower clips, they fit behind the stone of the lower row and interlock for a more secure installation with a consistent standoff from the wall. Remember to stagger the joints between stones from row to row, as with any masonry installation. Check each stone for level installation.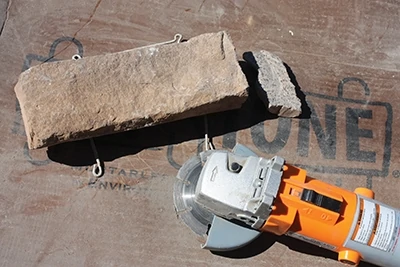 Because the Ledgestone is intended to look like a naturally occurring material, the stones have slight irregularities in size and shape that can complicate keeping the rows level while also spacing the individual units closely and evenly. My suggestion is to frequently take a step back and assess your progress. If you run into complications from a stone that's slightly too large, set it as side for the first stone on the next row, and install similarly sized stones next to it. For the most part installation is a straightforward process, but it pays to keep an eye on your stone size and to make minor corrections along the way.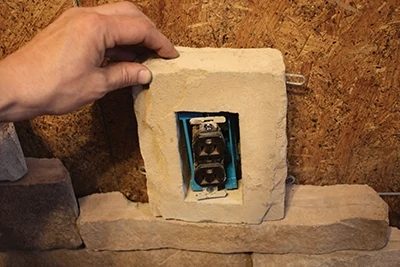 Outlet stones are available for installation around electrical boxes. You'll also need to install an extension ring around the outlet box to bring it out flush with the stone.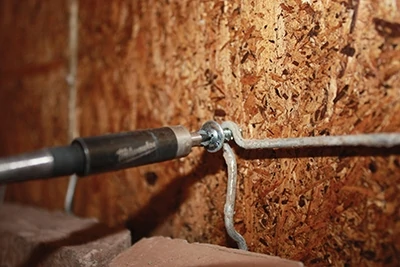 At the final top row, you can cut the stone as needed to fit beneath the ceiling. Try to keep two eyelets on the stone for installation. If this isn't possible, glue the stone to the wall with heavy-duty construction adhesive.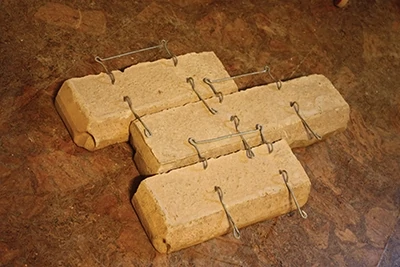 It doesn't happen often with me, but I got lucky with this installation. The full height of the top row was able to cap off the wall with minimal cutting.
The result was a substantial improvement to our finish basement, which went from the look of a kid's playroom to "man cave" with the new installation of the stone accent wall.
For more information on ClipStone and mortarless stone veneer, visit www.myclipstone.com.