Hold it Together
By Matt Weber
Extreme How-To takes a look at some top choices for holding your projects together. The following state-of-the-art fasteners come in a variety of sizes and shapes for a number of construction applications, from rough framing to drywall repair. Reliable fasteners help you to work smarter, not harder, to complete a quality job with confidence and efficiency.
Caliburn Concrete Screws
Once the Caliburn concrete screw from GRK Fasteners sinks its teeth, it doesn't let go. Featuring a viciously aggressive thread design, the Caliburn delivers the industry's highest ratings for shear strength along with 5,724 lbs. of pull-out strength. Available with bugle, pan and washer heads for a wide range of masonry or concrete applications, the Caliburn can be removed and reinserted into the same pilot hole numerous times. The screws are coated with GRK's Climatek technology for high corrosion resistance and they're approved for use with treated wood. Learn more at www.grkfasteners.com.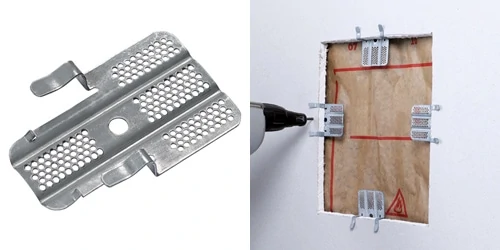 InstaBACK Drywall Fasteners
InstaBACK is a multipurpose fastener that makes drywall installation and hole repair easier by reducing waste and eliminating unnecessary framing. By using the InstaBACK clips, no time is spent fabricating back-up materials. To repair a hole in drywall, first cut away the damaged drywall to form a square hole. Place InstaBACK clips along each edge, 8 to 12 inches apart, with tabs facing out and away from hole. Install one drywall screw per clip, 3/4 in. from the edge of the hole. Cut the patch to proper size and place in the hole, against the clips. Install one drywall screw per clip, 3/4 in. from the edge of the patch. Then, wiggle the perforated tabs until they snap off to provide a clean seam to finish over.
For new drywall installation, the InstaBACK clips can be used to bridge butt joints in wall and ceiling panels. Learn more at www.fastenmaster.com.
Top Star Shim Screw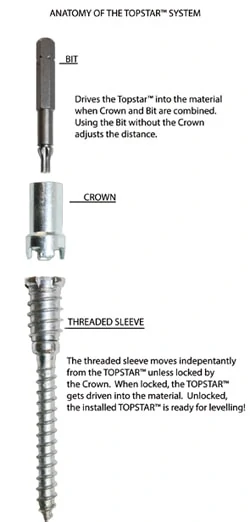 The Top Star Shim Screw from GRK has an ingenious design that you really need to see in action. This patented two-piece fastener creates a "screw within a screw" that reduces labor for the plumb installation of window and door frames (jambs), paneling and built-in cabinets. The Top Star's inner screw turns independently of the outer portion of the fastener for easy adjustment without shims. First, drill a pilot hole for the screw and then drive the Top
Star with GRK's crown bit through the jamb into the rough-opening frame until flush. Slide off the crown bit to reveal the inner star bit. Use the inner star bit to adjust the jamb in and out of the frame until flush. This system of door installation is much faster than using wood shims to make fine adjustments. Learn more at www.grkfasteners.com.
Sure Drive Deck Fasteners
There are many types of deck fasteners on the market but a few simple, common-sense facts can make your choice an easy one. How easily does the screw drive? Does it offer adequate corrosion resistance for the project's environment? Sure Drive USA offers a variety of deck screws designed to achieve maximum driving performance, with a variety of corrosion-resistance options. The company's popular Rustguard Decking Bullets are coated to provide excellent protection against rust and corrosion. For the "ultimate" in corrosion protection Sure Drive's Seamaster line is made of high-grade 305 stainless steel. All deck screws come with either a Type-17 cutter point or Sure Drive's patented serrated-teeth thread design that slices through even the toughest materials without splitting.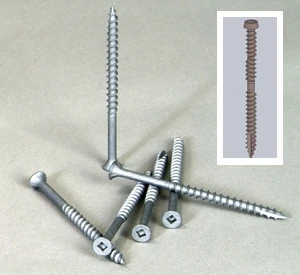 Sure Drive also offers a newly designed tri-thread design Composite Deck Screw designed exclusively for cap-stock composite decking. This type of composite decking usually has a softer core but a tough exterior "wrap" that makes it difficult to penetrate. The Sure Drive CCDS starts quickly and eliminates "mushrooming" of the composite material. It's protected with Sure Drive USA's exclusive four-step coating process for exceptional corrosion resistance. Learn more at www.suredrive.com.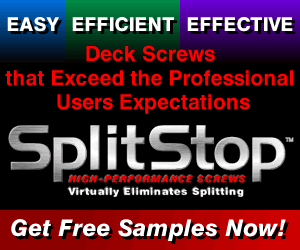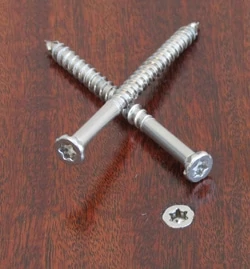 Muro Ejector Screws
Many contractors still believe that fastening Brazilian hardwoods, like Ipe and Green Heart, without pre-drilling is simply not possible. The fact is that Muro's patented Ejector Screws have been completing these decking jobs for years, although this has been a closely held secret. Contractors in the know won't typically divulge their secret because they would lose a huge competitive advantage. Muro Auto Feed Systems and fasteners provide the complete system to handle projects large and small. Ejector screws come in a variety of sizes, including all the way to 4 inches long. The screws come in collated belts for use with the Muro Speed Driver, an upright auto-feed screwdriver that provides tremendous labor savings and allows installers to work ergonomically by standing upright. Learn more at www.muro.com.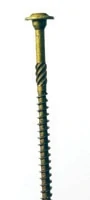 RSS Rugged Structural Screw
For heavy-duty framing, the GRK's RSS Rugged Structural Screw is made of specially hardened steel to serve as a self-tapping lag screw alternative. It eliminates the need for a pilot hole as well as the need for washers. With its high-torque design, high-tensile strength and narrow shaft, the RSS quickly bores through wood, greatly reducing the risk of splitting the material, and grips tightly with superior holding strength. RSS screws that are 3-1/8-in. and longer have six CEE threads that enlarge the screw hole for the non-threaded portion of the fastener, allowing the wood to settle easily and increasing the screw's drawing strength. Learn more at www.grkfasteners.com.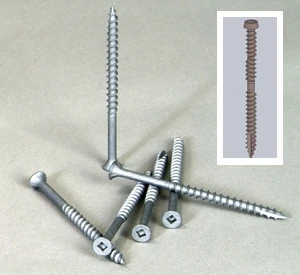 ThruLOK Screw-bolt Fastening System
The ThruLOK screw-bolt fastening system combines the speed of a self-tapping screw with the strength of a through-bolted connection in three decking applications: single 2x to 4x decking posts (6-1⁄4 in.), notched 6x carrying beams (7 in.), and double 2x to single 4x decking posts (8 in.). ThruLOK is a three-part assembly: the fastener with patent-pending Paddle Point tip, an engineered washer, and the LOK-Nut. Thru-LOK installs with an 18-volt drill and requires no predrilling or wrenches. Put the ThruLOK washer on the screw with the teeth of the washer facing away from the head of the fastener. Using a 1⁄2-in. high-torque drill, drive the ThruLOK until the washer and hex head are just above the wood surface (approximately 1⁄4 in.) and the screw point protrudes out the other side of the connection. Thread the ThruLOK-Nut onto the point of the fastener. Hand-tighten the nut until flush with the wood, and then tighten the screw with a drill. Repeat to match the code-compliant fastening pattern. Learn more at www.fastenmaster.com.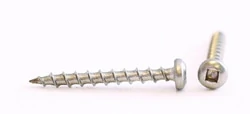 Badger Screws
From decking and building outdoor furniture to any project where you want the striking look of stainless steel, the 1-1/2-in. Badger screws from Leola Fasteners feature a Type 17 cutter point, 2/3 thread with 8 threads per inch. (Lengths of 1 inch or less are full thread.) The Badgers' 305 stainless steel withstands the toughest weather without rusting, and the square-drive flat head makes the screws easy to install without cam-out. Learn more at www.leolafasteners.com.
Side Note
Smart-Bit Deck Screw Depth Setter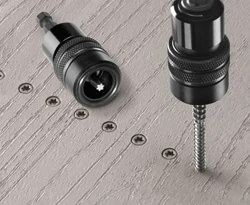 The new Smart-Bit Deck Screw Depth Setter was developed by Starborn Industries to deliver fast, clean and uniform fastening results every time. The new adjustable tool, which works equally well with Starborn fasteners and other fastening products, is ideal for ensuring screws are set to the desired depth below the work surface in decking, drywall and general building applications. The Smart-Bit Deck Screw Depth Setter features an Auto-Stop mechanism that automatically disengages the driver bit and stops the screw from driving further once the desired depth is reached, without stripping the screw recess. The tool also features a free-spinning stop collar and rubber O-ring to protect the work surface from damage and marking. In addition, the Depth Setter can be adjusted for use with many different screw types and applications. Once the screw depth is set on the tool, and locked in place, the Depth Setter produces perfectly consistent results throughout the installation. Learn more at www.starbornindustries.com.