2016 NAHB International Builders' Show
Each year the National Association of Home Builders holds the International Builders' Show (IBS), the largest annual light construction show in the world that attracts 50,000 visitors from more than 100 countries. IBS brings together the industry's most important manufacturers and suppliers to showcase the latest products, materials and technologies involved in all types of buildings—including wood, concrete, stone and brick. Now you can see even more of what the building universe has to offer in one trip through Design & Construction Week, which features the co-location of the IBS and the National Kitchen & Bath Association's Kitchen & Bath Industry Show (KBIS).
Here's a preview of some of the home-improvement products that will be exhibited at the show.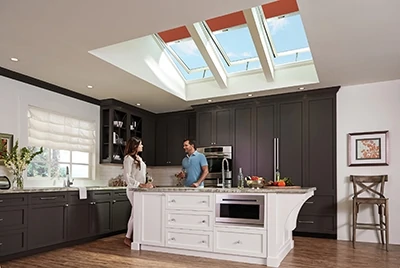 Solar-Powered Skylights from Velux America
Energy Star-qualified, solar-powered fresh air skylights from Velux America offer the opportunity to save 30 percent up-front on the cost of the products, and then save on long-term energy costs. The 30 percent federal tax credit can have the effect of making the latest top-of-the-line skylights available for close to the cost of entry-level models. The fresh air skylights not only admit natural light, but allow for passive ventilation to improve indoor air quality. Solar-powered blinds can be added to the skylights for even greater energy efficiency, and both products are operated by a programmable touchpad remote control. The skylights close automatically in case of rain, and are available for new installations or for replacing older units. They carry a ten-year "no leak" warranty and feature laminated Clean, Quiet and Safe glass that reduces outside noise while keeping the glass cleaner and brighter. Double-pane LowE3 glass, with argon gas between the panes, makes the Energy Star-qualified units highly energy efficient. Visit www.whyskylights.com or Booth C4531.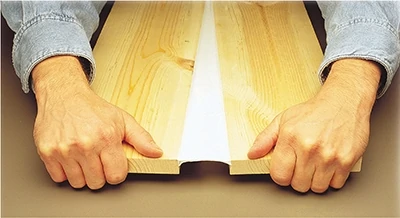 Sashco High-Quality Caulk Products
Sashco makes only high-performance caulking products designed to work right for the project. For windows, doors, siding and moulding, there's Big Stretch. It won't crack because it stretches up to 500 percent of original bead size. Kitchens and baths can be sealed immediately and permanently with Lexel, the tough elastic sealant for every job, which even sticks to wet surfaces. Through The Roof stops roof leaks in their tracks, and can be applied in temperatures down to zero degrees on gutters, downspouts, flashing and shingles. And, banish ugly dandelions and anthills in your driveway, sidewalk and patio with Slab, the serious fix for concrete cracks.

At the International Builders Show, Big Stretch, Sashco's high-performance elastomeric sealant has a challenge for you: Go Big or Go Back! Stop by the Extreme How-To booth C3160 to see Big Stretch in action and get your sample. Learn more at www.sashco.com.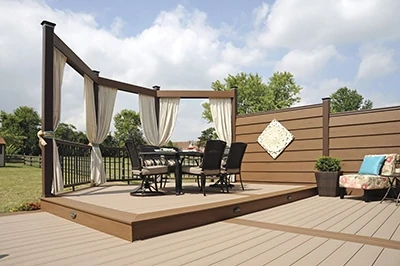 TimberTech Sandy Birch Terrain Decking
The decking color Sandy Birch, part of TimberTech's Terrain Collection, has been named one of the "Top 100 Building Products" of 2015 by Professional Builder Magazine. TimberTech added Sandy Birch to its popular Terrain Collection last year as a versatile, light tan color designed to complement any home exterior. The natural earth tones of Sandy Birch combine unparalleled aesthetics in an affordable alternative decking material. Like all Terrain Collection products, it features superior quality, low maintenance and is backed by a 25-year residential limited fade and stain warranty. Other Terrain Collection colors are Brown Oak, Silver Maple, along with the newest colors Stone Ash and Rustic Elm. Visit www.timbertech.com and booth C2115.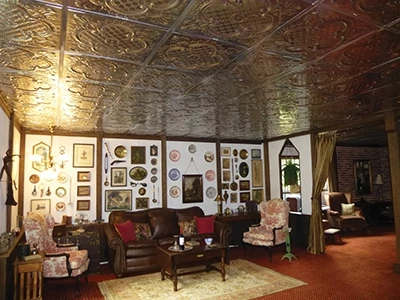 Metal Ceiling Express
Metal Ceiling Express is a manufacturer of authentic decorative metal ceiling tiles, panels and backsplashes. The company's high-quality tin ceiling tiles, panels, backsplashes and accessories follow a strict stamping process to ensure that all tiles are produced perfectly and are manufactured to be historically correct. Decorative tin tiles are available in unfinished metal in over 35 patterns or can be ordered in a large variety of 80 powder-coated colors. You can also order tiles with a faux hand-finished antique or vintage look. The tiles are suitable for nail-up installation, drop-in installation, deep-drop–in installation or can be used with the company's snap-grid system, which is just as easy to install as a suspended or drop ceiling. Visit booth S1569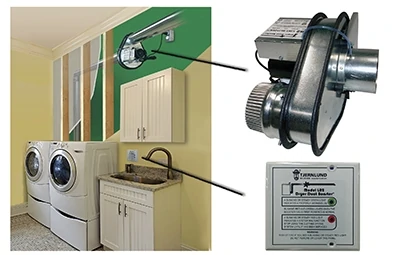 Tjernlund No-Clog Dryer Duct Booster
Tjernlund Products' new model LB2 no-clog Dryer Duct Boosting Fan has been listed to the updated DEDPV, Dryer Exhaust Duct Power Ventilator supplement to UL705. The 2015 IRC restricts use of dryer booster fans to those tested to the DEDPV supplement. Incorporating dryer booster fans in clothes dryer ducts has increased substantially with the placement of laundry rooms not adjacent to outside walls. Duct runs often exceed 25 equivalent feet (each elbow equates to five additional feet of duct length), which many manufacturers set as a maximum duct length. The LB2 booster fan is rated for duct lengths up to 150 equivalent feet, and reduces drying times by up to 60 percent. The booster fan attaches easily to 4-in. rigid or flex duct and plugs into an electrical outlet. An LED indicator panel mounted near the dryer displays operational status and faults. It communicates to an on-board booster fan control that monitors pressure and temperature, and stops the fan operation if duct temperature exceeds 165˚F or if the duct becomes blocked. The heart of the LB2's effectiveness is the exclusive no-clog lint handling blower design that eliminates the need for regular cleaning of lint from the housing and blower wheel. Visit www.tjernlund.com or booth S2131.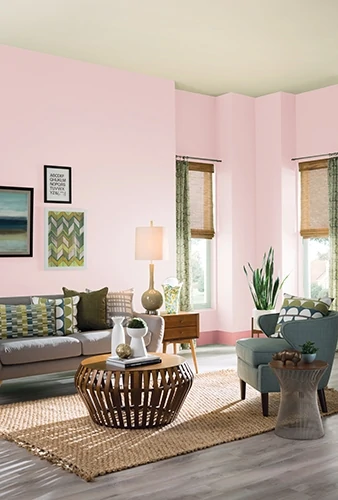 Sherwin-Williams New Colors
Pinks are making their way down the runway and into homes from blushing walls to pink accessories. Sherwin-Williams adds an array of blushed neutrals and cheeky pinks based on the company's 2016
Color Forecast. The new tones include Charming Pink, Doeskin, memorable Rose and Unfussy Beige. Visit www.sherwin-williams.com or booth C4536.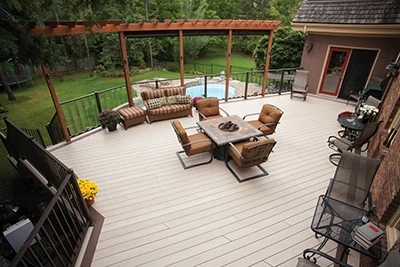 NyloDeck
Strikingly beautiful, yet incredibly durable, NyloDeck offers minimal maintenance and exceptional performance. Made using 100-percent recycled carpet fiber, NyloDeck is impervious to moisture, mold, mildew and termites. NyloDeck is the only 1-in. deck board rated to span joists up to 24-in. on center. NyloDeck also has a 16/200 lbs./ft2 live load rating, making it twice as strong as other leading 1-in. composite deck boards at 16 inches on center. Lightweight and easy-to-use, NyloDeck installs like a builder's dream and translates into overall savings in both time and money for labor and materials. NyloDeck's advanced manufacturing process also provides superior UV protection and a beautiful finish. Just as in natural wood products, no two NyloDeck boards look exactly the same, and the product is backed by extensive testing and a 25-year fade and stain warranty. Visit www.nylodeck.com or booth C9313.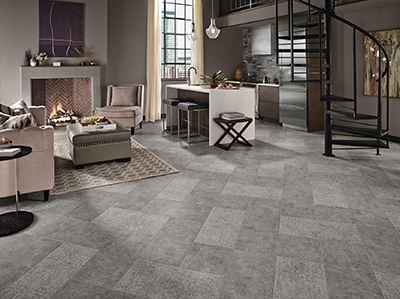 Alterna Engineered Stone Flooring
Armstrong Floor Products introduces five striking new additions to the company's Alterna engineered stone flooring collection, presenting an innovative choice over natural stone and ceramic tile. Like natural materials, Alterna flooring is incredibly beautiful and durable. But a comfortable surface makes Alterna tiles warmer to the touch, kinder to feet, and easier to care for in any room of the home. Durable engineered stone construction makes Alterna tiles tough enough to stand up to a lifetime of activity. New designs offer options to create a high-end custom look throughout the home. The product is designed and printed in Pennsylvania; the stone is quarried and manufactured in Illinois and features more than 90 percent domestic content. Alterna engineered stone is backed by a Lifetime Residential and 5-year Light Commercial warranty. Visit www.armstrong.com or booth C6937.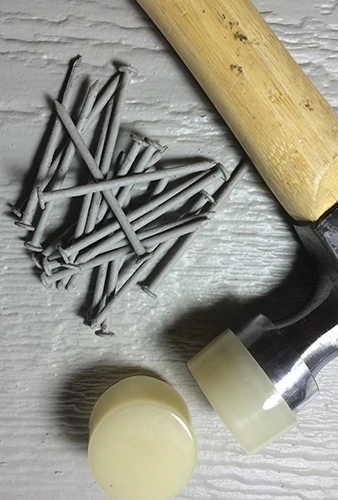 Maze Nails Painted to Match
Maze Nails, celebrating 167 years in business, offers painted nails to match pre-finished Allura, James Hardie and LP Smartside siding and trim products. Maze Nails are available in double hot-dipped galvanized coils, sticks and hand drive, and are 100-percent Made in the USA. For more information, visit www.mazenails.com or booth C6646.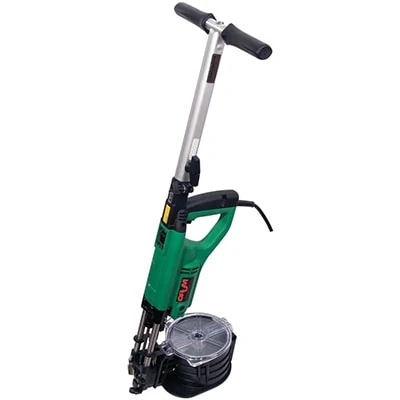 Muro Auto Feed Systems
For 25 years Muro has been serving the Pro Contractor market with a complete line of Auto Feed Systems and Collated Screws. We specialize in making construction life easier by helping builders get the job done in a fraction of the time, all while improving overall job quality without any of the aches and pains normally associated with manually driving screws. From drywall installation to subfloors and decking, Muro has a tool for the job. The Muro FDVL41 Speed Driver can drive screws from 1 to 3 inches long (up to #10), so you can drive fasteners into the floor while standing, and without reaching for every single screw. Visit www.muro.com or booth C8510.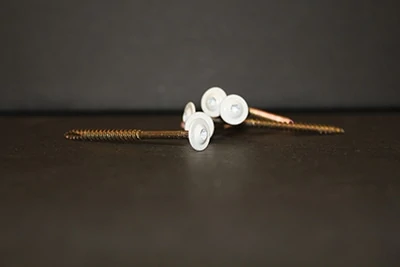 GRK White Cabinet Screws
GRK Fasteners' White Cabinet Screws blend perfectly with white cabinet frames without the need of sticker covers. The specifically designed dull white color blends in better than other shiny white coated screws. GRK's specialized coating formulation will not chip while being driven in, allowing for a clean finish. The white heads will also match closet and garage organization systems and are ideal for other interior applications. As with all GRK screws, the white cabinet screws include many unique engineered features: recessed star drive to eliminate stripping, the W-Cut thread for lower driving torque, the Zip Tip so there's no need for pre-drilling, and a low-profile washer head for extra holding power. Visit booth C1547.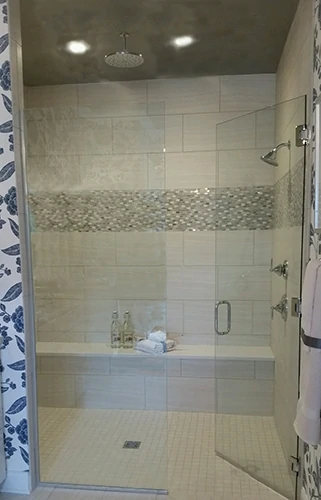 FinPan Tile Substrates
A beautiful tile or stone installations starts with FinPan, which offers a wide variety of substrates that can be tiled directly. Beginning with three different versions to choose from, FinPan was the world's first continuous manufacturer of concrete backer-board. ProPanel Backer Board answers today's needs for lightweight, strong and waterproofness. FinPan also posted firsts for PreFormed products, manufacturing the first one-piece waterproof soap and shampoo niche. PreFormed Niches feature sloped interiors in a variety of sizes and styles. New at KBIS this year, FinPan is introducing marble insert shelves in four natural stone and marble styles, that coordinate with most tile styles. Custom shower pans are also no problem for FinPan, which has produced a UPC-rated shower pan since 2002 that meets all the codes and rigors of testing. Whether the design is complicated, large or small, PreFormed Pan or ProPan can meet your custom needs in as little as 10 business days. Visit finpan.com or KBIS booth N3305.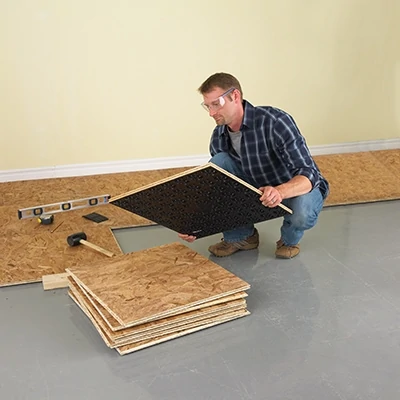 DRICore
DRIcore Products will be exhibiting DRIcore Subfloor, DRIcore Subfloor R+ and the revolutionary DRIcore SmartWall at the IBS Show in Las Vegas. DRIcore Subfloor is the one-step engineered subfloor solution that is specifically designed for basements. The raised moisture barrier covers cold, damp concrete to protect, insulate and cushion your finished floors. DRIcore Subfloor R+ combines high-density Oriented Strand Board (OSB) and Extruded Polystyrene (XPS). With an R-Value of 3, DRIcore Subfloor R+ raises the temperature of finished flooring by up to 5.6° C/10.6° F. DRIcore's SmartWall product is an all-in-one engineered wall panel designed specifically for the basement environment and is backed by independent third party testing.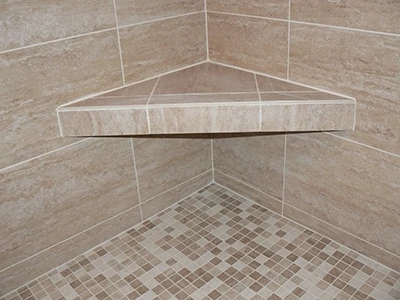 Goof Proof Shower Seat
Mark E. Industries has developed a heavy-duty, molded plastic corner shower seat that not only installs easily, but is also immediately ready to tile afterwards. The Shower Seat (GPSS-3024) is the standard 30 inches wide with guide marks to make it easy to cut the seat to 24 inches wide, if preferred. The waffle pattern on the top surface ensures ideal tile adhesion. Two leveling vials are integrated for installation convenience and to maintain the built-in 1/4-in. fall per 12-in. run slope during installation. The front face has a full width support shelf to keep the vertical tile from sliding. Six predrilled, fortified mounting holes are strategically angled to boost the seat's shear strength rating. All necessary hardware is included and consists of six anchors, screws and shims. The shims are for managing walls that aren't square. The maximum suggested weight capacity of the Goof Proof Shower Seat is 400 lbs.
For new installations, blocking between the wall studs is required, and the seat is attached by screwing through the wallboard and into the blocking.
For retrofit installations, the seat is installed on the wall tile surface by drilling 3/8 inch holes and using the supplied plastic toggle anchors. Visit Goofproofshowers.com or booth C9131.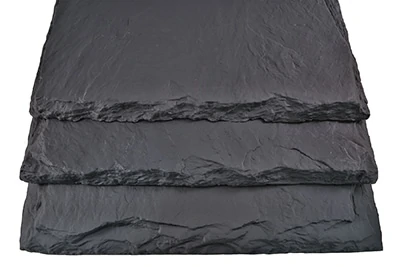 DaVinci Roofscapes Enhanced Slate Tiles
DaVinci Roofscapes now offers more realistic profiles on the company's Multi-Width Slate and Bellaforté Slate polymer roofing tiles.
"All three of the durable slate composite roofing profiles now boast a truly authentic quarried look," says Ray Rosewall, CEO and president of DaVinci Roofscapes. "We've taken the steps to offer all of our slate tiles with thicker, more realistic profiles that accurately replicate real slate."
Details on the edges of the DaVinci slate tiles now have a more accurate quarried look that replicates natural slate for exceptional curb appeal. Deeper impressions in the tiles make them appear thicker, even though they're the same weight as the previous tiles. Low-maintenance slate tiles from DaVinci resist algae and moss growth, come in 50 standard colors and are rated for installation in areas experiencing high winds, hail and wildfires. Visit www.davinciroofscapes.com or Booth C2136.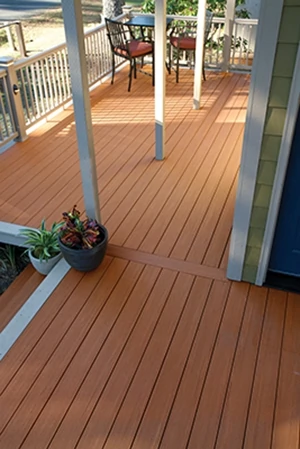 Azek Deck's Vintage Collection with Class "A" Flame Spread Index
AZEK's Vintage Collection capped PVC decking has now achieved a Class "A" Flame Spread Index. The rating is based on results of testing per ASTM E84, which is recognized by the International Building Code as a standard method for testing flame spread. The designation of a Class "A" Flame Spread Index, one of the best ratings possible, means these materials are among the lowest in terms of flame spread.
AZEK Deck's Vintage Collection consists of three rich, natural shades with the definitive look of freshly stained wood; however, these boards will maintain their beauty and richness without the need for applying stain. With durability, stain and scratch resistance, the Vintage Collection is covered by a limited lifetime warranty. Visit www.azek.com or booth C2115.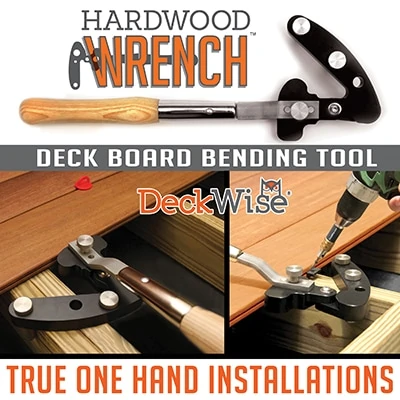 DeckWise Decking Products
The Hardwood Wrench by DeckWise is an easy-to-operate board bender that enables a single deck installer to straighten deck boards with just one hand. All it takes is a quick sway of the tool's handle, and it cam-locks into place to make any exceedingly bowed/warped board straight as an arrow.
The company's flagship hidden deck fastener is the Ipe Clip, which is composed of an injection-molded, edge-mount fastening clip that incorporates a black oxide-coated stainless steel insert. The Ipe Clip Extreme series is recognized globally as the No. 1 hidden deck fastener for exotic hardwood decking. With three different gap sizes and three color choices, this is the "original" patented biscuit-style deck fastener. The Extreme line works with air- and kiln-dried decking and offers up to 3X the hold-down force versus other deck fastener methods.
DeckWise also provides a complete line of decking screws, including Trim-Head, Bugle-Head, Heat-Treated and Self-Tapping deck screws. Visit www.deckwise.com or booth C9008.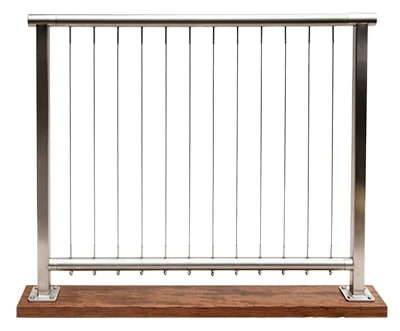 AGS Stainless Vertical Cabling and Decorative Mesh
AGS Stainless, Inc. adds Vertical Cabling and Decorative Mesh Panel Infills to its line of stainless steel railing systems. The simple, elegant design of both Infills will beautifully accentuate a home's overall aesthetic. Both options are available immediately with either a round or flat stainless steel top rail. With AGS Stainless, the overall railing design and ordering process is straightforward and simple: First, sketches and approximate dimensions are submitted by the prospective customer. Then, a member of the design team creates CAD (computer-aided design) drawings and details of the railing system. Finally, the custom railing system is fabricated to meet the high standards set by AGS. Throughout the entire process, an AGS railing expert works directly with the customer to ensure accurate product fabrication, prompt delivery and complete customer satisfaction. Visit www.AGSstainless.com or booth C8746.

Tytan Building Products
Tytan is a Global Leader in professional one-component foam insulation, innovative sealant and adhesive technologies. Available across the globe, Tytan has earned a reputation as an innovative, contractor-focused brand that users can trust to create more efficient buildings and more productive workers. Stop by the company's booth at the International Builder's Show to see the full line of foams, sealants and adhesives; and see demonstrations of the new line of Tytan Subfloor, Drywall and Outdoor & Landscape High Yield Adhesives. High Yield means one can equals one case of traditional adhesive cartridges. You'll also see the brand new Tytan Coat & Seal Duct Sealant. Visit tytan.com or booth C3802.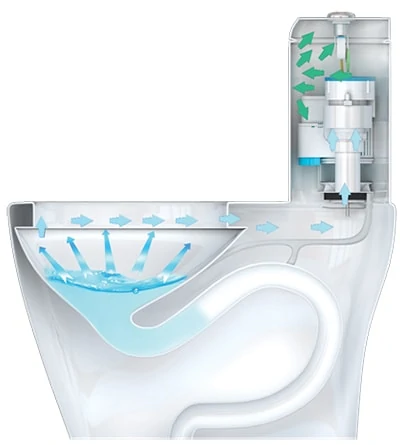 KOR SmartToilet
KOR Toilet is a leader in toilet accessory innova-tion, and the company's flagship product, the KOR SmartToilet, eliminates 95 percent of toilet odor in just seconds while adding wireless, dual flush options to any existing toilet. KOR's KLN Bidet is a simple but elegant bidet attachment that adds the comfort of a warm/cold water bidet to 95 percent of toilets. It features normal and ladies spray options, simple
15-minute DIY installation, and it self-cleans. All KOR toilet accessories are easy to install, affordable and designed with beauty and functionality in mind, making them great for DIY'ers, contractors and remodeling projects. Visit Kortoilet.com or booth S1469.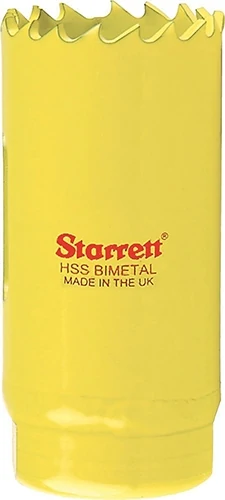 Starrett Cutting Solutions
The L. S. Starrett Company has provided products for craftsmen, toolmakers and contractors for 135 years. In addition to blades for industrial band saws; the company offers hole saws, jigsaw blades and rip saws for power tools. Hacksaw and PVC saw blades are available for hand tools.
Starrett's hole saws include diamond grit, carbide tip and bi-metal cutting solutions for a wide variety of materials. This year Starrett is improving its bi-metal hole saws with extra cobalt in the cutting teeth for enhanced heat and wear resistance. The new Fast Cut bi-metal hole saw features an improved tooth design allowing smoother and faster cuts. The new Deep Cut series features the variable pitch tooth design allowing greater penetration and kerf clearance with a 2-in. cutting depth. When you have a tough cutting project to perform, Starrett has the saw for the job. Visit starrett.com or booth C9110.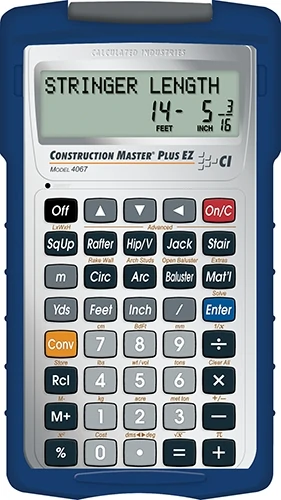 Construction master plus ez
The Construction Master Plus EZ (CMP EZ) is the newest in Calculated Industries' line of award-winning Construction Master Pro construction-math calculators. The CMP EZ takes the "problem" out of construction-math problems. It walks you through all the steps for every job from stairs and framing to crown molding and balusters. It even calculates quantities for ten kinds of building materials. The CMP EZ has basic and advanced solutions (lengths, angles, quantities, etc.) for common rafters, hip/valley rafters, jack rafters and stairs. Other built-in solutions include: Square-Ups, Areas and Volumes; Circular; Arcs; Rake Walls; Arch Studs; Balusters (Cap Wall and Open Wall), Elliptical Arches; Crown Molding; Compound Angles; Polygons; and Spacing. The CMP EZ makes a valuable addition to any builder's or serious do-it-yourselfer's toolbox and comes with a rugged shock-, dust- and moisture-resistant Armadillo Gear case. Visit www.calculated.com or booth C3254.