An Alchemy of Art and Science
What Damien Georis understands about residential construction, he learned by making wine.
Damien Georis grew up in a Belgian farmhouse built in 1750, maintained for generations, and ultimately remodeled by his father, a process that ignited his own interest in residential renovation and design. Today, he makes his home in a very different landscape on the Monterey Peninsula, running the pre-construction and design process for Lewis Builders residential design-build firm. Although it's not something he imagined, he realizes it absolutely makes sense.
Georis has a reputable name in this region, and he does know a little something about wine. Although, the Belgian-born vintner, who was making wine at Chateau Olivier—a Grand Cru classé of the Graves region in Bordeaux—was unaware of the legendary Georis dynasty, who has long been crafting fine art, fine food, and fine wine on the Monterey Peninsula. Nor did he know that the Georis family hails from the same tiny town as his father's family.
Even more surprising, perhaps, was that Georis, who had left Belgium in 1998 to pursue winemaking in France, ultimately moved to the Monterey Peninsula in 2005 to make wine, at the behest of Walter Georis.
What Damien Georis couldn't have anticipated is that he would find his way to Lewis Builders and quickly work his way up from design assistant to his new role as Vice President of Pre-construction and Design.
"I recall being 9 or 10 years old and drawing floor plans," he said. "As a teen, every summer in Belgium, I would work with my cousin, a contractor, till the time I moved to Bordeaux, and I was inspired. It was very typical to build your own home, which always held interest for me. Yet, when I caught the wine bug, I put that off to the side."
Georis had studied in Belgium, earning a degree in agricultural engineering, a condition of entering an enology school in Bordeaux, where he achieved a national degree of enology. For five years, he worked in the wineries of Bordeaux, until he made the difficult decision to come to California.
"Moving to Carmel Valley was a bit of a risk for my wine career," said Georis, "but I found what I was looking for: farming and construction and winemaking. I was on a tractor in the morning, at the winery in the afternoon, and presenting wine to an audience at a winemaker's dinner at night."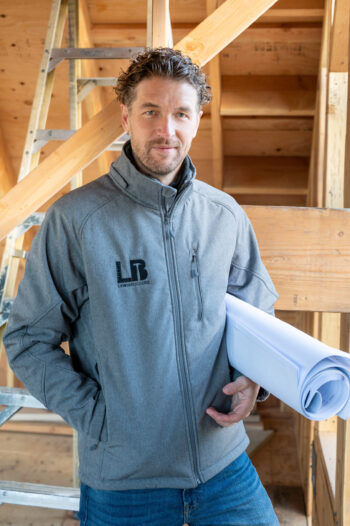 A Smooth Move
Damien Georis' interest and ability in home design and construction resurfaced after he moved to the Monterey Peninsula, where he remodeled two homes. Georis began to apply his interests and aptitude for building design and construction after his friend, Kierstyn Bachmann Berlin asked if he would work with her on design projects for Lewis Builders.
"As Lewis Builders was getting busier, and I was helping as a design assistant," he said, "I realized that was not my area of expertise. But I also had to deal with permitting on various projects, which I really enjoyed doing, so I became that person in the company."
The building permitting process is a complicated world to navigate. But Georis has built his career on being resourceful and finding solutions. Perhaps more important to the process, he has proved to be a diplomatic, dependable man, who understands that both the business and this community are about building relationships and trust, says John Lewis, founder and CEO of Lewis Builders.
"I've never met someone, who is not originally from this county or even this country, and for whom English isn't even his first language," said Lewis, "yet who is as well-known and as well-respected in the community. Damien is someone who came from a different industry, the winemaking world in France, yet has done an amazing job of learning the inner workings of getting building projects permitted."
Lewis, who has been involved in construction projects in many different counties throughout California, has never known a county to be as complicated as Monterey. But Georis, he says, gets it.
The guy who was making wine, is now making construction decisions. He has taken a leadership role, not only in procuring permits, but also in studying conceptual designs and understanding what's possible and what's not, says Scott Julian, President of Lewis Builders.
"Damien applies the mentality of winemaking methodology to the design-and-build business," said Julian. "He intimately knows the complexities of making fine wine, and the challenges that arise if you miss a step, just like in the construction process. We knew he was a perfect fit for the complex planning and permitting we experience in almost every one of our projects."
After three years of managing permitting and design, Georis' new role as Vice President of Pre-construction and Design brings estimating, that third leg of the process, into his purview.
"From our first meeting with a client, we estimate cost. As we capture the wishes from the client," said Georis, "we confirm the parameters of the project, refine the budget, and put it into our construction contract. Then, throughout the project, we make it work."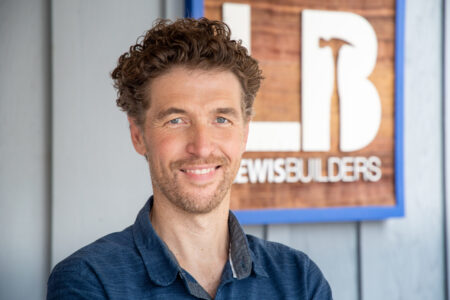 Renaissance Meets Reconstruction
Damien Georis is, in all things, an artist and a technician. Were he to make wine just by the numbers, he would yield a standard product, says Lewis, without much depth, flavor, or interest. That would be chemistry without creativity. Were he to make wine with an artistic approach and not respect the chemistry, it wouldn't be stable enough to sustain. Damien understands the importance of a harmonious alchemy of artistic and technical skills.
"Similarly, in construction," said Lewis, "Damien has to understand the permitting, the zoning, the planning, the budgeting—the technical aspects—and marry that to the aesthetics of the design and the sensibilities of the client. We want both beautiful and sustainable."
That's what Damien Georis brings to Lewis Builders projects.
"I appreciate the art and the science of wine," he said, "which are the same elements in construction. It's all a grand human adventure."