By Alex Ligorotis 
While a garage door isn't something that homeowners often think about, they should! Waiting until your door is damaged, dingy or stops working altogether can result in a rushed (and costly) project. Whether you choose to upgrade your door for performance or aesthetics, consider a Wayne Dalton garage door to get the best of both worlds.
What value does a new garage door bring to a home? Design-savvy folks understand the exterior face-lift and exceptional beauty that comes with a quality garage door, but it also doesn't hurt that it's a great return on investment (ROI). In fact, a new door has proven to be the best bang-for-your-buck home improvement project that can, on average, increase the home's resale value by 93.8%. By taking the leap and purchasing a show-stopping garage door, homeowners get much more than just a one-step makeover.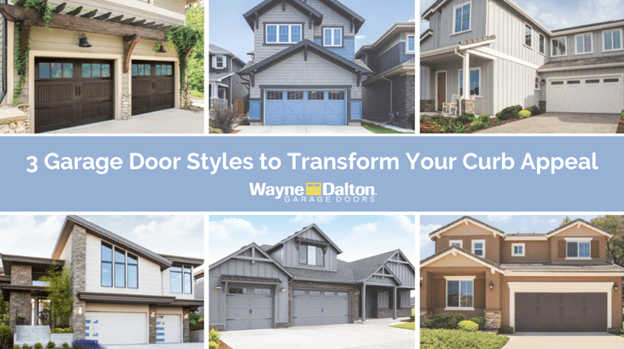 Whether you'd like to bring a cohesive aesthetic to your home's exterior or mix and match your style, Wayne Dalton recommends paying close attention to your garage door (after all, this prominent feature does take up to one-third of your home's curb appeal!).
First Things First: What's Your Home Aesthetic?
 Before we do a deep dive below into the different garage door styles, it's important to first understand your home's design in order to pick the right door. There are three main garage door styles most popular among homeowners: Traditional, Carriage House and Modern. Each one is designed to enhance the beauty of a home's curb appeal by being an eye-catching focal point for anyone who sees the home.
Within each garage door style, companies such as Wayne Dalton offer a variety of panel designs to take your home's exterior appearance to the next level. While some homeowners choose to have their garage door match the home's architectural style, others prefer to combine different looks to create a one-of-a-kind design. Regardless of how you decide to utilize our various styles and panel designs, trust us when we say a Wayne Dalton door will get the job done. Follow along as we run through our wide variety of Wayne Dalton garage door styles that will be sure to open the 'door' to inspiration!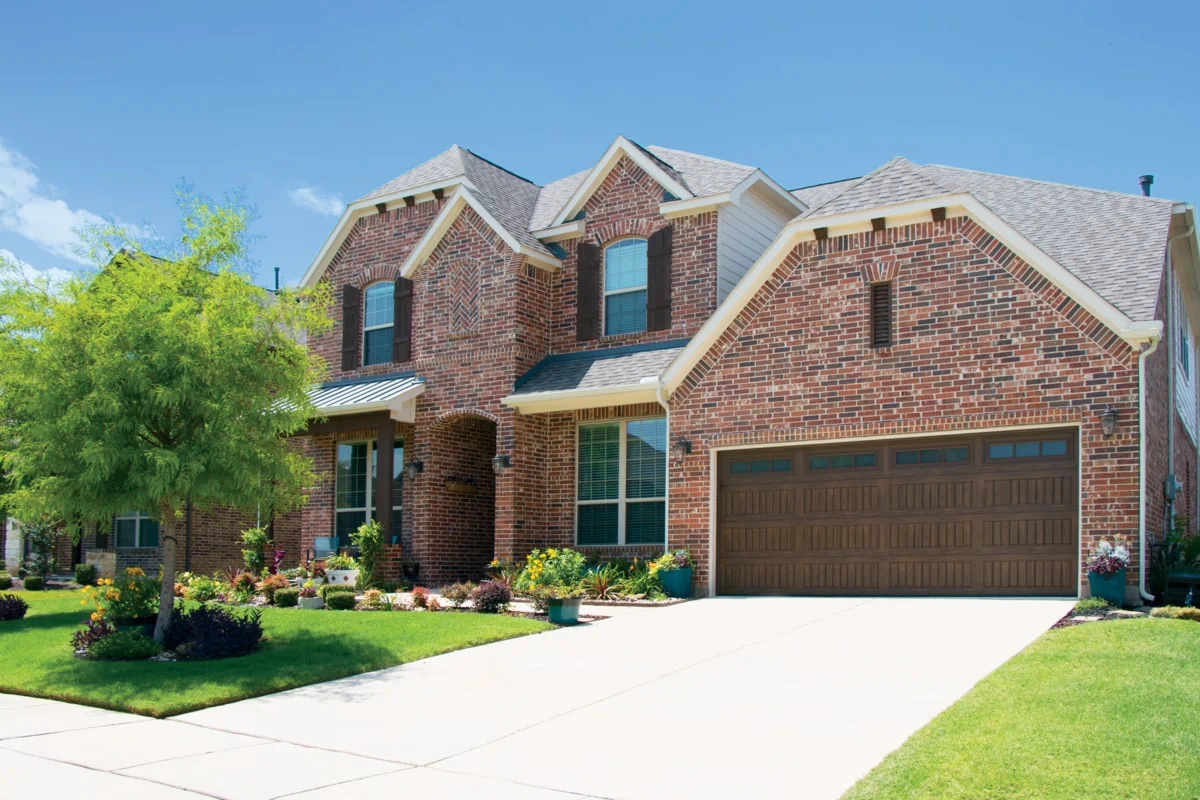 Classic Steel Model 8300 | Sonoma Ranch panel | Mission Oak finish | Stockbridge IV (3-Lite) windows
1. Traditional
 Traditional-styled garage doors have stood the test of time and easily complement the design of virtually any home. In fact, traditional garage doors shine on both American architectural styles like Colonial, Ranch and Craftsman, and European style homes including French Country, Mediterranean and Tudor. This easily recognized style usually features symmetrical, raised panels that are classic and subtle creating an orderly look. If you favor a traditional style, take a look at our Classic Steel collection which offers both classic and contemporary panel designs to enhance your house. Or for a more striking look, try Wayne Dalton's Model 9510 Designer Steel doors that feature tall section heights sure to catch the eyes of neighbors, friends and any other onlookers.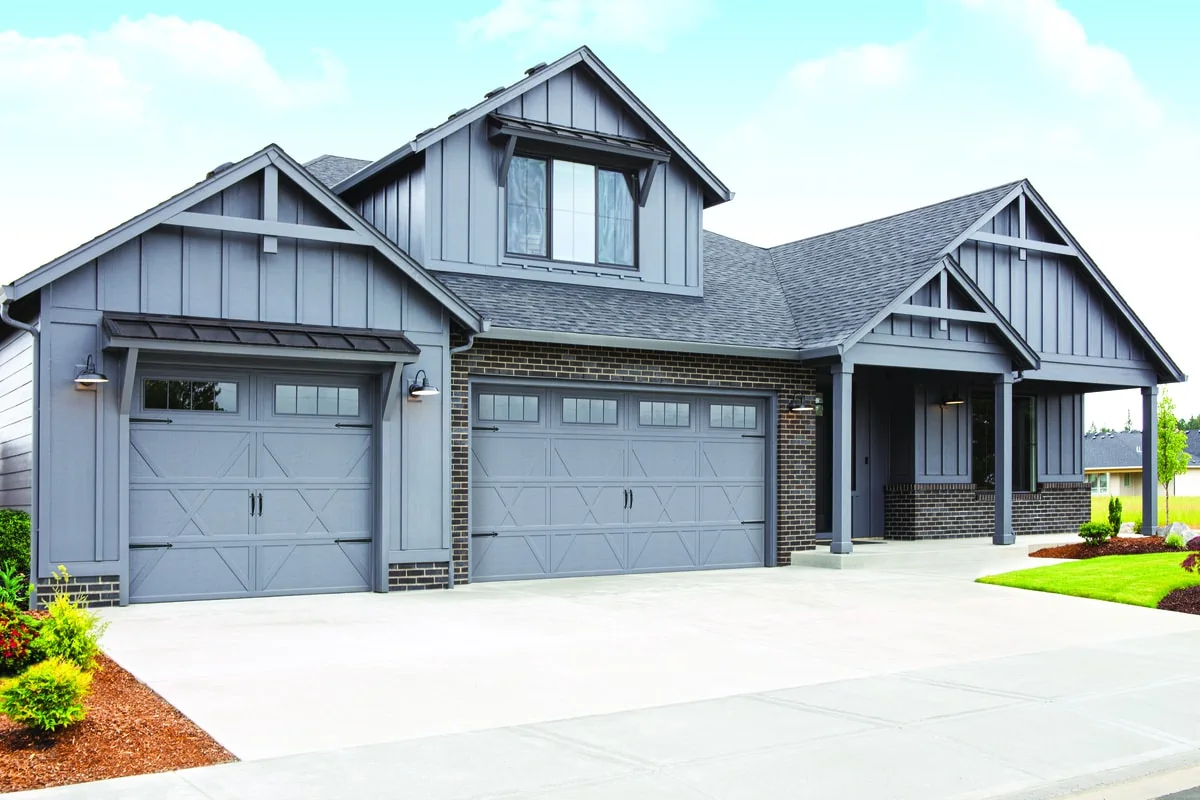 Carriage House Steel Model 9405 | Lexington panel | Custom finish | Stockbridge windows
2. Carriage House
 Our carriage house doors replicate the popular, farmhouse-inspired design from the past, coupling the appearance of swing-open doors with the modern convenience of the overhead opening door we know and love. Our Carriage House Steel collection is an excellent choice for homeowners looking to enhance their rustic features or add traditional charm to their home. By pairing Model 9405 with a recessed panel design, it creates an exterior that effortlessly complements the straight lines of the house for a beautifully cohesive curb appeal.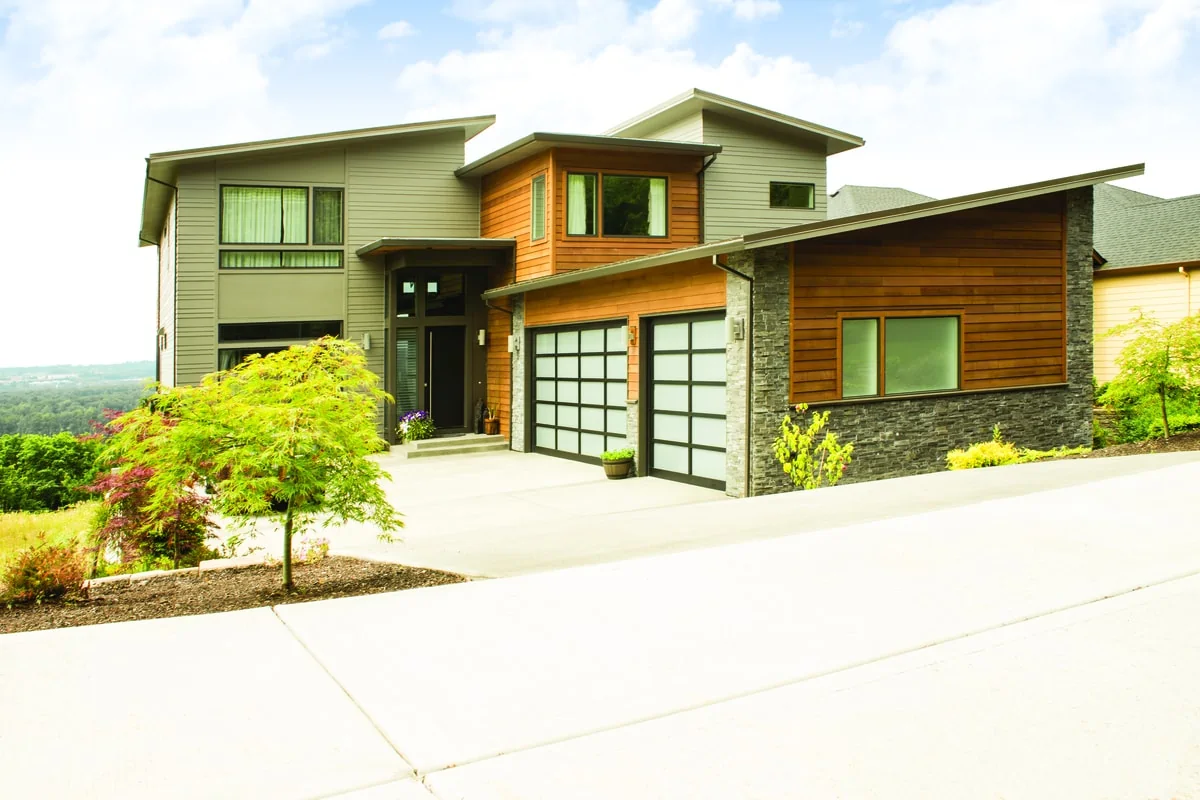 Contemporary Aluminum Model 8800 | Black Powder Coat finish | White Laminated glass
3. Modern
 Modern-style homes pair best with garage doors as sleek as the exterior of the houses. For modern homes, or those looking to give off a unique, polished upgrade, homeowners should pay special attention to our contemporary-styled garage doors. With simple and clean lines, Wayne Dalton's Contemporary Aluminum garage doors feature an aluminum frame and glass panels to play up the lavish aesthetic of a modern home. For trendsetters and those who want to make a bold statement, Luminous Model 8450 is the ultimate choice thanks to its sleek, frameless glass panels and mirrored finish. Another option is using contemporary panels in our Classic Steel collection to create a modern look.
Upgrade through Lowe's
Through our partnership with Lowe's Home Improvement stores, homeowners can find some of Wayne Dalton's most popular garage door models at their retail locations for professional installation. Each door offers durability, quality steel construction and beautiful designs to enhance any home's overall curb appeal. So whether you are looking to create an eye-catching focal point or improve your home's ROI, you're sure to get the right model for your family and lifestyle through Lowe's.
We currently offer Classic Steel Models 8300, 9605, 9100 and 8000, as well as one of our fan favorites, Carriage House Steel Model 6600. With various colors and wood-grain finishes, panel designs and window options, homeowners can conveniently enhance their curb appeal based on their home's style.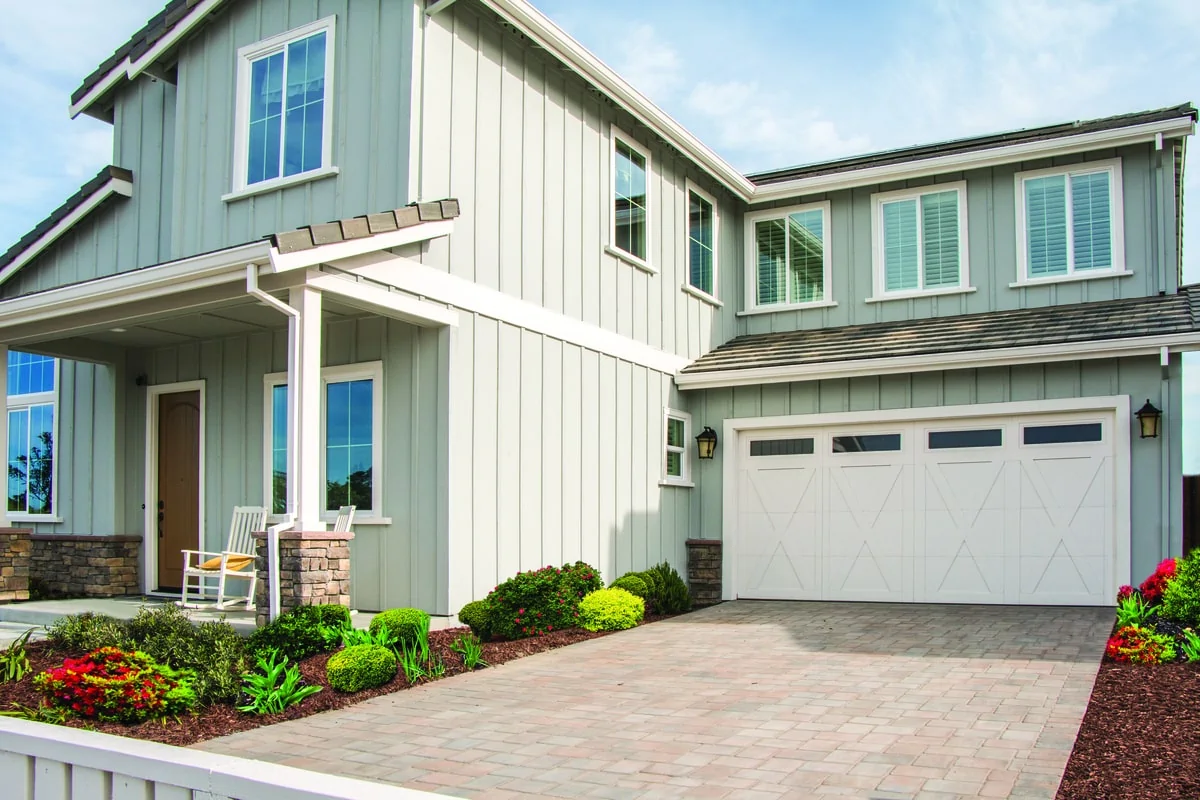 Carriage House Steel Model 6600 | Lexington panel | White finish | Clear Long windows
How To Get Started
One of the best ways to choose a new garage door for your home is to test out various options yourself through our Garage Door Design Center. Homeowners can upload a photo of your home and then try out different styles and designs to find the perfect fit for you. No matter what garage door style or panel design you use to transform the look of your house, remember to think about your home's architectural elements to ensure you choose the right door. Ready to get started on revamping your garage door and revitalizing your home? Make sure to give your home the highest quality in design, durability, materials and appearance by using a trusted company like Wayne Dalton.
*Alex Ligorotis is Brand Manager for Wayne Dalton Garage Doors