Whether you live in a climate prone to heavy rainfall or just want to be able to capitalize on your investment and enjoy your home's outdoor space for as many years as possible, it's important to consider how moisture can affect a deck and to take the proper precautionary measures from the outset of any deck build or remodel.
Because they are exposed to the elements, decks and their supporting substructures are highly susceptible to water penetration. Without proper protection, rain, dew and snow melt can seep into screw holes and sit on boards, joists and beams causing them to rot, decay and deteriorate prematurely—in as little as 8-10 years.
Here are three easy steps you can take to ensure your deck won't fall prey to premature moisture damage:
Consider composite decking over wood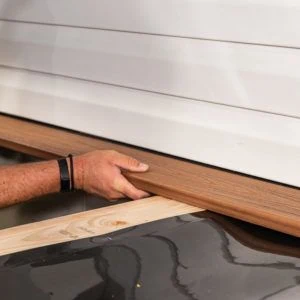 Made from a blend of plastic and wood fibers, composite decking won't absorb water like treated lumber. It also won't crack, warp or splinter in colder climates and will hold up to humidity and precipitation. High-performance composite decking is extremely durable and is ultra-low maintenance. No need to spend time and money every year sanding, painting and staining your deck when using composite. Instead, simply give it an occasional cleaning with warm soapy water and get back to enjoying your space.
Protect the substructure against moisture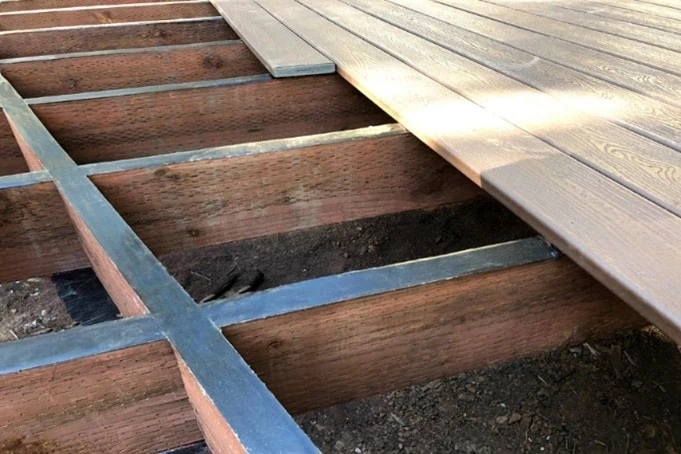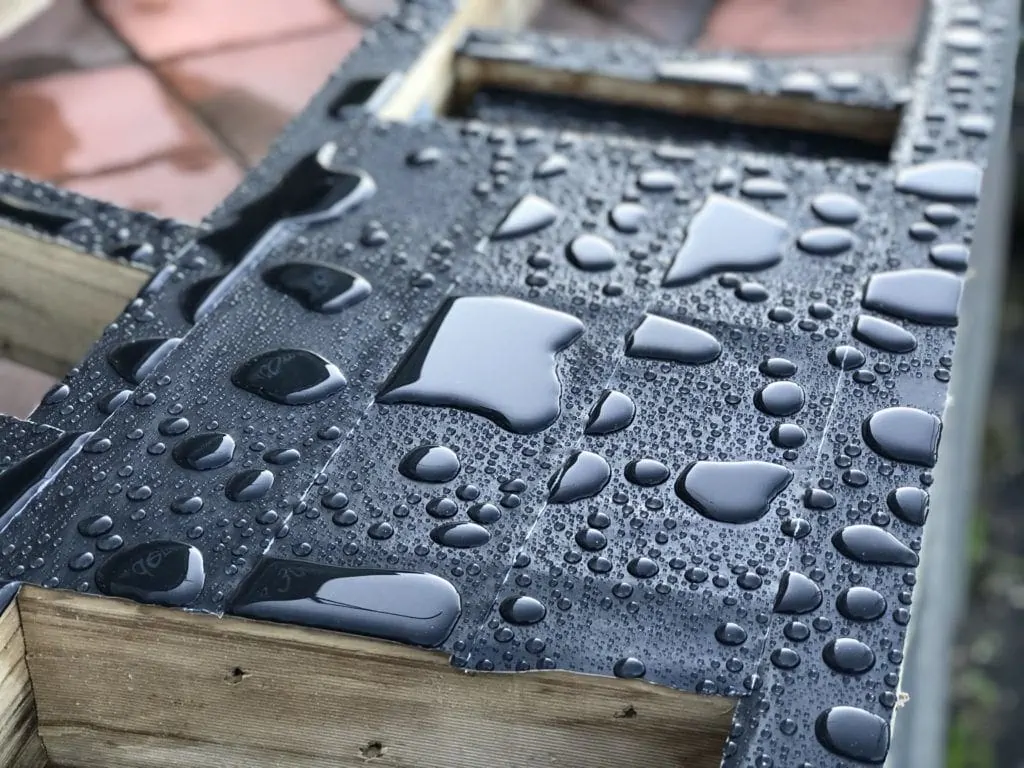 One of the easiest things you can do to prevent premature deterioration of a deck's substructure is applying a protective tape, such as Trex Protect, to the joists and beams of the foundation. Designed specifically for use on decks, this butyl-based, peel-and-stick tape is applied as a "cap" to the tops of wood joinery to create a moisture barrier. It also helps to hold deck screws in place longer and stronger, while creating a waterproof seal around fasteners.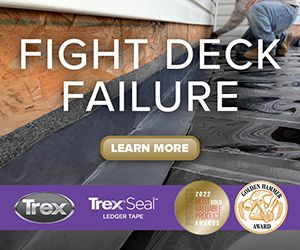 And don't forget the ledger board. Ask any contractor where a deck is most likely to fail, and chances are they'll point to where the deck attaches to the home. If not correctly installed and protected, the ledger board can be the Achilles' heel of any deck's foundation. When left exposed, water can penetrate the wood causing it to rot. Additionally, the natural expansion and contraction of wood can cause the ledger to weaken, split and deteriorate over time.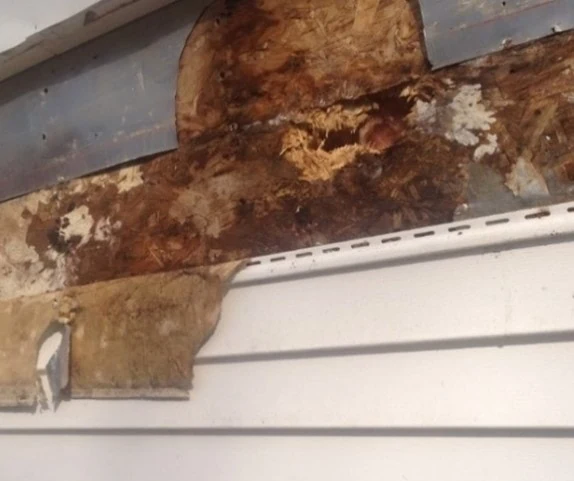 The good news is, protecting this key connection point is relatively easy with flashing. When it comes to the ledger board, there are two main flashing options – metal flashing and flashing tape.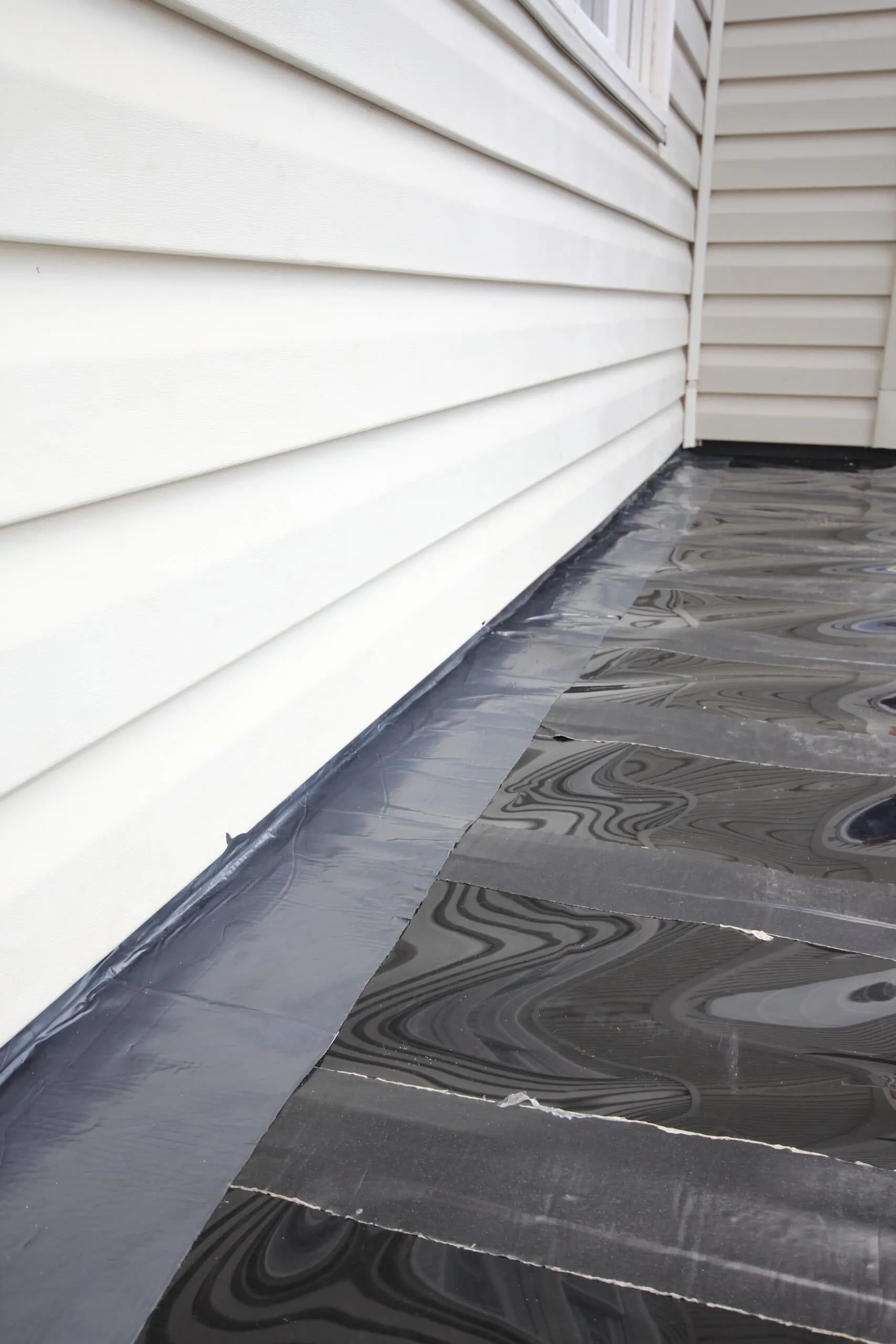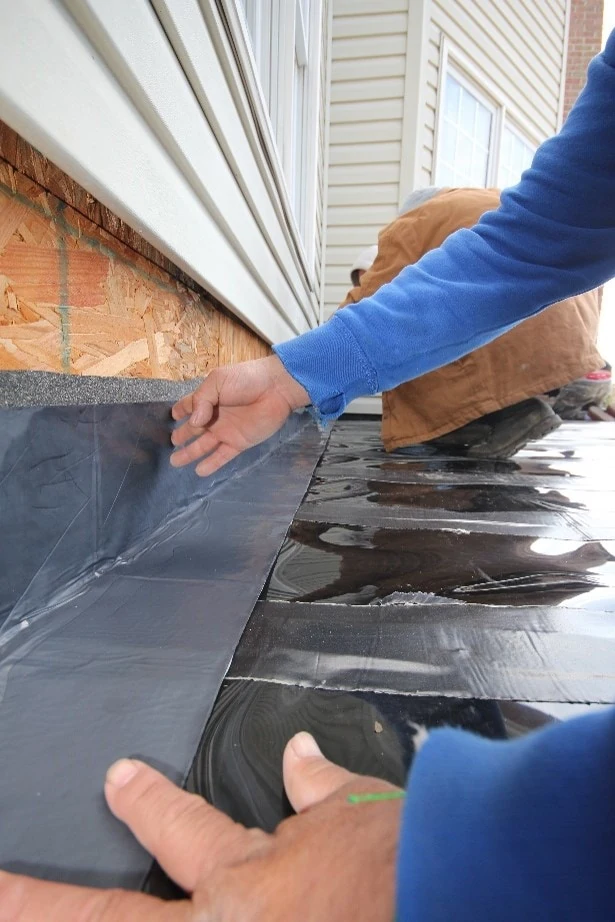 Trex Seal, however, is a new type of flashing tape designed specifically for deck installations that combines the best of both traditional metal flashing and flashing tape to provide easy and seamless waterproofing protection of the ledger board. Engineered with an aluminum liner for enhanced structural support, the 11"-wide tape is self-adhering and can be set in place without flexing back like other flashing tapes, making it easy to apply and install accurately, giving you ultimate peace of mind that this critical connection point will be safe from unwanted moisture penetration.
Divert water with a deck drainage system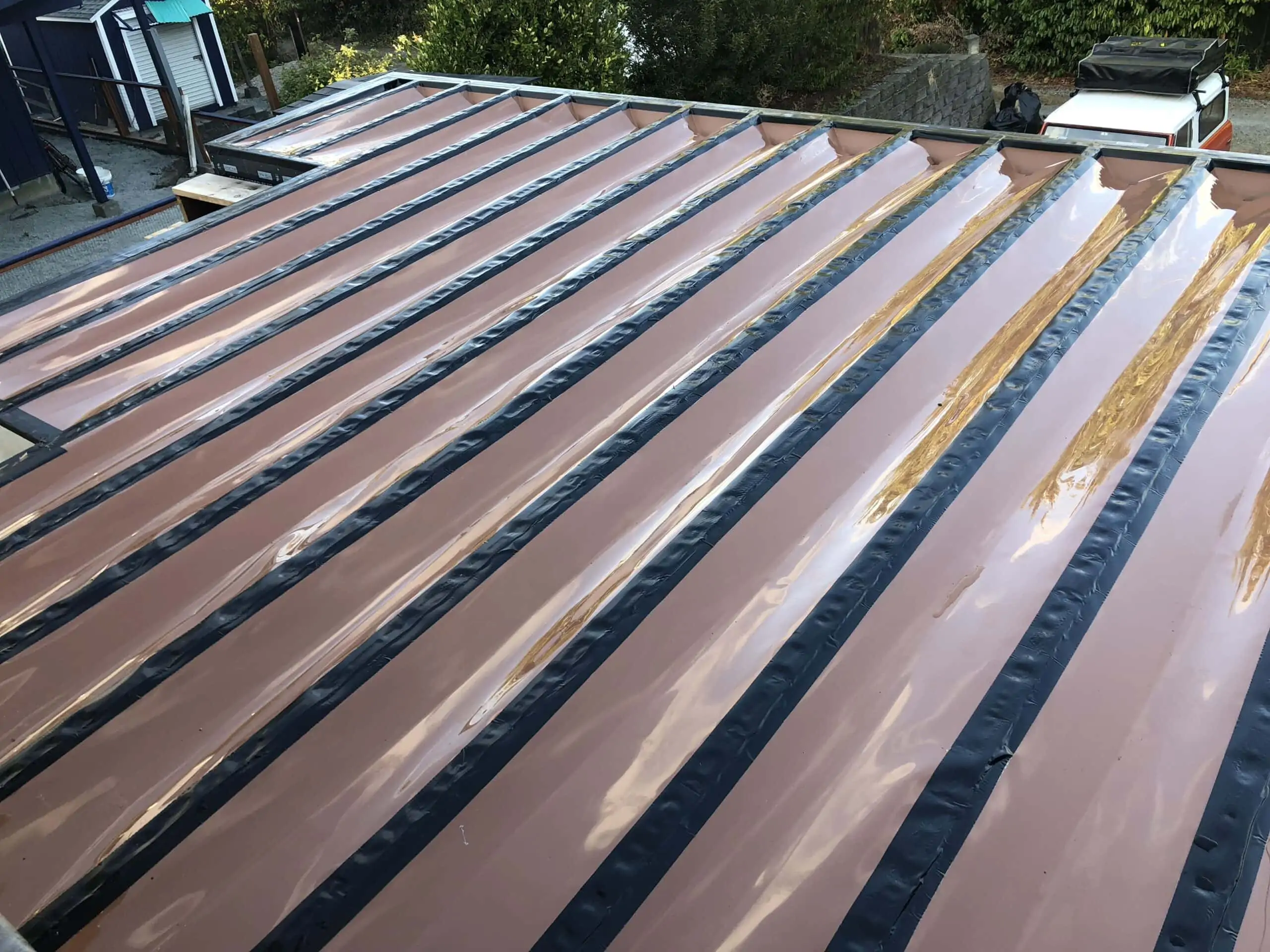 For even more comprehensive waterproofing of your substructure, consider installing Trex RainEscape® during your deck build. A deck drainage system designed for use specifically on elevated decks, the system is applied above the joists using a flexible membrane material to create a network of troughs and downspouts to capture and divert water away from the deck. The system acts like shingles on a roof to completely shield the wooden foundation from moisture penetration and damage, thus creating a dry, usable space beneath the deck and extending the life of the deck and its framing for decades.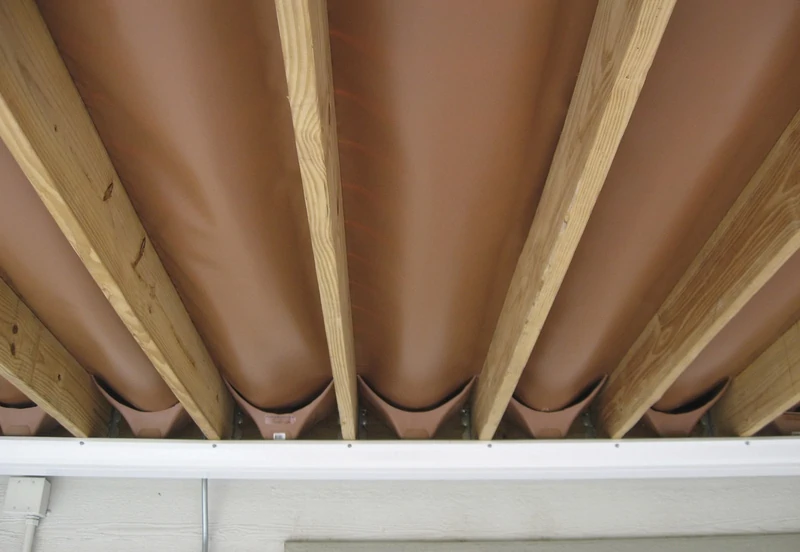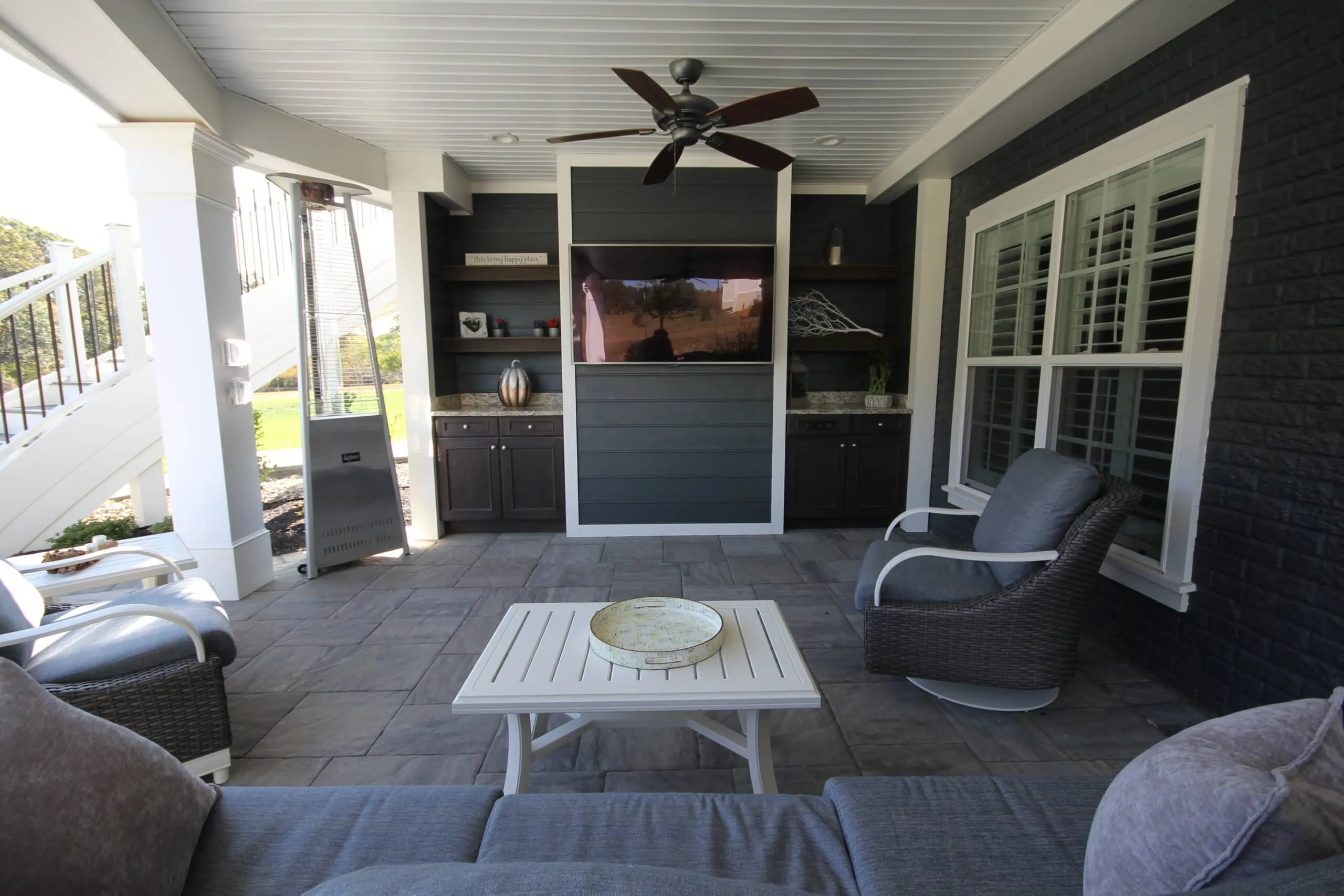 Once protected, the area below the deck surface can be used like any room inside a house. You can add electricity, water and gas lines, as well as furniture, lighting, ceiling fans and entertainment components to create additional outdoor oasis. These spaces are also ideal for use as bonus storage space for stowing anything from lawn and garden equipment, pool supplies, and off-season patio furniture to bicycles, boats and ATVs. With a deck drainage system in place, the possibilities are limitless for how the space below a deck can be used.
 Waterproofing pays off
Protective joist, beam, rim and flashing tapes, as well as deck drainage systems, are all proven to preserve the integrity and prolong the performance of decks and their substructures. And with a robust selection of easy-to-apply options now available, there's no reason for any deck to be left vulnerable to the elements and premature failure.
And while these upgrades may increase the cost of a deck project, most homeowners feel it is well worth the investment – especially after the first rainfall when they experience firsthand the value of having dry outdoor living space they can enjoy even during inclement weather. Furthermore, when combined with high-performance, low-maintenance composite decking boards, you've got a winning recipe for an eco-friendly deck that you and your family will be able to enjoy for decades to come.