Home lighting does much more than simply help you see. It determines how others will see your home. Interior lighting sets the mood of the room, serving as an important feature of the décor. The right lighting scheme should strike a balance between form and function, and a little planning can go a long way when choosing the best design for your bath and kitchen area.
The choices in lighting styles abound, but dividing them into four basic categories will help you sift through the selection.
Ambient or General Lighting is a common choice that illuminates the whole room, as is generally seenin professional buildings. Ceiling fixtures and recessed or track lighting are common methods to achieve this effect. Installing a dimmer with these systems give you the flexibility to adjust the brightness, and in turn the mood.
Accent Lighting typically focuses lighting on a portrait, painting, sculpture or architectural element. The lit area is typically about three times brighter than the rest of the room.
Task Lighting provides light to help you perform specific tasks, from running a miter saw in your garage to shaving in the bathroom. Task lighting should be free of glare and be easy on the eyes.
Natural Lighting uses the sun as a source of light through windows, doors and skylights. It can bring in the "feel" of the outdoors, but light intensity is determined by weather conditions and the time of day or year.
Think Ahead
Before rushing out to the home store, think carefully about the activities that happen in each room, and how those four basic styles accommodate those activities. Once you've decided a basic style, you'll still have plenty of other options to consider.
In fact, today it's common to use multiple types of interior lighting to create a variety of effects. For example if a room seems too narrow, then wash one of the walls with light to give the illusion of a larger, more spacious area. Up-lighting the ceiling can also make a room appear larger. Conversely, if a ceiling is high but you prefer the room to have a more intimate, personal feel, as in a master bedroom, then don't allow much light to extend beyond the height of a lampshade.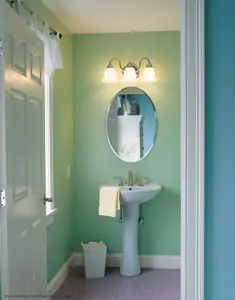 Lighting the Bath Area
A smart design in the bathroom is critical because people spend a great deal of time looking in the mirror and naturally want to see themselves in a complimentary light. And there's a lot to consider when choosing the best way to achieve this and balance it with the interior décor.
"The bathroom is part of the house with the densest assortment of materials and finishes," says Dan Blitzer, and educator for the American Lighting Association. "You have wall tile, floor tile, shower tile, faucet hardware, towel bars, wallpaper and paint all in a space often smaller than 100 square feet."
Brighter task lighting in the bathroom must compliment the accent lighting designed to add a warm glow. It helps for the design and finish of the light fixtures to work together with the plumbing accessories. A wide range of fixture styles, shapes, sizes and finishes are available, from ornate poly-resin cast products to sleek satin nickel finishes.
"You want everything to work together so that anyone walking in views the room as  a whole," says Blitzer. "Everything should work together as opposed to supporting one astonishing fixture."
Today, many lighting professionals are seeing a popular trend toward contemporary designs in bathroom features even when it doesn't necessarily match the overall décor of the home. A nickel finish currently holds the top spot in popularity, followed by brass and chrome — which matches any mirrors.
Lighting professionals recommend beginning the bathroom lighting scheme with the vanity mirror, which typically has the brightest light, and then decide what ambient or accent sources will work best to complement the vanity station. Keep in mind, recessed or canned lighting is not ideal for a bathroom's only light source because it tends to cast a shadow across the face. It's important to start with the vanity and then work throughout the bathroom, layering the light sources to fill in the gaps. Layering the light sources also reduces glare.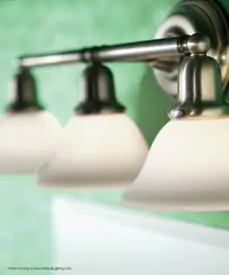 Ten Smart Ways to Brighten Your Bath
When coordinating bathroom lighting, combine fashion with function to make your fixtures supply ample amounts of light. The American Lighting Association suggests you check with the professionals at lighting stores and showrooms for the broadest range of styles and knowledge.
Shower Power: Lighting in the shower stall should be bright enough to help avoid spills while making shaving and shampooing easier. Choose light fixtures designed for use in wet areas.
Tub Tip: Tubs, like showers, need good general light, which can be provided by a recessed fixture. To avoid glare, aim the light's beam at the outside edge of the tub.
Window Dressing: Windows provide natural light to supplement or replace the electric options.
Night Bright: Create a nightlight by illuminating the floor in the toe-space below vanities and cabinets with a linear lighting system.
Get Glowing: Indirect (or cove) lighting with its hidden light source is purely aesthetic, adding a soft, warm glow to the bathroom.
Mirror, Mirror: Good mirror lighting, like that provided by warm fluorescent vertical wall sconces, will provide the even facial illumination necessary for eliminating dark circles and shadows.
Vanity Fare: A halogen light above the vanity provides cross illumination when used in conjunction with wall sconces.
Table Topper: Table lamps add a soft, human touch to bathrooms. Display them away from water sources — on tables, vanities, or multipurpose bathroom islands found in larger homes.
Ceiling Fixture: A decorative light fixture suspended from the ceiling provides an elegant touch while adding extra light.
Potty Panache: Focused flood or halogen fixtures over the commode provide good light for watercloset reading.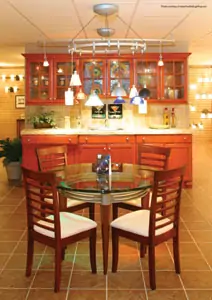 Cooking Up a Kitchen Scheme
Much more than just a food-prep station, today's kitchens are often the hub of family living. It's the designated are for reading the morning paper, paying the bills, feeding the kids an afternoon snack and much, much more.
As a center of family activity, a versatile lighting scheme is necessary to accommodate all the multi-tasking that goes on in the kitchen. A single central light source means that work around the perimeter of this light is relegated to dimmer areas of the room. The proper lighting scheme depends on the size and complexity of the kitchen. Small kitchens may require only a central overhead fixture coupled with under-cabinet task lighting near the sink and stove. Larger kitchens may require a combination of general, task and accent lighting. The trick is finding the right blend of fixtures to tastefully light all areas of the room.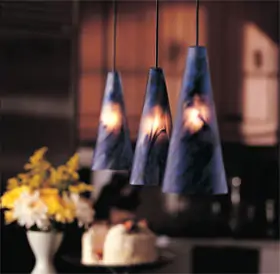 Top Tips for Lighting Your Kitchen
Creating a smart kitchen lighting design is like perfecting a new recipe. You have to include all the right ingredients.
Consider a Pro: There are many ways to light a kitchen, and some are better than others. A lighting specialist can help with determining location, style and whether or not to add dimmers.
Create a Balanced Mix: The biggest mistake is to overlook the subtleties in the lighting scheme. Recessed lighting alone is great for creating a blanket of light, but not for bringing light exactly where you need it. But don't just add more recessed fixtures, which can over-saturate the room with light. Mix various lighting types.
Prepare before Shopping: When visiting a lighting showroom, bring photos of your kitchen, and take note of the room's dimensions. How tall is the ceiling? Where are the doors? How much space is there between the cabinets and the countertop?
Cater Light to the Task: Functional fixtures provide well-diffused general lighting for moving about the room, cooking, cleaning and peering inside drawers. Large-surface fluorescents have been popular in the past, but today's trends lean toward recessed lights and low-voltage industrial styles, often with a metal finish.
Choose a Nice Finish: The top trends in decorative finishes for kitchen fixtures include wrought iron, often in rust and earth tones. Painted finishes are popular. Colored glass is more popular than plain white. And pewter and satin nickel finishes are replacing the brass look.
Start with the Big Features:  Kitchen tables and islands are family focal points. Light those areas first and design your scheme outward. Consider pendant lighting or a decorative fixture with three lights over an island.
This is just a quick overview of the many lighting options available for today's homeowner. Much of the information for this article was contributed by the American Lighting Association. As an industry organization dedicated to educating the public about the latest in lighting options, the ALA is a great resource for information. Learn more tips and techniques for lighting your home at www.americanlightingassoc.com.