Cleaning your deck the right way  is just like spring cleaning, landscaping, and re-organizing your garage. Maintaining and protecting your deck  your deck is especially important if you want to have a deck that lasts a long time. Keeping your deck clean is even more necessary after harsh winters, heavy rains, or if you experience summers where the sun's intense rays shine down on your deck. All of these weather conditions can cause changes to the surface and structure of your deck – whether it's a wooden deck or made of composite decking material.
Tools and Materials Required 
There are not a lot of tools required, mainly a push broom, a garden hose with a nozzle sprayer, a bucket, a stiff-bristled brush, and a cleaning solution. But what type of deck cleaning solution? This all depends on if you want to make a DIY cleaning solution or if you want to visit the hardware store.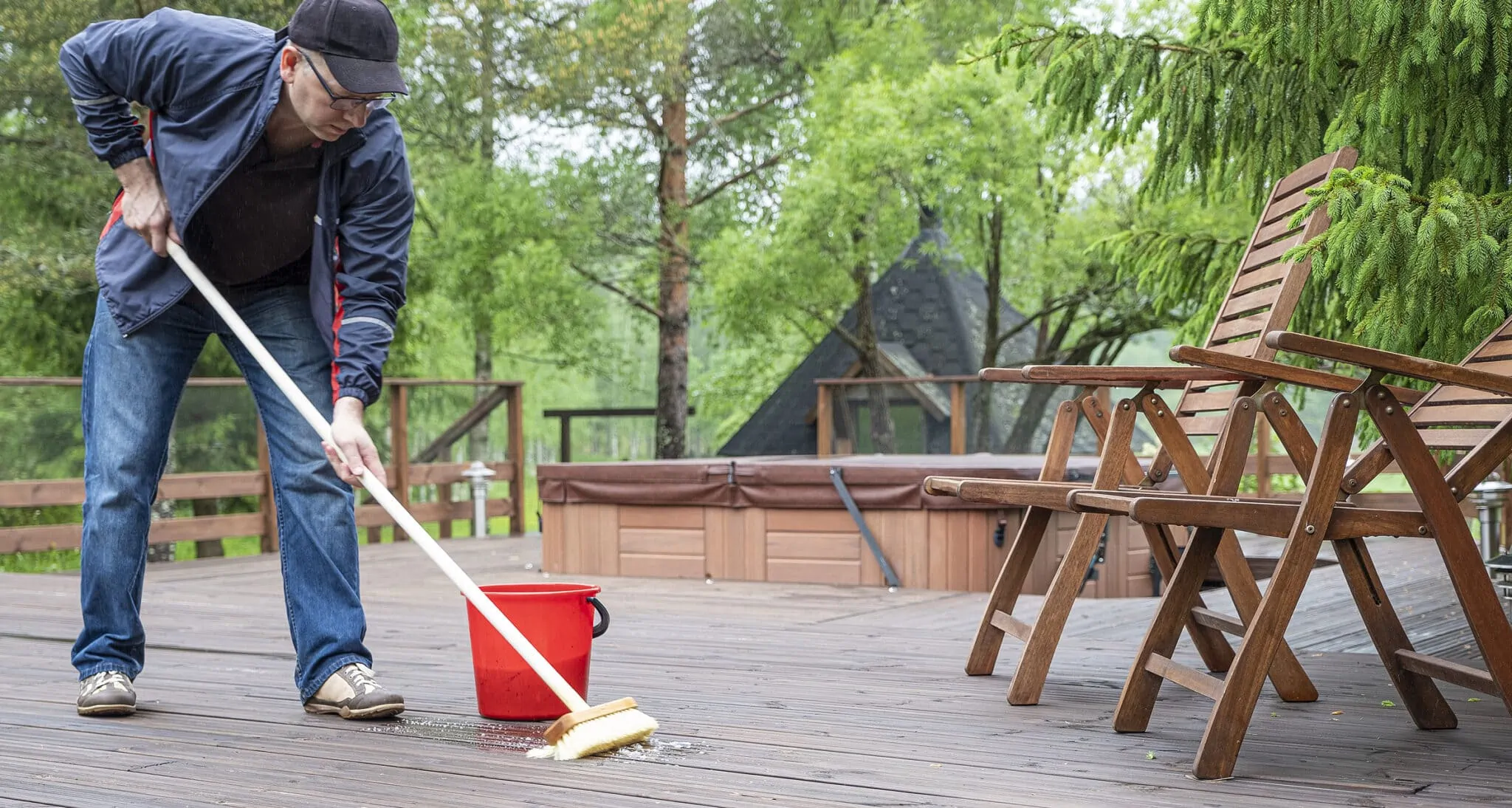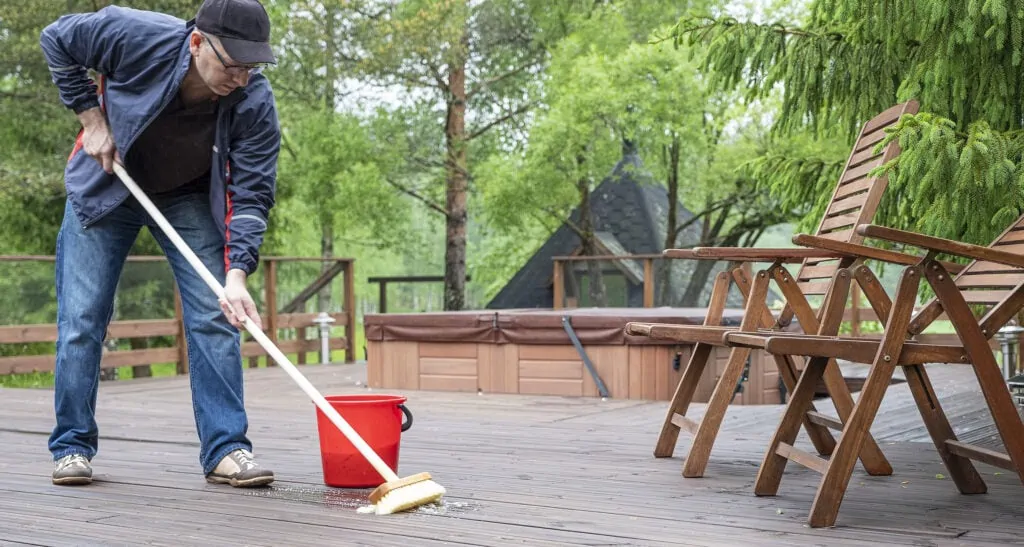 Both options are fine, but if you make your own cleaning solution, it's best to use it on your cleaning day. Conversely, if you take two days to clean your deck, throw the leftover solution out and mix up more the next day. A fresh cleaning solution ensures it will be the most effective for deck cleaning.
Steps to Clean Your Deck
No matter what type of material your deck is, there are six simple steps to clean it so you have the best outcome and your deck stays in top shape. Harsh weather elements will make your deck splinter, grow mildew, and eventually weaken in structure. Periodically cleaning your deck and sealing it will help keep it both functional and beautiful.
1. Remove and Inspect
Remove all outdoor furniture, planters, grills, and anything else on your deck. An empty surface allows you to check your entire deck for weak or warped boards, stubborn stains, and any other problematic spots you might discover. Grime build-up can usually be addressed by using a cleaning solution and a little pressure. Don't forget to inspect fasteners and screws as you prime your deck.
2. Sweep
Sweep your whole deck surface for leaves, pine needles, and other debris that may have fallen on your deck. Then, make sure you get in between the deck boards using a thin instrument like a putty knife to clean out the trapped stuff. One of our favorite cleaning tips is to use a leaf blower to make this step go fast!
3. Pre-Rinse 
Why do this? It is actually key to help disperse the cleaning solution. Use your garden hose with a spray nozzle to evenly distribute water on the deck surface.
4. Clean and Scrub with the Grain 
Depending on your deck type (wood or composite), you will have chosen your cleaning solution. Whether a store-bought cleaning solution or homemade, use this to scrub the deck with a long-handled scrub brush. Follow the grain of the wood.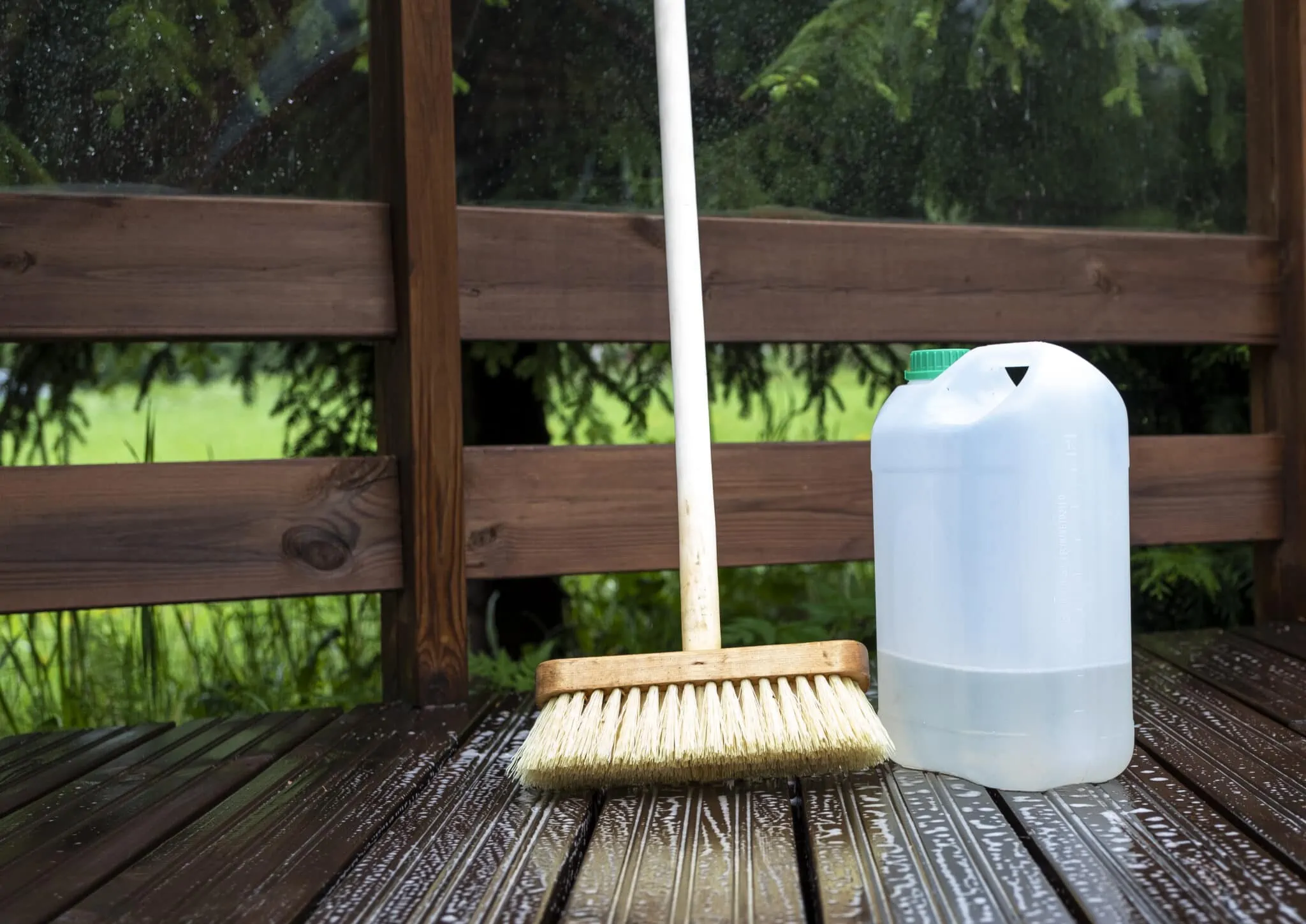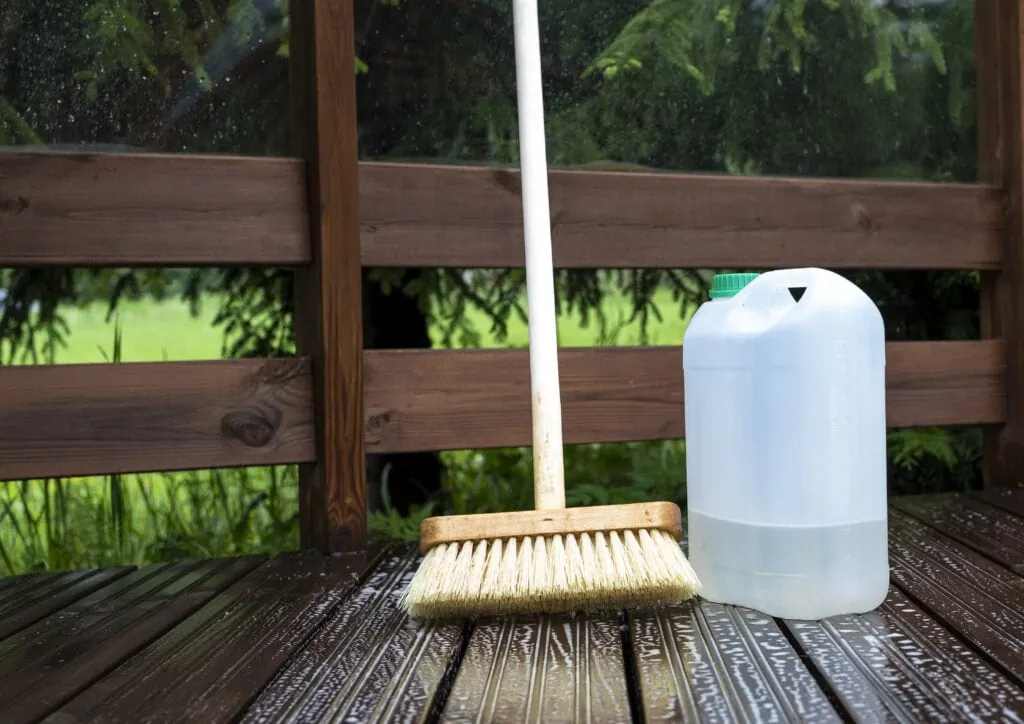 5. Rinse your Deck Thoroughly 
After removing grime, stains, and mold, be sure to rinse thoroughly. If you have composite decking, use a low-pressure power washer to do this under 3100 PSI or the spray nozzle of a garden hose. Be sure to let your deck dry 24 to 48 hours after rinsing.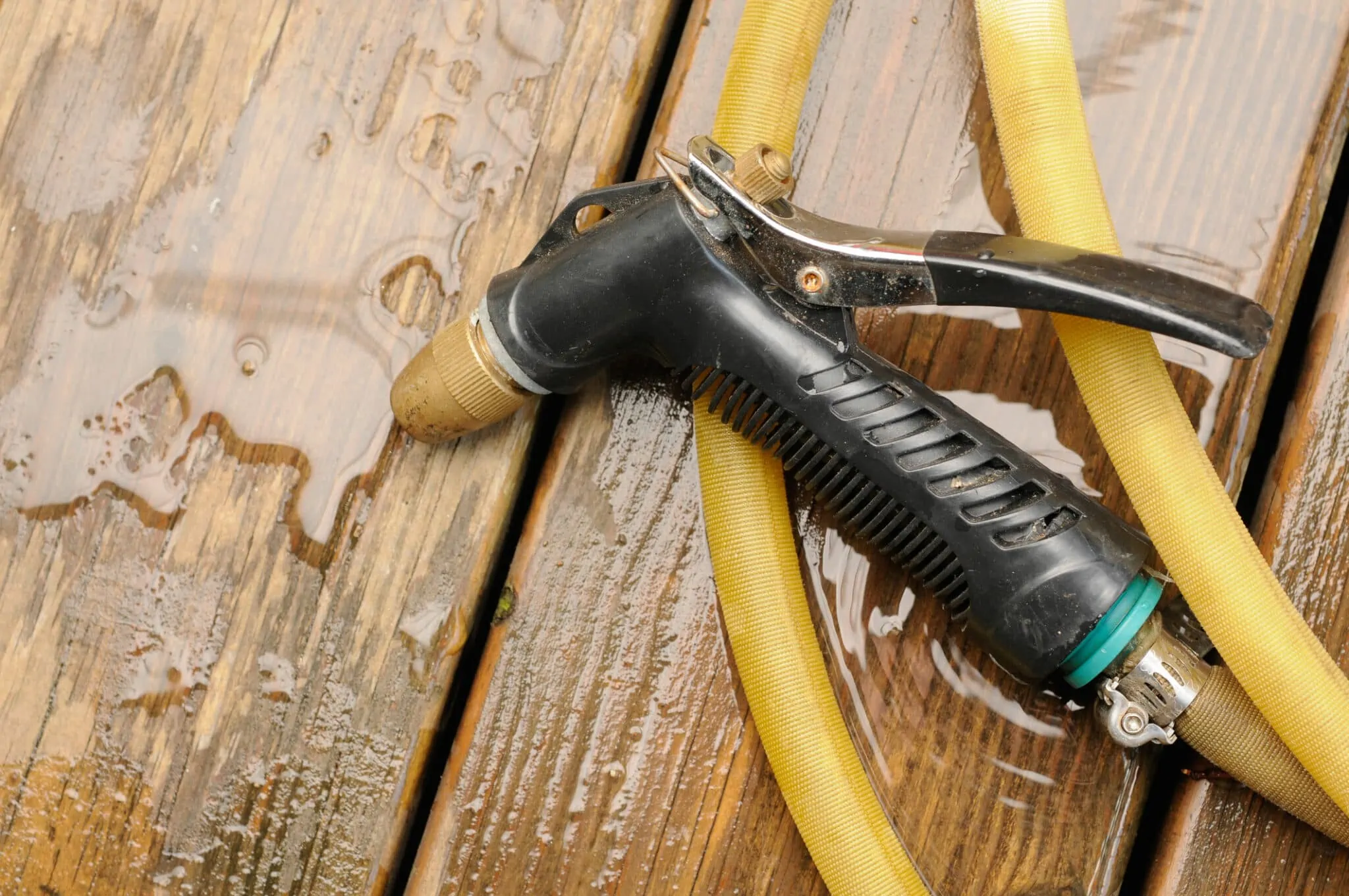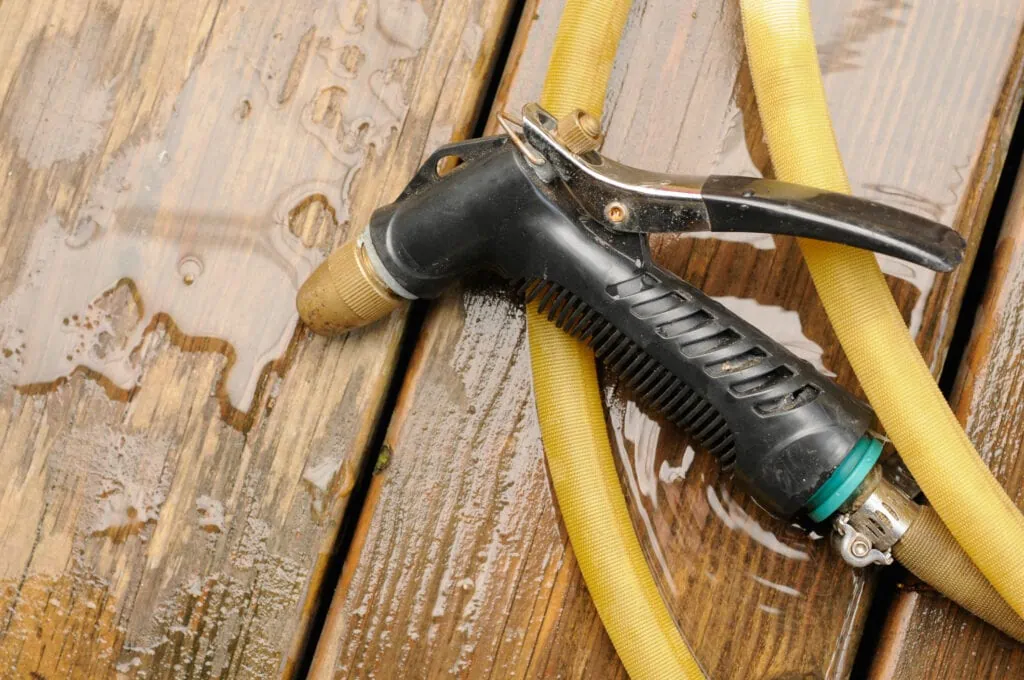 6. Stain and Seal
If you have a wood deck and want to stain it, do this before you seal it. Otherwise, a clear sealant is a good idea for protecting your timber. Composite decking is lower maintenance, but some homeowners may want to apply a sealant every so often. In addition, applying a sealant can enhance the composite material's color.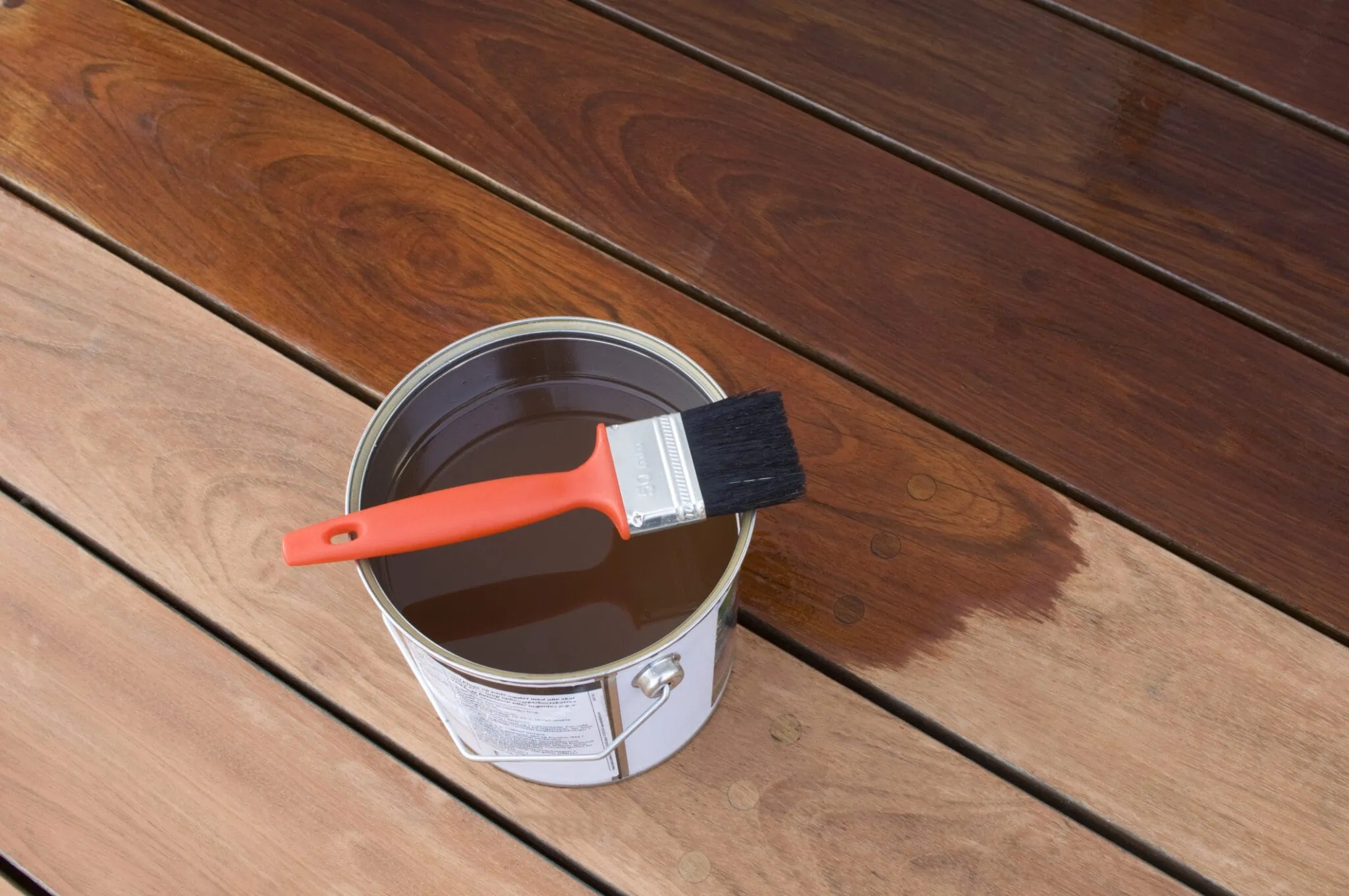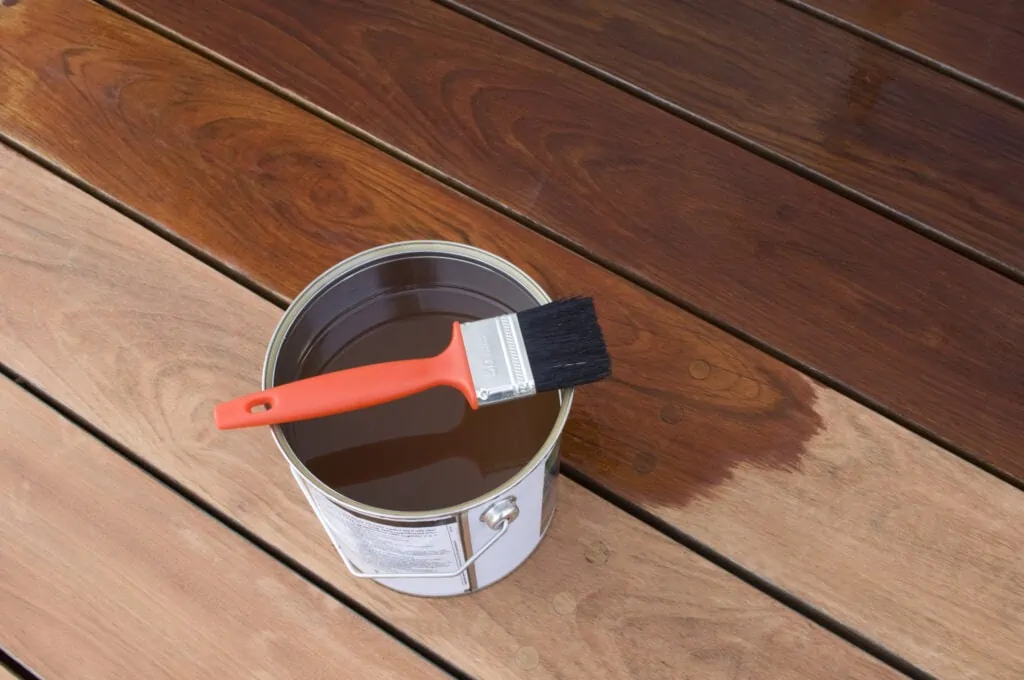 What is the Best Thing to Wash Decking With? 
Besides the tools needed, let's take a look at cleaning solutions. For a homemade solution, blending vinegar and baking soda is an effective all-natural cleaner. This solution also gets rid of mold and other stains. Pre-spraying with a vinegar and water combination and then sprinkling baking soda will eliminate mildew. Another combination is to clean with Borax – mix about 8 ounces of Borax with a gallon of warm water. This cleaning solution works very well on wood decking.
A natural deck cleaning solution that is easy to make is to combine a gallon of warm water, two tablespoons of ammonia-free dish or oil soap (such as Murphy's), and two cups of rubbing alcohol. Mix in oxygen bleach (don't use chlorine bleach, as this will harm your deck). Additionally, please note that your dish soap is ammonia free, as bleach and ammonia form toxic fumes. Protect yourself with work gloves. Another alternative version of a natural cleaner would be to use powdered oxygen laundry cleaner instead of oxygen bleach.
If you decide to go the store-bought route, determine what deck cleaner suits your needs. It will help guide you to make the best choice. If you need a cleaner to remove algae, oil stains, grime, or a brightener, choose the one that will help you the most. Be sure to follow the manufacturer's instructions for maximum benefit and safety.
How Often Should You Clean Your Deck? 
We recommend it at least once a year. A thorough cleaning should happen in mild weather; spring is usually optimum, so your deck is ready for the summer! However, if you live in an area with a lot of pine trees or trees that drop pollen – or walnuts – it may be best to clean several times a year.
Keeping your deck clean, sealed, and in good shape will ensure your deck will last a long time. It will be there for many years for family gatherings, barbecue grilling parties, kids' games, sipping drinks with friends, and general fun in the sun.