Renew the look of your home's exterior to boost its curb appeal.
By Matt Weber
The same dirt and debris that covers your car does the same to your house, dulling the paint finish and clouding the color tones that the world was meant to see. And whereas many American's wash their car several times a year—several times a month for others—they rarely give the same care and attention to the outside of their house, which is likely their most valuable asset. I'm always surprised to see an otherwise nice house marred by grime, mud or mildew, when these are problems that can be addressed much more easily than any sort of structural deterioration, and greatly add to the curb appeal of the home.
Secure your Perimeter
At least twice each year, preferably more often, you should fully assess your property from the outside inward to make sure no major maintenance issues have gone unnoticed. Professional home inspectors typically begin their job with a site analysis. Check that the grading around the building is sloped away from the home to shed water, and that all irrigation paths are clear and unobstructed to divert runoff away from the building envelope. Any accumulated brush, leaves or other organic matter that blocks drainage from the home's perimeter can cause water accumulation that could lead to moisture intrusion, mold and mildew problems, and eventually even structural problems due to hydrostatic pressure behind the home's foundation wall.
Check all downspouts for any sort of blockage. If the gutter system cannot adequately drain then water could back up at the roof line. Scoop away the old material and dispose of it properly.
Keep an eye out for dead wood near the house foundation. Dead wood is dinner to termites, and leaving any such accumulation near the foundation is effectively baiting termites from the ground toward the home. Whereas the latest scientific studies suggest that the high bark content in landscaping mulch does not have enough nutritional value to serve as a food source for termites, most experts still suggest keeping mulch 12 to 14 inches away from the home to avoid providing the type of moist, dark environment that termites like to explore when searching for dead wood.
This same type of organic matter—dead leaves, downed limbs, etc.—can pose similar problems to outbuildings and other wood structures around the home. Shovels, gloves, rakes and wheelbarrows will likely be the only tools you'll need to remove it. A powered blower can make quick work of clearing away rubbish. Keep decks and porches clean from leaves to reduce staining from mold and mildew.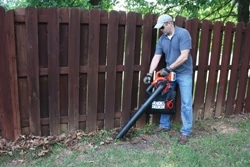 For similar reasons, clean the bottoms of deck posts and the bottoms of fences. Accumulated organic matter can retain water and transfer it to the wood, which may wick moisture up the end grain of the wood, contributing to rot and providing a pathway for pest infestation.
The EHT staff recently used Black & Decker's new LSWV36 Cordless Handheld Mulcher Blower Vac to clear some lawn debris.  Powered by a 36-volt lithium-ion battery, this lightweight unit works well as a directional blower and performed well when equipped with the larger inlet tube to vacuum dead leaves along a fence line. However, once we tried to clean up some fresh thatch left from edging a driveway, the mulching blades tended to bog down with the thick roots. Complete with debris collection bag and battery charger, the LSW36 is handy combo unit but one that's best suited for lighter landscaping fare.
Outdoor Wood
Wood decks and fences are common outdoor amenities, but they do require occasional maintenance. When wood is exposed to the sunlight, the ultraviolet rays can damage the fibers, causing the surface to turn gray over time. When wood is exposed to moisture and restricted to the shadows, mold and mildew can become a problem. The most direct way to renew the appearance is to sand or pressure-wash the surface. However, sanding can be very difficult and time-consuming for large areas, and pressure-washing must be approached with caution. The problem with pressure-washing is that too much pressure can damage the wood surface, removing the gray and green but causing the surface to fuzz or splinter. This can not only affect the wood's appearance, but can pose a "touch" hazard for areas such as deck surfaces where people may walk barefoot. When using a power-washer, limit your pressure to no more than 1,000 or 1,200 PSI and carefully work in the direction of the grain—never against it.
A less aggressive but effective method of cleaning is to scrub outdoor wood with a stiff-bristle nylon brush, just like you would your car. The EHT staff recently tried the new Deck Washer tool from HomeRight, which combines a scrub brush with pressurized water. The Deck Washer is a 13-in. wide broom on an extension handle that is lined with 14 nozzles. When attached to a standard garden hose, the nozzles direct pressurized water right in front of the broom head for the most efficient scrubbing action. It's an effective design for cleaning deck boards, getting between cracks, and the cleaning action won't damage the wood surface.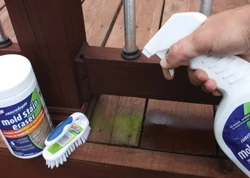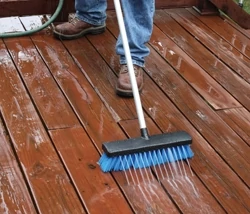 Hyde Tools offers the new PivotJet, a spray wand that attaches directly to your garden hose and features a patented nozzle that pivots up to 135 degrees to redirect the water stream. The pivoting helps you get over, under or into difficult spaces without having to bend, kneel or stoop. This method directs pressurized water, but is again safe enough for wood without damaging the grain.
A wide variety of outdoor wood and deck detergents are available online and at most home stores to facilitate the cleaning process. Most products come in concentrated formulations and can be applied with a brush or sprayer, but some products are available pre-mixed for spot application. The EHT staff tried the Concrobium product in a spray bottle on a few problem spots of deck mildew. It did a good job of addressing the areas without requiring a full bucket of detergent.
Gutter Systems
Gutter systems direct rainwater off the roof and away from the house, so a clogged system can pose a variety of problems. Accumulated organic matter can contribute to wood rot at the roof line as well as insect infestation. And, in cold climates clogged gutters can lead to ice dams. Ice dams can usually be prevented with proper attic insulation and ventilation, as well as waterproof shingle underlayment on the roof deck, but the water must have a way to first leave the roof in proper fashion. Insulation and ventilation keep the roof cool in the winter when you're heating your home. However, if these systems aren't functioning properly, then the accumulated heat in the roof can melt snow in the winter. The water from the melted snow runs to the eaves and gutter. If the water can't drain due to a clogged gutter then it refreezes to form an ice dam since the eaves are not heated.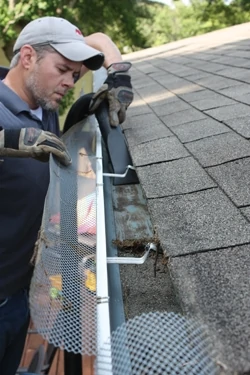 As the ice builds up, the melting and refreezing water backs up the roof, working into nail holes and between seams in the shingles. As the dam melts the water can then leak into the house and damage the walls and ceilings.
For asphalt roofs, some degree of granule accumulation in the gutter is normal, but if you see a lot then it may be time to replace the roof. Clean out gutter debris with a scraper and a garden hose, or use a powerful shop vacuum. The EHT staff recommends installing some type of gutter guard over the system which keeps large organic debris out of the trough.
Roof Cleaning & Prevention
One common complaint about aging roofs is the presence of black streaks or stains that may develop over time. The dark streaks are usually algae, and without the right chemicals, they can be difficult to address. Whereas a chlorine bleach or sodium hydroxide solution applied with non-pressure methods will kill black algae and generally rid the stains with the rinse phase, this method alone won't prevent the algae from returning in just a few months. These methods can also accelerate corrosion of metal gutters, downspouts, flashings and roofing fasteners, and chlorine can harm surrounding plant life.
An alternative option is to use a product such as Defy Roof Cleaner, a blend of detergents, coupled with a unique buffered Sodium Metasilicate—a chemical made from sand and soda ash, which is recognized as a non-pollutant. With spray-on/rinse-off application, this product will clean the algae without harming the roof or surrounding vegetation.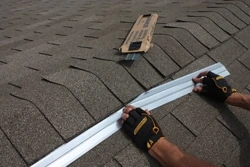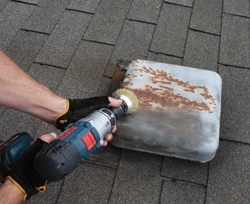 You can then follow the cleaning with a stain-blocking agent to inhibit new growth, or install zinc strips at the roof line. With the zinc system, when rain flows over the zinc, harmless zinc oxide is created. The invisible zinc oxide then coats the roof surface and inhibits the growth of fungus, moss and algae. Zinc strips are available from a variety of manufacturers and can be used on new or existing roofs. To install zinc strips, start at either end of the roof peak and install a continuous row under the ridgeline. Apply roofing cement along the sealant edge and slide the strip beneath the shingle, leaving the lower half exposed to treat the rainwater.
As long as you're on the roof, inspect roof penetrations for damage or signs of corrosion. Rust can be removed with a wire brush, and a new coat of paint or primer can give a quick facelift to weathered roof accessories.
Siding Solutions
Whereas wood siding may have its own set of maintenance issues, metal, concrete and masonry siding can be cleaned fairly easily with a long-handle scrub brush or a pressure washer. Furthermore, many of the recent spray-on bleach products are designed to clean on contact, requiring only a rinse coat to do the job without the work of scrubbing. Read the product's instructions carefully, as some cleaners require mixing with chlorine bleach and necessitate that you spray surrounding vegetation with water prior to cleaning the siding.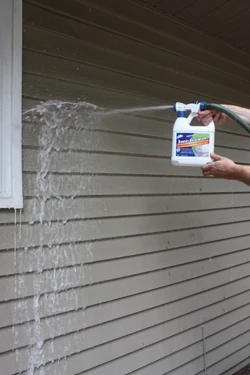 The EHT staff recently tried the Concrobium House & Deck Wash, which conveniently connects to a garden hose and mixes with water as you spray it from the container. The container also features a valve to rinse off the cleaner with pure water. Although the manufacturer's instructions stated that scrubbing was not necessary, I did it anyway to ensure even coverage and to encourage any stubborn grime to let go of the siding. The cleaner worked well at brightening the house wall, a notable difference that you can see in the accompanying photos.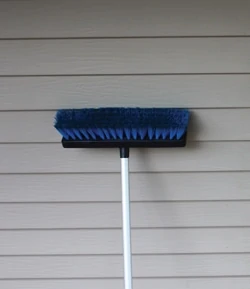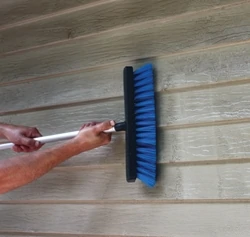 Pressure Washing
Although the concentrated power of a pressure washer may be too intense for certain wood-cleaning applications, these tools work wonders on metal, masonry and concrete. The PSI (pounds per square inch) rating of a power washer refers to the pressure that the washer unit is capable of producing. Pressure washers rated up to 2,200 PSI are generally used only for light-duty tasks, like cleaning away mud and dirt from automobiles and lawn equipment. Washers rated 2,200 to 3,000 are intended for more frequent use or larger jobs, like cleaning the siding of a house.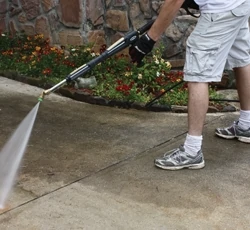 The right nozzle also makes a big difference in washer performance. Most manufacturers offer color-coded nozzles for easy selection that attach to the end of the washer wand through a standard quick-coupler. Some nozzles spray a fine fan of water for easy coverage when spraying a cleaning agent. When you need to blast away tough stains on concrete, switch to a zero-degree nozzle, which shoots a concentrated jet that can cut through stubborn dirt and discoloration.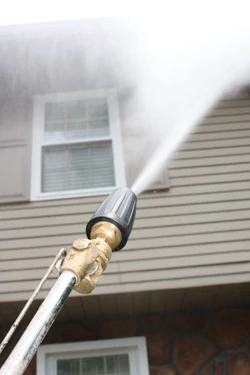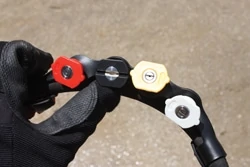 Stubborn Stains
For stains on brick and masonry, try hitting the areas with a wire brush. The harsh abrasion will often remove the stain by actually scraping away the surface of the material.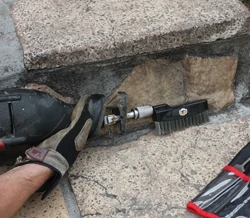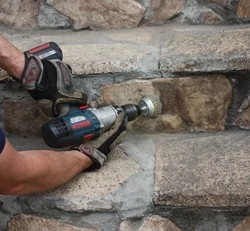 For deep-seated stains that you can't otherwise remove, there is the option of muriatic acid to effectively remove rust from concrete, green algae on sidewalks, brick efflorescence, smoke and creosote stains. However, this is a caustic and potentially dangerous chemical. If this last resort is necessary, you might consider a product such as MasonrySaver Safer Brick & masonry Cleaner, which uses muriatic acid with proprietary additives that virtually eliminate the dangerous, toxic fumes and potential acid burns normally associated with muriatic acid.