Radiant Heat Roundup: In-Depth look at the Hottest products in Underfloor Heating.
The concept of radiant heat is gaining popularity for today's homeowners. Instead of relying solely on noisy forced-air systems or a radiator that creates pockets of hot and cold air throughout the room, these energy-efficient radiant systems heat the floors of a home, which then transfers heat evenly throughout the rest of the room. In addition to eliminating the shock of cold floors on bare feet, the other objects in the room (couches, chairs, etc.) will be heated via the floors, allowing the average temperature of the room to be lower while maintaining a higher level of comfort for the people in it. This allows homeowners to save big on their heating bills. Other benefits of radiant heat include the absence of visible heating components and the quiet operation of the systems. Also, because there's no forced air, the systems do not circulate dust and allergens that can cause respiratory problems.
Beyond interior floor heating, radiant systems have outdoor applications as well, such as installed in a sidewalk or driveway for ice-melting applications to create a safe, slip-free walkway. Some systems can even be installed at the roof line to prevent ice dams. There are several methods of installing radiant heat, including water-based hydronic systems and all-electrical systems, and the method you choose will depend heavily on the design of the house and the rooms in which you want to add radiant heat. Here is a roundup of some popular systems currently on the market.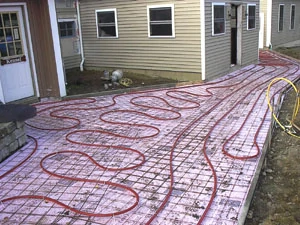 Hydronic Systems Made Easy
The Radiant Floor Company of Barton, Vermont, designs and builds hydronic radiant heating systems especially for do-it-yourselfers and small contractors. The company has engineered their systems to be straightforward, easy to understand and efficient. The design service is free and includes a Zone Calculation Worksheet that includes heat loss calculations for each zone; pump types and sizes, tube spacing, circuit lengths and the full list of components included in each customer's specific system. Radiant Floor Company technicians work directly with customers to design site-specific radiant floor heating systems tailored to the customers' specific needs.
To help the installation go smoothly, a 37-page Design and Installation Manual, written in non-technical language, is available free of charge. The manual offers an easy-to-understand overview of radiant heat, as well as hands-on methods and techniques for installing a first-rate radiant system. A highly trained technical support team is available 66 hours a week to answer any questions or issues. To learn more, call 1-866-WARM-TOES or visit www.radiantcompany.com.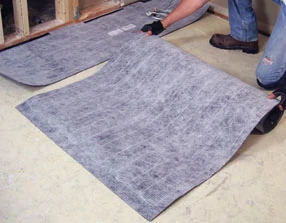 Heated Tile in a Snap
Last year the EHT staff installed a two-component heated tile system for a heated tile floor. The radiant heat component is called QuietWarmth, from MP Global products, which is a system of low-profile, electric underlayments. The wire-embedded underlayment mats line the floor and are butted at the seams to function like a hidden electric blanket beneath the tile. The mats replace typical floating floor underlayments, making the total overall thickness from subfloor to floor surface only around 3/8 inch. QuietWarmth (www.quietwarmth.com) not only deadens impact sound from the hard surface flooring, but it also makes the surface warm enough for bare feet, and assists with heating the room.
Although QuietWarmth can be used beneath a wide variety of flooring materials, we covered it with Avaire Interlocking Tile from CoMc, LLC. Avaire (www.avairefloors.com) is genuine porcelain tile that is permanently attached to a non-skid, sound-deadening grid. This is a floating tile system, so no thinset or cement board is needed, which saves lots of labor. It's so easy, even a first-timer can tile an entire room in a single day, because the tile simply clicks together with a little help from a mallet and block. Just add the flexible grout, and the floor is complete. The end result is a beautiful porcelain floor that heats up with the simple control of a thermostat.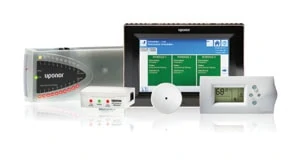 Complete Control from Uponor
For houses with hydronic radiant floor systems, the Uponor Climate Control Network System is a modular, expandable, integrated hardware and software package that connects all of a home's heating, ventilation and air-conditioning (HVAC) components to a single system for better energy efficiency, control and monitoring.
Experience total climate control via a single thermostat, an optional high-definition touch panel interface or even a computer. The system allows users to select which components they need now, and offers the flexibility to include additional components later. It features Cat5 wiring for simple plug-in installation and setup, saving time and eliminating complexity, and is designed to routinely perform two-way communications throughout the network, eliminating the need to program each system component separately. The Network System also offers web access for control from a remote location. Additionally, the recessed design of the wall thermostat and sensor ensures these components are less obtrusive on the wall to better flow with the home's décor (www.uponor.com).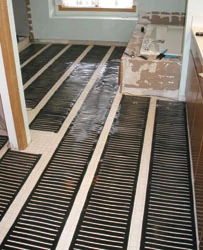 STEP Warmfloor for Low-voltage Heating
STEP Warmfloor from Electro Plastics, Inc., is another radiant system the EHT staff has first-hand experience installing, thanks to a recent bathroom remodel. This system utilizes a series of energy-efficient, patented electro-plastic elements that is distinctly different from most other electric systems. According to the manufacturer, STEP Warmfloor is also the only low-voltage, self-regulating system available. Operating at only 24 volts, the system's self-regulating feature draws only the required energy to maintain an ideal temperature.
STEP Warmfloor is available in easy-to-install kits, with everything you need for installation, including: the heating elements, a 24-volt transformer, terminal board, connector kit and the connecting wires needed. The company makes it extremely easy to design and lay out your floor. Their website has a work sheet that you fill out with the details of the room. Also included is a squared drawing so you can sketch in room dimensions. Your kit includes a flooring layout diagram as well as full instructions. The product was developed in 1981 and is still made in the USA. For more information, visit www.warmfloor.com.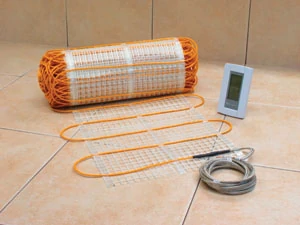 Radiant Heat for Tile, Stone and Marble
ThermoTile is an electric radiant flooring that is suited for tile, marble, stone or porcelain floors, but can be installed under any surface when embedded in thinset mortar. This product is constructed of fiberglass mesh with a factory-mounted 1/8-inch-thick heating cable. This is an installation-friendly system in which the 10-foot armored and grounded lead wires are pre-attached to one end of the 1-1/2-foot wide radiant floor heating mat. There's no need to worry about where the in-floor heating mat ends, because you simply cut the mesh and turn it any way to fit your floor space.
According to the manufacturer, ThermoTile radiant floor heating systems are manufactured, unlike any other electric floor heating system, with both a current return wire to cancel the electromagnetic field (EMF), as well as an inner foil wrap to suppress 100-percent of the EMF. This ensures the system creates no interference with telephones, radios, pacemakers, hearing aides or television.
A second product, ThermoFloor electric radiant flooring, installs under floating laminate and engineered wood floors without cement. To learn more, call (847) 279-3800 or visit www.thermosoft.com.
Save Energy with an Outdoor Reset Control
Most hydronic radiant heating systems are controlled by on/off thermostats activating zone valves or pumps. These thermostats are not able to provide maximum energy savings because they are usually inaccurate and reactive in nature. Even after they turn off, the thermal mass of the heating system will tend to overheat the space.
As an alternative, an outdoor reset controller anticipates what is going to happen inside the building by constantly monitoring changes in the outdoor temperature. Based on this information, the controller adjusts the water temperature according to a reset curve. When it's colder outside, the water temperature is higher. When it's milder outside, the water temperature is lower. This results in a much more accurate indoor climate that does not overheat. By maintaining a more stable temperature the indoors can typically be kept a couple of degrees cooler without discomfort. For each degree reduction over a season, the homeowner will see 2-1/2-percent energy savings.
Plus, a modern outdoor reset controller should have all the functions needed to achieve maximum energy savings, such as a clock and calendar for night setback and holiday schedules. Lowering the heating water temperature at night is on e of the surest ways to save energy. For more information on outdoor reset controls, visit www.pexheat.com.