It's that time of year. You have your plans, you have your to-do lists. Now it's time to make sure you have the tools and materials you'll need to finish those projects. We have compiled a list of tried and true products that have served us well over many years and some great new products as well. These products will help the diy'er or tradesman get the job done in a timely fashion and do it right the first time. Let this list help you get started today…the birds will be singing and the flowers will be blooming before you know it!
Patio Roof Riser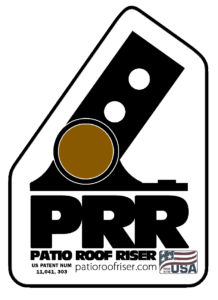 In the past, attaching an elevated deck patio cover to any structure, required posts mounted through the existing roof.  As roofs run different pitches, these labor intensive post mounts have to be customized for each roof. They also require cutting into the existing roof, increasing home-owner and contractor liability with the risk of possible future roof leaks. Non-elevated patio covers reduce light, restrict airflow, encourage debris build-up and require engineered posts in undesirable positions, often obstructing windows and entry ways and limiting usable deck space. Patio Roof Riser offers a solution with it's custom designed adjustable roof mounting bracket. Patio Roof Riser is
the perfect adjustable pitch mounting bracket for patio roofs.
Now you can easily mount your posts to ANY pitch in minutes with NO ALTERATIONS to your roof! Visit Booth 442 at JLC LIVE New England or patioroofriser.com
The Hardie™ Architectural Collection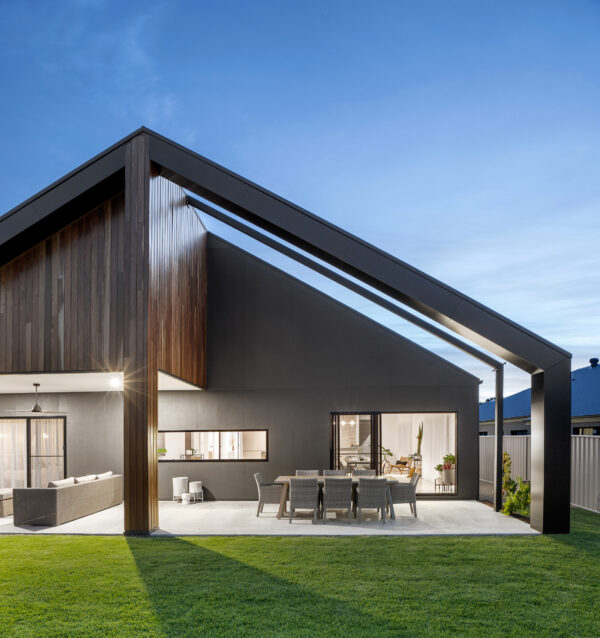 The Hardie™ Architectural Collection is an innovative portfolio of new products that lets the world reimagine what's possible for home exteriors. The Hardie™ Architectural Collection debuts with a brand-new suite of premium Hardie™ Architectural Panels in distinctive textures inspired by nature. James Hardie debuts these new products in response to several megatrends in the industry, including labor shortages, consumers looking to personalize and modernize their homes, and demand for more sustainable exteriors that offer protection against damage from severe weather.
The first generation of products in the Hardie™ Architectural Collection offers a modern, integrated solution of fiber cement panels and metal trims that deliver fresh looks with the trusted protection and lasting beauty of Hardie™ fiber cement technology. The first generation of Hardie™ Architectural Panels in the Collection are:
Hardie™ Architectural Panel – Fine Sand1
Hardie™ Architectural Panel – Fine Sand-Grooved1
Hardie™ Architectural Panel – Mounded Sand1
Hardie™ Architectural Panel – Sea Grass
Hardie™ Architectural Panel – Sculpted Clay
The Hardie™ Architectural Collection is a suite of panels and accessories that meets the specific needs of local markets globally.
Hardie™ Architectural Panels are made with Hardie™ fiber cement technology, which is well known for providing homeowners with the benefits of low-maintenance, non-combustibility, and superior home protection against damage from severe weather.
Hardie™ Architectural Panels in Fine Sand, Fine Sand-Grooved and Mounded Sand textures are currently available in select regions of the United States, while Hardie™ Fine Texture Cladding is available throughout Australia. The first generation of the Hardie™ Architectural Collection will roll out on a region-by-region basis within the United States and globally in the coming year. Visit jameshardie.com
Enduro Steel Spiral Staircase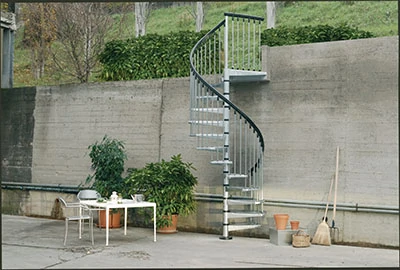 The Enduro Steel is the spiral staircase for outdoors. It combines long-term durability with high standards of quality and craftsmanship in design. The kit from Arke Stairs includes hot-dipped galvanized steel for protection against rust and weather, stainless steel hardware, and an extruded black PVC handrail. The Enduro Steel also offers a landing which can fit a square or rectangular opening, or adjoin a header/mezzanine. The handrail is a continuous length of extruded black PVC. Written instructions and a demonstration video or DVD are included. Basic household tools are all that are needed for assembly. Visit www.arkestairs.com.
DeckWise Hardwood Finishes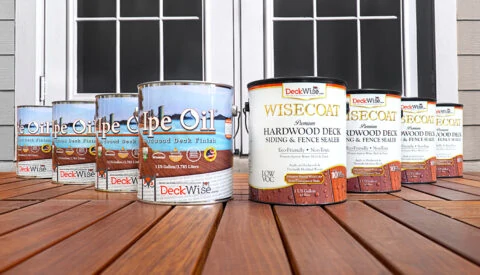 DeckWise® Hardwood Finishes are the perfect means to refresh and restore your deck or siding to its glory days. Ipe Oil® semi-transparent hardwood finish will bring out and restore the natural wood color of any hardwood, add protection harmful UV rays, and can add years to your hardwood lifespan with annual upkeep. While most wood finishes form a film on the surface of the wood, the low VOC Ipe Oil® penetrates into the hardwood grain and is not a surface film that will bubble, crack, or peel.
Looking for a water-based hardwood finish? Check out the DeckWise® WiseCoat® Premium Hardwood Deck, Siding & Fence Sealer which is also a semi-transparent wood finish. This unique formula absorbs deep into the wood at a molecular level, and protects hardwoods from premature aging and decay. Guaranteed to prevent excessive water accumulation below the wood surface for up to six (6) years on horizontal surfaces and up to ten (10) years on vertical surfaces.
To learn more about either of these two hardwood finishes, or any product offered by DeckWise®, head to www.DeckWise.com for product information and to find a dealer near you.
Green Machine 62 Volt 22-inch Cordless Rear Wheel Drive Lawn Mower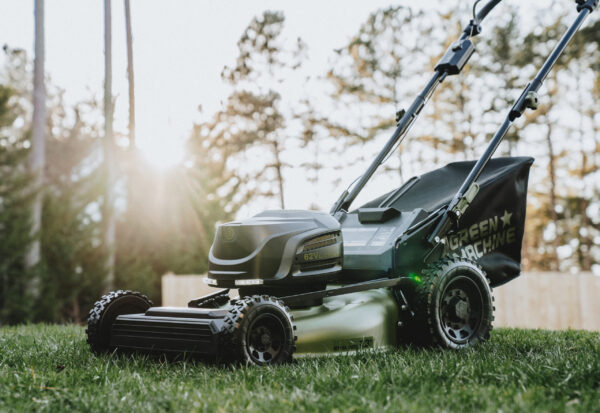 Green Machine delivers the ultimate cordless mower. Packed with two high capacity 62-Volt 4 Ah lithium-ion batteries that power this self-propelled rear wheel drive lawn mower, giving you up to 45-minutes of run time on each fully charged battery. No gas or oil needed. No harmful fumes. The inch high-domed steel deck with 22 inch cutting width lets you cover more ground quickly. 11-inch rear wheels provide added traction for maneuvering uneven terrain and for mowing around trees and bushes. Brushless motor technology provides gas-like power with more torque and longer motor life. Choose how you dispose of your yard clippings with mulch, bag or side discharge options. Single-lever wheel height adjustment allows you to easily adjust cutting height to 1 of 6 cutting positions. Once finished, the Green Machine 62-Volt 22-inch Cordless Rear Wheel Drive Lawn Mower can quickly be stored vertically, freeing up valuable storage space. Exclusively at Home Depot
T-JAK Multi-Purpose Support Tool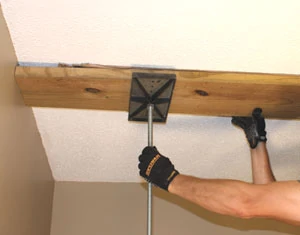 For homebuilders, remodelers, and do-it-yourselfers who've long needed a helping hand to precisely lift and hold heavy, awkward loads such as kitchen cabinets, ceiling drywall, crown moldings, tub surrounds, door/window headers, garage door openers, rafters and soffits, even decks and ductwork during installation, there's the T-JAK Multi-Purpose Support Tool by Patterson Avenue Tool Company, a leader in installation innovation.
Like having an extra pair of strong hands on site, the complete T-JAK support system quickly adjusts from 15" to 10' to raise and hold objects weighing up to 400 lbs. in place for installation with optional extensions and accessories.
For more info www.tjak.com
Armstrong-Clark Wood Stains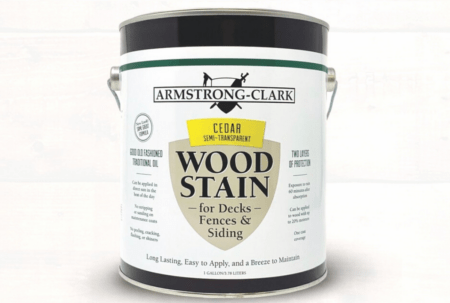 Armstrong's deck and siding wood stain has nondrying conditioning oils that separate from the drying side of the formula. These oils penetrate deep into the deck or siding wood fiber where the wood's natural oils used to be. This process rejuvenates the wood. The drying oils stay at the surface, lock in the conditioning oils and create a dry to the touch barrier. Armstrong's deck and siding wood stain formulas also contain vegetable oils, transparent oxide pigments, water repellents, mildewcide, and solvent.
Quality is what Armstrong-Clark brings to you. Backed by 7 generations of oil-based coatings experience, coupled with modern technology, Armstrong-Clark can meet and exceed your need for oil based wood coatings. ArmClark.com
CAMO® ClipDRIVE™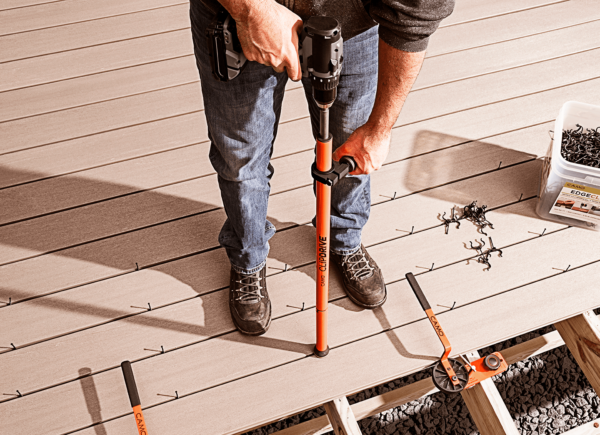 The CAMO® ClipDRIVE™ is designed for fastening CAMO Universal Deck Clips, the ergonomic, lightweight tool attaches to any drill and allows you to stand comfortably while fastening any type of grooved deck board up to 5X faster than traditional methods. Created with input from contractors, the ClipDRIVE features a height-adjustable handle for builders of any size and a weighted nose to make targeting screws easier.
The height-adjustable handle and weighted nose allow you to quickly swing the tool from joist to joist and easily target the exposed screw head. With a simple design and reliable performance, you don't need an instruction manual to get to work with ClipDRIVE. The heavy-duty contractor-grade tool is simple to put together and comes with a T-15 bit that's easy to install.
When used with CAMO® Universal Deck Clips, the ClipDRIVE is the fastest, easiest and most comfortable way to fasten leading grooved decking in the industry. After securing your first board with CAMO STARTER Clips, set a field of deck boards and CAMO Clips in place. CAMO offers EDGE® Clips to fasten deck boards in a 90-degree pattern, CAMO EDGEX® Clips to install at any angle deck pattern and CAMO EDGEXMETAL® Clips for 14–18 gauge metal frames. The clips don't require partial installation, staying in place on the joist or the groove of the board. For the most efficient install, add 2–4 CAMO LEVER® tools to the job to lock in the field of boards and clips freeing you up to fasten. Then, quickly fasten the clips up to 5X faster with the CAMO ClipDRIVE—a huge time-savings.
Like all CAMO products, CAMO ClipDRIVE, Universal Deck Clips and LEVER are backed by a CAMO Warranty for use with leading deck boards so you can confidently use them on every install. Learn more at www.camofasteners.com.
DryJoistEZ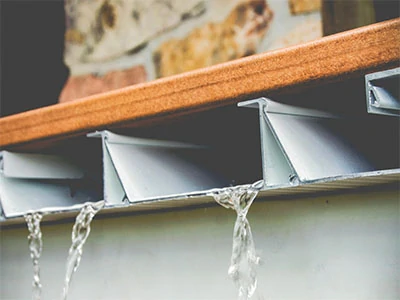 DryJoistEZ is the first and only structural deck drainage system on the market. Unlike traditional wooden deck joists, DryJoistEZ's surface boards are supported by the same integrative structural design, enabling you to create a 100-percent dry area below your deck. DryJoistEZ uses only two components and is engineered for versatility, speedy installation and easy handling. Available in lengths up to 24 feet, with a spanning capability of 6 to 8 feet, DryJoistEZ is perfect for balconies and decks for both residential and commercial decking applications. Creating a waterproof channel for your deck is no longer an afterthought to design. DryJoistEZ's integrative engineering is a single system, eliminating 'add-on' underdeck gutter systems or drainage substructures. This 100-percent waterproof decking solution also comes with an industry-leading leak-proof guarantee. Visit wahoodecks.com
Red Devil Paintable Silicone

Red Devil Paintable Silicone is an ultra-premium sealant with a superior hybrid formulation. It provides the exceptional waterproof performance needed from a silicone sealant with unmatched paintability. This 100% waterproof sealant is ideal for wet and dry applications, which makes exterior projects and waterproofing a breeze.
Paintable Silicone is paint-ready and rain-ready in 30 minutes. This sealant is also permanently flexible, shrink-proof, freeze-proof, sun-proof, won't crack or crumble, and is mold and mildew resistant when cured. Plus, it is backed by a lifetime guarantee and meets or exceeds ASTM C920 Class 25 spec rating.
Visit reddevil.com to learn more.
Howard's Stainless Steel Cleaner & Polish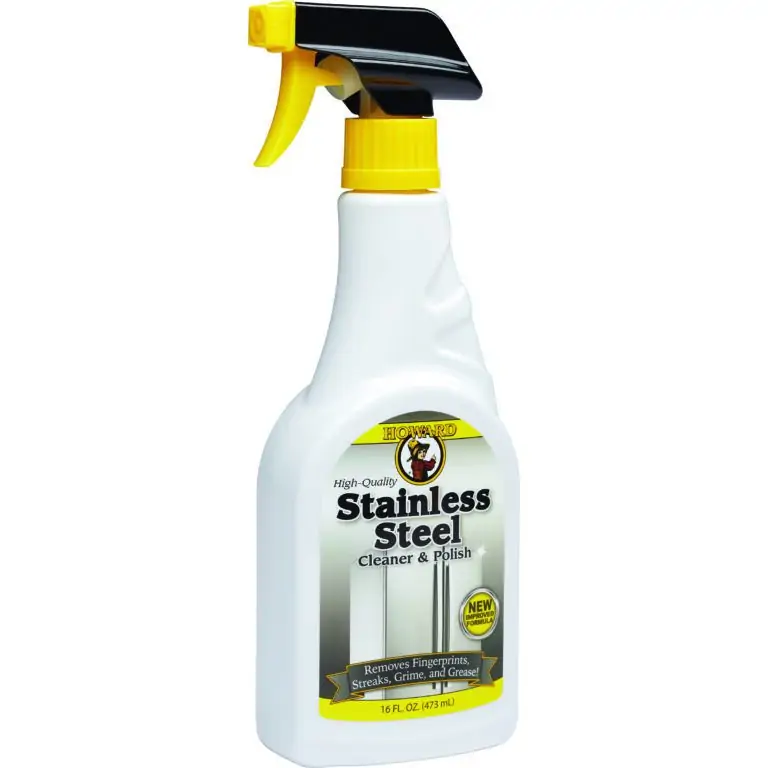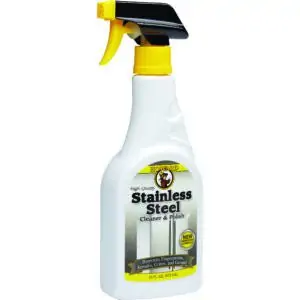 Howard Stainless Steel Cleaner & Polish has been reformulated with high-quality ingredients that produce a beautiful shine without streaks to bring your kitchen to the next level. It can be used on many stainless steel surfaces including: refrigerators, range hoods, grills, stoves, ovens, microwaves, dishwashers, sinks, trash cans, countertops, backsplashes, and other stainless steel appliances.
Superior streak-free formula easily removes fingerprints, streaks, grime and grease
Ideal for polishing stainless steel refrigerators, dishwashers, microwaves, stoves, countertops, grills, toasters, trash cans, faucets and sinks
Cleans residential and commercial stainless steel kitchen surfaces and appliances
Perfect addition to your cleaning arsenal for housekeepers and do-it-yourselfers
High-quality formula makes routine cleaning stainless steel convenient and easy
Works great on outdoor stainless steel grills and appliances
Howard Stainless Steel Cleaner & Polish is available on Amazon.com and other fine retailers. For a list of all retailers, visit  HowardProducts.com
Bigfoot Systems® Footing Forms and Tubes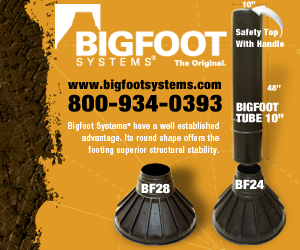 Whatever the weather, Bigfoot's 12" plastic tube (BFT12) delivers a simple, yet dependable way to build footings. Ground water or rain poses no threat to our Bigfoot tubes. The tapered plastic design prevents uplift from frost and high velocity winds.
The BFT12 meets or exceeds all Local and National Building Codes when used with a Bigfoot Systems® Footing Form. It measures 12" by 4' and can be used with Bigfoot Models BF28 or BF36.
In 2012 Bigfoot Systems Inc. added a 10" plastic tube (BFT10) to our product line. The BFT10 quickly took off as contractors and do-it-yourselfer's like the idea of having the security of their tube not breaking down and collapsing from ground water, rain or wet soil as well as the added protection from frost heave the BFT10 offers due to its tapered design and slick surface.
In Mid 2018 Bigfoot Systems Inc. introduced the 12" plastic tube (BFT12). The BFT12 has the same design as the 10" tube and works with both the BF28 and BF36 model Bigfoot. With the BFT12 addition to our product line we are confident we have the most complete pier foundation footing form system on the market with 4 different size Bigfoot accepting 7 different size cardboard tubes and 2 sizes of the most commonly used plastic tubes.
For more info visit https://www.bigfootsystems.com 
Wolmanized® Wood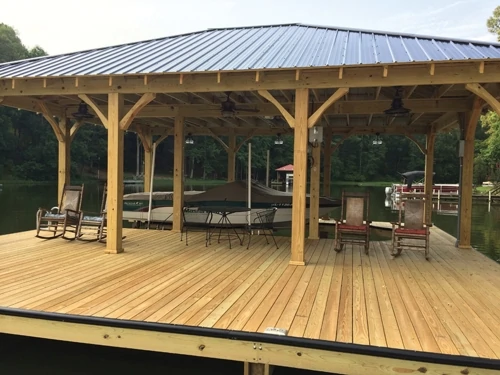 The EHT staff has relied on Wolmanized® Wood for outdoor projects for 20 years. Southern Pine pressure-treated with Wolmanized® copper azole preservative treatment. This No. 1 grade wood is treated with micronized CA-C for Ground Contact as well as for Freshwater Immersion, meeting all building code requirements. It's a great building material for docks, decks, retaining walls, fences, picnic tables, planter boxes, walkways, sill plate and structural members. The lumber's S4S designation means it's sanded on four sides for a finished, professional look. And, Wolmanized Outdoor® wood has earned the Good Housekeeping Seal, has been certified by Home Innovation Research Labs as meeting requirements for termite-resistant materials in the National Green Building Standard™, and has been verified by the internationally recognized EcoSpecifier. It comes with a limited warranty for most residential applications and, to top it off, it costs less than alternatives such as tropical hardwoods and artificial wood. For more info visit,wolmanizedwood.com
 Purdy® Cub Brush™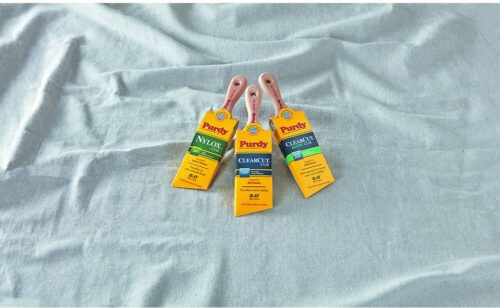 Shorter handles have increased in popularity as professionals and DIYers look for paint brush options that provide better ergonomics. That's why the Purdy® brand has added three new brushes to its Cub Brush™ line. With short, smooth alder wood handles that wick away moisture and have a comfortable ergonomic fit, the new Cub Brushes—available in 2-inch Nylox™, Clearcut® and Clearcut® Elite™—are lightweight and easy to control. The shorter handle delivers precision and allows painters to easily reach tight spaces when cutting in corners, painting cabinets and shelving, and doing trim work. Purdy.com
DEWALT 20V MAX* XR® 1/2 In. Mid-Range Cordless Impact Wrenches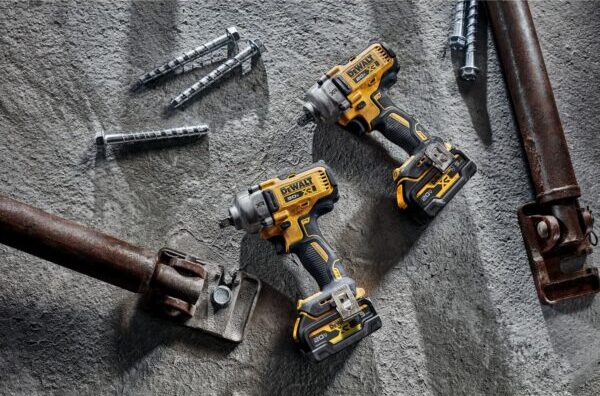 DEWALT has announced two new 20V MAX* XR® 1/2-in. Mid-Range Cordless Impact Wrenches: DCF891 with a Hog Ring Anvil and DCF892 with a Detent Pin Anvil. Each impact wrench delivers up to 600 ft-lbs. of maximum fastening torque and 800 ft-lbs. of maximum breakaway torque where power is needed in compact spaces. The impacts are designed with a Precision Wrench™ feature to improve user control and help prevent overtightening in forward mode and run-off in reverse mode. The lightweight and ergonomic design allows users to complete a variety of demanding applications.
DEWALT 20V MAX* XR® 1/2-in. Mid-Range Cordless Impact Wrenches will be available where DEWALT products are sold in April.
Eldorado Stone Koryak Ridge™ Stacked Stone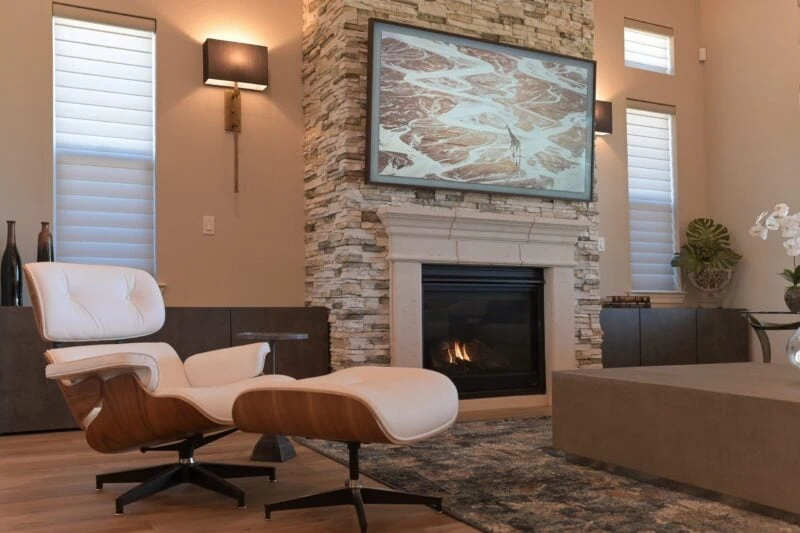 Eldorado Stone offers  an array of stone and brick profiles inspired by textures found in nature.
Koryak Ridge™ Stacked Stone has a gradient of white, cream, and ivory tones that dominate the palette, while touches of tawny-brown and sand are infused throughout to provide intricate detail. The classically elegant hue blends old-world textures with bright, modern tones to provide a multilayered design statement to suit a wide range of residential spaces.
"With biophilic design exploding in popularity, specifiers want to incorporate natural materials into familiar environments such as work and home," said Sarah Lograsso, Director of Marketing and Portfolio Management at Eldorado Stone. "These trendsetting color palettes present nuanced hues and colorways on the familiar textures of the natural world, providing a variety of options to help shape the memories people will make in their favorite spaces."  Visit Eldoradostone.com
SNEAK PEEK!
Monster Pivot Door System™ coming in 2022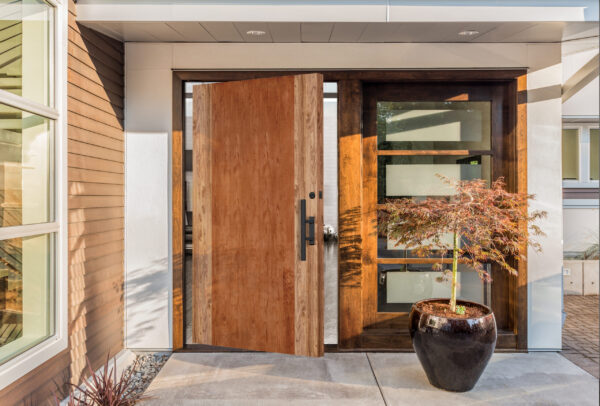 Simpson Door Company is taking customization and efficiency to new heights in 2022 with its Monster Pivot Door System. The stunning, oversized doors can be custom-made to span up to 12 feet tall and up to 10 feet wide to create a showstopping entrance. A contemporary alternative to traditional assemblies, the company's latest offering makes it possible to marry the sought-after look and functionality of an oversized door on a pivot hinge with the simplicity of a ready-to-install system. A no-fuss option that takes the guesswork out of the installation process, the Monster Pivot Door System comes with high-performance hardware that makes it easy for home builders to purchase and install a truly one-of-a-kind door. Like anything from Simpson Door Company, the Monster Pivot Door System can be customized to accommodate a range of design aesthetics. Visit https://www.simpsondoor.com/