Lansky Control-Angle Sharpening System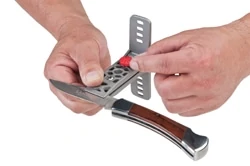 Expert craftsmen know the secret to proper knife care is maintaining a good bevel and a consistent angle along the entire edge of every knife. That's why, more than 30 years ago, Arthur Lansky LeVine created a product line built around a "foolproof" Controlled-Angle Sharpening System. The Lansky system makes it a simple three-step process for anyone to get a consistently uniform sharp edge on every knife, every time. The system includes everything required in a handy carrying case. All of the kits include an ambidextrous knife clamp with guide holes for 17°, 20°, 25° and 30° sharpening angles. Also included in the case are guide rods for each of the color-coded, finger-grooved sharpening hones, as well as honing oil and easy-to-follow multilingual instructions.  Once the knife is attached to the clamp, the user can create a bevel or sharpen both sides of a blade at the same consistent angles without further handling.  Lansky offers seven different versions of the Legendary Controlled Angle Sharpening Systems, available with alumina ceramic, diamond or natural Arkansas hones. Each system includes several hones of different abrasive grits to handle any sharpening task including lawn and garden tools and serrated knives. Visit www.lansky.com.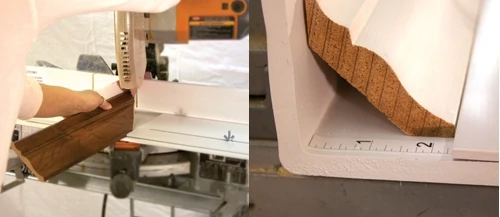 Crown Master Mitre Box
The Crown Master Mitre Box is designed to easily facilitate cutting mitered joints in crown and other types of molding that sit at an angular tilt. The Crown Master Mitre Box is easy to set up and is customizable to any crown up to 4-1/2 inches wide. It requires no mechanical means of attachment to the saw you're using, making it easy to use the same saw for other purposes, without changing any of the angles set up for your crown. The CMMB has integrated stops on the bottom allowing you to align the saw blade exactly every time, making it easier to cut small slices and repeat cuts. Three different kits are available; the Basic Kit, the Pro Kit, and the Pro Plus Kit. Both the Pro Kit and the Pro Plus Kit contain an Auxiliary Kit designed for miter cuts greater than 45 degrees.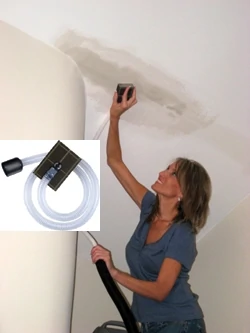 Vacuu-Sponge Dustless Drywall Sander
The Vacuu-Sponge is a dustless sanding sponge that will save time and money by eliminating dust while you sand. Simply connect to your shop vacuum for dust-free sanding. Use it on drywall, sanding sealer, primer, paint or anything that makes dust that you don't want in the air or lungs. It has all the convenience of a sanding sponge but none of the dust. This is a quick and easy dustless sander that captures nearly 100 percent of the dust and is compact enough to fit in your pocket. It comes with a 40-in. long, 5/8-in. diameter, flexible hose that connects the Vacuu-Sponge to a vacuum. The patented sponge has built-in vacuum channels and a center hole that channel suction to the work surface. Sanding sponges are replaceable and come in fine, medium and med/fine grits.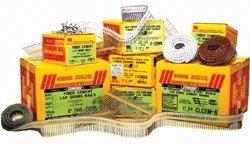 Maze Nails
This year Maze Nails is celebrating 165 years in business. The company began in 1848 and is now in its 6th generation of family ownership, proudly engineering and manufacturing a line of specialty nails that's 100-percent Made in the USA. Maze StormGuard double hot-dipped galvanized nails (HDG) meet and exceed the ASTM A-153 Class D specification for hot-dipped galvanizing. StormGuard Nails are recommended for the new lumber treatment formulations. Plus, as an environmentally conscious company, the nails are made from the highest quality domestic recycled steel, packaged in cardboard boxes made from recycled paper products, and the waste zinc is recycled into useful materials used in paint pigments, car tires, etc. Visit www.mazenails.com.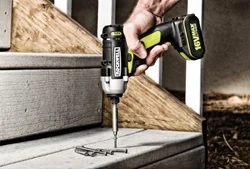 Rockwell 16V Lithium Drivers
To fill the gap between 12V and 18V tools, Rockwell's new 16V MaxLithium tools, a Drill/Driver and an Impact Driver, are both compact, lightweight and feature shorter head stocks than competitor models. The only 16V power tools currently in the pro tool marketplace, both tools have a torque rating that meets or exceeds all comparable 12V tools on the market but without the bulk associated with 18V or 20V tools, so workers can easily access confined spaces. Both 16V tools include a built-in LED work light, soft grip handle, an adjustable belt hook and they are part of Rockwell's Free Batteries for Life program. Visit www.rockwelltools.com.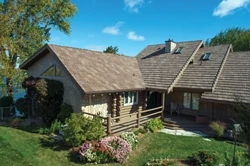 Bellaforte Shake Roofing from Davinci
Introduced to the marketplace in mid-2012, Bellaforté Shake polymer roofing tiles have a multi-width appearance that replicates hand-split cedar shakes with slanted sawn edges and staggered lengths. Plus, the 12-in. tiles feature snap-fit tabs and a self-alignment ledge for easy installation. The tiles come in 49 colors and a selection of five color blends, including Abruzzo, Espresso, Tuscano, Verona and Harbor Gray. Available nationwide, a square of Bellaforté Shake (100 pieces per square) weighs just 190 pounds. This lower tile weight helps reduce installation time and transportation costs. Just as with other DaVinci products, the Bellaforté Shake tiles are 100-percent recyclable and come with a 50-year limited warranty. Visit  www.davinciroofscapes.com.