It has been said that tools are the bridge between man and machine. But many people might not have thought about the history of tools. In prehistoric times, the first tools were simple rocks or sticks, or what scientists refer to as "simple machines." Over time, tools have become more complex, made from various materials and crafted for specific jobs. From early caves to modern garages, hand tools are still important and there are some manufacturers who have been making tools for some time.
One company that has been manufacturing quality hand tools for more than 129 years is Channellock Inc., in Meadville, Pennsylvania. While professionals and serious DIY'ers are familiar with the company's American-made pliers with the signature blue grip, they may not know that it hasn't always been known as CHANNELLOCK®.
CHANNELLOCK® was once known as the Champion-DeArment Tool Co. Before that, it was the Champion Tool Co. Even further back, it was simply a lone blacksmith who strived to design a better set of farrier's tools at the Champion Bolt Clipper Company.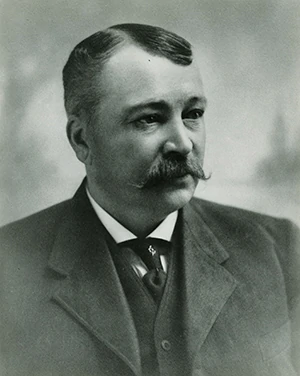 At 33 years old, George B. DeArment, the great-great grand-father of current president and COO Jon DeArment began the company by designing, testing and hand-forging hoof parers and nippers. According to history, he did this because he couldn't find any for sale that worked as well as he wanted them to. After developing a set of tools that he believed were superior to anything else available, he spent the winter of 1885 building up inventory of these new tools. In the spring of 1886, after the heavy rains had stopped and the roads were firm enough to allow a heavily laden wagon to pass, he loaded up his tools and hit the road.
DeArment family legend says he traveled from town to town selling farrier's tools until the entire inventory was gone, then sold his horse and wagon and took the railroad back home to Evansburg, Pennsylvania, which is now called Conneaut Lake.
DeArment grew his business over the next five years until 1891, when he started using the name of The Champion Tool Company. The company's reputation for quality tools spread quickly. In fact, in August 1902, DeArment received an order for a set of Champion farrier's tools from King Edward VII of England.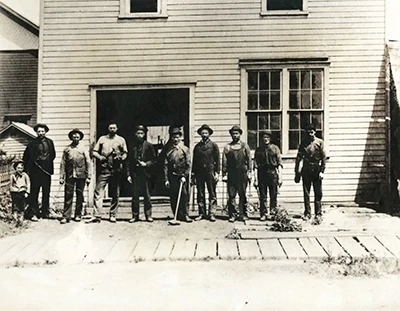 By the 1920s, the company was facing two major challenges. The first was that the market for farrier's tools was dramatically shrinking. The second was that the company name not only reflected aging technology, but it was not very distinctive. Using the name "Champion" for a company had become common and did not set it apart from other businesses. George DeArment's sons, Howard and Almon, decided the best course of action would be to expand the product line by adding pliers and change the company name to Champion-DeArment Tool Co.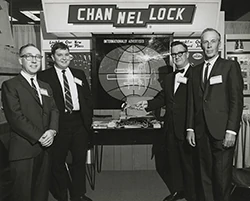 In 1933, Champion-DeArment Tool Co. developed a brand new tool that eventually led to the current company name. The company's chief engineer, Howard Manning, developed the tongue and groove plier, which, at the time, was a completely new concept for adjustable pliers. The company patented the plier and branded it CHANNELLOCK®. By 1964, the name CHANNELLOCK® had become so widely known that Champion-DeArment Tool Co. made the decision to change its name one final time to Channellock Inc.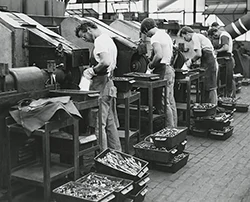 Today, Channellock Inc. is run by the fifth generation of the DeArment family. The company is based out of two facilities, equaling a total of 230,000 square feet, in Meadville, Pennsylvania, with nearly 400 full-time associates. The company manufactures more than 120 different sizes and types of pliers and hand tools. All CHANNELLOCK® pliers are still "fiercely made in Meadville, Pennsylvania, USA," as they often say. Channellock Inc. has more than 4,000 U.S. wholesale and retail customers and ships to customers in 45 countries.
The history of Channellock Inc. is more than a story of tool innovation. It is an American success story about a business that began over 129 years ago in a small town in Pennsylvania that eventually would become, with the help of American workers, a household name around the world.