By Matt Weber
A guide to pressure washers and accessories for the toughest cleaning tasks.
Why spend time and energy scrubbing something when you can blast it clean? The high-pressure water of a power washer can spay clean your home, your tractor, your driveway—you name it. Pressure washers transform a standard garden hose into a lean, mean cleaning machine. But, there's a lot to consider when spec'ing the best washer to suit your demands. When shopping, you should weigh aspects such as PSI versus GPM, gas versus electric power, belt-drive versus direct, and camshaft versus axial pumps. Here's a guide to the particulars, and some advice on how to a put a pressure washer to good use.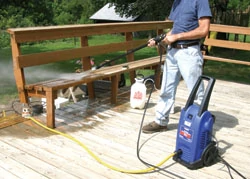 Water Power
The PSI (pounds per square inch) rating of a power washer refers to the pressure that the washer unit is capable of producing. Pressure washers rated up to 2,200 PSI are generally used only for light-duty tasks, like cleaning away mud and dirt from automobiles and lawn equipment. Washers rated 2,200 to 3,000 are intended for more frequent use or larger jobs, like cleaning the siding of a house. Washers rated up to 3,500 or more PSI are the heavy-duty units for professional applications at construction sites and paint-prep jobs. Pressure can usually be adjusted at the pump, but some nozzles feature adjustable pressure at your fingertips.

The GPM (gallons per minute) rating refers to the rate of water flow through the unit. Generally speaking, the higher the GPM, the more surface area the washer can clean. So, if you have large areas to clean, then pay close attention to the GPM rating. A washer with a 3-GPM flow rate can clean almost twice as much area as a 2-GPM unit in the same amount of time.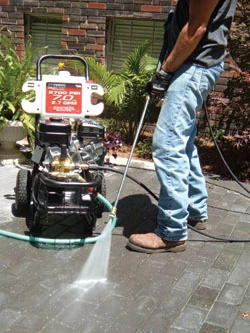 Gas or Electric?
Although electric washers offer the benefits of low maintenance and quiet operation, they are intended for occasional light-duty cleaning chores. They are also notably less expensive than gas-powered units. Plus, electric units are more compact than their gas-powered counterparts, which come in handy when working in tight spaces. Of course, for an electric unit, you need to run a cord to a nearby power source. Also, the National Electrical Code requires ground fault circuit interrupters (GFCIs) to be used when operating an electric model.
For more power, gas is the way to go. Paint prep and heavy-duty cleaning, for applications such as stained concrete; require a gas engine to power the pump. Gas units offer pressure ratings up to a whopping 4,000 PSI, and they offer easy portability because they aren't tethered to a power cord. All gas models are built with 4-cycle engines that run on unleaded gas.
In fact, for the toughest, professional-grade chores, some gas units are designed to operate with heated water. Most power washers use cold water, but for applications such as removing heavy, caked-on grease, some pressure washers employ either a propane or diesel burner to heat the water. However, a hot-water pressure washer is a high-priced, top-end unit for commercial use, and not recommended for most homeowners or DIY'ers because of the cost and maintenance required.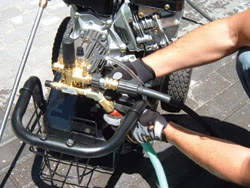 Pumps—What to Look for
The heart of the pressure washer is the water pump. Belt-drive pumps run at a lower RPM than direct-drive pumps and are insulated from motor vibration, which may extend the life of the pump. Direct-drive pumps are mounted directly to the motor. However, this direct mount saves the cost of a gearbox, pulleys and belts, which can result in up to a 30-percent cost increase for a belt-driven unit with the same power output. Aside from that, there isn't much difference in the performance of the pumps.
Basic pump designs come in three models: wobble, axial and camshaft. A wobble pump must wrestle against piston spring resistance on each stroke, which makes it the least efficient of the three models. An axial pump offers a bigger oil reservoir, larger bearings and larger cylinders, which equate to greater PSI and GPM. But piston spring resistance is still an issue, so an axial pump still doesn't offer the efficiency of a camshaft pump. Like a car engine, a camshaft pump uses connecting rods and positive-action pistons, which can result in as much as 85-percent more efficiency than an axial pump. Because this design generates much less heat, a camshaft pump can provide more than 1,000 hour of operation before requiring maintenance. A wobble or axial pump typically has a lifespan of only 200 to 600 hours.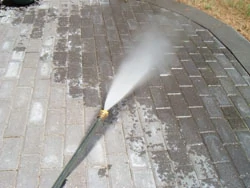 The Way to Wash
The fundamental setup of a power washer can blast away all sorts of dirt and debris using the water jet alone. But for more cleaning power, use a cleaning solution. Most pressure washers include an injection container that mixes a cleaning agent with the jet stream. For example, Campbell Hausfeld offers a full line of cleaners and detergents, including a Concrete Cleaner, Deck & Fence Cleaner, House & Siding Wash, Car & Boat Wash, and general-purpose cleaner and a heavy-duty degreaser. The rule of thumb for using these solvents is to make sure the label is marked "approved for pressure washer use."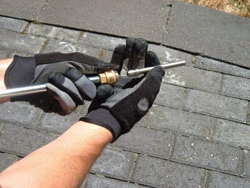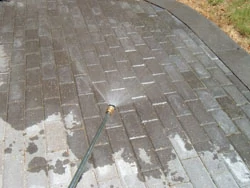 The right nozzle also makes a big difference in washer performance. Most manufacturers offer color-coded nozzles for easy selection, and the attach to the end of the washer wand through a standard quick-connect coupler. Some nozzles spray a fine fan of water for easy coverage when spraying a cleaning agent. When you need to blast away stains on concrete, switch to a zero-degree nozzle, which shoots a concentrated jet that can cut through stubborn dirt and discoloration. No matter which nozzle is right for the job, it is important to keep the spray a consistent distance from the surface for best results. To help the operator achieve this consistency, a new universal pressure washer wand attachment called Sprayglide® is now available.
Height adjustable, it provides control for the operator to easily maintain the proper distance from the surface, protecting the surface and eliminating physical stress on back and shoulders. Sprayglide® fits all wand and telescoping extensions.
The new LadderSaver nozzle extends the spray of the water jet. Just snap the nozzle on the end of the wand, and it extends the spray of your pressure washer with or without chemicals to heights of more than 40 feet. This means you can wash upper-story windows and high areas of house siding from the safety and convenience of terra firma; there's no need to use a ladder. The LadderSaver features one-piece, stainless steel construction and can be used with any size pressure washer.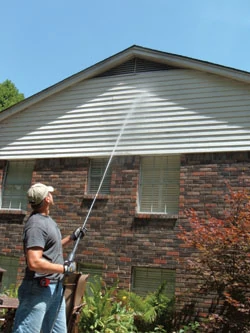 Although a pressure washer creates much higher pressure than a standard garden hose, you may often need the extra cleaning power of a brush or other accessories to power through the toughest cleaning jobs. Available are multi-purpose cleaning brush kits, as well as brush extensions for easy reaching.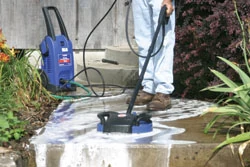 New among pressure washer accessories is Campbell Hausfeld's new Deck N Drive Surface Cleaner. This attachment cleans consistently in a single pass by spraying at an even distance and in area 8 times wider than a regular nozzle. Patented pressure regulation system allows you to adjust pressure for best results on all surfaces. It works with any pressure washer rated up to 2,500 PSI at 2.2 GPM, and includes a lance extension and adapters—perfect for cleaning decks, patios and driveways.
So, check the store aisles and the internet when shopping for your next pressure washer. There's bound to be a model to suit your needs, and they make a great tool for cleaning a home's exterior and boosting its curb appeal. You'll find models made by Troy-Bilt, John Deere, DeWalt, Husky, Coleman Powermate, Briggs & Stratton and Mi-T-M. For a heavy-duty model with the power for professional jobs, EHT recommends the Maxus 2705 pictured in this article. The Maxus 2705 offers 2,700 PSI at 2.7 GPM, a reliable Robin Subaru engine, a trigger-activated nozzle handle, on board hose storage and an accessory cargo basket. If you're choosing a pressure washer for residential use, Campbell Hausfeld offers a full line of high-quality washers, from 1,500-PSI electric models to 2,800-PSI gas models. For more information on pressure washers, a great place to start is www.campbellhausfeld.com. The company has been manufacturing tools and equipment since 1836, and these folks really know the business.
SIDE NOTE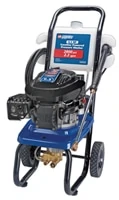 Pressure Points
When cleaning a new surface, start with a wide spray pattern and hold the nozzle 4 to 5 feet from the surface. Move closer to the surface until the desired effect is achieved. If you start spraying too closely, you could damage the surface rather than clean it.
Keep the nozzle in motion, spraying at a steady speed with long, even strokes to ensure consistent results.
Maintain a consistent distance between the nozzle and the cleaning surface.
When cleaning heavily soiled or stained surfaces with detergents formulated for power washers, apply the cleaner with smooth, overlapping strokes under low pressure.
When using a detergent, allow the cleaner to sit on the surface for a few minutes so it can do its job chemically before rinsing (but don't let it dry). When rinsing, start at the top and work downward for best results.