By Matt Weber
I recently spent a few days at the Home Depot headquarters in Atlanta, Georgia. I toured the facility, explored the company's Product Quality and Engineering Laboratory, and got a peek at the latest in tools and equipment from the premiere brands that will stock store shelves this year. When it comes to tool storage, the Depot has several nice product lines coming out from Husky, Milwaukee Tool, DeWalt and WeatherGuard.
I was particularly impressed to see The Home Depot Product Quality and Engineering Lab, where the company's engineers test private brand products to make sure they not only meet but exceed the customer's most demanding application expectations as well as the advertised claims. For example, a strength test that applies load on a Husky tool cabinet will have a heavy steel plate driven down onto it from the testing machine, and if the frame or wheels fail before it reaches the claimed load—plus a target safety factor above and beyond the published load capacity—then the cabinet has failed the test.

Another interesting test showed a Husky tool bag supporting a weighted barbell to determine the durability of the bag's carrying handle. The testing lab subjects the tools and equipment to all sorts of stress factors, including harsh environments such as salt air and extreme temperatures. Even the product packaging is put through the wringer of drop tests, crush tests, and all manner of roughing up to make sure a piece of equipment ships to the end-user in sound shape. I left the Home Depot headquarters with the impression that the tools—and toolboxes—that are sold at the company's outlets are built to last.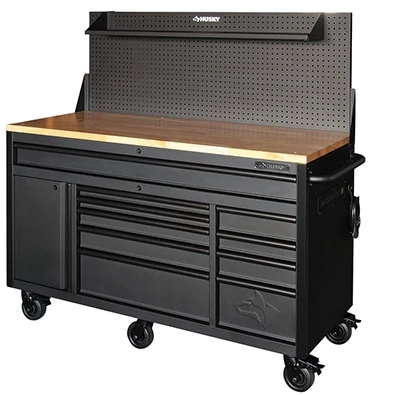 Husky Tool Storage
Husky is the house brand of Home Depot, and the new Husky 36-in., 12 Drawer Tool Chest and Cabinet (shown on page 12) is great for storing and organizing all your tools and hardware. The chest is made from all welded steel construction and finished with tough industrial red powder-coat paint. The twelve drawers and easily accessible top till provide a total of 21,704 cu. in. storage capacity. The drawers fully extend open and glide effortlessly on ball-bearing slides that can support up to 100 lbs. These slides also have a unique Secure Latch retention system that ensures your drawers are completely closed and secured. The top till has an integrated power strip with 4 outlets and 2 USB ports. Premium Drawer Liners are included to protect your tools. The reinforced top lid is supported by gas strut, and an ergonomic handle and 5×2-in. casters allow you to easily move the cabinet around your workspace. Total weight capacity of the cabinet is 1,200 lb. The Husky Heavy Duty Workbench (shown below) is massive with 26,551 cu. in. of storage space and 2,200 lb. load capacity. This rolling tool cabinet is built with heavy 19-Gauge steel and has a 24-in. deep workbench, which is 6 in. deeper than most standard rolling tool cabinets. The built-in, adjustable-height, 22 in. steel pegboard back wall can be raised or lowered into two different positions and holds up to 200 lbs. It also features a 48 in. shelf that attaches to the pegboard and can hold up to 40 lbs. The 1.2-in. thick, solid wood top is coated with polyurethane for added durability, and you can charge power tools with the built-in, 6-outlet, 2-USB power center. The 100 lb. rated, soft-close drawer slides keep the drawers from accidentally opening or from slamming shut. Included is a full-length drawer for longer items and two deep bottom drawers. The 1-door storage locker includes an adjustable-height shelf that can handle a 100-lb. load, and there's a side shelf for bottle and can storage inside the door. Both the chest and cabinet are fitted with a barrel key and lock system, and the industrial-grade casters with easy-locking pedals help the unit roll smoothly.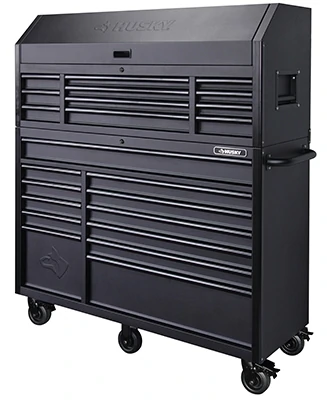 Mechanics and Auto enthusiasts will love the Husky 56 in. x 23 Drawer Tool Chest and Cabinet Set. This heavy-duty, 19-Gauge steel, rolling tool storage unit is rated for a 2,500-lb. loading capacity. The 9.5-in. deep chest lid storage along with the 23 drawers provide 37,795 cu. in. of storage. It features soft-close drawers with 100-lb. rated ball-bearing slides, and drawer liners are included to protect and keep your tools in place. The built in full-length power strip includes 8 outlets and 2 USB ports. Also included is a rechargeable magnetic LED work light, which has three light modes, a recessed folding hook, and produces up to 360 lumens. For added security, both the chest and cabinet are fitted with a lock system.
Not everyone has room for a huge tool chest, but any DIY'er can find room for a portable toolbox. Backed by a three-year warranty, the Husky 18-in. Rolling Tool Tote carries up to 100 lbs. and has skid plates that protect its telescoping handle. A large main compartment grants easy tool access, and it comes with a dual-zipper top and two external tape measure loops.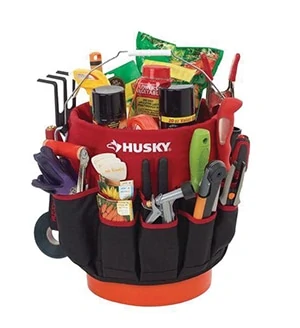 To throw together a grab-and-go project kit, the Husky Bucket Jockey is constructed of a heavy-duty, water-resistant material and features deep pockets to store a versatile array of tools and accessories with ease.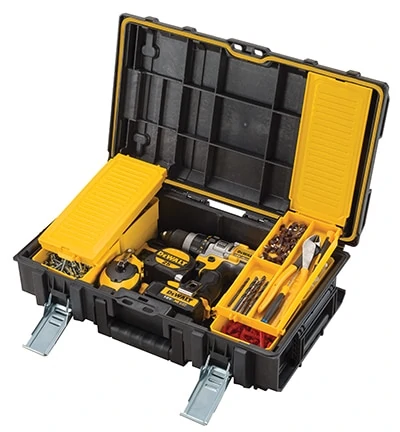 Dewalt ToughSystem
Also at the Home Depot, the DeWalt ToughSystem mobile modular storage system allows you to quickly and easily change the combination of tools you take to the job. The system can be configured with a variety of options taking you from the workshop to the project site, including toolboxes, totes and even a jobsite radio. When carrying the toolboxes by hand, they can be fastened together utilizing side latches that allow them to be carried as a stack.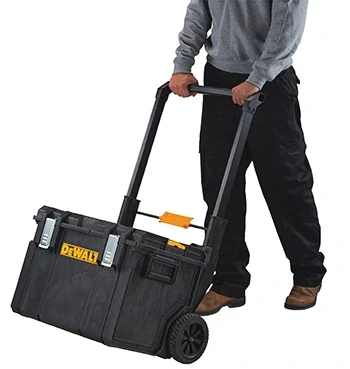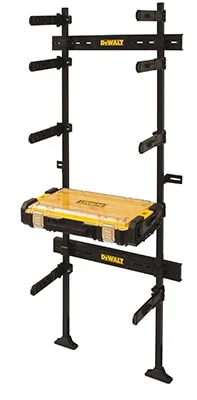 Also offered are two different mobility options. The ToughSystem DS130 Suitcase—model DWST08130—features four deep, large-size cups for storage of smaller tools and parts; storage pockets in the lid for screwdrivers and drills; and a padlock eye for extra security. The Suitcase also features anIP65-rated dust and water seal, rust-resistant metal latches and a durable coated handle—all perfect solutions for unpredictable weather elements.
The ToughSystem DS450 Mobile Storage—model DWST08250—is a mobile toolbox, compatible with all existing modules of the ToughSystem family. The stackable base box is made with durable 7-in. wheels and a top handle for carrying. The patented design of the lid opens with a pull-back handle, and a non-detachable lid enables full accessibility and maximum storage volume. The metal-plastic telescopic handle has a strong grip, and like the DS130, the DS450 Mobile Storage features an IP65-rated dust and water seal.
Finally, the ToughSystem Workshop Racking Solution—model DWST08260—is a modular self-assembly solution compatible with all ToughSystem modules. It can be fully customizable for an array of arrangement options and allow a self-made shelf on top of brackets for additional storing. Each racking system can carry up to 440 lbs. The Workshop Solution pack includes 6-ft. metal bars, two horizontal beams and five pairs of brackets.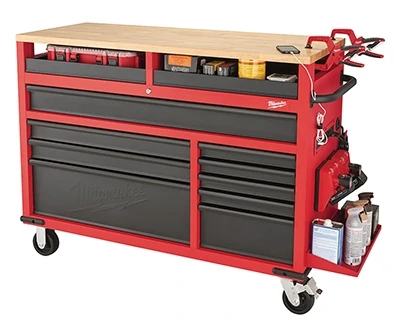 Milwaukee 52" Mobile Work Station
Unique to Milwaukee's new 52-in. Mobile Work Station is a raised work surface that allows users to easily clamp materials for extra convenience and productivity. The raised work surface includes two pullout trays underneath for fast access to frequently used tools. For additional versatility, the space underneath the work surface easily fits two Milwaukee Jobsite Organizers as an extra option for accessory and fastener storage. Constructed with a reinforced angle iron frame and 5-in. industrial casters, the new Mobile Work Station's nine drawers include 100-lb. soft-close slides, a center drawer with a moveable divider, and a total weight capacity of 1,800 lbs. Additional key features include a multi-position tool tray that can be mounted at different heights on the side of the work station for convenient storage of bulk items. A quick-access tool holder provides easy access to longer tools like screwdrivers and ratchets, and a 1-inch thick reversible hardwood top provides a sturdy workbench. The new work station features a power tool organizer to keep tools upright, a built-in power center for instant access to power, and USB ports.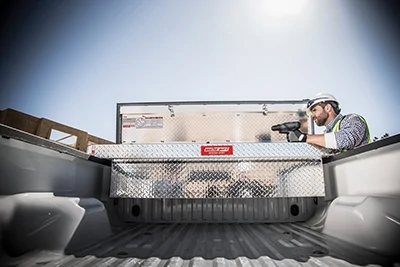 Weather Guard Defender Series Truck Boxes
The Weather Guard Defender Series is the latest in affordable truck-box solutions designed specifically for professional level protection. The Defender Series is now available with more than 20 products across five categories, including Saddle and Cross Boxes, All-Purpose Chests, Lo-Side and Hi-Side boxes. With four-piece welded construction and a C-channel reinforced lid, the new products offer heavy-duty security including push-button locks, a reinforced front panel and two dual-stage rotary latches with looped strikers. Available in clear aluminum and powder-coated gloss black, the Defender Series truck boxes feature a D-shaped ribbed weather strip and foam along the hinge to offer four-sided weather resistance.
The dual gas strut-supported lid makes for easier access, and the plastic strut sleeve prevents damage from moving materials. Most of the Defender Series products come with a plastic storage tray to organize smaller tools and accessories. The mounting kit requires no drilling for most models, and the truck boxes are backed by a 7-year warranty.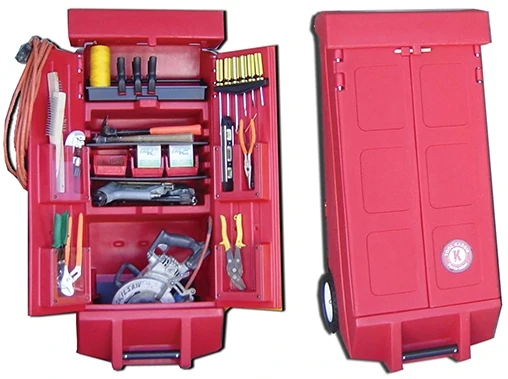 Tool Kaddies
Like a portable closet, the rolling Kaddies toolboxes are manufactured in the USA with durable double-wall polyethylene construction that will never rust, flake, peel, chip or corrode like metal boxes. Tool Kaddies can be loaded with job-specific tools, parts or supplies, and rolled right to the job, eliminating unnecessary trips back to the garage, truck or tool crib. Available completely assembled in a variety of colors, each Kaddie is lockable for security and very water-resistant. Measuring, 40x20x20 in., they're also easy to modify for the user's needs with two shelves, three bins and a tray. The water-resistant Kaddies weigh 38 pounds but have a 150-lb. load capacity. Find them online at www.kaddies.com.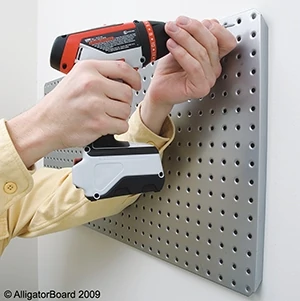 AlligatorBoard
Syr-Tech manufactures AlligatorBoard metal pegboard from heavy-duty, 20-gauge steel so it's much stronger and more durable than ordinary pegboard. Backed by a 5-year limited warranty, AlligatorBoard comes in 16-, 32- and 48-in. long by 16-in. wide panels, and 3-in. wide strips and shelves. It's compatible with standard pegboard hardware for quick and efficient organization of garages, workshops and more. AlligatorBoard won't rust and is magnetic, featuring special, strength-reinforcing dimpled holes that will hold up to 90 lbs. when mounted on studs. With built-in 5/8-in. flanges, AlligatorBoard is designed to install easily on any wall using the included mounting hardware. Choose from several finishes: galvanized steel, eight powder-coated steel colors, 300-series stainless steel, 400-series stainless steel (attractive shine), and polished Diamond Plate aluminum tread plate. Specialty pegboard packages include the FinishLine black and white checkerboard and American Flag kits. Also, check out the new Wall on Wheels (W.O.W.) carts—mobile versions of AlligatorBoard designed to eliminate the need to carry parts and tools back and forth between storage area and workspace. Learn more at alligatorboard.com.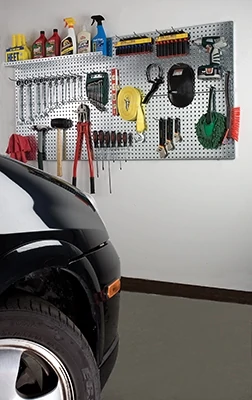 Side Note
Jaw-Dropping New Wrench from Channellock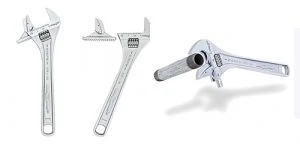 With all these new tool storage items, it only seems fitting to christen them with a new tool. Channellock has added to its classic collection of hand tools with the new 810PW Reversible Jaw Adjustable Wrench. The 810PW features an additional pipe wrench jaw option, making these strong and reliable wrenches more versatile than ever. The reversible jaw makes simple work of bolts and fasteners and also works on round stock. The self-gripping angled teeth grip pipe and rounded fasteners tight the first time, every time. With a four-thread knurl and non-protruding jaws, the 810PW provides greater capacity while improving performance in confined spaces with its minimal head width. Learn more at channellock.com.