While eco-friendly materials have been rising in popularity for a number of years, growing environmental concerns should drive the demand for "green materials" even more. Keep sustainability in mind during your next remodel by using natural, recycled, and sustainably-sourced flooring materials. The flooring experts at Diamabrush offer the following tips.
Bamboo
Bamboo has become an increasingly popular flooring choice because of its eco-friendly nature. It's easy to find and non-toxic as well as VOC- and formaldehyde-free. Bamboo can be shipped directly from China or found at a local home center such as Home Depot or Lowes.
Pros—Easy installation and affordability makes bamboo a go-to flooring option, but it's also more durable than wood and incredibly scratch-resistant. It can be produced in a vast array of styles, such as solid bamboo, engineered bamboo, tongue-and-groove, and floating click-together bamboo. Colors are available that resemble wood, such as cherry, oak and ash.
Cons—Because bamboo is a grass and not wood, it retains moisture and doesn't work well in places prone to flooding or high humidity because the floors can give in to warping. Bamboo also can't be refinished or sanded down like wood flooring.
Tip: Not all bamboo is considered high-quality. Check for a third-party certification to make sure no unwanted chemical-containing adhesives and finishes are used.
Cork
Cork is a unique, biodegradable flooring option that provides great insulation and a soft, comfy underfoot. Made from the precious bark of the cork oak tree (Quercus suber) found in the Meditteranean, the cork is harvested without harming the tree.
Pros—For people who love walking barefoot at home or tend to stay on their feet for long periods of time, cork provides the light feel of carpet without the unwanted dust and hair buildup. Easy to install and maintain, cork is hypo-allergenic, durable, fire-resistant and reduces impact noises. It's naturally insect-, mold-, and mildew-repellent and has insulation properties that can help cut down heating costs. It can also be refinished just like wood and coated with a UV-cured acrylic finish for added durability.
Cons—Cork is not the best option for pet-friendly homes, as it's easily susceptible to damage by cats and dogs, heavy furniture and even sunlight. Depending on the style of the home, it may not fit aesthetically, as limited colors are available. It can also be quite expensive.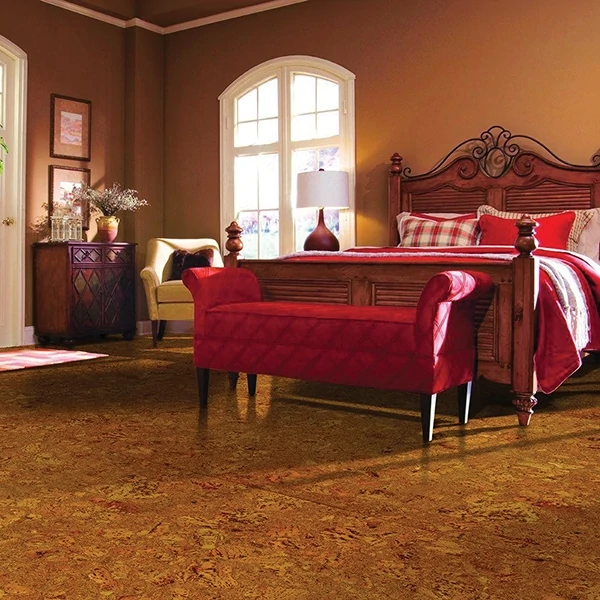 Tip: To keep the color intact, cork flooring must be sealed every 5 years.
Glass Mosaic Tile
While still one of the most debated flooring options out there, if you're ready to add a luxurious splash to a room, glass tiles are the way to go. A great eco-friendly choice, compared to ceramic tiles, glass tiles only take about half the energy to produce, and shoppers can also opt for recyclable glass.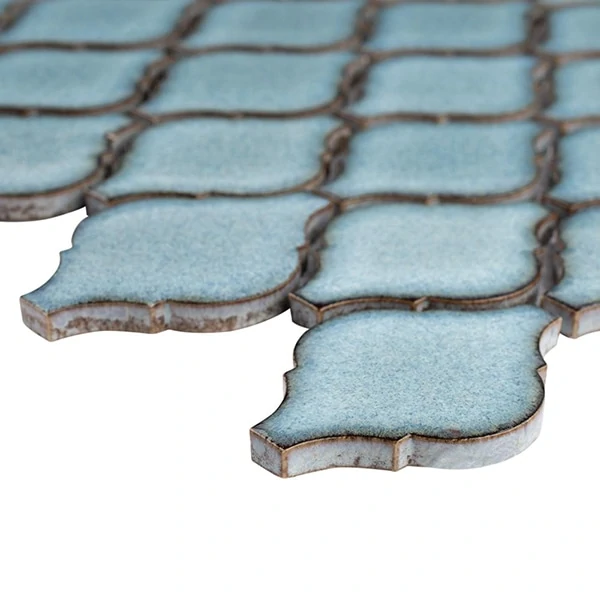 Pros—Glass mosaic tiles are nonporous, making them resistant to mold, mildew and stains. Beautiful and unique, these floors will add a stunning look to any bath, entryway or room. With just a mop and some warm water, you're able to easily remove almost any spill or stain, leaving behind a stunning reflective surface. Additionally, it's easy to make your installation one-of-a-kind because the tiles are available in an array of colors, patterns and designs.
Cons—Because they're expensive (gorgeous colors and repeating patterns average around $35 per square foot), glass mosaic tiles are usually professionally installed, which will add to the cost. It's also not recommended for areas of high traffic or wet areas, as the floor can become very slippery when wet. While scratches are only natural, too many will alter the finish and require the tiles to be replaced—sometimes after just a few years.
Tip: Make sure you're using the right tiles before installation. Tiles must be approved by the American Society for Testing and Materials for flooring use.
Linoleum Flooring
When you think about linoleum flooring, you probably picture an outdated (and not exactly aesthetically pleasing) kitchen floor. Luckily, the technology used to make linoleum flooring has come a long way in recent years to give it many of the same attributes as its once more durable, higher-end competing flooring options. Composed of natural resins, cork dust, wood fibers, mineral pigments and linseed oil, linoleum is easily recycled and biodegradable; some people have even been known to compost their linoleum floors.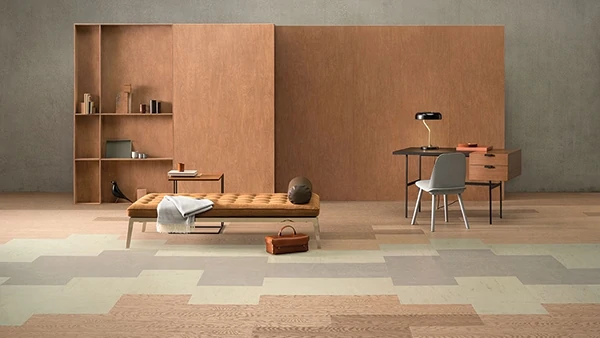 Pros—With a cushioning element like cork, linoleum floors are resilient and can last up to 40 years with proper care. Naturally antimicrobial, fire-retardant, stain-resistant and resilient, it's a good choice for places with high traffic, such as baths, kitchens and entryways. These floors come in a huge variety of styles, colors, and patterns—even designs that mimic wood, marble and stone. Limestone dust can also be included to add durability and hardness.
Cons—As time passes, a linoleum floor may alter from natural discoloration, and with-out coating, it will need to be waxed and cleaned every 2 years to prevent losing its luster. Pets with long nails can easily damage the finish and make irreparable marks.
Tip: Get a professional opinion when sifting through options. You'll want to opt for thick and pre-finished linoleum to ensure you're getting top quality that will perform over time.
Concrete Kitchen Floors
Most people don't think eco-friendly when they think concrete, yet polishing concrete can result in a beautiful sustainable flooring option. Made from recycled and natural materials, these floors are known to minimize heating costs.
Pros—Concrete's durability makes it ideal for busy kitchens, and it can be stained, polished and waxed to give you lots of flexibility in the finish. With rehabs, if you have concrete underneath carpet or wood, it's no longer a major challenge to get back to a concrete floor. Cheap, simple to clean and easy to install, concrete helps improve air quality and is a great choice for people with allergies.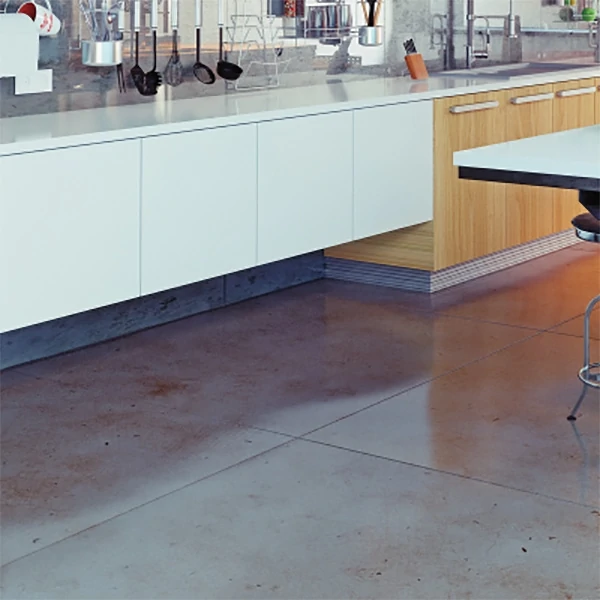 Cons—You may need to opt for a standing mat when doing the dishes, because the hard surface is not best for standing for long periods. Anyone without a case on their phone should be prepared to say goodbye to their glass screen if it drops on this floor, not to mention other fragile items. Concrete is easily susceptible to cracks from heavy items and discoloration from spills and animal accidents.
Tip: Diamabrush coating-removal tools will easily and quickly remove any carpet glue, mastics or other adhesives. You can also use Diamabrush polishing tools to give you a mid- to high-gloss concrete finish, if you're wanting to opt for a sheen look.