With a crop of new role models on popular home-improvement television shows, women who  do it themselves welcome the arrival of tools designed with them in mind.
In the home where I grew up, Mom was the one who put up shelves, hung pictures and curtain rods, did the wallpapering and painting, and generally kept working items maintained. Since I never knew anything else, this didn't seem the least bit strange to me. What I couldn't help but notice, however, was the thing that did seem strange: Dad picked out and purchased all the tools, even though he didn't really know how to use them. Consequently, Mom (and eventually, I) frequently ended up using tools that were either of poor quality or not right for the jobs we had to do.
In the 30 years since then, the realities of divorce, widowhood, single parenthood and just plain choosing to live happily single have contributed to women's recognition that they don't necessarily need a man to perform home maintenance and improvement.
Many have become avid viewers of the veritable bonanza of "reality TV" home-improvement shows of the past few years. These programs have given us positive, visible female DIY role models to look to for guidance, and the affirmation that "doing it yourself" can be a very productive and satisfying activity.
Tool Time
Meanwhile, what hadn't changed much until very recently were the tools women were using to assert their maintenance and repair independence. Frequently, we started out using Dad's (or Mom's) tools that were designed for men, and maybe inherited or bought our own set of similar tools when we went out on our own. They did the job, but sometimes much less easily than they could have. Hand tools were heavy and, designed for larger hands, unwieldy to grip and control. Some power tools were way more powerful than we needed, and this made them bulky and hard to control for those with smaller hands and less upper body and arm strength.
Susan Wiercinski is the group brand marketing manager for DeWalt Power Tools and Accessories, which manufactures professional-grade hand and power tools. She likely speaks for the majority of major tool manufacturers regarding the issue of product design: "Our new product development focuses on the needs of the user, not on gender. Since the majority of the professional tradespeople we work with in the development process and who buy our tools are men, they tend to drive the requirements. That doesn't mean that we don't have tools that would fit the needs of female contractors, we do; it all depends on their requirements. If their requirements are the same as the men, any tool in our line is appropriate for them."
What Women Want
While it may be true that the features of tools designed for men can be equally useful to women, it's the functionality of the tools that are of the greatest concern. Realistically, most simple home repair jobs don't require contractor-grade power or extreme durability. Those features require larger, heavier tools with torque that is not just overkill, but can be dangerous. The kinds of routine tasks women homeowners are faced with simply don't require that kind of engineering, but we still want a well-thought-out tool made of high-quality materials. And we want them made with the realities of our everyday lives in mind.
We don't need tools built to survive the day-in, day-out rigors of a construction site. What we do need are tools that take into account that we are generally of a slighter build than our male counterparts, with less upper arm and upper torso strength. So we don't want tools so powerful or heavy that we can't operate them for long without fatigue. And safety is another issue that should be addressed in designing for women.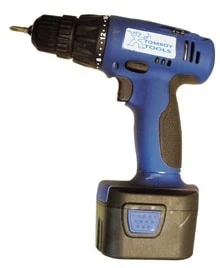 Comfort and Safety
Nancy Cavanaugh, a single woman in the process of restoring her 1884 Victorian house on the outskirts of Milwaukee, Wisconsin, is a primary example of someone with most of these concerns. She has spent several years stripping old paint off thousands of feet of wood clapboard siding, some of it three stories up. "I used a block sander because I could safely operate it with one hand while on top of a tall extension ladder," says Cavanaugh. "My male neighbor chided me for not using a more powerful circular sander, but that's heavy and can really be tiring, especially when you're doing a whole house. It takes two hands and a lot of upper body strength. I wouldn't have been able to handle it and might have fallen off."
Chris Snyder, a stained glass artisan who does a lot of architectural restoration work in and around New Jersey's Delaware River Valley, is frustrated with the placement of controls and switches on most power tools, another safety issue. "I use a lot of power saws in my work," she says. "I need the heavy-duty power, but because it's designed for bigger hands and more upper body strength, I find myself adapting to the tool, instead of it adapting to my working needs. Most times, you can't hang onto it and support it while easily pulling the trigger at the same time. It's like trying to ride a motorcycle without both feet touching the ground. It's dangerous. You've got to respect a moving blade, otherwise you increase the potential for an accident. It's dangerous if you can't quickly and easily reach the emergency power cut-off switch."
Size Matters
The way women tend to work is also different from men on a construction job site. We frequently perform our tool tasks at home, alone or in the company of sometimes young children. That means we have no one to lend a second pair of hands, or if we do, those hands are even smaller than our own. Jeanise Dimitri, a furniture restorer in Buckingham, Pennsylvania, repairs cane seating on chairs and other pieces. She finds "a lot of the power tools hard to handle, and if you don't have a second party helping, they can be really heavy. For hand tools, I find I use smaller ones anyway, because I have more control."
Along with control, we appreciate those tools that enable our tendency to be more detail-oriented than men. Rebecca Valentine, work-at-home writer and mother of four in Windsor, Colorado, found a partial answer in a set of scaled-down children's tools she bought at Home Depot for one of her sons. For ease of handling and control, she says, "Those are ideal. When I'm here with just me and the kids, sometimes I need some help and they're the only ones here. If the tools are small enough to handle, the kids can help. Smaller tools are also more versatile to do craft projects with the kids, because the tools are manageable and accurate for working in small, detailed areas."
Cavanaugh also appreciates tools that allow better control in detailed areas. "I have three putty knives I work with, because each has a different amount of flex, strength and blade thickness that allows me to best do a particular task, like filling nail holes or large plaster patches. And I have one particular paintbrush with angled bristles that allows me to create a straight line of consistent width, because I know just how to load it and how much pressure to use. I love that brush!"
Getting a Grip
Though she appreciates that they're easier to hold, the kids' tools will not hold up to continued use on serious projects, so Valentine wishes someone would come up with a complete line of quality smaller hand and power tools with durability. She's only found that power and durability in tools with grips that are too large. "I have a great Black & Decker power driver I love, but the grip is too wide, and it is so hard to hold onto."
Snyder agrees. "I have a glass cutter I use because it cuts well and fits my smaller hand, so I can control it. With power tools, the big problem is they make them small enough to hold and light enough to control, but then they're not heavy-duty enough to get the job done." She seeks a balance between anti-fatigue handling, torque and durability.
Keep It Together, Attractively
Valentine also speaks to the need for convenience in packaging. "If those smaller tools came in a portable case, that would be great," she says. "They'd be easy to store and all in one place. I appreciate anything that saves me time having to search for everything. For separate tools, I always look for something with a brightly colored handle, like fluorescent orange or shocking pink, that is easy to find in a drawer full of chaos."
The smaller size may be easy to handle, and shocking pink may be highly visible, but manufacturers have misread these signals in the past. Women do appreciate attractive aesthetics in their tools and packaging, but they're not willing to sacrifice quality and durability for light weight and a pretty surface. Simply offering a collection of cheap tools with powder pink handles in a flowered case is to invite the scorn and ridicule of women with serious work to do. Dimitri admits, "If I was given that choice, I'd be very offended. A woman who'd buy something like that because she was worried about looking unfeminine probably wouldn't even do her own work, anyway."
A Little Help From Our Friends
Because of the age-old view of building and maintenance as "men's work," women's cultural upbringing often lacks training in tool use, so our initial confidence level may not be high. We appreciate those who offer serious information and education about tools and how to use them in practical applications.
Laura Pritchard, newly divorced and now caring for aging parents in the Philadelphia suburbs, has run into the need to do some of her own maintenance jobs. "I'd like more education on how to approach a job. For instance, I have towel racks that need put up, but the old ones have to be pulled out first," says Pritchard. "How do you go about something like that? The Home Depot workshops are a good idea, but I'm not at the point where I'd be using a lot of that knowledge because I'm not a homeowner, so I can't spare the time. But I still need to know little things like this."
Many women ask their friends, male or female, to help them learn such tasks. But others are reluctant to bother anyone, don't know people with the knowledge they need, or feel embarrassed to reveal their lack of knowledge. Fortunately for all these women and more, a few companies are paying attention. And that's a step in the right direction.
Reclaiming the Power
Since 2001, Denver, Colorado-based Tomboy Tools has been offering tools designed with women in mind. The company evolved from a group of friends with a shared interest in home improvement, who were frustrated with the lack of quality tools made for use by women. They named their company in a playful reclamation of the epithet often hurled at independent young women, repositioning the word as a badge of accomplishment. The company uses in-home trainers to demonstrate and sell their products through workshops modeled on the familiar Tupperware® party. In the fall of 2002, the company launched a Mobile Training Tour that visited 41 cities in 24 states to develop its trainer network.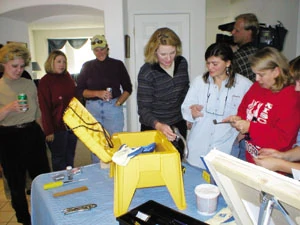 These in-home workshops provide pleasant company, product education and entertaining tool demonstrations. In the comfort of a friend's home, women can learn such things as basic plumbing, tiling and drywall repair and useful do-it-yourself tips and techniques. This sales strategy addresses the "consultative learning" process educational studies have shown to be more prevalent among women. It also trades on women's preference for a one-on-one buying experience. The company believes it is this sales model that most strongly embodies their mission to "empower women to become confident and competent homeowners."
"Our in-home workshops reinforce our 'tell-show-do-feedback' approach to home-improvement projects. We tell you how it's done, show you how to do it, give you a chance to try it yourself and then provide feedback, so you can recreate the project in your own home," says Tomboy Tools President and CEO Sue Wilson. And with the tools themselves, she says, "It's all about ergonomics and quality."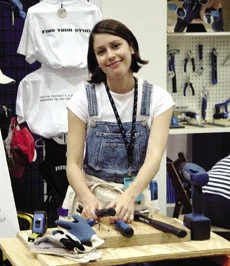 Tomboy Tools makes a complete line of hand tools and recently introduced their first power tool, a drill driver co-branded by Porter Cable. They offer a number of different tool collections, garden tools, accessories, branded apparel and gifts, and their book, The Tomboy Tools Guide to Home Improvement. At 200 pages, it's comprehensive without being daunting, is written in encouraging language and doesn't condescend. They have an automotive kit in the works for release this year. Their website, www.tomboytools.com, offers product information, an online store, contact information for trainers to schedule a home workshop, tool tips and techniques, a discussion board and an e-newsletter.
"Self Improvement Is Home Improvement, and Vice Versa"
Another new start-up is Barbara K! Solutions for Women. Barbara Kavovit began her construction career by standing outside a shopping center handing out business cards, looking for contracting jobs. That's where "I realized that women were fearful of the whole building process," she remembers. She billed $50,000 her first year, and a contract with IBM bumped that to $300,000 the following year. By 2000, her construction firm had annual sales of $78 million, but after 10 years in the business, she wanted something more. After the September 11th terrorist attacks, business slowed, and she noticed people were spending more time close to home and more money on home improvement. She looked to her own experience for her next direction.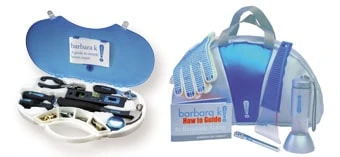 "There were no tools or products just for women who really wanted to be self-sufficient. And not just DIYers, but every woman needs a hammer and screwdriver. I know what it's like to be fearful, to have your husband leave with the toolkit," says Kavovit. She set her sights on eliminating that fear. "Women need tools that are going to simplify their lives and knowledge is power. I want to empower women to take on their own repairs. My intention is to be the leader in product development. I see myself as a precedent-setter, a trend starter in products that help women improve their lives."
Barbara K! products include a 30-piece Toolkit, several craft and DIY kits, a Roadside Safety Kit and many individual hand tools. All Barbara K products are guaranteed forever, and all kits contain the company's 84-page Barbara K Guide to Simple Home Repair, with simple instructions and illustrations covering most common home repair tasks. Her website, www.barbarak.com, offers tips, success stories, chat and discussion boards, links, product overviews and an online store. Barbara K products are also available through many retailers.