Storage and Organization make the garage a project-friendly workplace.
By Matt Weber
Is your garage a disorganized black hole where tools and supplies mysteriously disappear for months on end? Is it a cluttered obstacle course with mountains of precariously stacked boxes, crates and athletic equipment? This is the sad case with many garages across the country but it doesn't have to be that way. Today homeowners have an endless array of storage and organizational options, including shelves, hangers, racks and cabinets, which can transform your garage into a neat an orderly work space for home and auto projects.
The EHT staff recently equipped a garage with a range of new products to get more off the floor and streamline the workspace.
Here's how it went.
Tomorrow's Pegboard Today
The traditional upgrade from the nail-in-the-wall approach to garage storage has been pegboards made from pressboard panels. The problem with pressboard is that the material has a tendency to warp, swell, crack or fray when it absorbs moisture. It also stains easily from oil and dirty fingers.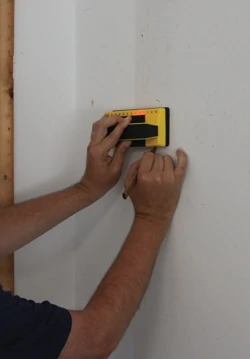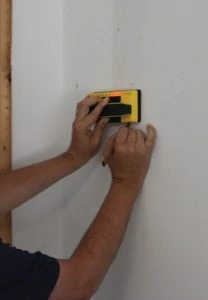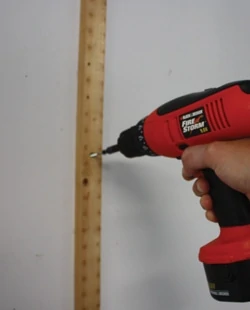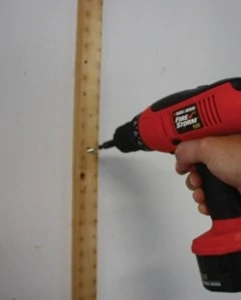 Additionally, one of the installation hurdles of pressboard pegboards is that they require wooden slats or cleats installed behind the board. When the solid pressboard is mounted flat to a wall, there is no clearance behind the board to thread a hook or tool carrier through the holes. Therefore, the 3/4-in. thick slats or cleats are required to hold the pegboard off the wall, providing adequate clearance for tool hooks to be mounted.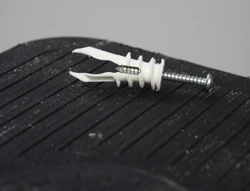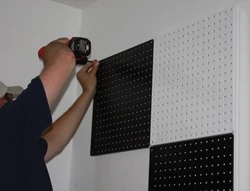 In response to the shortcomings of the old pressboard design, a variety of manufacturers offer alternative pegboards made with sturdier material that eliminates those problems.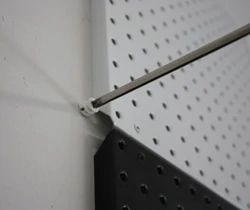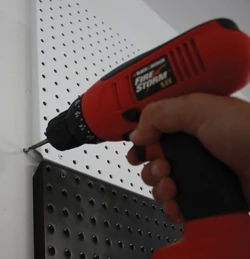 AlligatorBoard from Syr-Tech is a unique metal pegboard manufactured to the highest standards from heavy-duty, 20-gauge steel.  Stronger and more durable than ordinary pegboard it comes in 32- and 48-in. long, 16-in. wide panels, and 3-in. wide strips and shelves. It's compatible with standard pegboard hardware and quickly and efficiently organizes garages, workshops, utility rooms and more. Backed by a 5-year limited warranty, the metal pegboard won't rust, and the galvanized line is magnetic. AlligatorBoard has special reinforced dimpled holes, and will hold up to 90 lbs. when mounted on studs. The built-in 5/8-in. flanges let you mount directly to any wall with clearance for tool hooks. Plus, open corners make it easy to run speaker wire or extension cords behind mounted panels.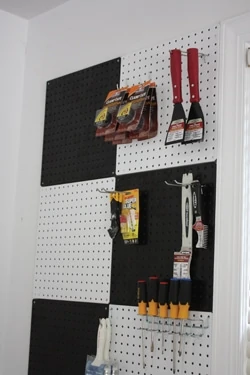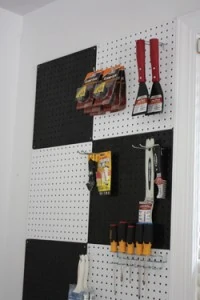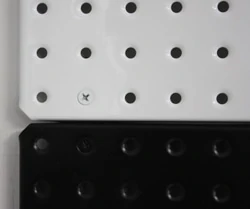 AlligatorBoard is available in several finishes—galvanized steel, eight powder-coated steel colors and stainless steel. The EHT staff installed one of the specialty pegboard packages, the FinishLine black-and-white checkerboard, which makes a handsome addition to the new garage. The installation is rock solid, and the FinishLine package even includes such details as color-coordinated mounting screws to match the paint finish.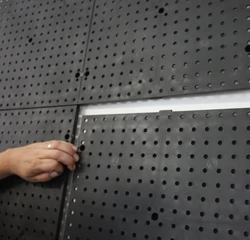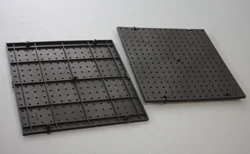 Another nice pegboard product is the Racor Pegboard. Each of the 16-in. square panels have five built-in standoffs to easily space the Pegboard from the wall for direct mounting without having to add wood strips behind it. The panels are made of a tough resin base that will stand up to the use and abuse a pegboard will see over the years. The system is also easy to install, built with interlocking screw holes so you can easily add more pegboard panels as needed. The interlocking feature is self-aligning, so after you carefully plumb the first panel, you can forget the hand level and knock out the rest of the pegboard in no time. Racor also offers a 36-piece set of hooks for the Pegboard that includes a variety of sizes and lengths to handle most any small hand tool or item found in the garage, workshop or shed.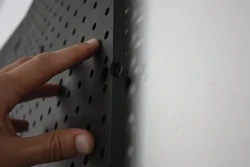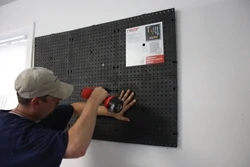 Both of these pegboard systems are designed to mount easily onto the spacing of wall studs, but if your garage layout doesn't allow you to locate the edge of each panel over a stud, then it's very important to use the proper fastener to achieve the most holding power. A 2-in. drywall or decking screw should suffice in the studs, and we recommend installing at least two screws per panel into solid framing. When mounting to drywall, be sure to select an expanding drywall anchor that opens at the rear when a screw is inserted. Check the fastener's packaging for specific instructions, but typically the installer should drill a 1/4-in. pilot hole for the anchor and then twist in the threaded anchor with a screwdriver, Place the pegboard panel over the anchor and then drive the screw into the anchor until flush with the panel surface.
Easy Wall Storage
From slat-wall systems to homemade shelves, if you can get your gear off the floor and make it more easily accessible, then you'll find a lot more usable floor space.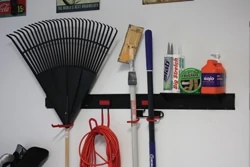 On our recent garage make-over we installed the Racor GaragePro Universal Rail Storage System. This is a handy nine-piece kit that provides superior strength and flexibility of storage options for use in limited space. The GaragePro starts with two 24-in. rails that can be hung separately or combined to create 4 ft. of storage. It has adjustable hooks and a shelf that is placed on the rails and easily moved when needed. The rails have a built-in bubble vial to aid in installation, as well as a course of screw holes on top and bottom to mount in both studs and drywall (fasteners and anchors included). The rails can hold a combined weight of 100 pounds, and the system expands as you add further components.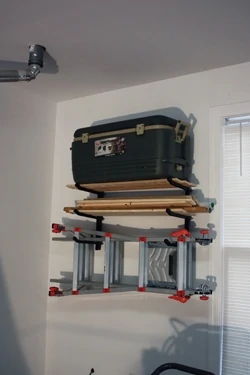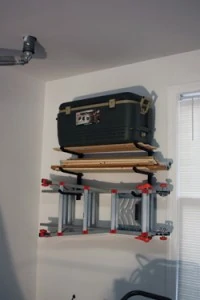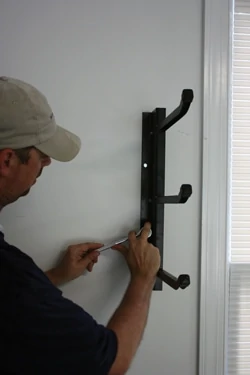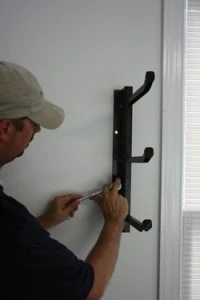 We also hung the Racor 450 Wall Storage Rack, a multipurpose wall accessory that can hold the heaviest of items—up to 150 pounds on each of three tiers for a total of 450 pounds.
It holds large ladders, heavy metal piping, dimensional lumber—you name it. The 450 Rack is also handy for long oversized items like patio umbrellas, skis and other bulky items that are difficult to store. The three tiers are 16-in. deep and solidly constructed of steel with a durable epoxy finish.
The 450 Rack comes with heavy-duty lag screws and must be mounted to stud framing; drywall won't work for this one.
To install, just determine your preferred height, mark the studs, plumb the tiers, predrill 1/4-in. pilot holes and then sink the lags for the most rock-solid storage unit in your shop.
For a quick and easy solution for storing long-handled tools, the new Racor SecureHold is made of rugged steel construction and comes in three different versions: A single tool holder, a double tool holder, and a triple tool holder. Most homeowners have a collection of long-handled tools, including brooms, shovels and rakes.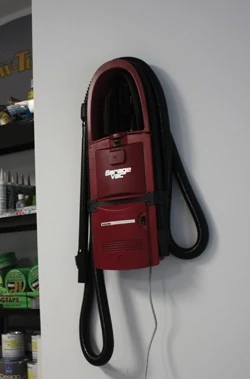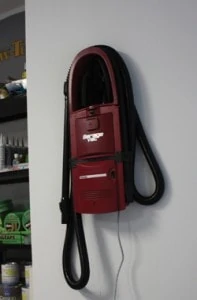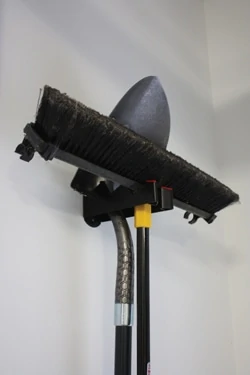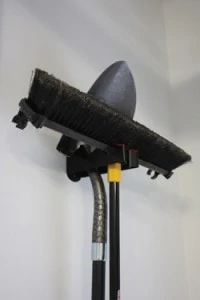 Simply sink a couple of lag screw in a stud and use the SecureHold's patented retention feature for tool storage. The tool handle passes through the steel "spring" opening and then sits in a deep V-groove that holds the tool securely.
For a handy wall-mounted vacuum we installed the GarageVac from InterVac. The compact design saves valuable floor and wall space and keeps the vacuum tools at your fingertips. The vac is simple to install, requiring only four screws and including a fastening template for foolproof mounting. The kit includes a 40-ft. stretch hose, adjustable telescoping wand, a variety of hose attachments and a wall-mount clamp to secure the wand.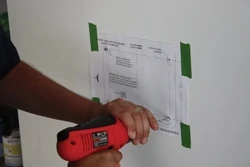 Ceiling Storage Solutions
A knotted mass of extensions cords is too often the tangled web we weave in the garage. These necessary evils pose a tripping hazard, snag tools, and generally stay in the way when they're being used, and when they're not. The new RoboReel Power Cord Reel takes away a lot of those associated headaches.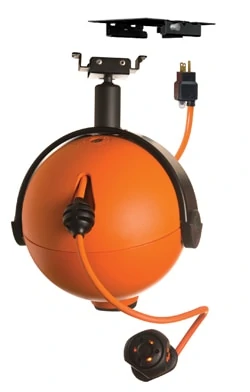 The RoboReel Power Cord Reel is the world's first extension cord with its own computerized brain. With the push of a button (on the reel or the end of the cord), the cord automatically retracts 50 feet of heavy-duty 12-gauge power cord in less than 10 seconds at a controlled speed. The portable, motor-driven power cord system rotates 360 degrees for easy access to any tool within a 100-ft. diameter. Furthermore the RoboReel's "brain" is a microprocessor installed in the reel's high-impact plastic shell that allows users to program a "docking point," a slow-down point in the cord during retraction, preventing the dangerous whipping-action found in spring-loaded reels. The "brain" inside RoboReel also provides other safety features. If the cord is accidentally severed, the unit will sense it and shut off the power in less than a second. Redundant thermostats will sense if the unit is overheating and will turn off the power until the reel cools down to help prevent fires.
If the cord is stepped on it stops retracting, and it will not retract while a power tool is in use.
The RoboReel is available as a ceiling-mount accessory for easy 360-deg. usage, or mount the portable version temporarily on the wall with the included storage hook for grab-and-go convenience.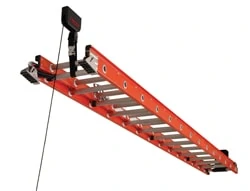 For ladder storage, the Racor LadderLift does exactly what it sounds like. The "number one" pain-in-the-neck storage problem in the garage is where to put the large, heavy ladder. The new Ladder Lift is an easy way to store any ladder overhead and free up garage space. Ladders can weigh up to 150 lbs., so it's not easy to lift them onto wall hooks. The Ladder Lift uses a rope-and-pulley system along with a fixed hook that is mounted on the ceiling. Homeowners can easily lift and lower a 150-lb. ladder up to 12 ft. by simply lifting the ladder onto the fixed hook, attaching the strap to the bottom of the ladder and pulling on the rope with an 8:1 mechanical advantage.
To learn more about the products featured in this article visit the following manufacturer websites:
AlligatorBoard, www.alligatorboard.com
Racor Storage Solutions, www.racorstoragesolutions.com
Side Note 1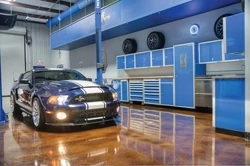 Moduline Aluminum Storage Cabinets
Do you know what it's like to be in a garage, shop, service vehicle or trailer and not be able to find what you need, when you need it? That's why Moduline Aluminum Storage Cabinets were developed. Moduline Cabinets are premium modular aluminum storage and tool cabinets designed and manufactured in the United States. Originally designed for professional race teams, the cabinets have a sleek, modern design that will complement most any décor. They're engineered to be lightweight, yet able to withstand the high demands of the shop as well as on the road and at the track. Used by professional and personal shops all over the world, Moduline cabinets are the perfect garage cabinet solution. They include full ball-bearing slides on the drawers, stainless steel, aluminum or butcher-block work tops, and each cabinet has its own clear sealed and anodized frame so each piece can stand alone, making them truly modular. With almost endless configurations, Moduline cabinets are designed to adapt as your needs change. Visit www.modulinecabinets.com or call 888-343-4463 for a free design consultation.
Side Note 2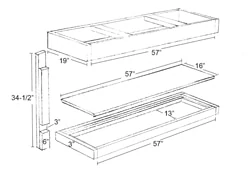 Easy DIY Workbench
Here's a simple weekend project that will stand the test of time. For a sturdy, flat work surface that you can access from all sides you can build the bomb-proof workbench pictured here. This beefy bench is constructed from 2×6′s, 2×4′s and 2×2′s. I first ripped the rounded edges off the lumber, so each 2×4 measured 3 inches, and each 2×6 measured 5 inches. Then I assembled the bench according to the diagram shown below, sizing the height for a 6-ft. tall person to work comfortably, but you can adjust the height of your bench accordingly. I used 2-1/2-in. No. 8 wood screws when nailing through 2x lumber into the face of another 2x board. However, I used 3-in. screws when nailing through 2x lumber and into the edge of a board.
You have the option of making the legs from 4×4 lumber and notching them as necessary. However, I made them from 2×4′s, spacing the blocks to accept the table top and lower shelf.

The sturdy top is nothing more than a solid-core door from Lowe's, centered on the table frame and screwed to the 2×4 brackets from beneath. You can also construct the table from doubled sheets of plywood or even build a butcher-block top—you've got plenty of options to customize this table in any way that better suits your needs.