New Supplies for the Great Outdoors
Before friends and neighbors ever make it to your home they're greeted by your lawn. The home's curb appeal is the first chance to make a great impression, which is why so many savvy homeowners go crazy over lawn care. From hardscapes and flower gardens to outdoor retreats, if the home is your castle then the yard is your kingdom. Here's a roundup of new tools and supplies to keep it looking great.
Pine Hall Brick CityCobble Pavers
When is a cobblestone not a cobblestone? When it's a clay brick paver that takes advantage of an optical illusion. For patios, walkways and driveways, CityCobble pavers by Pine Hall Brick Company come in two sizes, 5-1/3-in. square and 5-1/3-by-8-in. rectangles, and in two colors, Mahogany and Siesta Full Range. When installed in an "I" pattern or in a modified herringbone, CityCobble gives a random cobble appearance, reminiscent of an ancient European stone walkway. In addition to CityCobble, the company offers conventional rectangular pavers, permeable pavers and thin pavers, which are laid over the top of existing poured concrete sidewalks and patios. As with all of Pine Hall Brick pavers, CityCobble are consistently sized, which makes installation easy, and many homeowners install their own projects. Plus, the pavers can withstand the weight of vehicular traffic, boasting a compressive strength of 13,000 psi, which is greater than concrete. Visit www.PineHallBrick.com.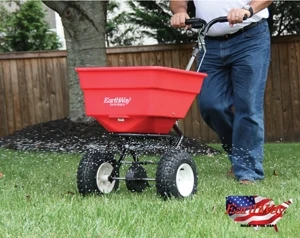 Earthway 2170 Broadcast Spreader
Earthway Products, Inc. now offers the 2170 commercial-grade push broadcast spreader, popular as a high-capacity model in the EV-N-SPRED broadcast spreader product line. It features a powdercoat steel chassis, height-adjustable handle, 100-lb. rust-proof poly hopper, and 13-in. pneumatic wheels on rust-proof rims. The 2170 is designed for evenly spreading all types of granular products, and is built for a lifetime of commercial use. Use it for applying pesticides, herbicides, fertilizers, as well as ice-control products. This model is also available in a towable version. See this and all of the EarthWay products at www.earthway.com.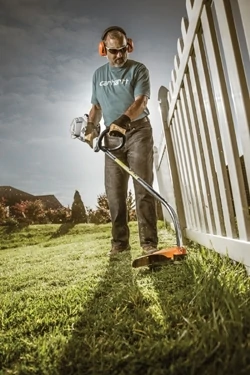 Stihl FS 50 C-E Homeowner Trimmer
The Stihl FS 50 C-E string trimmer is lightweight, balanced in hand and has a curved shaft for exceptional handling. Compared to previous models, The FS 50 C-E has the added benefit of an 8-in. longer shaft, which is great for taller users. The low exhaust emission and fuel-efficient engine—20 percent more fuel efficient than the FS 46—is ideal for home use, powering through grass and weeds with ease. This affordable trimmer features the TapAction AutoCut C 5-2 cutting head for faster line reloads, plus Stihl's innovative Easy2Start Technology, so you can get to work with just a simple pull of the starter cord. Visit www.stihl.com.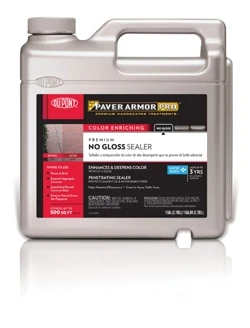 DuPont Paver Armor Pro
DuPont's Paver Armor Pro is a professional-grade line of sealers and cleaners for hardscapes. The new DuPont formulas are designed to withstand the outdoor elements and every day wear-and-tear. With three easy-to-choose product categories, the Paver Armor Pro Color Enriching Sealers, Natural Look Sealers, and Cleaners make it simple to choose the right product for every job. In addition, most of the products are water-based so users are exposed to fewer odors compared to solvent-based products.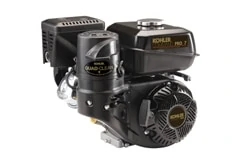 Kohler Gear-reduction Engines
In response to customer feedback demanding more choices in engine power, Kohler Engines now offers new gear reductions on select models of the company's 7-, 9.5-, and 14-horsepower Command Pro Horizontal engines. The new options should be popular among users of lawn and landscape, construction and agriculture equipment who seek a powerful engine with reduced revolutions per minute (RPM) speed while increasing torque. The new options are available on the following models (some of which include a clutch): CH270, CH395, CH440. Visit www.KohlerEngines.com.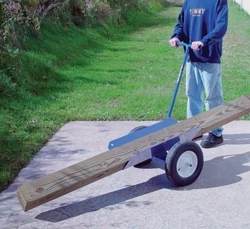 Bon Landscape Tie Dolly
Bon's Landscape Tie Dolly features a V-shaped bed and a wide 39-in. wheel base for easy maneuvering of heavy and cumbersome loads around the work site. The bed is well balanced on large 16-in. diameter pneumatic wheels, making it ideal for moving large railroad or landscape ties. The unit weighs 55 lbs., bed length is 30-3/16 in., bed width is 16 in., and the handle is 29 in. Visit www.bontool.com.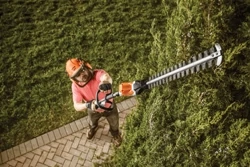 Stihl HLA 65 Hedge Trimmer
The Stihl HLA 65 extended-reach, professional hedge trimmer delivers the convenience and ease of use of 36-volt lithium-ion battery power. With a variable-speed trigger; six blade-locking positions that offer a 105-deg. working range; and 20-in. double-sided, reciprocating blades, the HLA 65 provides superior control for sculpting and shaping applications. The new HLA 65 is part of the Stihl Battery Kombi System, a line of tools powered by one easily interchangeable 36-volt lithium-ion battery—all with instant starts and zero exhaust emissions. With a brushless, commercial-grade electric motor, the HLA 65 is ideal for use in and around areas where noise and emissions standards restrict normal gas-powered operations. Visit www.stihl.com.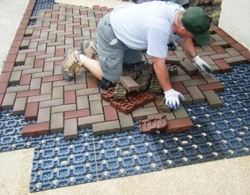 AZEK Pavers
Hardscapes are now easier to create than ever, by DIY'ers or contractors, with easy-to-install pavers that fit together quickly and neatly on a grid. AZEK Pavers include Standard Landscape, Resurface and Permeable pavers. Standard Landscape is perfect for new patios, walkways, driveways and pool areas. Resurface pavers are a thinner profile used for flat roofs, old cracked patios and slabs or even an old deck. Permeable pavers are suitable for storm-prone areas.
Manufactured with up to 95-percent post-consumer recycled rubber (from reclaimed tires) and various plastics, the 4-by-8-in. pavers offer visual appeal, design flexibility, strength and durability. Available in five colors, AZEK Pavers are stain-, impact- and scratch-resistant. With an innovative grid system and less than half the weight of traditional pavers, AZEK Pavers install up to three times faster than other pavers. The 16-by-16-in. grid also ensures straight lines and assists with a level layout. Plus, the pavers can be cut using a regular miter or jigsaw. Visit www.vastpavers.com.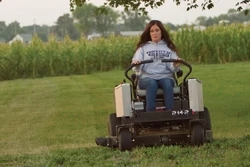 Dixie Chopper Zee 2 Lawnmowers
Dixie Chopper now offers the Zee 2 series lawnmower, its newest and largest line of residential zero-turn lawnmowers. Ideal for large property owners, Zee 2 mowers include a variety of features for fast performance, quality cutting and comfortable operation. The Zee 2 series includes three models: 2142, 2348 and 2354. Model 2142 features a 21-horsepower Kawasaki FR engine and 42-in. cutting deck for mowing up to 2.45 acres per hour. Model 2348 features a 23-hp Kawasaki FR engine and 48-in. cutting deck for mowing up to 2.8 acres per hour. Model 2354 features the 23-hp engine and a 54-in. cutting deck for mowing up to 3.15 acres per hour. All Zee 2 models include a 4-gallon fuel tank with a stainless-steel body for maximum protection from impact, corrosion and sunlight. They also come with Dixie Chopper's Elite Cutting System. This triple-blade deck features high blade-tip speeds to create a powerful vacuum for mowing all varieties of grass in any condition. The Elite System has a 1.75-in. blade overlap, allowing Zee 2 mowers to produce high-quality cutting performance at any speed. Visit www.dixiechopper.com.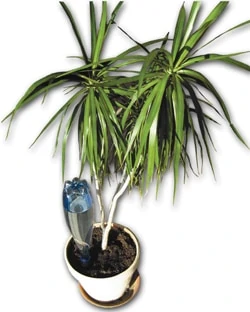 Solar Dripper
The new European-designed Solar Dripper dispenses the proper amount of water (and plant food, if desired) with solar power. In addition, any glass or plastic soda/cola, juice or water bottle can be used to dispense the water. It will feed either indoor or outdoor plants for days or weeks.
The patented watering system is intended for home, office or small outdoor plants. It's sold in single units or packages of six, and requires no maintenance or batteries since it is solar-powered. All that is required is to a screw on a used glass or plastic soda, water or juice bottle that has been filled with water and nutrients, if desired, and insert the Solar Dripper into the soil. Unlike other indoor or other small plant watering units, the Solar Dripper is compact, easy to use, virtually indestructible, won't clog or jam and ensures the proper amount of water and/or nutrients are dispensed, based on the amount of solar energy/light shining onto it. Visit www.absentmindedgardener.com.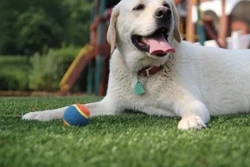 SYNLawn Synthetic Grass
SYNLawn synthetic pet systems are designed to answer the demand for quality pet products, as well as the demand for environmentally friendly solutions. SYNLawn produces advanced, pet-friendly artificial grasses that looks almost as natural as real grass. The product addresses aesthetics, durability, drainage, pet health, heat and environmental sustainability. Color blends of yarn provide a natural-like appearance to resemble real grass. This allows the family dog to run and play in a yard which always displays the rich and lush colors that make for a fresh, vibrant lawn.
The products allow for heavy traffic and excellent resiliency, surpassing other technologies in the industry when it comes to the destructive activity that active dogs can create. The exclusive Pet System installation process provides specific menu options for customers, depending on the behavior and nature of dogs involved. Visit www.SYNLawn.com.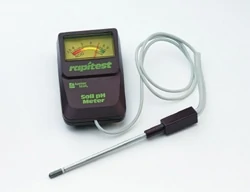 Soil pH Meter
You can easily check the pH level of your garden soil with the quick-read meter available from Lee Valley Tools, ensuring that your plants have the correct balance for healthy, vigorous growth. It requires no tablets, paper strips or batteries. Chemical reactions between the bi-metal probe and acidic or alkaline soil produce enough voltage to make the indicator needle move, measuring pH from 3.5 (strongly acidic) to 9 (strongly alkaline). All you need to do between test locations is wipe the dirt off the probe. The 26-1/2-in. long cord lets you insert the 4-1/4-in. probe into the soil with one hand and hold the meter in your other hand to easily read the results. A chart listing over 430 plant species and their preferred pH range is provided, along with instructions for adjusting the pH of your soil.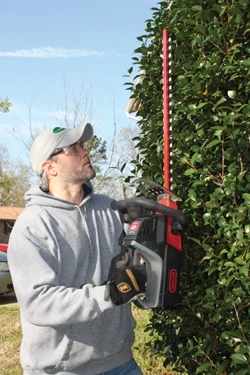 Oregon HT250 Hedge Trimmer
With cordless convenience and muscle to spare, the Oregon HT250 Hedge Trimmer is powered by the company's PowerNow 40V lihtium-ion battery platform. If you've been using an 18V trimmer, then upgrading to the HT250 will seal your old trimmer's retirement. The new trimmer features a 24-in. blade with laser-cut precision blades for long reach and clean cutting. The dual blades have a smooth action with reduced vibration and noise. The lightweight design offers balanced handle placement for comfortable maneuverability, plus a variable-speed trigger for better control and run time. Capable of cutting branches up to 3/4-in in diameter, the HT250 delivers the performance of a gas-powered hedge trimmer without the hassle, mess or expense. https://www.oregonproducts.com/en/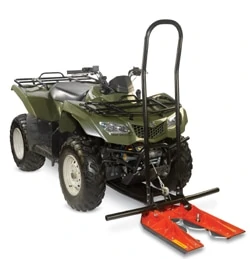 DR TreeChopper
The DR TreeChopper is an ATV-mounted tree cutting tool designed to remove invasive trees, which are a major concern for farmers, ranchers and land-management organizations across the country. A professional solution that fits a homeowner's budget, the TreeChopper has been used for over ten years by ranchers and conservation organizations for reclaiming pastures, blazing trails, creating firebreaks and opening shooting lanes for hunting. Made of durable, professional-grade steel, the TreeChopper mounts securely to the front of most ATVs and cuts trees up to 4-in. thick in seconds. Unlike skid-steer mounted tree shears, the TreeChopper requires no external power source or waiting for hydraulic jaws to open and close around the tree. It can cut hundreds of trees per hour. Key features include T-100 tempered steel blades and a durable, corrosion-resistant powdercoat finish. Field testing with the unit proves the blades will cut over 300,000 trees before they need to be replaced.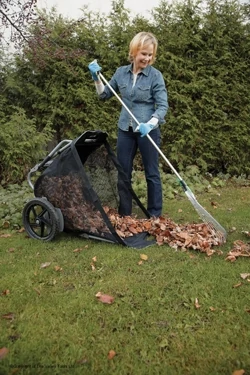 Firewood Cart with Leaf Liner
Capable of carrying 150 lbs. of firewood, this sturdy cart means fewer trips to the woodpile. It has a well-balanced "back-saving" design that places most of the weight on the axle, so your muscles bear only a fraction of the burden. The tough tubular-steel frame has a powder-coat finish to resist rust and wear, and folds down for compact storage. Only 25-1/2 in. wide, the cart fits easily through most doorways and gates and holds wood from 13 to about 20 in. long. With a core made of closed-cell foam, the 15-in. diameter tires will never go flat. The cart is also available with a durable, lightweight polyester mesh liner to contain yard waste or other loose, light materials. The cart remains stable when tipped on end, so you can rake leaves right into the liner, which attaches with hook-and-loop belts for easy removal. Visit www.leevalley.com.