Equip your Favorite Workspace with these new tools and supplies.
Gladiator Rack Shelving
For storage of large, bulky items, homeowners can use the Gladiator Rack Shelving from Gladiator GarageWorks. The unit measures 77 in. wide, 72 in. high and 24 in. deep, providing a heavy-duty load capacity of 2,000 pounds per shelf that's perfect for storing heavier items like tires, fertilizer, bulk food or luggage. Practical and easy to assemble, the Gladiator Rack Shelving can fit in the garage, basement or even a large closet. Visit www.gladiator-garageworks.com.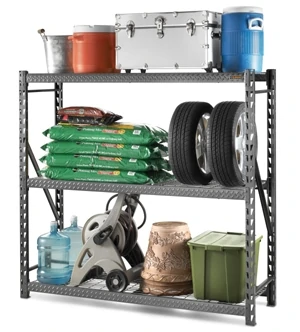 Jorgensen Vise
A good workbench deserves a quality vise, such as the Jorgenson Professional Woodworker's Vise from Woodworker's Hardware. This pro-grade vise includes a quick-release action that lets you bypass the screw for fast opening and closing. This feature is a definite time-saver when working with multiple work pieces. Built for speed and durability, the vise includes countersunk holes on the jaws allowing for optional wood facing.
It will fit any bench up to 2-1/4-in. thick, offers a 9-in. jaw capacity and comes with a 1-in. diameter solid hardwood handle. Visit www.wwhardware.com.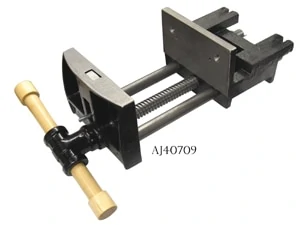 Racor Snap2It Storage System
The Racor Snap2It storage concept starts with a universal WallDock that simply installs on one stud with two fasteners and then homeowners can snap any one of seven different Snap2It storage solution products onto the WallDock. The WallDock's button allows you to release that rack, hanger, basket or wrap and take it with you or place it on another WallDock—with no tools required. The Snap2It products include a variety of hooks, racks hangers and baskets to store everything from ladders and chainsaws to bikes and power cords. Snap2It WallDocks are the centerpiece for all Racor Snap2It products, and homeowners can purchase a 3-pack to support all Snap2It storage products (MSRP $9 for the 3-pack). Visit www.RacorStorageSolutions.com.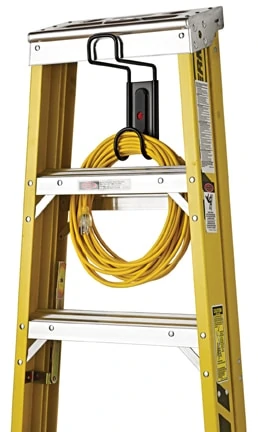 Dust Cobra
To keep your garage, workshop—or work site—as tidy as possible, the Dust Cobra dust collector from Oneida features high suction and airflow that makes it perfect for tools with 4- to 1-in. dust ports. The high-efficiency cyclone tech-nology combined with the Rapid Pulse internal filter cleaner prevents the HEPA filter from clogging. All dust goes to the 17-gallon dust bin, which is lined with a plastic bag for easy removal and disposal. Plus, the Dust Cobra offers full HEPA certification, and the HEPA filter pulses clean in seconds.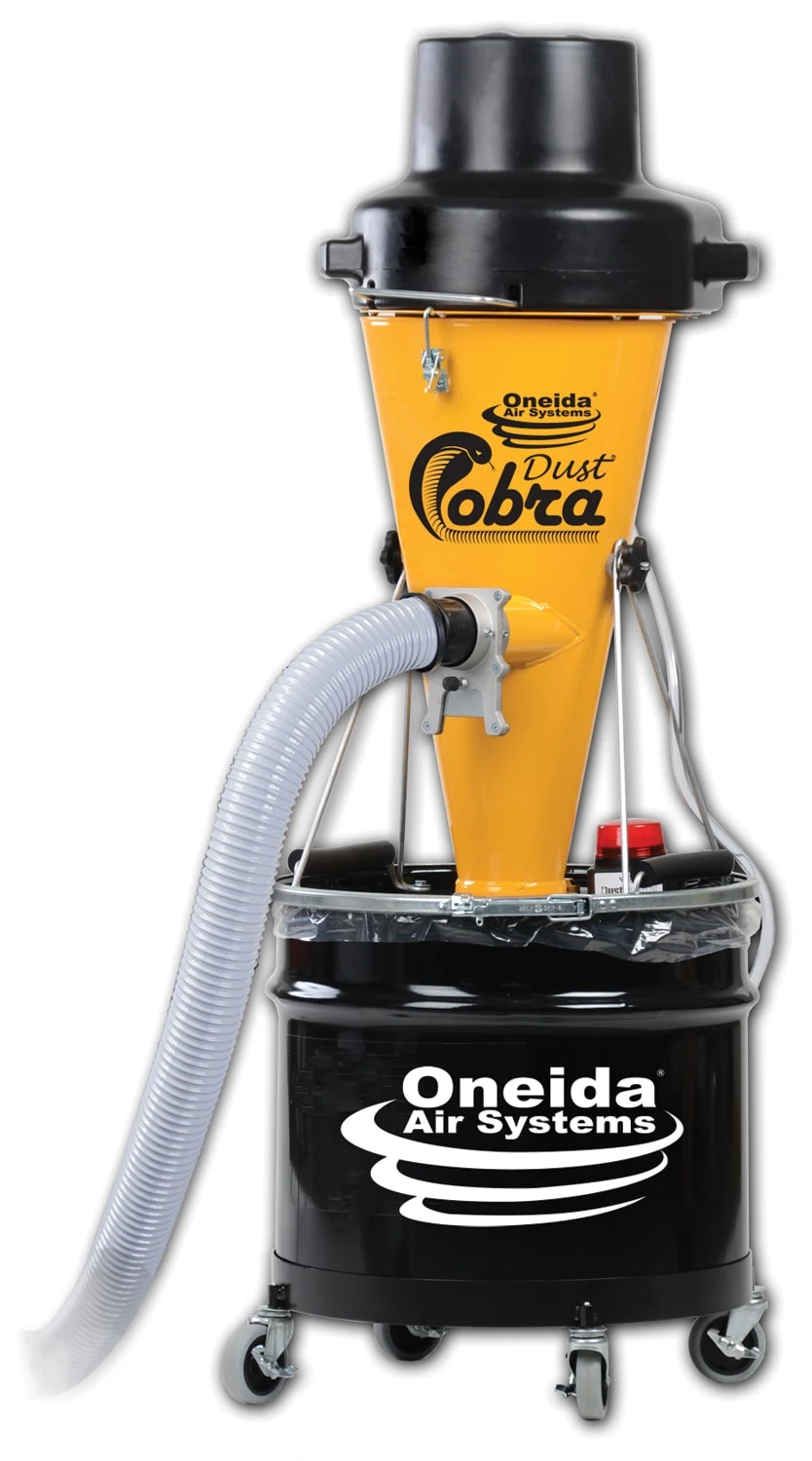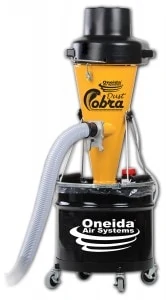 3M Paint Restoration System
You don't need to purchase a new car to have a brand-new look: The 3M Paint Restoration System helps drivers fully refresh their rides by removing oxidation, swirl marks and light scratches. The system involves a three-step process to restore vehicle's paint to a "like-new" condition. The kit includes Scratch Remover Plus, Shine Restorer and Synthetic Wax Protectant, as well as a patented scratch eraser pad and three levels of foam pads. The only tool required is a 6-in. orbital polisher.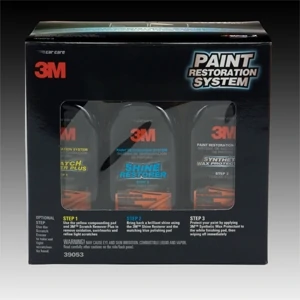 Garage Door Insulation Kits
Easily installed in metal garage doors for a more comfortable work environment in the garage, Garage Door Insulation Kits from Energy Efficient Solutions consist of foam garage-door panels that can drop garage temperatures by 15 to 20 degrees in the summer. The expanded polystyrene panels do not sag or fall out like the fiberglass-type garage door kits, and they also come with a high-impact protective coating for a finish that is clean and aesthetically pleasing. One kit fits single-car garage doors up to 9 ft. wide, or purchase two kits for double-car garage doors up to 18 ft. wide. Visit www.energyefficientsolutions.com.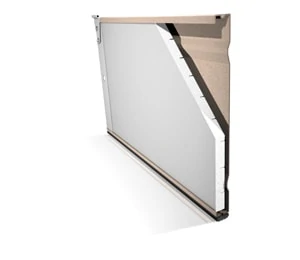 Little Giant Xtreme
The Little Giant Xtreme is the latest version of the company's flagship Type 1A multi-ladder. By articulating like an A-frame and extending for greater reach, it can serve as an A-frame ladder, an extension ladder, scaffolding or a 90-degree ladder (for working near walls). And by adjusting the length of each side independently, a multipurpose ladder can also provide access over uneven ground such as a staircase. The Xtreme's redesigned Rock Lock pin system makes height adjustments quick and easy with the simple push of a couple of levers. The rungs of the ladder are 50-percent wider for better foot support, and the new MAG4 hinge of the ladder locks four pins into place, instead of the former two, for unprecedented strength. Additionally, the new AirDeck accessory functions as a support bar and unfolds into a work surface with a magnetic tray. Visit www.littlegiantladders.com.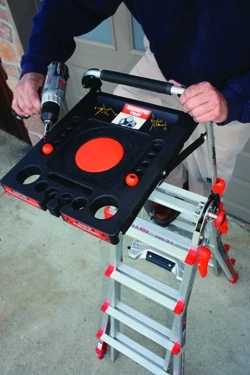 Bessey Auto Toggle Clamps
The versatile new bench clamps from Bessey are ideal for short runs and quick set-ups. There are two versions of the horizontal toggle clamp, with either a 2- or 2-3/4-in. opening, and a single version of the in-line push/pull toggle clamp. Both models feature automatic, continuously variable adjustment for different work-piece heights and widths—all while the clamping force remains virtually unchanged. With a clamp force range of 25 to 550 lbs. and the Auto-Adjust feature, one toggle clamp from Bessey can replace many other clamps. Visit www.woodworkershardware.com.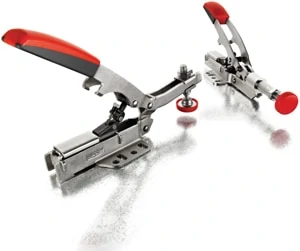 BLT Roll-Out Garage Flooring
The unique new roll-out garage floors from Better Life Technology, LLC, have all the attributes of BLT's traditional rolled flooring—easy installation, protection from stains and cushioned noise reduction—as well as multiple other benefits. This new concept offers a full series of designer floors to provide the look of hardwoods, granites, marble, epoxy or the classic black-and-white checkerboard. Custom looks and images are also available, as in crests, names or favorite pictures. Imagine your garage floor appearing as a golf course or tennis court; the possibilities are endless. These vinyl floors can also be coated to resist the harshest of chemicals. Visit www.bltllc.com.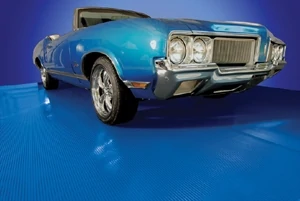 3rd Hand Work Support
Create your own freestanding conveyor system using the FastCap 3rd Hand work-support products. Great for cutting long trim pieces and 2×4's into shorter pieces with a miter saw, the 3rd Hand system makes one-person cutting of plywood and sheet stock on a table saw much easier and safer. The unit pictured includes a 3rd Hand Tripod, an Upper Hand support and is topped off with a 3rd Hand Roller Top. Visit www.wwhardware.com.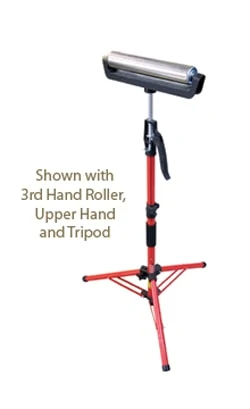 Moduline Cabinets
Originally designed for the automobile racing industry, Moduline Cabinets are high-quality modular aluminum storage and tool cabinets designed and manufactured in the United States. Featuring a sleek, modern design that will complement most any décor, they include full ball-bearing slides on the drawers, double wall door construction, and each cabinet has its own sealed and anodized frame, allowing each piece to stand alone. With almost endless configurations, Moduline cabinets are designed to adapt with your changing storage requirements. Visit www.modulinecabinets.com.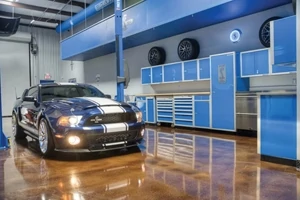 Space-Trac Sliding Shelves
Designed to store up to 75 percent more material in the same footprint as conventional shelving, these high-density, light-duty modular storage systems feature a special sliding carriage design. Wheels with automotive-grade
ball bearings glide smoothly along aluminum guidance tracks, even with fully loaded shelves. The shelves enable easy access to a higher number of items by sliding to create an aisle, sliding to reveal shelves, or by sliding a unit forward. Each model comes in total storage weight capacity options of 450, 750 or 900 lbs. and measures from 60- to 72-in. tall. Visit www.space-trac.com.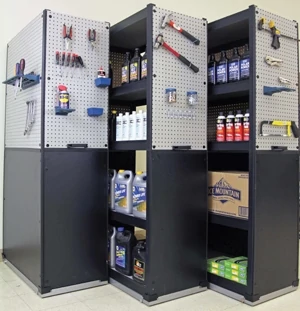 McCauley Flex Painting Accessories
Paint the high and hard-to-reach areas of any painting project more quickly, safely and easily with the new Mini Roller Flex and Brush Flex. Attach these flexible paint-tool holders with an extension handle and you can eliminate the need to set up and climb a ladder or scaffold.  Reach the tops of stairwells, cathedral ceilings, the exterior roof line of a house or garage, all from the security of the ground. Both the Brush Flex and Mini Roller Flex have the unique ability to bend instantly and hold position at any angle. Visit www.mccauleytools.com.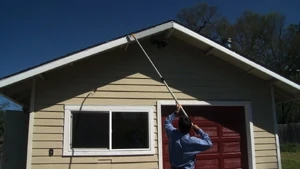 Werner 3-Piece Compact Extension Ladder
The new Werner 3-piece Aluminum Extension Ladder is a 16-ft. extension ladder that collapses to an easy-to-manage 6 feet.  When collapsed it fits around corners, through doors, in elevators and through narrow stairwells. The closed ladder easily fits into an average pickup truck bed without the need to strap it to the roof or flag it from the rear. The ladder's travel mode also stores easily in tight spaces, providing the same reach as a standard extension ladder, but in a compact design. In the extended position, more overlapping rung locations provide a more comfortable working platform. Visit https://www.wernerco.com/us.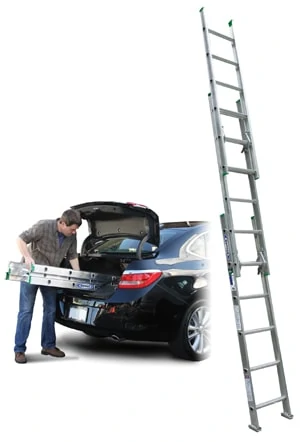 Gladiator Chillerator
The new Chillerator Garage Refrigerator from Gladiator GarageWorks has a stainless steel finish for a sleek, bold look. Engineered by appliance leader Whirlpool Corporation, this Energy Star-qualified refrigerator eliminates condensation during the summer and prevents freezing in the winter months, while using less energy than a 40-watt light bulb. Locking casters allow you to roll it wherever you want and set it in place with no hassle. With 19 cu. ft. of storage space (14 cu. ft. refrigerator, 5 cu. ft. freezer), you can grab a snack or your favorite beverage right in your garage. Visit www.gladiatorgarageworks.com.