Here's a roundup of the latest tools and equipment to take your garage or workshop to the next level of DIY domination. From tools and storage systems to flooring and doors, there's sure to be a something to catch the eye of the Extreme How-To reader.
FreedomRail Garage
According to National Association of Home Builders (NAHB), 86 percent of homebuyers want a bonus garage that's organized. Organized Living makes it easy for builders to meet their homebuyers' demands with FreedomRail Garage storage upgrades. FreedomRail Garage is ideal for new home construction because it is strong and easy to install. Once installed, homeowners can adjust FreedomRail Garage to fit their active lifestyle and changing needs without any reinstallation. Once the mounting grid is secured to the wall, attach any of the wide variety of storage components, including baskets, hooks, shelves and more. Visit organizedliving.com.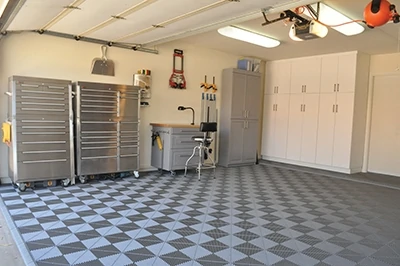 Swisstrax
Swisstrax easily, durably and reliably creates an eye-catching floor with 19 colors, 10 styles and 5 woodgrain patterns of modular flooring. Swisstrax interlocking tiles have been engineered for your garage with more than 20 years of innovation. Install the floor in hours and enjoy it for decades. Ribtrax, the most popular style (pictured), offers the overall strength and design for heavy items such as rolling creepers, jack stands and tool boxes to sit or easily maneuver across the floor. Ribtrax flooring tile's open profile design allows for an easy-to-maintain floor equipped with drainage underneath each tile. Visit swisstrax.com.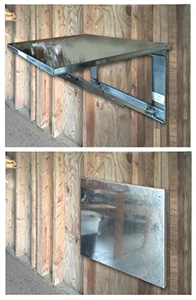 Tjernlund Space-Saving Workbench/Table
Homeowners, handyman types and tradespeople desiring a sturdy, space-saving work surface that folds up and stores compactly on the wall can install then Model FB2632 workbench/table now available from Tjernlund Products. Model FB2632 features a heavy-duty load rating of up to 250 lbs. and is the ideal solution for garages, utility rooms, laundry rooms, tool sheds, kitchens and utility trailers where floor space is limited. Made in the USA of heavy-gauge, anti-corrosive steel, it is designed for easy attachment to 16- or 24-in. O.C. wall studs. Unit dimensions are 32-by-26-by-2 inches, weight is 25 lbs. and all mounting hardware is provided. Visit tjernlund.com.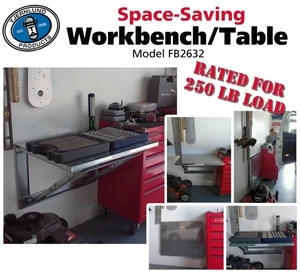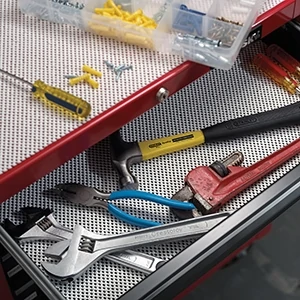 Duck Brand Shelf Liner
Duck Brand offers a variety of shelf liner products that are ideal additions to workbenches, cars and other garage areas.
A non-adhesive liner that offers grip top and bottom can be used to prevent surface scratches, keep your items in place and provide a cushioned surface—on your shelves, on your workbench top and in your toolbox drawers. Keep your car neat and clean by placing a shelf liner with grip top and bottom on the dashboard … or place a liner such as Easy Liner with Clorox in your storage areas to protect against dirty (and germy) sports equipment. Easy Liner with Clorox is protected by antimicrobial agents that prevent mold and mildew growth on the liner. Visit duckbrand.com.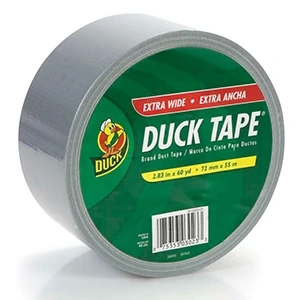 Duck Tape
No respectable DIY'er should be without several roles of Duck Tape (ranging from Original to Max Strength) in their tool box for repairs and quick fixes around the house, garden or garage. Available in five "strengths," Duck Tape also comes in specialty versions such as Exterior, Double-sided, Clear, Extra Wide, Glow-in-the-dark and more. Visit duckbrand.com.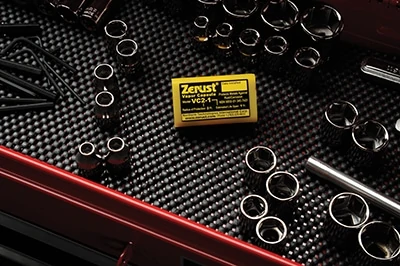 Zerust Rust Prevention Technology
Zerust products create an invisible barrier of corrosion-blocking molecules around your valuable metal items, protecting them from harmful rust and corrosion. They're non-toxic, FDA cleared and easy to use.
Zerust Vapor Capsules offer a rust-prevention solution for nearly any item you'd find inside the garage. With different options to meet your space needs, simply place or adhere the vapor capsules to the inside of any existing storage container, and your metal items are protected from rust and corrosion for up to two years until removed from the storage container.
Zerust Drawer Liners combine the patented corrosion-inhibiting formula with a heavy-duty non-slip rubber to keep your tools in tip-top shape. Available in a non-slip mesh or solid rubber, the liners can be cut to fit any drawer or storage box shape or size and will protect your tools from denting, slipping and rusting for up to five years.
Zerust Table Saw Covers are a must when it comes to keeping saw blades sharp and free from rust. Specially designed with Zerust patented anti-corrosion formula, the table saw covers protect your table saw from rust, corrosion, dust and moisture for up to five years. Visit www.zerustproducts.com.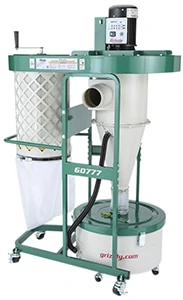 Grizzly Ultra-Quiet Cyclone Dust Collectors
The new Ultra-Quiet Cyclone Dust Collectors (Models G0777 and G0777HEP ) feature a low-RPM motor and a large impeller to deliver a sound rating of only 70-72 dB. The 1.5-horsepower, TEFC single-phase motor operates on 110V or 220V power supply (prewired for 110V), and both models feature a primary filter that captures 99.9 percent of particles 0.2-2 microns in size. The 35-gallon steel collection drum has a swivel caster and remote-controlled switch. Model G0777HEP features a secondary V-cell MERV-17 HEPA filter that captures 99.97 percent of particles 0.3 microns in size—effectively providing dual-filtration and lasting HEPA performance. Both machines weigh approximately 223 lbs. and are covered by a one-year warranty. Visit www.grizzly.com.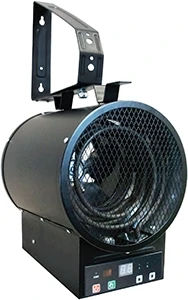 Berko Fan-Forced Garage Heater with Remote Control
Berko offers a durable, compact fan-forced heater that provides supplemental heat for numerous residential and light commercial applications. The Electric Fan-Forced Garage Heater (GH48R) features a built-in digital interface, an automatic shut-off timer, and a handheld remote for easy operation and control. The unit offers up to 480 square feet of heating capability, and features a scratch and rust-resistant finish, making it ideal for garages, small warehouses, storage facilities, workshops and more. The product comes fully assembled in the box, includes a wall or ceiling bracket, and has a fan-only option that can be used on hot summer days for circulation.
The unit's compact size and clean design makes it a perfect option for any space. Additional features include a digital interface for easier control, a timer option on the unit that features up to nine hours with automatic shut-off, handheld remote and a mounting bracket for wall or ceiling installation. Visit www.marleymep.com.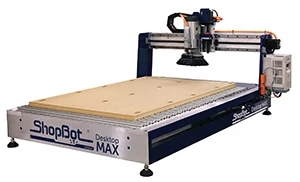 ShopBot Desktop MAX
ShopBot Tools, one of the largest makers of digital fabrication tools in the U.S., introduces the ShopBot Desktop MAX. The tool joins ShopBot's array of CNC tools used for cutting, carving, machining and milling. With a tool bed measuring 36 by 24 inches, the Desktop MAX is great for working in a variety of materials: wood, MDF, plastics, foams, vinyl and aluminum.
Its power and precision will make it a favorite of luthiers, sign makers, furniture makers, and anyone interested in prototyping or full production. It features a removable tool bed, which enables end-machining processes such as creating complex furniture joinery. The tool has two options for beds, an aluminum deck or a plenum with universal hold-down system, which eliminates the need for screws, adhesives or clamps for holding large sheet goods in place. The Desktop MAX features a dual-motor gantry design, providing impressive stability and precision. All ShopBot tools are designed, built in, and supported from ShopBot's Durham, NC headquarters. The full specs of the Desktop MAX can be found at ShopBotTools.com.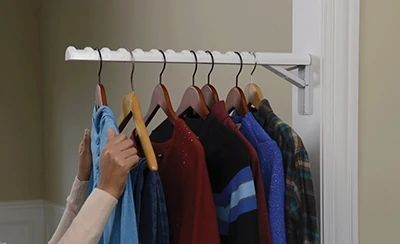 HangerJack
HangerJack offers multiple options to help you hang everything in a nice, orderly manner. You can hang bikes, helmets, hoses, tools and anything else that takes up space in your garage with the HangerJack
Gator 24. The HangerJack Gator 24 is made to hold up to 50 lbs. And, the HangerJack Scroll is perfect to use when you're ironing or drying clothes. Instead of sticking hangers onto doorways and doorknobs, you can keep up to 6 hangers in one tidy spot. HangerJack products are easy to install, fully assembled, durable and compact, made in the USA and come with a money-back guarantee. Visit www.hangerjack.com.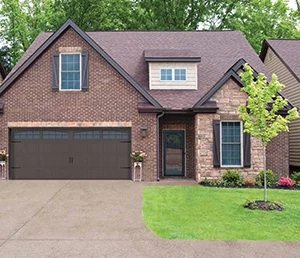 Wayne Dalton TruChoice Color System
Wayne Dalton takes curb appeal to the next level with the TruChoice Color System for its line of garage doors. This new process provides homeowners an opportunity to have their new garage door painted from a selection of more than 6,000 colors with a durable factory finish without all the hassle of painting the door after installation. The TruChoice Color System allows the homeowner to color coordinate their garage door with the home's trim, window shutters, interior paint shades, or even a favorite color. Doors painted using the TruChoice Color System are covered under limited warranty to protect against excessive fading, and include a bottle of touchup paint for dings or scratches. The TruChoice Color System is available for residential models 8300, 8500, 9700, 9405 and 9600. Visit www.Wayne-Dalton.com.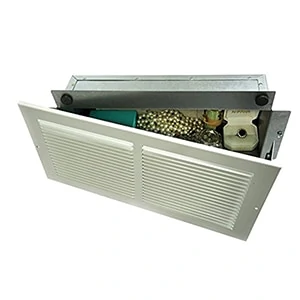 Tjernlund Air Vent Wall Safe
The new Tjernlund Air Vent Wall Safe looks like a vent register but actually hides a steel safe that measures 13-1/2 inches wide, 4-1/2 inches high and 3-1/3 inches deep—just enough room for the essentials. The faceplate can be screwed into the wall or mounted in place with magnets, and the kit comes with supplies for both. The kit also includes a wall-cutting template to aid in installation, making it easy for you to create a handy place to hide things in plain sight. Visit tjernlund.com.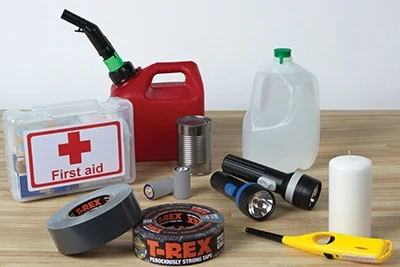 T-Rex Tape
For more extreme jobs, be sure to have T-Rex Tape on hand. It's formulated with super-durable, extra-thick, sun-resistant materials to work longer and hold stronger than other utility tapes, in all kinds of weather. Featuring a thick, aggressive adhesive that sticks to rough, dirty surfaces, T-Rex tape's Co-EX technology combines three distinct layers of material to create one strong tape. The UV-resistant layer is built into the skin of the tape enabling it to last through extreme temperatures and ultraviolet rays. Visit trextape.com.