Thanks to a four-season entertainment room, poolside parties happen throughout the year at the Hardwick home in Kokomo, Ind. Created with two durable, almost all-glass garage doors from Haas Door, the structure is ready for year-round activities and gatherings.
"We've received a ton of compliments on these garage doors," says homeowner Carl Hardwick. "And, during the recent quarantine, we've even done office work out there just to get us out of the house.
"During the year we also have New Year's Eve and Super Bowl parties in this freestanding structure. When the weather turns warmer, we open the garage doors to host large pool parties and cookouts. Our home sits right on Green Acres Golf Course so we have room for big gatherings!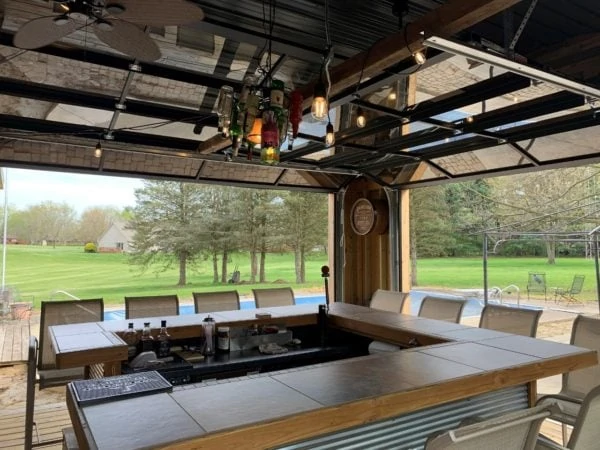 Swapping Out
The bar and activity building is sandwiched between the main home for Michelle and Carl Hardwick and a bathroom/changing area off the pool deck. When Hardwick originally built the structure seven years ago he installed two walls with removable panels with windows. He recently changed the design to include CA110 black anodized garage doors with full-view glass panels and clean lines.
"We wanted the completely open 'Key West feel' in the summer and to be able to use the room in the winter, no matter what the weather," says Hardwick. "When it cools off in the evening or rains, we just pull down the garage doors. We can even turn the heat on if needed.
"Adding the garage doors has definitely enhanced our enjoyment of the structure. They allow us to keep everyone at optimal comfort regardless of the weather."
Year-Round Dependability
Installed by Steve's Overhead Door Company out of Lafayette, Ind., the two Haas Door garage doors are in the company's Commercial Aluminum line. The durable doors feature a smaller rail profile that gives the clean line look of mostly glass. Rust- and corrosion-free, the CA110 garage doors feature a narrow line frame and shiplap section joints, making them the perfect garage doors for the Hardwick retreat.
"We're ecstatic about how the Haas Door products improved the function and enjoyment of our entertainment and relaxation space," says Hardwick. "In the future, I hope to add a sunroom and connect everything to the house. This means we'll add another Haas Door garage door to the project!"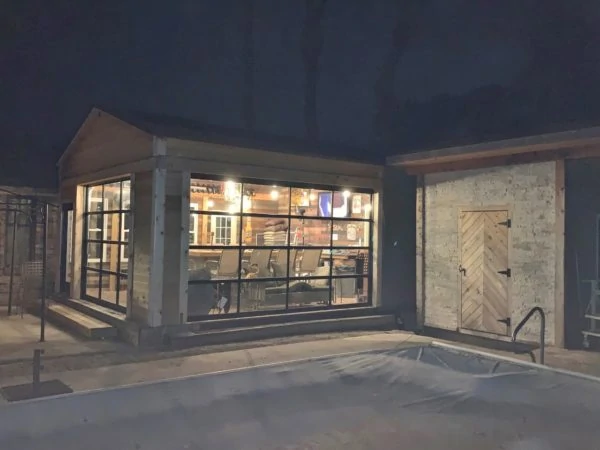 Haas Door is located in Wauseon, Ohio, where the company manufactures steel and aluminum residential and commercial garage doors. The family-owned company holds memberships in IDA and DASMA, and produces products that are sold throughout North America. For more information on Haas Door, visit www.HaasDoor.com.