By Matt Weber
Equipping your Garage or Workshop with New Tools and Supplies.
It's a tool crib, it's a laboratory, it's a quiet escape from the visiting in-laws—it's your garage or workshop, the last place in the house that many of us can consider "our very own." Whether you're a hobby woodworker, an avid gardener or the family handyman, a homeowner's garage/workshop is the headquarters of it all. In this issue of EHT we highlight some nifty new gadgets and handy home products to help equip your Central Command Post with the supplies you need.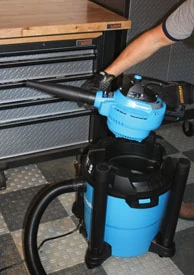 Vacmaster VBV1210
One of the staple tools of most garages and workshops is a wet/dry vacuum cleaner. Powered blowers are nice, too, which makes the new VBV1210 Vacmaster twice as useful as a standard unit. This sleek two-in-one shop vacuum offers an ample 5-horsepower motor that not only sucks up the messiest messes but also converts to a 210-mph leaf blower. The blower detaches from the top of the 12-gallon tank with a simple push of a button, and can be fitted with any of the 11 hose accessories that conveniently store on mounts located above the wheeled feet. The VBV1210 is a lightweight and easily portable unit with a 12-foot power cord and an extra large drain to easily dispose of debris-ridden spills. The new Vacmaster has plenty of muscle in the vacuuming category along with a durable 2-1/4-inch hose, which is nice for cleaning wood chips and other large debris that tend to clog smaller diameter vac hoses. Visit www.vacmaster.com.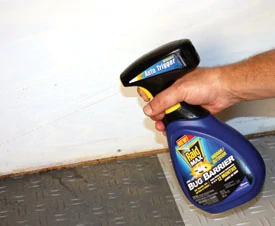 Bug Barrier
Another staple of workshops, sheds and many garages is, unfortunately, insect intrusion. These pesky critters—roaches, ants, spiders, etc.—don't seem to know when they're not wanted. Now, you can send the message loud and clear and easier than ever with the Raid Max Bug Barrier. The spray nozzle features a battery-powered automatic trigger that helps you lay down a consistent chemical barrier of bug protection inside and outside the building and at key insect entry points. The system works by deterring bugs from entering the building and killing the bugs that cross the barrier. The powerful insecticide keeps killing German cockroaches for up to 12 months after you spray it, and the automatic nozzle is reusable for repeat applications. The Bug Barrier also works for flies, spiders, centipedes, crickets, scorpions and more. Visit www.killsbugsdead.com.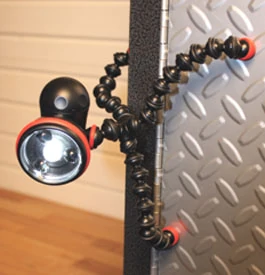 Gorillatorch Flare
With its three bendable legs and a pivoting "head," the Gorillatorch Flare looks like some sort of alien droid creature from a sci-fi movie, but it's actually one of the most versatile work lights you're likely to come across. For targeted illumination it combines 100 lumens of CREE LED light while also offering emergency features, including three red LEDs and a strobe option for signaling. As a work light, this thing has a lot of power, and our staff can attest from experience that if you look directly into this light while at its highest setting, you will go momentarily blind. It'll certainly brighten up a work area. Its flexible and adjustable legs can wrap around objects to hold a stationary position while you target the spotlight. Its small size means it can fit into cramped work sites. And, if you're working near metal, its feet contain powerful magnets for simple, secure, out-of-the-way mounting to shelves or steel studs. This hands-free flashlight attaches to just about anything, offering a total of six light modes that free your hands for easier working conditions.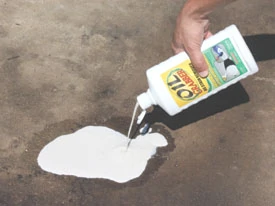 Oil Grabber
In a garage/workshop environment, spills and leaks are bound to happen, and oil in particular can create ugly stains. It makes sense to have a backup plan, like Oil Grabber from Krud Kutter Inc. The product absorbs and lifts oil stains embedded in concrete and asphalt without scrubbing. Shake vigorously before applying, pour it over the stain and spread it with a V-notched trowel or a plastic-bristled brush. As the Oil Grabber dries from liquid to powder it absorbs and lifts the embedded oils. Allow it to dry for 5 to 8 hours, then brush away the powder and rinse with a hose. One quart bottle offers about 6 square feet of coverage. Oil Grabber also removes stains from anti-freeze, brake fluid, cooking oils, diesel fluid, grease, hydraulic fluid, power steering fluid, tar, transmission fluid, tree sap and wax. Learn more at www.krudkutter.com.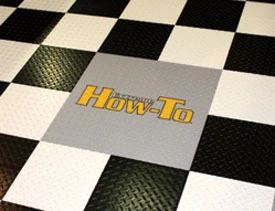 G-Floor RaceDay Peel-and-Stick Tiles
There's nothing beautiful about a dull concrete slab. Concrete also collects stains like a white shirt in a rib joint. To protect your garage or shop floor in style, G-Floor RaceDay Peel-and-Stick Floor Tiles provide a cool, professional look and handle harsh work environments like water, oil, gas and gravel. RaceDay Tiles are made from 100-percent solid virgin vinyl for a tough, glossy finished surface that withstands the most demanding conditions from tires, heavy jacks and casters that are constantly being rolled across the flooring. RaceDay Floor Tiles are backed by a five-year warranty and utilize a special adhesive that is as tough as the tiles it binds. Additionally, custom logo printing is optional, as we had done with a certain magazine logo (see photo).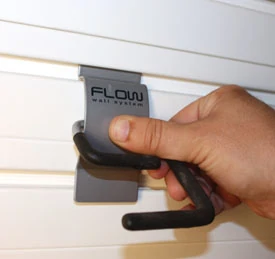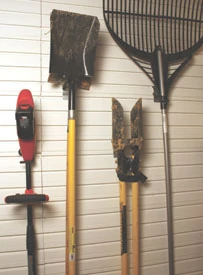 Wall Storage Panels
Slat-wall type wall storage systems are growing in popularity and for good reason: they're versatile, clean-looking and store many tools and supplies conveniently off the floor for easy-to-see organization. Most of these wall-panel systems are made from PVC and are sold under the names HandiWall, FlowWall, StoreWall and the Gladiator GearWall system from Whirlpool—just to name a few. The panels are moisture-resistant and simple to clean, usually available in 4- to 8-foot lengths.
The panels install simply by screwing into the wall studs. Once installed, you can equip the walls with a variety of snap-in accessories, from baskets and shelves to a wide range of hooks. Depending on the accessory, these storage systems are strong enough to store shovels, sledge hammers, string trimmers and more. The FlowWall System in the EHT workshop even has a wall bracket strong enough to store a heavy Little Giant Ladder a few feet off the floor.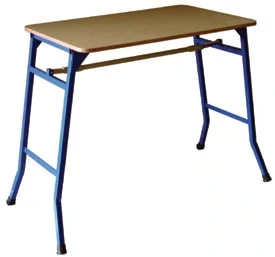 Trojan Portable Work Table
Some times you feel like a bench, sometimes you don't. The WT-2438 Portable Work Table from Trojan Manufacturing takes about five seconds to unfold and is one of the most stable, portable benches available. When set up, the WT-2438 stands at a comfortable 35 inches high—convenient for all types of jobsite tasks. The 24-by-38-inch table top is made of 5/8-inch plywood with a medium-density overlay. The wood surface overhangs the metal frame to make it easy to clamp down projects, and the bench is sturdy enough to support a vise or to be used as a platform when hand-sawing material.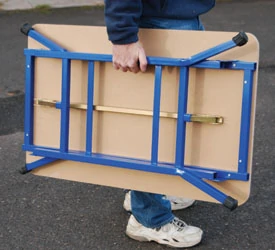 The frame is made of rugged 1-inch square steel tubing and has folding legs that lock quickly in place with the simple motion of a single cross-member. Knock it down for transport, and you're on the move in seconds with the compact, 5-inch thick unit in hand—thin enough for out-of-the-way storage. Available for less than $200, the WT-2438 is made in the USA, weighs under 40 pounds and features a powder-coat finish. Visit www.trojantools.com.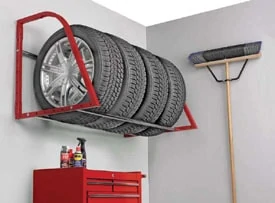 Tire Loft
Motorheads, off-road fanatics and snowbirds can all have a convenient new place to store extra tires. The Tire Loft is a heavy-duty storage tire rack from HyLoft, powder-coated black or red rack with chrome bars and designed to store off-season, recreational, racing or ATV car and motorcycle tires. HyLoft's Tire Loft features automotive-inspired design, style, color, strength and adjustability for different size tires and can hold up to 375 pounds. With telescoping adjustments to 66 inches in width and 28-1/2 inches in length, the Tire Loft gets tires off the floor and within easy reach. Installation is easy, using just four lag screws in the wall studs, and MSRP is $89.95. Learn more at www.hyloft.com.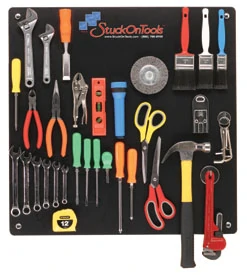 StuckOn Tools Magnetic Boards
StuckOn Tools offers an attractive new concept for storing tools, instruments and shop supplies. The new magnetic boards from StuckOn Tools provide a tool-organization system without the need for pegs, tool boxes or old coffee cans. The durable, rust-resistant steel boards feature a powder-coated finish and clean up quickly with a simple wipe of the surface. In addition to boards for general hand tools, StuckOn Tools also offers a Garden Board, a Woman's Board, and even a Large Tool Organizer Strip for items such as rakes and shovels.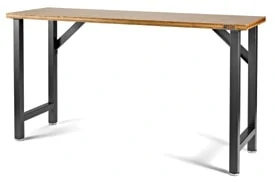 Gladiator Bamboo Workbench
Who wants a wimpy workbench? The new modular workbench from Gladiator Garageworks is made from one of nature's hardest materials—bamboo. Not only does bamboo have incredible strength, but it's a naturally renewable material that's perfect for a sturdy work surface. The 66-1/2-inch Bamboo Modular Workbench has a 1-1/2-inch thick solid bamboo work surface that comes with a multi-layer core and UV-cured protective coating. The tabletop is supported by a heavy-duty steel frame and tubular steel legs with angle brackets that support up to 300 pounds. The threaded bolt leveler legs allow height adjustment to compensate for uneven floors, and nylon pads prevent floor stains and corrosion. Visit https://www.gladiatorgarageworks.com/.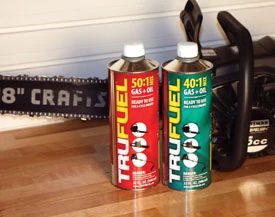 Premixed Fuel for 2-cycle Engines
If your shop or garage is home to 2-cycle engine power equipment, like string trimmers and chainsaws, then you're familiar with the hassle of painstakingly measuring a gas-to-oil ratio for fuel. It's messy, it's time-consuming, and mistakes in measurement can result in damage to expensive equipment. You now have the option of TruFuel, the first premixed gas and oil available in the U.S. This ready-to-use engine fuel is available in both 50:1 and 40:1 gas-to-oil ratios, eliminating any need for mixing gas and oil in the garage or storing gas cans. In addition to the convenience, TruFuel is ethanol-free and benzene-free, protecting the 2-cycle engine from the corrosive nature of ethanol, ensuring peak performance and protecting the equipment. Visit www.trufuel50.com.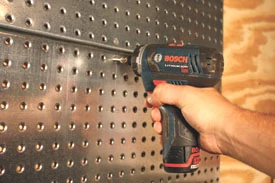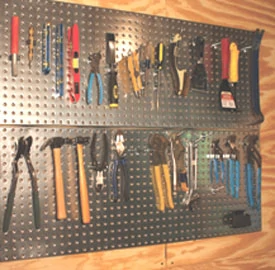 AlligatorBoard
When a fiberboard pegboard simply won't cut it, there's AlligatorBoard. Manufactured from 20-gauge steel, AlligatorBoard pegboard is much stronger and more durable than ordinary pegboard; it won't warp, tear, discolor or rust. It features strength-reinforcing dimpled holes, and with the included hardware it's easier to install than other pegboards.
There's no need to add framing—the built-in 5/8-inch flanges let you mount directly to any wall. AlligatorBoard holds up to 90 pounds when mounted on wall studs and comes with a 5-year warranty. A variety of panel and strip sizes are available, and the open corners make it easy to run speaker wire or extension cords behind the installed panels. Visit www.alligatorboard.com.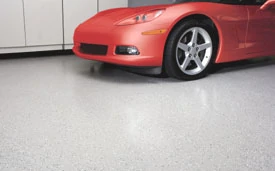 Behr 2-part Epoxy Garage Floor Coating
For a showroom-quality garage floor, Behr Premium 2-Part Epoxy Garage Floor Coating is a high-performance, ready-to-use, water-based coating that transforms gray, lifeless, concrete floors into a handsome surface with long-lasting protection. The epoxy coating protects against common harsh elements such as motor oil, gasoline, antifreeze, brake fluid, salt and hot tire pickup. The coating requires no priming and, once mixed, is ready for use by simply rolling on the coating right from the built-in paint tray. It creates a semi-gloss finish that is easy to clean, has a unique non-skid finish and resists scuffing, fading, cracking and blistering. The floor coating comes in two premixed colors, Silver Gray and Tan, and can be tinted into 36 custom colors. It comes packaged in a kit that includes enough product to cover approximately 250 square feet, available at The Home Depot for $69.97. Learn more at www.behr.com.